Profitable Diwali Business Ideas for 2023 with Marketing Strategies
Diwali is one of the biggest festivals celebrated in India and is embraced by millions worldwide. The trade organisation has already forecasted that this year's Diwali would yield an average revenue of Rs 1 lakh crore. As per their estimates, consumer spending is anticipated to rise by approximately 3 lakh crore by year-end. During this festival, companies indulge in corporate gifting, and people generally gift their relatives and friends as a form of celebration.
Many people come up with new businesses for the Diwali season and make huge profits. Today, we'll discuss some profitable online Diwali business ideas that can help you make the most of this festive season. We'll also share some marketing strategies to make sure your business shines as bright as those Diwali diyas.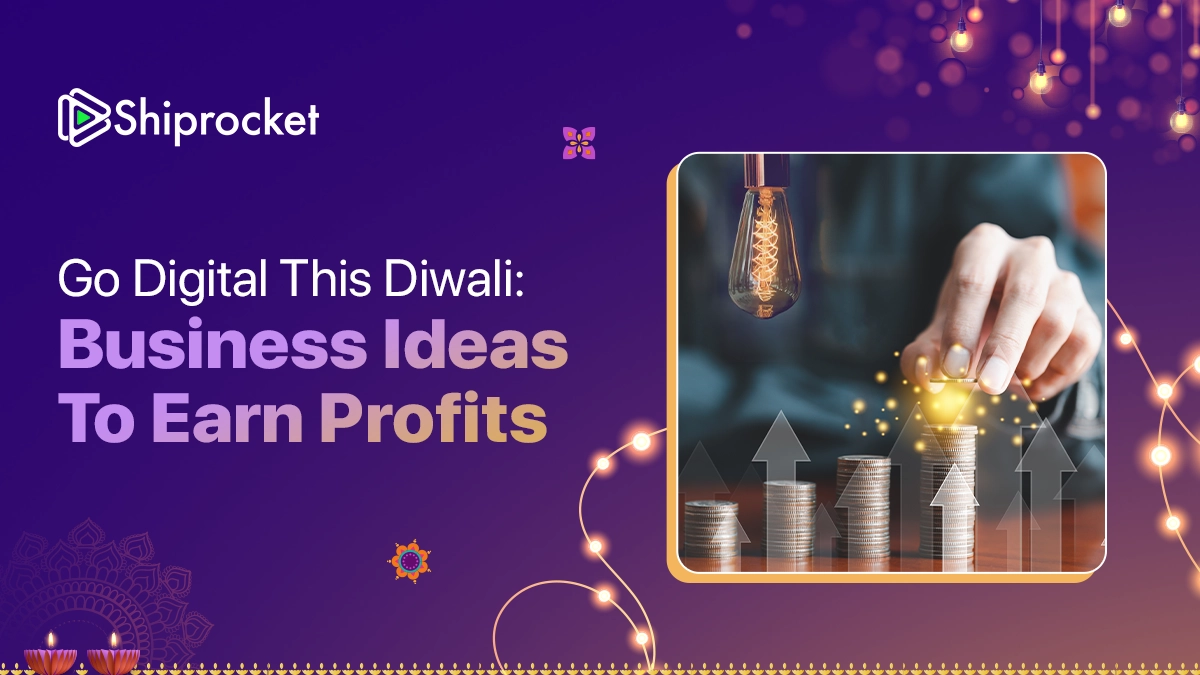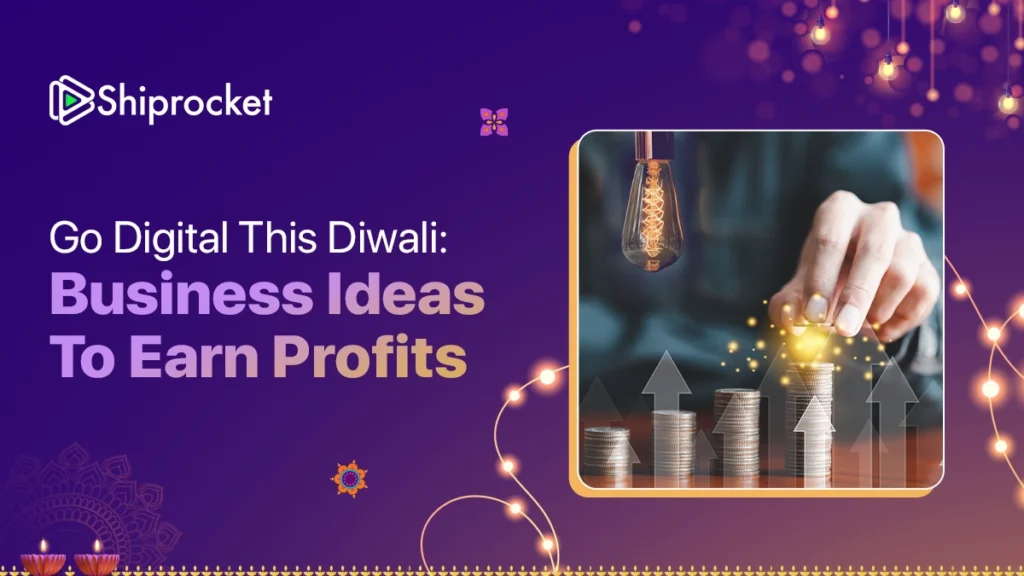 Is it Good to Start a Business on Diwali?
Diwali is not just about celebrating traditions but also about embracing opportunities. It's important to know that, during Diwali, female shoppers contribute about 30% of total transactions, while males make up 70%. 25% of revenue comes from the 18-24 age group, while the largest 55% comes from the 25-34 age group. With this knowledge about the Diwali market in mind, it's definitely a good idea to start a business on Diwali. Here are some reasons why:
Diwali is among the most prominent festivals celebrated in India. It's also considered one of the most auspicious and favourable times of the year to start a business. It's believed that starting a business on Diwali can bring success and prosperity to entrepreneurs.
Several festive items are in high demand during Diwali. These include gift items, electronics, apparel, home decor, jewellery, sweets, etc. What better reason do you need to start a business on Diwali than increased consumer spending? Diwali is one of the biggest festivals in the country, marked by high customer spending.
Increased Business Opportunities
If you are planning on starting a business on Diwali, here's one more reason: you get plenty of business ideas to choose from. As mentioned, customers tend to spend more on certain items like candles, lights, etc. It presents an excellent opportunity to start a business selling these products, allowing you to tap into the increased demand, potentially leading to more sales and higher profits.
You can even start an eCommerce business that sells traditional Diwali items. You can be an entrepreneur with a thriving business by taking advantage of this auspicious festival season and employing targeted Diwali marketing ideas.
Read more: Profitable Home Business Ideas to Make Money
Why is Diwali Important for Businesses?
There are several reasons why Diwali can be important for businesses, including:
Targeted Diwali Marketing Campaigns
Most businesses view the Dilwali season as an opportunity to leverage targeted Diwali campaign ideas. They implement special Diwali promotion ideas, offer premium deals and discounts across different products, and even limited-time offers. Some businesses also do special product launches on Diwali. All these Diwali marketing ideas help businesses attract more customers.
Increase in Sales and Profits
And what does attracting more customers mean? Well, more customers mean more sales and more profits. Diwali is one of the peak shopping seasons in the country. Customers purchase several types of products on Diwali, both online and offline.
Moreover, it's a festival during which people buy and exchange gifts, decorate their homes, and celebrate with grandeur. Thus, it becomes an important time of the year for businesses of all sizes. If Diwali marketing ideas are done right, businesses can have a thriving festival season.
Corporate Gifting Traditions
During this festival, businesses gift their employees, partners, and clients. It helps them offer their gratitude and foster goodwill. Lastly, Diwali is important for businesses since it lets them strengthen business relationships and establish loyalty.
Is a Diwali-Based Business Profitable?
A Diwali-based business idea is definitely profitable. Diwali is one of those times of the year when customers are more than willing to spend money on different items, whether it's festival-specific or absolutely anything else. Thus, if you start a business that taps into customer demand, it is likely to earn more profits during the festive season. You can also turn your Diwali business idea into a profitable one if you sell products such as diyas, rangoli colours, candles, flower decorations, puja items, sweets, clothes and more.
List of 12 Most Profitable Online Business Ideas For Diwali
There are multiple online Diwali business ideas you can explore. We have listed some of the most profitable Diwali business ideas below. The minimum investment for each business will vary. However, most of these businesses are affordable. The profit margin from these businesses will also vary depending on your market reach, pricing, and customer demand.
1. Diwali Decor Store
Reports reveal that in 2022, the festive season saw a 20% rise in sales. There are multiple decorative items you can choose to sell, from rangoli stencils and flower garlands to lanterns and LED lights. Or, depending on your budget, you can sell all these decorative items. You'll need an eCommerce platform and these decorative items to start your store.
2. Diwali Snacks and Sweets
This is one of the most profitable online Diwali business ideas. As per the Federation of Sweets and Namkeen Manufacturers, each year, salty snacks worth INR 50,000 crore are sold in the country. You can prepare and sell Diwali snacks and sweets online. You also don't have to invest a large amount of money in buying ingredients and packaging materials.
However, you'll need a proper kitchen space and equipment to start this business. You can earn a potentially high income since the demand for these eateries is quite high during Diwali. Customers buy these products for themselves as well as for gifting.
3. Diwali Gift Shop
You can start an online Diwali business that sells special gift items like clay diyas, area rugs, wall hangings for decorative purposes and more. The minimum investment will vary depending on the items you choose to sell. You'll need an inventory of goods, suppliers, and an eCommerce platform to sell these goods. According to a survey, 64% of buyers expressed interest in purchasing Diwali gifts for families. Thus, you can earn a potentially high income.
4. Traditional Diyas
Diwali is incomplete without diyas (oil lamps). You can start an online Diwali business that sells handcrafted traditional diyas or clay diyas. People use them for both decorative purposes and during the aarti ceremony while seeking blessings from Lord Ganesha and Goddess Lakshmi. Since these are in high demand during the festival, there's a high potential for profits.
5. Lights and Flower Decorations
Almost every individual decorates their homes with lights, flowers, and other embellishments on Diwali. According to Times Of India, in the first half of 2022, China sold a total of USD 710 million worth of LED light-related items to India.
If your business caters to this requirement, you can make high profits. Though the investment will vary depending on the inventory you keep, it would still be affordable.
6. Traditional Apparel
Traditional Indian clothing is a must for some people when celebrating Diwali. However, if you plan on starting a business selling traditional clothes, you might need a comparatively high investment. You'll also need to maintain an inventory of clothes. Depending on the pricing, you can earn a potentially high income since most people buy new clothes on Diwali.
Interestingly, organised apparel sellers could earn additional revenue growth of between 7-8 per cent for this financial year because of the festival rush and expansion of the shops, according to CRISIL. This shows a big potential of the market during the Diwali period for traditional clothing.
7. Women's Jewellery and Accessories
Another online Diwali business idea you can explore is women's jewellery and accessories. Gold is deeply rooted in India's culture, with strong ties to its religious beliefs and practices. This reveals huge opportunities. Families love to buy new ornaments during Diwali as a form of celebration.
Gold jewellery exports have been on the increase, with USD 7.6 billion recorded in 2015 and USD 12.4 billion released in 2019, attributable to celebrations such as weddings and festivals like Diwali that are key drivers of jewellery businesses. This online business idea promises potentially high returns during the festive season.
8. Kitchenware and Electronics
Starting an online business that sells kitchen appliances and electronics will require a comparatively large amount of investment. However, it can also generate high profits. Most people consider it auspicious to purchase electronics on Diwali. During Amazon's Great Indian Sale in 2022, Stanley Black & Decker experienced a 5x increase in sales within the initial five days and a 3.5-fold increase within the first ten days. This proves that kitchen appliances and electronics are in high demand during the festival.
9. Puja Items
The annual spiritual and religious market size in India is 2,50,000 crore. Puja items like diyas, camphor, and pooja thalis (plates), among others, are a must for Diwali. Wouldn't it be smart to sell puja items for an occasion as auspicious as Diwali?
You also wouldn't need a large investment to start this business. Moreover, a steady demand for puja items can help you generate more income during Diwali.
10. Dry Fruits or Customised Gift Packages
Start an online Diwali business dealing in customised gift packs or high-end dry fruits like cashews, almonds, and raisins. These gifts are part and parcel of the Diwali tradition. According to Pawan Gadai, the Ferns n Petals CEO, health and wellness hamper has been one notable demand over the recent holiday season. A substantial portion of orders, however, lies between INR 600 and INR 800, while about 25 per cent is in the range between INR 800 and INR 1500. This shows great market potential for personalised Diwali presents.
11. Fireworks
These days, green firecrackers are a great alternative to traditional crackers, which are preferred by many people to celebrate Diwali in an eco-friendly way. Some reports prove that green firecrackers are less noisy, dropping to 110 decibels from 160 decibels and causing 30% less pollution than regular crackers.
Selling such eco-friendly fireworks at competitive pricing and offering timely delivery can help you make profits. Advertise your business on social media as well as in the press, such as magazines or newspapers.
12. Candles
The Global Candle Market was priced at USD 6.37 Billion in 2022 and is anticipated to witness a rise of USD 10.30 Billion by 2030. You can sell different types of candles on your website specifically for Diwali, including scented candles, decorative candles, floating candles, etc. Increase the uniqueness of your candles and give special Diwali discounts to capture customer interest.
Read More: 20 Most Demanded Products in India Online
How to Leverage Social Media for Diwali Marketing
Here are some ways you can use social media for Diwali marketing:
Online presence on social media wouldn't make a difference for your business if you aren't sharing engaging and relevant content. Diwali is a great time when you can engage your existing customers and attract new ones with engaging Diwali content ideas. The content should resonate with your customers.
For example, you can release Diwali-themed gifts on Instagram as a free add-on to your products, or you can hold Diwali-specific quizzes with giveaways to increase customer engagement and help them connect with your brand on a personal level.
Organise Contests and Giveaways
Running contests and giveaways is one of the most effective Diwali marketing ideas. You can organise Diwali-themed contests and giveaways and offer rewards for winners. In addition to gifts, you can offer winners discount coupons or other incentives, encouraging them to purchase from you in the future.
Leverage Influencer Collaborations
What would social media be without its influencers? You can also leverage social media influencers as part of your Diwali promotion. You can pick social media influencers depending on the products you sell and how much you are planning to spend on the collaboration. It will help you promote your special Diwali offers to a larger audience. Moreover, social media influencers instil trust among customers.
Hashtag campaigns have become extremely popular. You can create hashtags unique to your business or Diwali and encourage users to participate. It can help you create a buzz around your Diwali campaign, enabling you to reach a larger audience.
Limited-Time Offer Campaigns
You can create a sense of FOMO (fear of missing out) for your customers. You can do so with countdown or limited-time offer campaigns. You can use multiple Diwali content ideas and time them in a way that creates a sense of urgency and excitement.
Let Your Customers Promote You
Your customers are your brand's biggest advocates. So, why not let them promote your products for you on Diwali? Leveraging user-generated content (UGC) is one of the most cost-effective Diwali promotion ideas. You can encourage your customers to share the experiences they had with your Diwali products and services. UGC is also one of the best forms of customer testimonials. Posting user-generated content builds credibility for your brand.
Conclusion
As Diwali approaches, it's the perfect time to ignite your entrepreneurial spirit and make the most of the festive season. Whether it's selling Diwali decor online, offering festive-themed services, or jumping onto the eCommerce bandwagon, the opportunities are plenty. Remember to leverage social media, optimise your website, and offer irresistible promotions to make the most of this festive season.
Do I need a large investment for a Diwali business idea?
No, you don't need a large investment to start most of the Diwali-related businesses. Several small Diwali business ideas require minimum investments to start.
How can I increase online sales during Diwali?
Several Diwali marketing ideas can help you increase online sales during Diwali. Depending on your business and budget, you can leverage social media or even paid ads to attract new customers. You can also reach out to existing customers with special offers to increase your online sales.
What types of products sell the most on Diwali?
Several Diwali-specific products are in high demand, including lights, candles, diyas, sweets, electronics, decorative items, puja items, and more.
Calculate Your Shipping Costs Now