What is Seasonal Inventory & How to Manage it Effectively
The festive season is around the corner. With Dussehra, Diwali, and Christmas knocking on our doors, we are all excited to avail exclusive discounts and sale items in almost every eCommerce store. On the other hand, the eCommerce store owner has to face considerable inventory fluctuations during the holiday season. Businesses often come across a seasonal effect on the sale of goods, especially during the festive season. This kind of inventory, which is in high demand at particular times of the year, is what we call seasonal merchandise.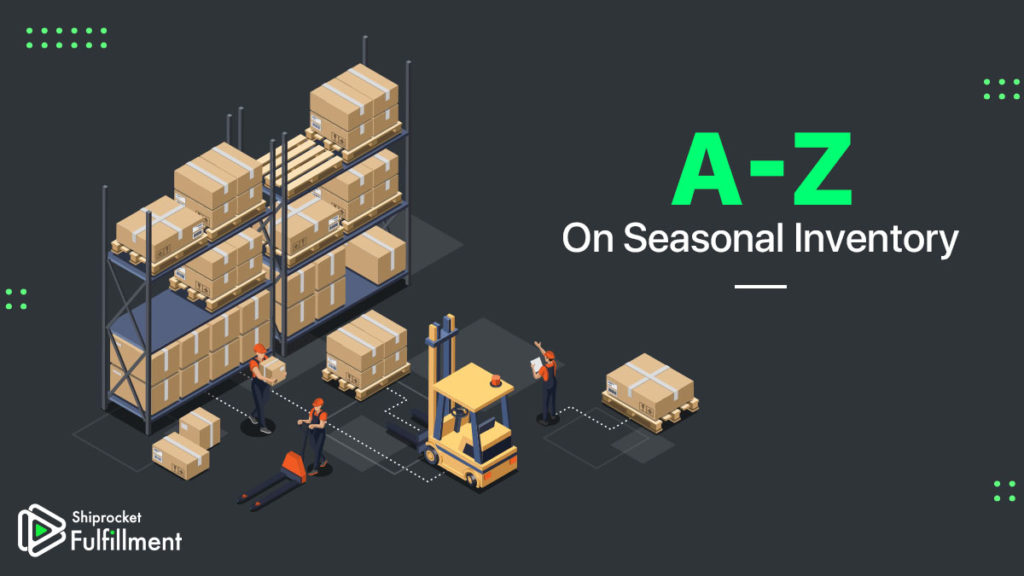 In this article, we will dive deeper into the concept of seasonal inventory and how one should manage it effectively, so it has minimal impact on the business.
What is Seasonal Inventory – Definition
Seasonal inventory is the stock with an irregular demand throughout the year. It has its highs and lows during the year's specific times. Let us take an example to understand this better.
The festive season comprising Raksha Bandhan, Dussehra, Diwali, and many more festivals, is the primary driver of seasonal inventory in India. All eCommerce stores, selling almost anything and everything, including gift items, apparel, home decor items, etc., see a significant rise in demand during this season.
On the other hand, eCommerce stores also witness a drop in sales during other specific times in the year, such as Shradh in India. During Shradh, Indians prefer not to purchase any products leading to a dip in demand for online shopping. However, the former case is much more common in India than in the latter.
Please note that NOT ALL PRODUCTS ARE SEASONAL!
Few items see a consistent demand throughout the year, some of the best examples are food items, alcoholic beverages, personal care products, etc. These items will not come under seasonal inventory. People never stop buying food items or alcohol but may buy them according to the season.
If you deal with very responsive products to seasonal demand, you will notice your sales and inventory levels fluctuate with seasonal factors. For example, demand for swimwear and shorts increases during the summer months of May-August. Apparel and gift items are in high need during the festive season of August-December, sweaters and hot beverages are bought the most during the peak winter season.
Therefore, seasonal inventory is almost unavoidable, especially for those eCommerce sellers who deal with specific SKUs.
Challenges Due to Seasonal Inventory
You might have planned your inventory purchases way before, but seasonal changes in demand can play havoc with your stock levels. Therefore, it's necessary to consider all seasonal factors before purchasing a stock for your business. Otherwise, you may have to face the below challenges-
Stock-Outs
Suppose you do not replenish your inventory before the peak season appears. In that case, you are most likely to experience stock-out situations, which will ultimately lead to unhappy customers switching to competitor stores. During peak seasons, chances are your inventory runs out-of-stock as it takes time to replenish stock from suppliers, especially if you are experiencing any fulfillment problems or any backorders from other wholesalers and distributors.
Read all about inventory stockouts here.
For example, every Diwali sees an increase in the sales of "dry fruits" in India. eCommerce businesses that deal with dry fruits or any other gift items can face serious stock-out situations due to an increase in seasonal demand for these items, if not appropriately managed.
Excessive Stock
This happens in the other situation when there is zero or minimum demand for your products. Holding too much stock in your warehouses or fulfillment centers can hurt your cash situation. And, if the inventory doesn't sell for a year, then you might risk facing a dead stock situation. This will ultimately lead to losses for your eCommerce business. After a point of time, you might need to offload all the stock by offering huge discounts as an incentive to customers.
How to Manage Seasonal Inventory Effectively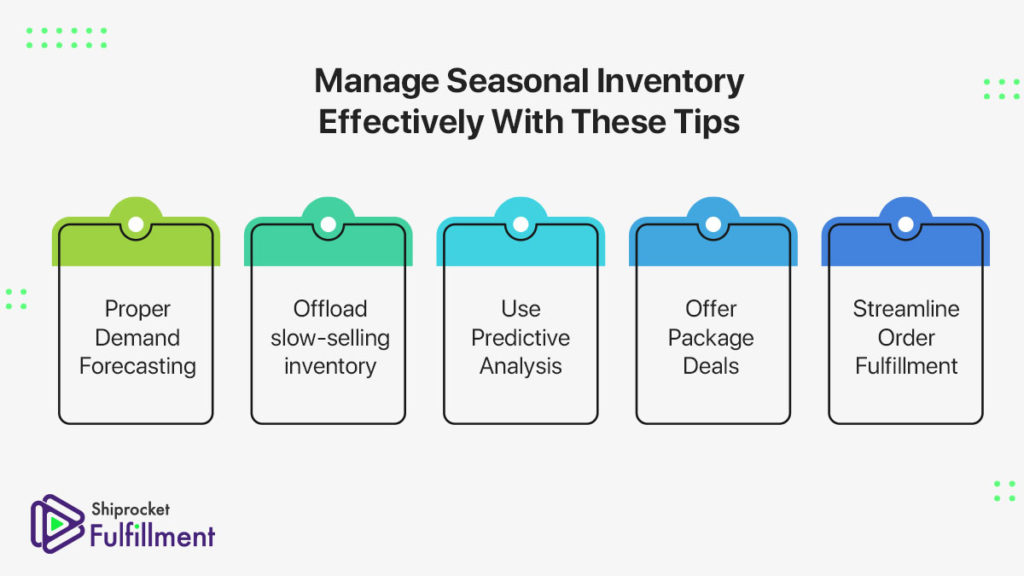 Proper Demand Forecasting
One of the most effective ways to deal with seasonal inventory is by performing proper demand forecasting. Count your past sales numbers and the ongoing market trends for forecasting the products in demand. Invest in a sound inventory management system that can predict the need for your inventory during a specific period.
Proper demand forecasting provides essential information for driving the correct inventory levels during peak seasons. This also helps in reducing Bullwhip Effect across the supply chain, leading to optimized inventory levels and reduction in stock-out or excess stock situations.
Know more about the Bullwhip Effect here.
Offload Slow-selling Inventory
Inventory that hasn't been sold for an extended period should not be stored for long, leading to dead-stock. Use promotional discounts and offer a clearance sale on all slow-moving products as an incentive for customers to purchase your seasonal inventory. Offer smaller discounts during the off-seasons and then offer crazy discounts during the peak season or the end of the season approaches.
Your main aim must be to sell all the seasonal inventory faster and convert it into revenue for your eCommerce business. Once the seasonal stock is sold, you can then quickly focus on the stock for the next season. Provided you're offering good discounts and coming up with frequent sales on your products; your customers will be more than happy to purchase from your store once again the peak season hits. A win-win situation for you!
Use Predictive Analysis
Real-time technology will always help you with accurate predictions about the stock you currently have and the stock you will need in the future. Using predictive modeling, you can optimize your safety stock and keep what you need at hand to a minimum. If you have multiple locations, make sure you have a balance of inventory across all your sites.

Offer Package Deals
Amazon does this well!
Customers will be more enthusiastic about buying a product if they feel they scored a deal. What Amazon does is it uses multiple techniques by dropping prices of expensive products like mobile phones, televisions, etc., and then offers headphones, adapters, and other add-ons at full-price.
Taking this idea from Amazon, eCommerce sellers can bundle apparel with related accessories or home decor items with home furnishings and sell it out to customers as a 'package deal.' You can also bundle less popular products or any of your slow-moving items with items that sell well and offer it as a gift hamper to your customers for the peak holiday seasons.
Some consumers like to buy seasonal items ahead of the next year as well. A limited-time package deal could provide more incentive to make the purchase now. Especially for seasonal inventory, the goal is to convert stock to sales as soon as possible.
Streamline Order Fulfillment
Finally, the most important and useful way to manage seasonal inventory effectively is by streamlining your order fulfillment process. Managing everything starting from picking off products, inventory packing, shipping, and handling return orders might become a challenge when high demand during the peak season brings in an influx of orders. Get in touch with a fulfillment solution that can overcome all the challenges and ensure smooth order fulfillment.

Shiprocket Fulfillment is an end-to-end warehousing and order fulfillment solution that will help you with all your back-end operations and manage and track inventory accurately when it is most required during the season. Our warehouse experts will also ensure effective picking, packing, and shipping of your items to the end customers on time.
Final Say
As an eCommerce business owner, dealing with seasonal inventory is almost unavoidable. The best way to manage the fluctuations in demand is to tie up with a third party like Shiprocket Fulfillment that will help you with end-to-end order and inventory management, ultimately helping you to perform proper demand forecasting.
Calculate Your Shipping Costs Now