Top 5 Warehouse Challenges and How to Overcome Them
Warehouse operations are the lifeline of every business. It is very important to understand that good warehouse management helps in the smooth movement of products within the system, which in turn is a key factor when serving customers. However, proper warehouse management can be a daunting task.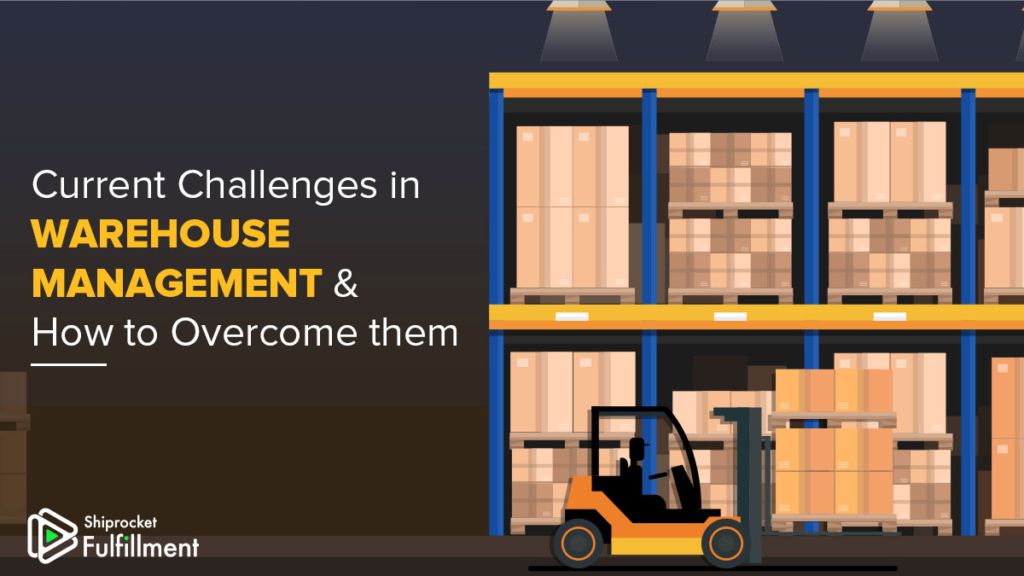 It not only includes maintaining hundreds and thousands of products, but you also need to ship those products to your customers on time. The underlying processes are complex presenting major challenges to warehouse managers. They face such problems almost on a regular basis, which if overlooked or underestimated can cause troubles in day-to-day operations.
Let us discuss a few challenges that affect warehouse operations and how to overcome them to create an effective system altogether-
Inventory Location
Issues related to inventory location are one of the most common challenges that affect warehouse operations. These problems typically develop over time, as more and more products are added to the inventory and space availability becomes an issue.
Due to the absence of inventory oversight, a number of inefficiencies arise within the warehouse. This ultimately slows down operations and increases costs. Pickers take a longer time to locate items to ship, as they do not know the exact location, resulting in delayed shipments and unsatisfied customers.
Providing the right inventory location is very important, as it facilitates both inventory management, as well as overall warehouse operations.
The most efficient way to overcome this challenge is by investing in a Warehouse Management System that uses barcode scanners. These scanners can automatically direct pickers to the specific item location they are searching for and provide them with the picking details such as the number of items to be scanned and shipped.
Picking Optimization
There are warehouses that still have manual processes in place. Such warehouses do not have a set route for picking items to ship, which causes a delay in picking ultimately leading to late product delivery to the end customer. Picking is one of those aspects of warehousing, which if not done the right way, can disrupt the entire inventory control system.
To speed up the entire picking process, avoid entering SKUs manually, instead, invest in a system with barcode technology. You can also use a system that will direct pickers to the picking/putaway location.
Automating the entire picking process will reduce pressure on your equipment as well as your labor work, ultimately helping you in optimizing warehouse management.
Inventory Inaccuracy
Many times warehouse managers don't have full visibility of their inventory. This either leads to excess stock situations or running out of stock at peak season. Both these consequences can be harmful to the business.
While hoarding too much stock increases warehouse expenses, inadequate stock leads to slower cash flow–the more problematic being inventory shortage as it leads to unfulfilled orders and unhappy customers.
Having a warehouse management system for your business can improve your inventory visibility, as the software provides real-time data through barcoding, serial numbers, etc. These features enable the users to take note of each item as it enters the warehouse, its movements inside the warehouse, and its movements during transportation from one location to the other.
Whether you're handling inventory management using Excel or are using a retail solution, inventory counting is a critical part of running an eCommerce business.
Less Space
Warehouses often face issues related to space. Lack of space causes goods to accumulate which results in difficulty in locating products, loss of quality of items, and sometimes even work accidents. To make the best use of the available space, the storage system needs to be revamped in a way that increases the vertical space of the warehouse. Maximizing vertical spacing makes picking more efficient and reduces inventory and operations costs.

Redundant Processes
Typically warehouse employees have to pass on a pick ticket or other documents to multiple people. The picker passes the ticket to the checker, who then passes it to the stager. The stager then passes it to the loader and so on. This entire process is extremely time-consuming and brings down efficiency in the warehouse.
Barcode technology of warehouse management systems is an incredible tool to reduce such redundant processes as it's entirely automated. Automated systems are evolving really fast which is compelling warehouse managers to maintain up-to-date systems so that they get the desired results.
All the order fulfillment steps performed by Shiprocket Fulfillment such as receiving inventory, counting, picking, packing, shipping, and handling returns is handled more accurately when a barcode is pasted to each item, hence we recommend you to use barcodes for every individual shipment.
Moreover, we have all the measures in place to track the movement of packages in our warehouse, which are powered by warehousing experts.
From receiving and storing your inventory, shipping orders timely to your customers, and handling returns, we use the best practices and ensure first-class inventory management, to avoid any warehouse challenge.
Conclusion
Did you notice almost every challenge faced by warehouses can be overcome with the help of automation a.k.a. Warehouse Management System? Automation is of immense help to solve all issues of warehousing and to properly manage the system.
In case you require further help in understanding warehouse management, Shiprocket Fulfillment carries expertise in warehousing and can help you with your order fulfillment needs.
Calculate Your Shipping Costs Now