Shiprocket Fulfillment Vs. Fulfillment By Amazon(FBA) – Which Fulfillment Solution is Ideal for your Business?
Did you know, 60% of online sellers outsource order fulfillment to 3PL providers to ensure seamless delivery of orders at nominal rates? Order fulfillment by 3PL companies is becoming a popular concept for Indian sellers as the demand for eCommerce is increasing rapidly. Amazon was one of the first marketplaces to introduce this concept to sellers and it gained a lot of popularity with its Fulfilled by Amazon (FBA) model. But, not everyone sells on Amazon.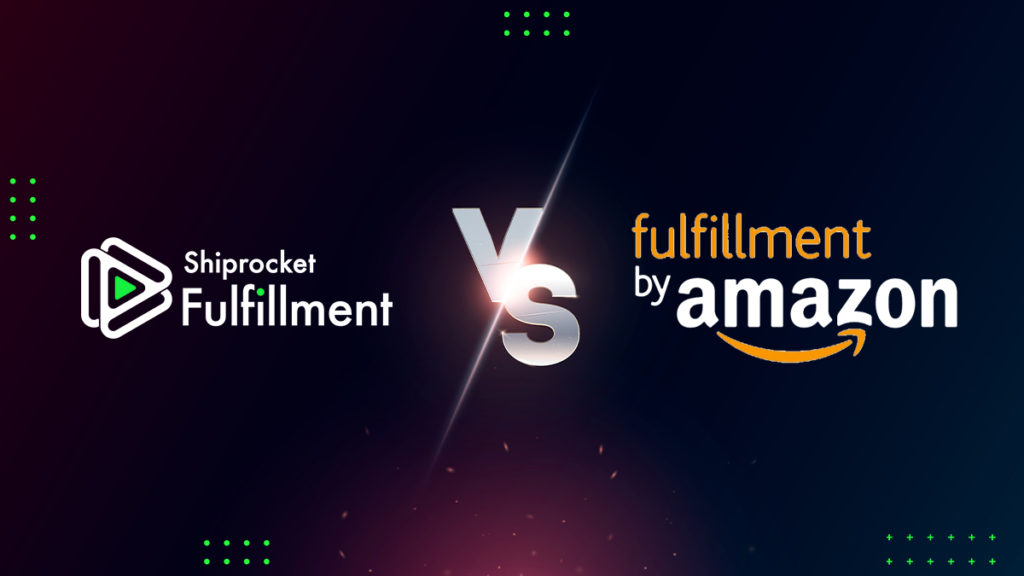 There is still a large chunk of D2C sellers in India who choose to sell via social media channels, websites, and other marketplaces. What options do you have to fulfill your orders?

Also, for Amazon sellers using FBA, is it the best option available to you, or are there other areas that you can explore while selling on Amazon?
These are some questions sellers commonly ask. So we have compiled a brief comparison between Amazon FBA and Shiprocket Fulfillment to give users a fair idea about which fulfillment solution will be most suitable for their business. Let's get started.
Shiprocket Fulfillment
Shiprocket Fulfillment is a 3PL eCommerce fulfillment solution designed to store, manage, pack, and deliver orders for eCommerce sellers. We have fulfillment centers across India in Bengaluru, Delhi, Gurugram, Kolkata, and Mumbai. With Shiprocket Fulfillment centers across the country, you can store inventory closer to buyers and deliver conveniently across 29000+ pincodes with a vast distribution network powered by 17+ courier partners.
Fulfillment By Amazon (FBA)
Fulfillment by Amazon is Amazon's premier fulfillment model where sellers can store products in Amazon Fulfillment Centers and Amazon will pack & ship the Amazon orders. This service is available exclusively for Amazon sellers.
Feature Comparison
Pricing Comparison
Why Choose Shiprocket Fulfillment?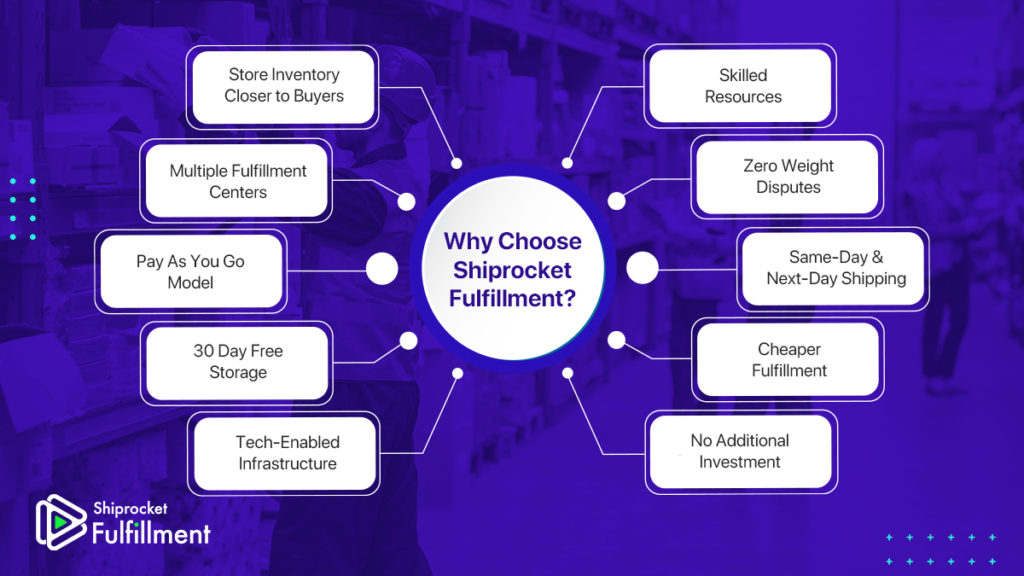 Store Inventory Closer to Buyers
With Shiprocket Fulfilment, you can store inventory in different zones across India and service almost every pin code. This gives you access to the entire country and you can deliver orders 3X faster. When you distribute inventory with Shiprocket Fulfillment, you get a powerful distribution network of Shiprocket that is powered by 17+ courier partners. This way, you can deliver more products faster.
Multiple Fulfillment Centers
Shiprocket Fulfillment has fulfillment centers in Mumbai, Delhi, Gurugram, Bengaluru, and Kolkata. This gives you access to all corners of the country and you can deliver to your target audience seamlessly.
Pay As You Go Model
Shiprocket fulfillment does not charge you for any fixed costs when you sign up with us. According to the pricing model, you only pay for the number of orders you ship every month, the average product weight, and your packaging. The inbound, outbound, packaging, and per order cost is calculated based on these parameters. You can store one item with us or a hundred, we will not charge you anything extra.
30 Day Free Storage
With Shiprocket Fulfillment you get 30-day free storage for all items. This means that you do not need to pay anything for storing your items for 30 days. It is ideal for your fast-moving inventory.
Tech-Enabled Infrastructure
Just like Amazon fulfillment centers, Shiprocket fulfillment centers are also enabled with the latest warehouse and inventory management software. You can track your incoming and processed orders from the warehouse from the Shiprocket panel and also get regular updates regarding the same.
Skilled Resources
The staff at Shiprocket Fulfillment is skilled at what they do. They are trained executives who have experience in fulfillment operations. Your orders and products are always in safe hands.
Zero Weight Disputes
Within an in-house weight management system in place, Shiprocket fulfillment ensures that your shipments have zero weight disputes with courier companies. This enables you to save a lot of costs and unnecessary to and fro.

Same-Day & Next-Day Shipping
Shiprocket fulfillment offers you a chance to store inventory closer to buyers and provide them with facilities like the same day and next day delivery. As your intra-zone and intracity shipping times reduce, you can deliver orders much faster.
Cheaper Fulfillment
As compared to Fulfillment by Amazon, Shiprocket Fulfillment offers a cheaper shipping option in terms of storage and processing.
No Additional Investment
With 3PL providers like Shiprocket Fulfilment, you do not need to invest in expensive infrastructure for warehouse inventory management. This gives you the flexibility to grow your business and handle seasonal demand with ease.
Final Thoughts
eCommerce fulfillment can be challenging if not taken care of properly. It can lead to additional investment, increased costs, and poor service to your customers. Therefore, it is essential that you choose the right fulfillment provider for your business. Compare all options and choose the best one. We hope this information guides you through the process.
Calculate Your Shipping Costs Now