6 Questions to Help You Select the Best Fulfillment Solution For Your eCommerce Business
Deciding to outsource your fulfilment is one of the toughest choices an eCommerce company has to make. It's already hard enough to run a profitable business on your own, and strategizing the fulfilment aspect that includes receiving, packing and shipping of your products is a much more demanding operation that will only grow as your business grows. Hence, it's best to outsource your fulfilment operations to someone experienced in this particular field. It will not only lower your overall fulfilment costs, but it will also expand your reach and help you grow into newer markets.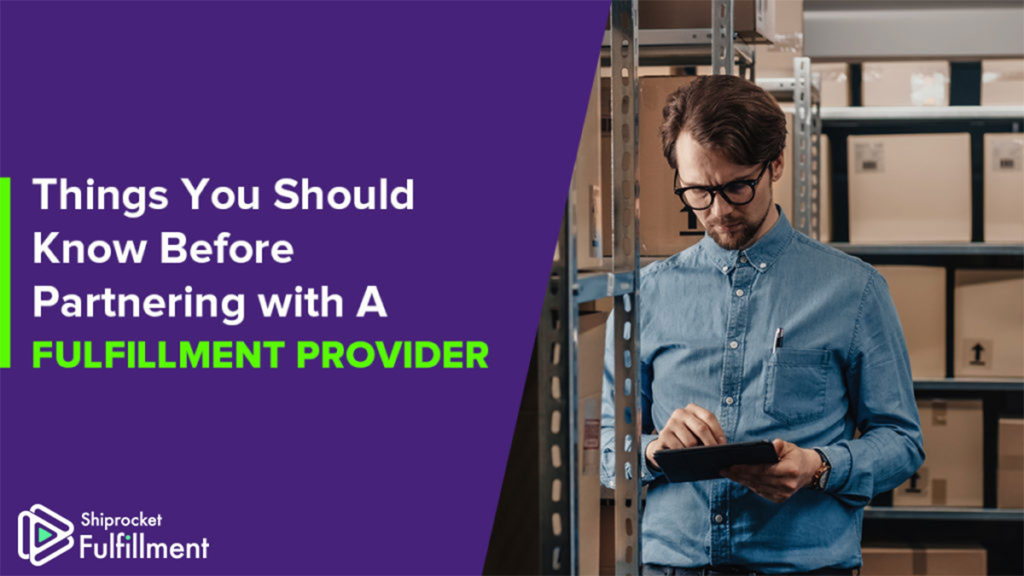 To understand more about why outsourcing your fulfilment is the best bet for your company, click here.
The right fulfilment partner can provide you with unparalleled service that can help your business grow like never before. Your company goals must be conveyed to the fulfilment company and there needs to be transparency in their deliverables.
Now that we have told you the importance of outsourcing fulfilment, let us take a look at what are the top questions you must ask your fulfilment provider before tying up with them.
How Broad are your Service Options?
This question will ensure the adaptability of your fulfilment service provider. If your fulfilment partner can bend and adapt to unexpected fulfilment requests, it's great news. A wide range of services means that you can diversify the items you offer to your buyers. This would ultimately mean different packaging, flexible storage options, varied shipping options, and many more such services that you might not need right now, but there are possibilities for the future.
If your fulfilment provider is able to provide custom services that can benefit your business in the future, you should definitely consider going for them.
Where are your Fulfilment Centres Located and How Spacious are those?
The location of a fulfilment center is a very important factor you must consider before signing up with any fulfilment company. Your fulfilment partner must have fulfilment centers in all the regions you serve because only then will your customers receive their products within a day or the next day. For example, if a fulfilment center is located in Mumbai, but you serve in Chennai, there are high chances that there will be delays in delivery. You must also ask them about their proximity to courier companies. Higher the distance between the fulfilment center and carrier, the higher the transportation costs will be, a share of which you have to bear in the end.
Opt for an all-encompassing solution that offers excellent warehousing facilities, as well as cost-effective transportation to benefit your business.

Does Your Company Provide a Service Guarantee?
Nowadays, nothing comes without a guarantee, neither should your fulfilment partner. It has become an industry standard. The service agreement should include how quickly your orders will be shipped and what happens if it is not met. You should be sure they are willing to put their guarantee in writing. How is your Fulfillment Company Different from your Competitors?
This is a very important question you must ask a prospective fulfilment partner because it will tell you about their USPs and how they are different from their competitors.
Ask how long they've been around, how their business has changed over the years, and where they see themselves compared to competitors. Not only will you learn more about your potential provider, but you'll also start to see what drives supply chain operations behind-the-scenes and the areas where your business will definitely need help.
A fulfilment provider who understands their place in the market is one who will be able to guide your business through every twist and turn that the supply chain throws up.
Which Courier Companies do you Use for Delivery?
The ideal fulfilment partner will offer you a range of courier partners or multiple courier partners, such as FedEx, BlueDart, Delhivery, etc. There are many benefits of having multiple courier partners. If one courier company is unavailable, you can choose amongst the rest to ship your orders. For example, Shiprocket.
A great company will provide access to multiple trucking/LTL companies.

Does Your Fulfilment Company Have A Dedicated Account Management Team?
There can be several benefits to both types of account management. A dedicated account manager acts as an extension of your business. They become very familiar with your needs and expectations and act on your behalf within the warehouse. You should speak with the person that will be your account manager prior to selecting the provider.
A team of customer service representatives can be beneficial if your company does not have a need for the fulfilment provider to be familiar with your needs or expectations. Having a team means that you can contact any one person within the organization to have your needs met.
Final Say
Any number of questions you ask your fulfilment partner would be less, as choosing your fulfilment service provider is one of the most crucial decisions you need to make as a business owner.
Remember that outsourcing fulfilment is supposed to save you time and money and eliminate the hassle. Even if you require a modest amount of fulfilment, outsourcing should be considered. Let your fulfilment provider manage the warehouse, software, shipping, receiving and fulfilment, carrier relationships, insurance, and all the other costs associated with your supply chain. That way you get to focus more on your core business and eliminate worries pertaining to fulfilment.
Calculate Your Shipping Costs Now