Types of Shipping Boxes Used in eCommerce
There are lots of eCommerce companies that realize the value of shipping boxes for their business. The use of shipping boxes is not limited to the local market but also crossing the boundaries for international distribution. These shipping containers or boxes are too useful to offer assurance that all the products are safe while shipping across nations. These boxes are waterproof and long-lasting.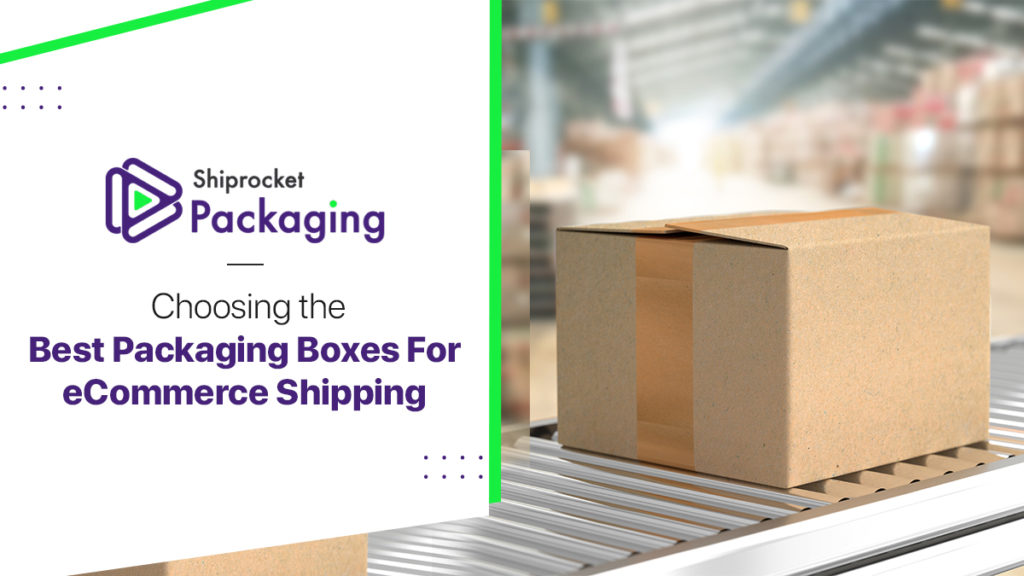 There are lots of companies providing the best shipping boxes as per the requirements of the clients. However, make sure that you are buying shipping boxes from a reliable company as boxes are made out of low quality and may not take up the product load.
Uline boxes are most ideal for businesses that tend to move their goods from one place to another at regular intervals. These boxes offer easy and better packaging and protect your interests from any harm during transit. Uline carries the widest variety of shipping boxes, envelopes, and fill materials, making it an excellent choice for ecommerce shipping.
Types of Shipping Boxes for eCommerce Businesses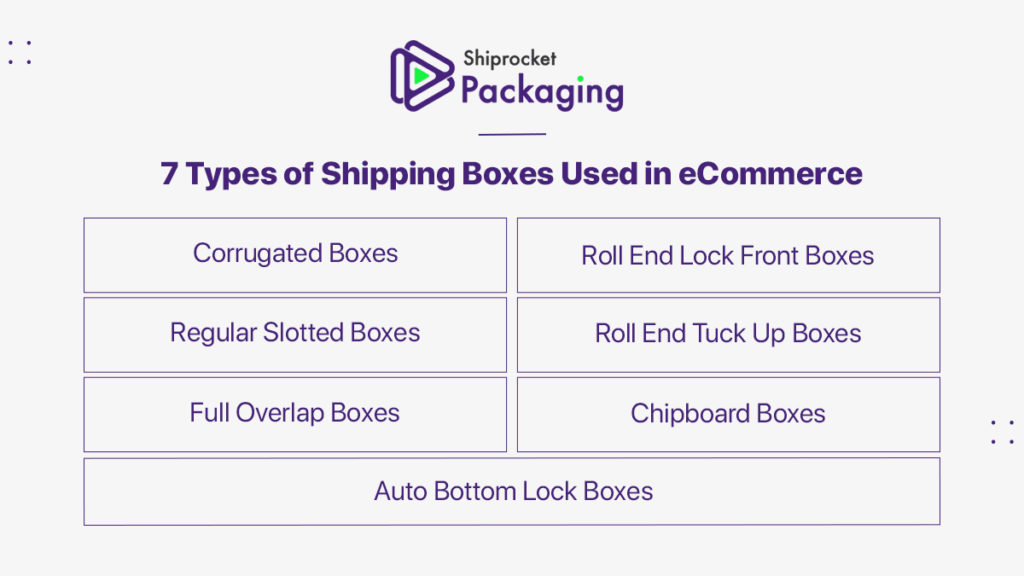 To help you out, we've compiled a list of shipping boxes used in eCommerce that includes the packages' features and details that you should keep in mind when deciding to choose the shipping boxes for your products. Here are the top 7 different types of shipping boxes for ecommerce.
Corrugated Boxes
There is much more about a corrugated box than one might realize. These prefabricated boxes come in many types; they're sturdy, can withstand moderate to heavyweight, and provide a little bit of cushioning because of its flat linerboards encasing. These shipping boxes are usually made from corrugated cardboard or paperboard.
They are available in a rectangle shape, and sizes vary from small to those that fit a large appliance. Before purchasing corrugated shipping boxes, you should research the actual material used to make the box. These are also known as brown boxes that are eco-friendly because and can be recycled easily for further usage. Moreover, they are safe and easy to handle for the transition of goods and do not have sharp edges.
Regular Slotted Boxes
The regular slotted containers (RSC) are right quality shipping boxes designed to keep strength and durability in mind. This is one of the most common box styles for shipping applications. The design of the RSCs has all flaps of the same length, and two outer flaps for packaging are one-half of the container's width so that flaps meet at the center of the box.
The RSC shipping boxes come in a wide variety of sizes. If you need to transport goods for food & beverage, electronics supplies, books, and retail items, this is a good and economically viable option. If you need an additional layer of protection during the transition of goods, you can place a pad between the box's two inner flaps. Generally, RSC boxes are designed to have a single wall for protection, and the packages are also available in double-wall or triple wall protection.
Full Overlap Boxes
This type of shipping box features flaps that have the same length to cover the box's entire opening. The design of the flaps provides extra strength to the shipping container. But its outer flaps overlap each other when the package is closed. This box-style has extra thickness for the protection of goods and provides additional cushioning at the bottom surface. You can also print some beautiful images or designs on the box. For example, you can print the product image for a better presentation.
A full overlap box is generally used to ship fragile items and bulky items and is ideal to choose from for longer shipping trips. The main difference between RSC and FOL boxes is the maximally secured opening. This is why full overlap boxes are more comfortable to use than the standard packages and are less likely to be disfigured while being opened.
Roll End Lock Front Boxes
The Roll End Lock Front or RELF box generally has small round flaps that provide the lid with a locking mechanism that smoothly tuck into the main body's front. The front flaps prevent the top's unexpected opening and enhance product protection throughout the shipping process. RELF boxes are durable and secure, but it is also a better choice for bulk shipping of cosmetic products and food products and can also be used for heavier products.
The RELF custom shipping boxes can be designed with logos in any color to showcase your brand or products. The box offers the most secure closing without using any tape or a sticker. While transported in different places and different positions, the box will likely stay shut. This makes it ideal for eCommerce shipping and does not require any additional packaging other than the box itself.
Roll End Tuck Top Boxes
The Roll End Tuck Top or RETT boxes have a simple open and close mechanism with a simple tuck to the inside of the box. This shipping box style has a lid connected to the front panel with a locking flap that goes in between two side panels. The RETT box uses a minimal amount of material, making it a cost-saving choice for eCommerce companies. However, unlike the REFT that provides the locking flaps, the RETT requires additional tape to seal the box.
It is also known as a traditional mailer box that keeps the products safe from dust and other particles during shipping. You can also customize the box design from top to bottom to give your products a perfect presentation. This box style is ideal for delivering pizza, pastry packaging, as it provides a protective layer from all sides with its "dust flaps," but the locking mechanism is less secure than the Roll End Lock Front boxes.
Chipboard Boxes
As the Indian eCommerce industry is at an all-time high, we know there will be a massive demand for reliable and eco-friendly packaging in the coming year. As a business owner, most of you're reevaluating your strategy to ensure you choose the right shipping boxes while respecting your budget. The Chipboard shipping box is a cost-effective solution for eCommerce businesses and an excellent choice for delivering pharmaceuticals, food packaging, gifts, cosmetics, and shelf storage.
This is a low-cost, reliable, and eco-friendly option than corrugated cardboard boxes. Chipboard shipping boxes can be substantially thinner and due to their light-weight design, shipping a chipboard box is much more user-friendly. You can also expect these boxes to be recycled and use them over again.
Auto Bottom Lock Boxes
If you're searching for custom boxes with variants of the bottom, then an auto bottom lock box is your best bet. It has pre-glued bottom flaps that need not be tucked in manually and easily locked by hand without using tape or glue. It is much convenient to use for packaging delicate and fragile items in the most innovative way. The glued base of the auto bottom lock boxes allows it to support the shipping of heavy products.
You can also go for any printing that you want on the box. It's easy to set-up and requires minimal time for assembling, so you can easily pack up valuable products. These boxes are considered highly efficient yet one of the cost-effective ways to deliver products.
Conclusion
When searching for shipping boxes, you need to do a lot of research online and place your order. Some websites would have images of the shipping boxes along with specifications and built quality. You can look at the options, make your choice, and place your order in no time.
Finding the right type of shipping box for your eCommerce business also depends on your budget and preferences. If you are shipping thousands of packages in a week or so, you can go for corrugated boxes for heavy to moderate items. If you are looking for cheaper options, you can choose auto bottom lock shipping boxes for fragile packaging items, food packaging & delicate items. So this is information on all kinds of shipping boxes for eCommerce and sees which box is best for your business.
Calculate Your Shipping Costs Now