How Can Branded Tracking Pages Help Your Business?
Modern consumers expect a streamlined, user-friendly experience from when they land on your eCommerce site to the moment packages arrive at their doorsteps. They expect simple navigation and a straightforward checkout process.
They expect fast, inexpensive (or free) shipping. And they expect easy-to-access tracking for their orders.
A branded tracking page enhances the post-purchase experience by bringing the information consumers to want into a clear and customized page. No longer do your customers have to wrestle with a DHL tracking page or a FedEx tracking page, and no longer do they have to search around for a relevant UPS tracking detail page.
How a Branded Tracking Page Benefits Your Business
No matter how large or small your eCommerce business is, branded tracking pages can provide a sense of scale and professionalism. In short, your operation looks world-class when it includes an attractive tracking page with helpful information. A branded tracking page also helps you:
Extend the Shopping Experience
For most customers, the brand experience ends after placing an order. When you create a branded tracking page, you extend that experience through the fulfillment process.
Offer Multiple Tracking Options
A branded tracking page delivers relevant information in various formats. Your customers can track their orders via a map or table, and they can also click to access the carrier's tracking page.
Creates a Responsive Experience
Branded tracking pages are fully responsive, meaning your customers can use them on desktops, laptops, tablets, and mobile devices. Today, more than half of emails are opened and read on mobile devices — and those mobile users demand-responsive pages.
Re-Engage Your Shoppers
A branded tracking page allows you to re-engage customers by offering links to deals on your site or your presence on social media. Channel existing customers back to your site and increase stickiness for repeat buyers.
More than anything, branded tracking pages create a consistent, unified experience for your customers, one that carries straight through from the browsing stage to the moment when an order arrives. Branded tracking pages allow you to deliver a quality customer experience that matches the quality of your products.
What to Add to your Tracking Page?
Add these elements to your tracking page! (Hint: Sellers have increased their conversions up to 20%)
Brand's Logo
Adding your brand's logo to your tracking page can serve you various purposes. But the question is, can you do this with your existing logistics partner?
Most of the courier companies enable tracking on their website without offering any opportunities to the seller. This leaves the seller with no scope to provide a distinguished level of satisfaction to the customer.
However, with Shiprocket, one can quickly capitalize on tracking pages by adding their brand's logo.
This can serve two purposes here-
First, it gives a sense that as a seller, you are still in charge of your package and not handing over your business to the courier as you hand over the order.
Next, it adds to your branding value. Your logo constantly reminds you of your brand and helps the customer stay connected with it. Branding helps establish a relationship with your audience, and there's no reason you should miss it!
Order Status
Your order status is one of the essential pieces of information that you can provide to your customer. It is also the key to keeping your customer in the loop, no matter where the order is.
Many eCommerce sellers commit this mistake of showing the estimated delivery date on their order tracking page but not their status. This often leaves the customer wondering in oblivion whether their parcels will arrive on time or not.
With Shiprocket's order tracking page, you can let your customers view the estimated delivery date along with the status of the order. More information. More reliability.
Product Banners
What if your tracking page could help you market your products? If you still think it's a dream, it's time you switch your courier partner.
With the market becoming more and more competitive with each passing day, sellers must not leave a single opportunity to reach out to their customers in the best possible way. And since tracking pages are already customer's favorite, adding product links and banners can prove fruitful.
Experts from the industry suggest that customers these days are hooked on the tracking page once they place their orders. And adding product recommendations based on the customer's preference can help in driving conversions. This practice will also enhance customer satisfaction.
Support information
It's your product that is reaching the customer's doorstep. Then why not add a touchpoint to your tracking page, from where they can reach out to you directly!
Offering your support information to the customer can help in establishing trust in your brand. This imparts a sense that you can be easily reached in times of need.
Buyers also value your willingness to help as you offer your support information on the tracking page.
On Shiprocket's customizable tracking page, you can easily add the contact information of your customer support and earn your customer's trust.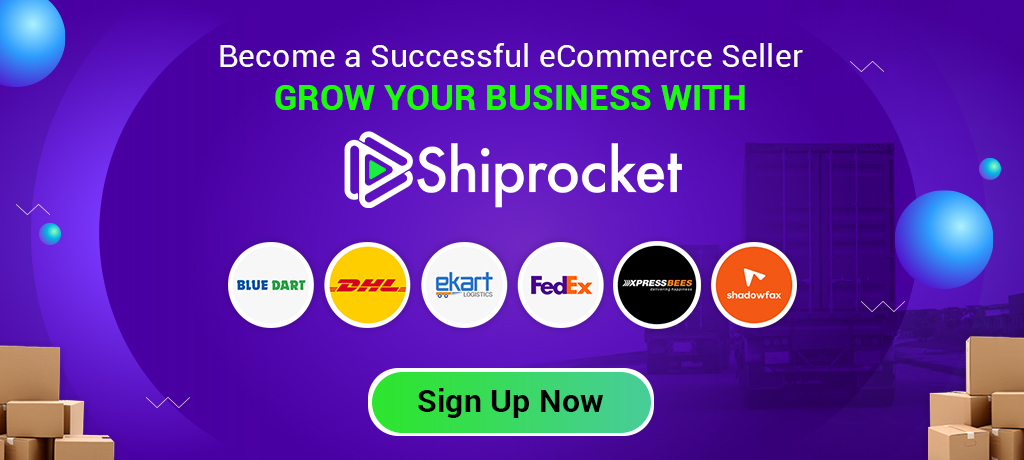 Calculate Your Shipping Costs Now