eCommerce Shipping Trends
Shiprocket's D2C Report For The Festive Season – 2019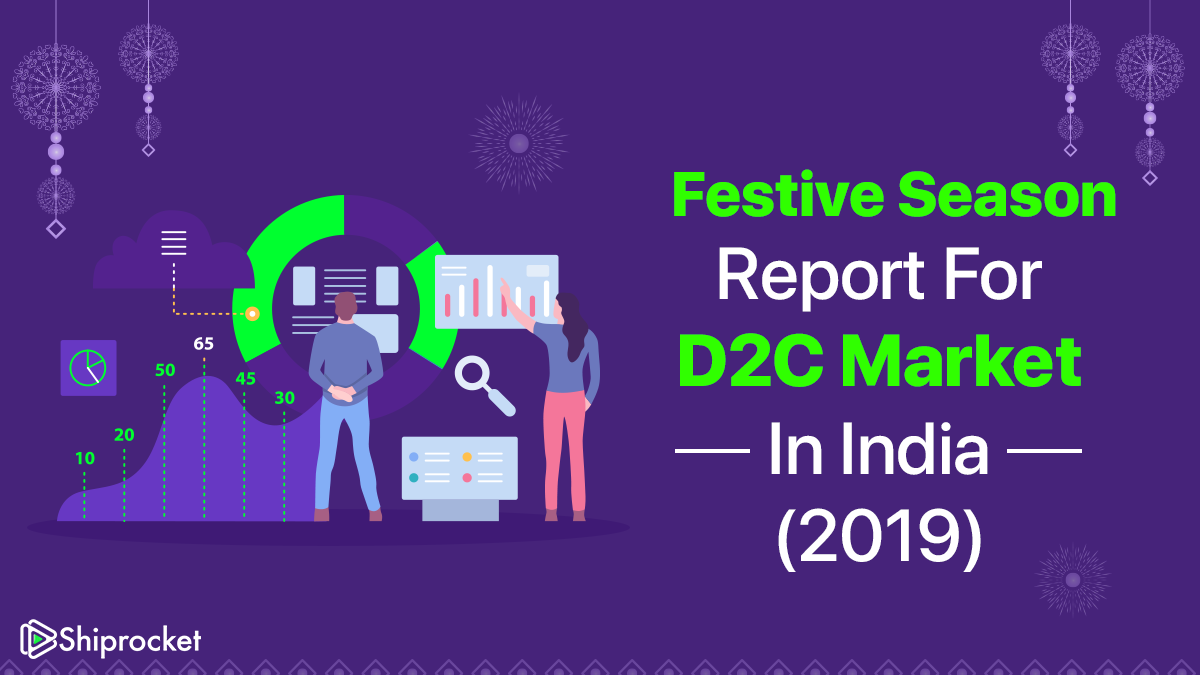 The festive season means a greater number of sales and increased profits. While some products are successful, others don't sell that well. To give you a better insight into the current market, we bring to you our Festive Season 2019 Trends Report. Based on shipment data and interviews with leading online SMB retailers, Shiprocket forecasts e-commerce sales for the 2019 festive season to be almost double that of 2018 for its sellers. Despite the recent economic challenges, this growth is largely driven by trends that are reshaping e-commerce in India.
Forecasts For The Season
Shiprocket spoke to a wide variety of sellers using its services and found optimistic growth projections for the 2019 festive season. D2C online SMBs are expecting a promising 100% growth compared to last year's festive sales as customers are now getting more comfortable buying products online outside of marketplaces. Whether orders come via WhatsApp, Facebook or the seller's website, customers are trusting sellers more to deliver what they promise.
On the other hand, marketplace sellers on the Shiprocket platform are expecting growth of 30% to 50% on average with the expectations of over 100% growth in categories such as Beauty, Health and Apparel. Other categories such as mobile accessories are expected to also grow 30% during the festive season. Overall, D2C brands have found success with lifestyle categories like apparel, beauty and home furnishing in 2019 and expect this growth to continue during the festive season.
Top Products And Categories
Health and beauty products have emerged as fast-moving products in Tier 1 cities while Home and Kitchen products have picked up massive traction in Tier 2 & 3 cities.
Trends To Dominate The Festive Season Of 2019
Mr. Dhruv Madhok, Managing Director of Arata, a leading wellness and beauty brand, also commented about the estimated sales volume vis a vis 2018, "Brand recall, digital marketing and robust CRM practices have led to a 51x growth in orders from this quarter last year, and revenue this month has surpassed what we've done in Q1 this FY, and the entire previous FY".
Divergent expectations about the 'discounting patterns' during the festive season were also expressed. While most sellers felt that discounting will continue to remain a popular customer acquisition tool, the average discount percentage was predicted to be lower this festive season as compared to last year. Though affordable merchandise will clearly attract new customers, D2C companies are also building powerful brands that stand for quality and innovation.
"Discounting is slowly reducing, mostly for established brands and popular consumer products, due to consumer focus changing to quality of service along with the products. Consumers are satisfied avoiding discounts if that translates to better services", said Mr. Parth Minocha an E-commerce business owner.
Shiprocket data for 2018 and 2019 shows the highest increase in the number of social sellers while website sellers and D2C brands have seen the highest increase in the number of shipments. We expect this trend to continue during this festive season as well, with social sellers and D2C brands getting a higher share of online orders as compared to last year.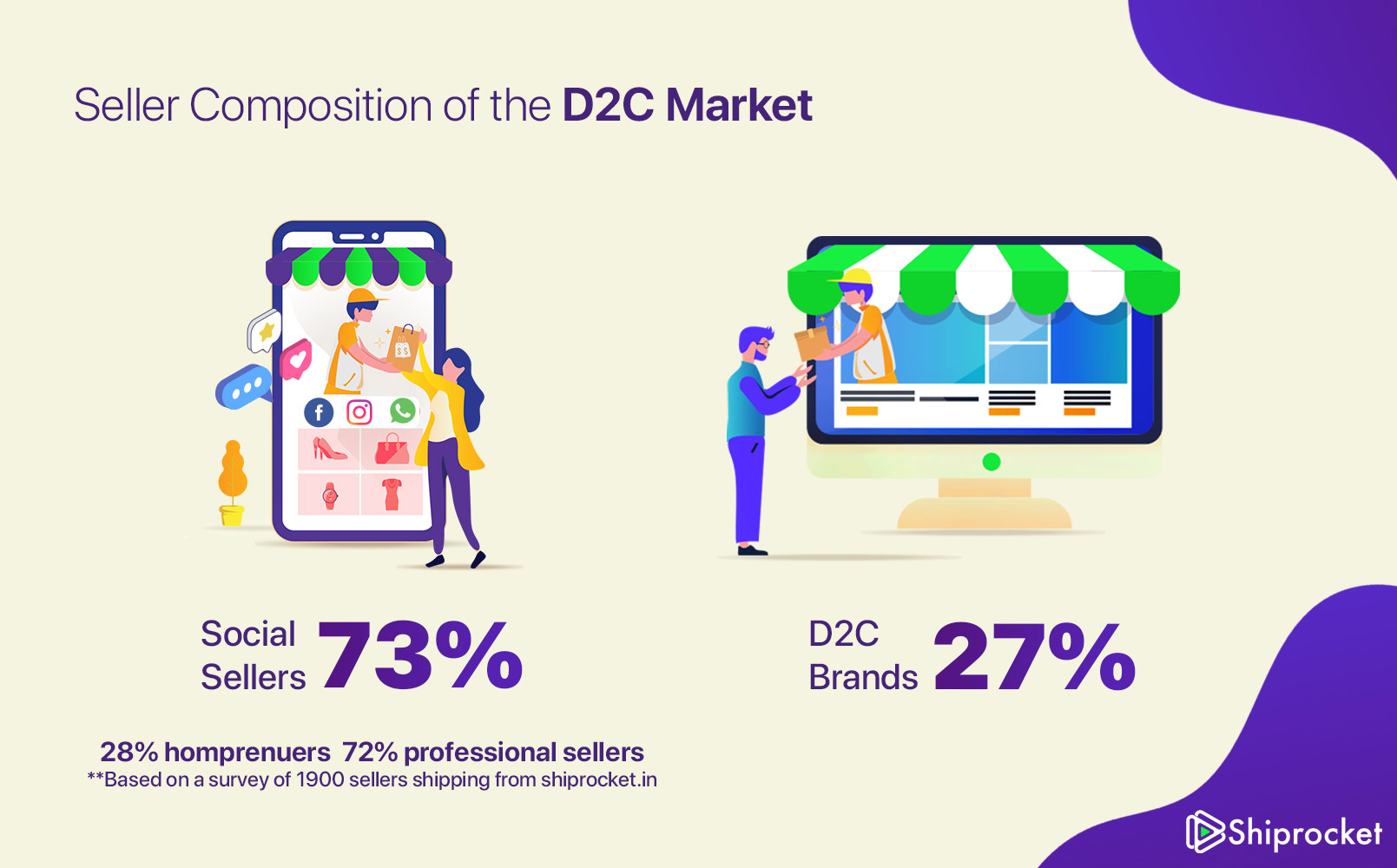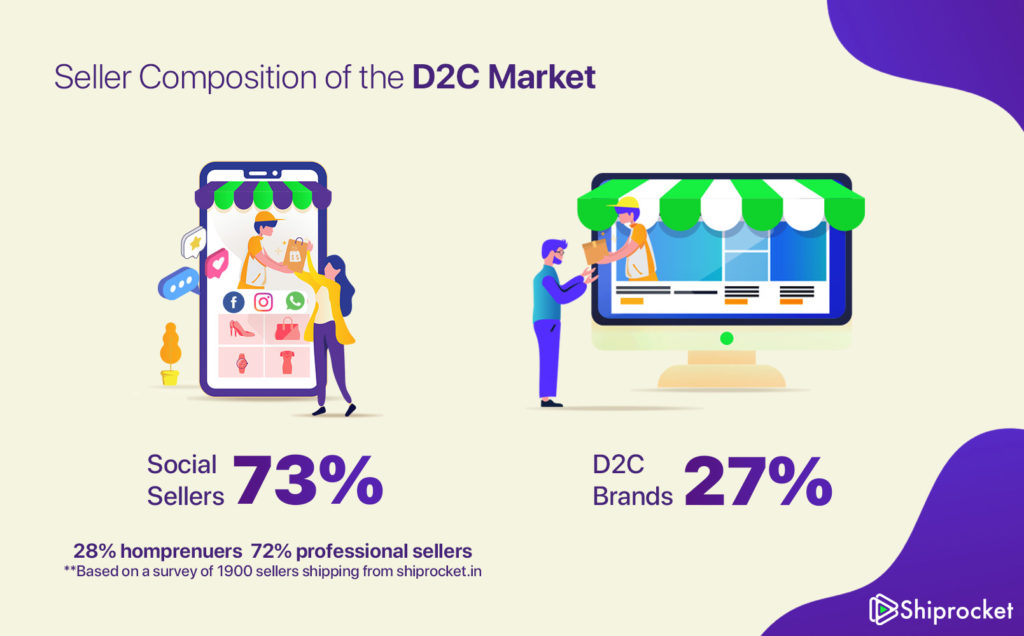 "During the 2018 festive sale period, Shiprocket saw a 75% increase in the monthly order volume as compared to the average monthly orders and this year we are predicting a 2X growth for festive season sales", said Mr. Saahil Goel, Co-Founder, and CEO, Shiprocket.
Tier 2 and 3 cities are also expected to contribute a higher percentage of orders in comparison with 2018. Shipments to Tier 2 cities have already shown a 10% growth YoY and this trend is expected to grow further during the festive season.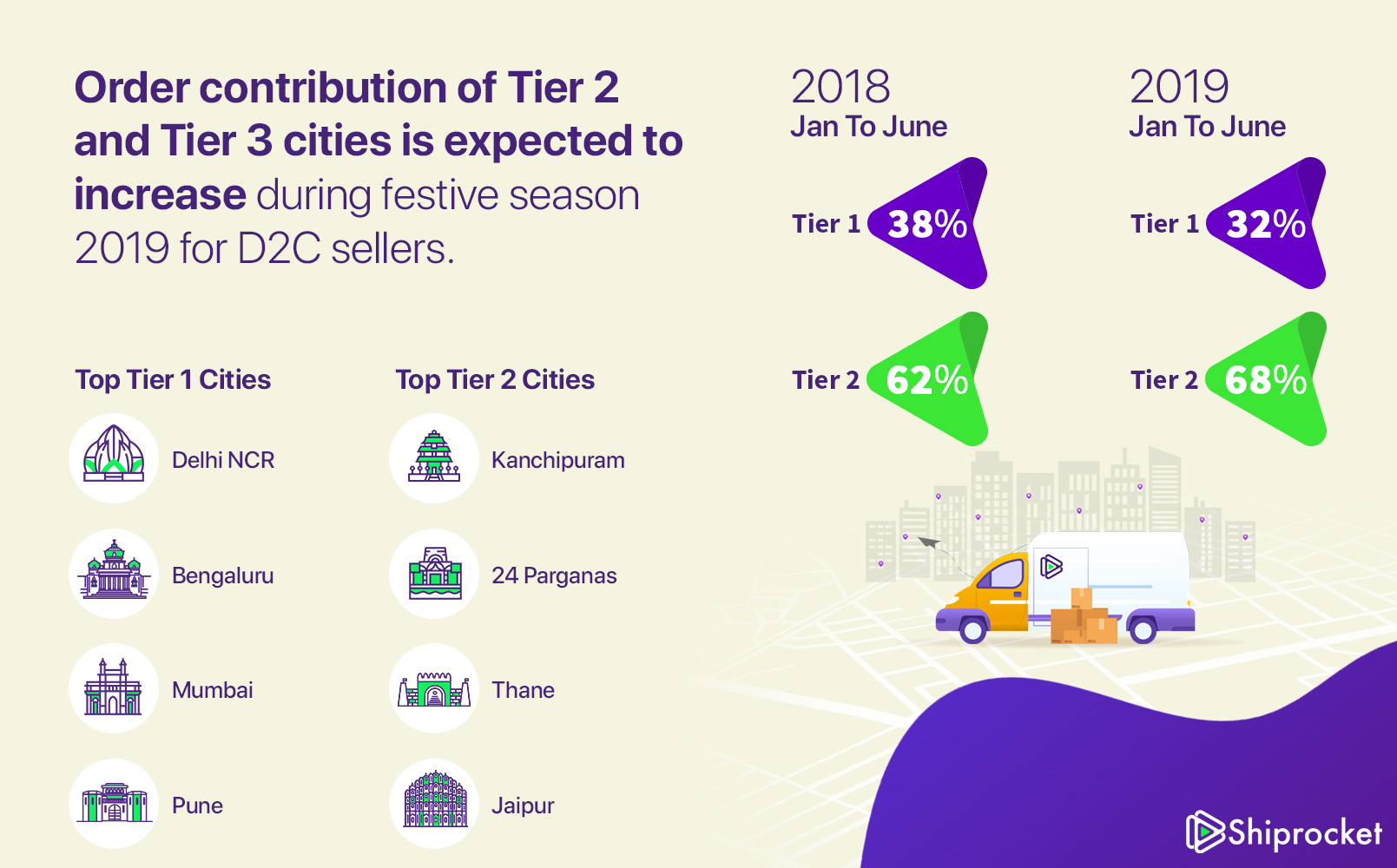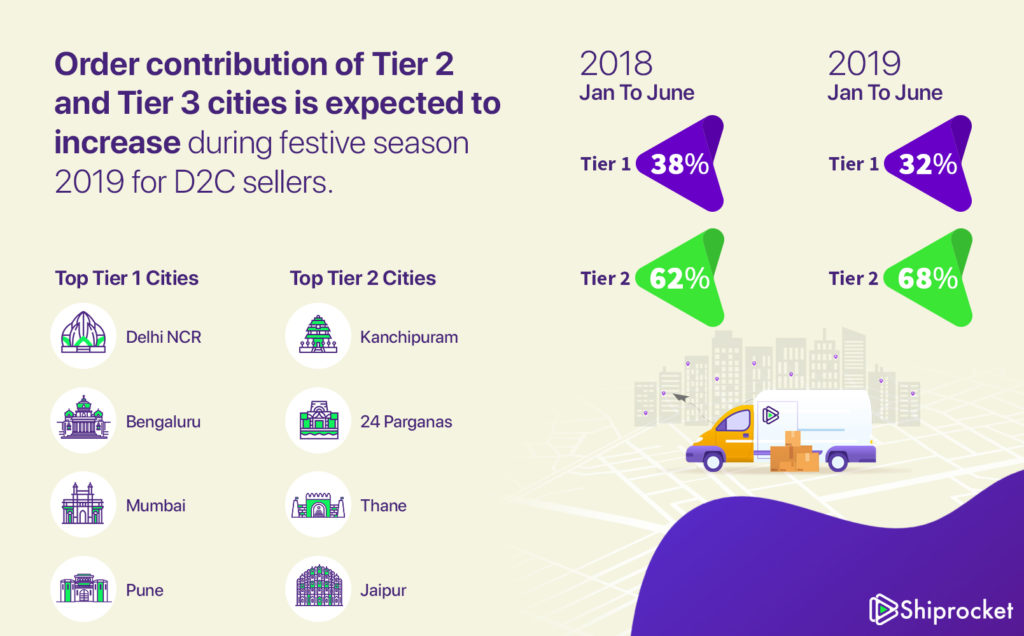 Final Thoughts
Sellers also highlighted that timely delivery of shipments and visibility of their products on large marketplaces are their two biggest concerns this festive season.
An increase in the order volume brings with it a myriad of operational hassles for the D2C sellers. "Nothing is more of a hassle during the festive season than management of inventory. It is important to forecast sales, either through past results, or industry standards, and manage inventory and restock levels. Making use of a good inventory management system is also a valuable investment.", highlighted the co-founder of Baefikre, an E-commerce store.
Additionally, IQONIQO, an Amazon seller using Shiprocket said, "Manpower is the major operational hassle during festivals. Also, delayed delivery affects the entire performance. We are very new to e-commerce, but I can advise one thing, that is, do not run out of stock as well as packaging materials. Then only you can ensure a smooth and successful festive sale season."
This data, combined with industry signs from important periods like Rakhi and Independence Day sale paints a picture that should have E-tailers feeling optimistic heading into the final months of 2019.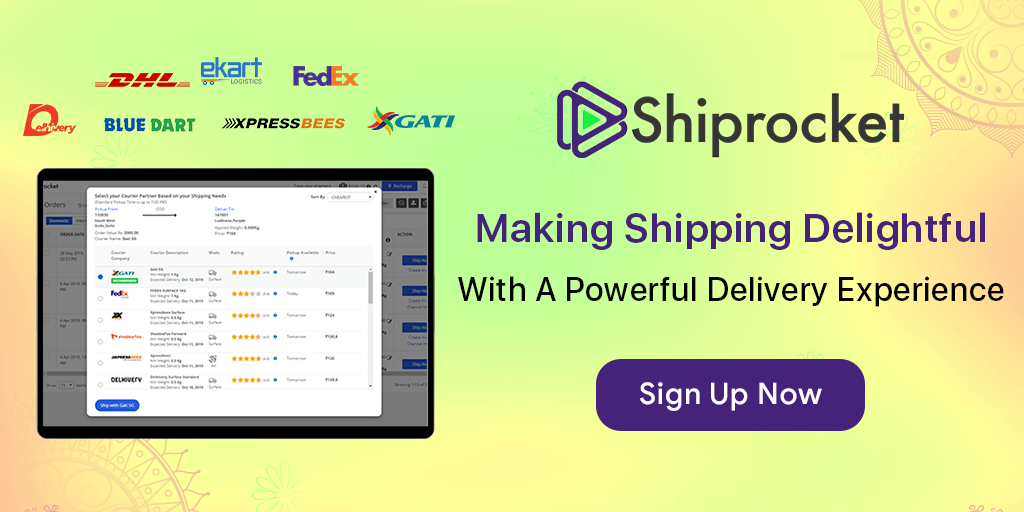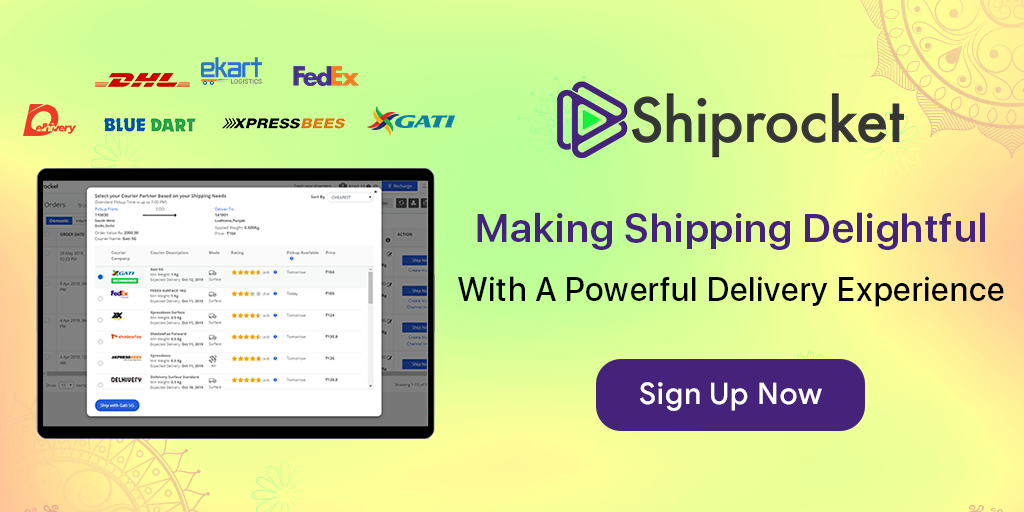 Calculate Your Shipping Costs Now