The A to Z of Drayage Shipping You Need to Know for Your eCommerce Business
The road to success in the world of eCommerce is filled with challenges. But its taste is equally rewarding. In other words, eCommerce bets your hard work against unprecedented profits, huge returns, and a loyal customer base. However, it is only for those who crack its recipe.
Easy browsing options, product quality, and attractive prices are ingredients that bring you closer to your recipe for a successful eCommerce business. While different companies choose to juggle between these ingredients by investing in what they deem essential, there is one thing without which they can't survive. We're talking about eCommerce shipping, and ignoring it can make or break your business.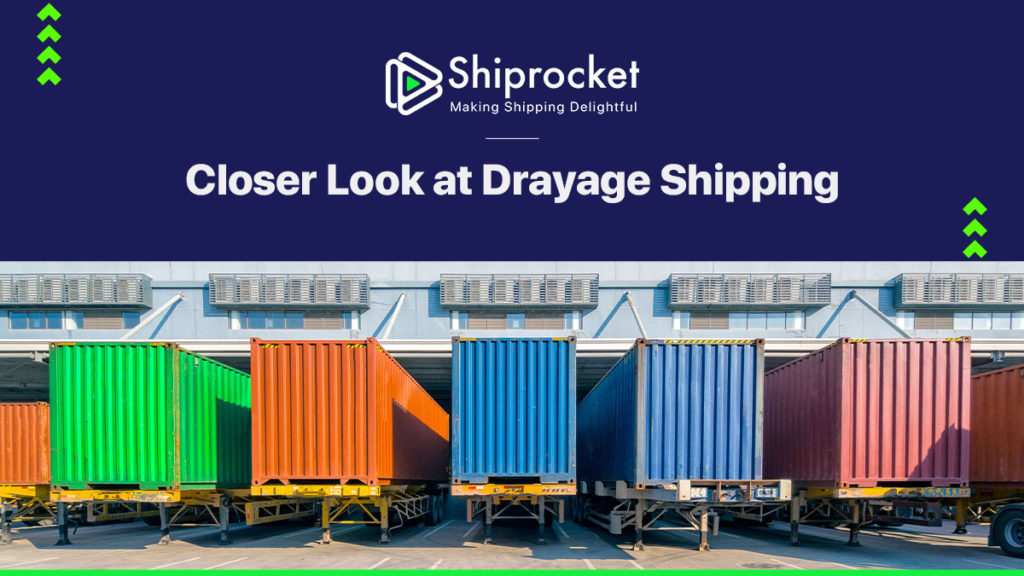 Today, customers want faster delivery of the products they order online. Regardless of your liking towards it, as a business, you have no choice but to provide express delivery options if you want to stay competitive in the market. If you look at the eCommerce titans, you'll find all of them providing fast and cheap delivery solutions to their customers. Nonetheless, it is one of the things that bring their customers back to them.
The process of faster shipping has multiple nuances involved. It is also where the concept of drayage kicks into the picture. The road to speedier delivery has to go through drayage shipping for a lot of business niches. Not only is it a smart option for your eCommerce business, but it also makes you the apple of your customer's eyes. It's easy, hassle-free, and doesn't ask for much. Sounds like something you'd like to try? Read on further to find the A to Z of drayage shipping and why it could be one of the best decisions you can make for your business this year.
What is Drayage Shipping?
Tracking the word drayage's etymology, we come across Dray, which refers to a horse-drawn cart, now a truck or wagon, without any sides. Logically inferring, such a vehicle is used to transport barrels and heavy loads across distances.
When combined with its counterpart 'age,' Drayage interprets the convenience fee charged for this Dray. In other words, when we talk of drayage, they can mean either of the two things-
Drayage services can refer to a vehicle that helps shipments or cargo containing goods travel across relatively short distances, such as from a port to a warehouse and vice versa.
On the other hand, drayage shipping can also refer to the fee charged for these services.
While these services are most popular in freight shipping, smaller shipments also reap their benefits. Due to its modern reckoning for smaller loads, drayage shipping is proving to be a massive blessing for eCommerce sellers.
Drayage is a part of an overall movement of services in the logistics industry. For example, in freight shipping, drayage services are used for the transportation of goods from the ship to the warehouse. It would mean moving the goods from the delivery vehicle to the trade area like a mall or store for manufacturers and wholesalers.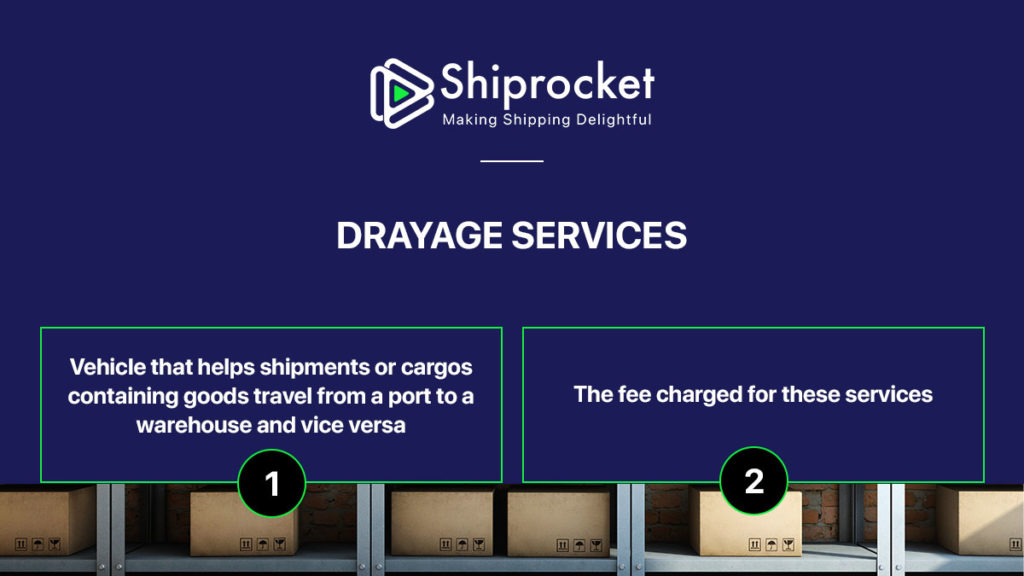 Why are Drayage Services Needed?
When it comes to drayage, the shipping method has little relevance other than the distance being covered. That's because these services are not for transporting your goods from one state to another. Alternatively, you can use drayage shipping to move cargo or shipping containers from one point to another, by rail, or even by semi-trucks. The requirement of these services is felt in the following cases-
You need to transport your goods from one place to another in the same city.
You need to get your shipping container from your warehouse to the port for international shipping.
You need to pick up your shipping container from a border or port to your warehouse.
Overall, drayage services facilitate uninterrupted and faster shipping for your goods. It usually takes a single shift to transport the entire container or complete the drayage process.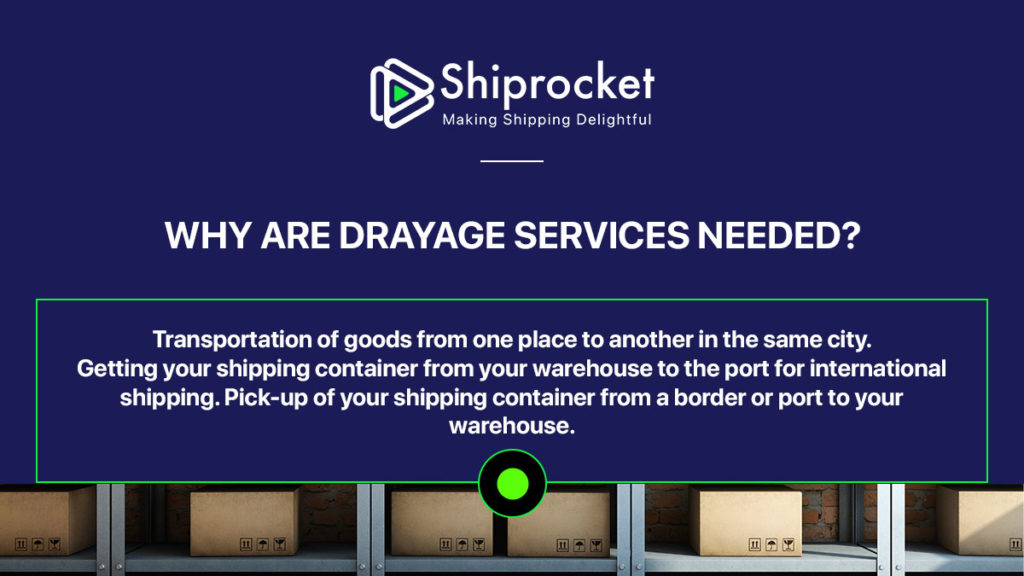 Steps Involved in Drayage Shipping
As an eCommerce business, saving time in the logistics process and providing a great customer experience must be fundamental. While drayage can help you achieve that, here's what you need to know about the steps involved.
The first step is to unloading your primary delivery vehicle and completing any documentation processes such as receiving and signing receipts.
In the second step, the shipping container or the cargo is transported to the merchant's booth.
Next, the empty boxed and the items that are no longer required are stored in the short term near the tradeshow.
Once the trade show is complete, the unassembled products are moved back to the receiving dock.
In the last step, the carrier vehicles are reloaded with the goods and additional boxes while the outbound documentation is completed.
While there are various kinds of drayage services, the fundamental process behind all of them involve mounting an empty or full container on a chassis or a flatbed that will be delivered from your door to the port or railyard and vice versa,
Drayage Services Examples
eCommerce businesses must consider drayage as an intermediate process or a subset of their overall logistics process. For example, if you have a shipment that requires multiple means of transport, such as an airplane and a truck, the process between offloading your goods from the aircraft until the truck is loaded on the truck can be understood as drayage.
As a result, the examples of drayage services are most common in the following two cases-
Tradeshow
A tradeshow is an event held to bring together different members or merchants of an industry at a common platform, showcase, and have conversations about their products. At a tradeshow, suppliers might have to relocate booths from the loading port to the showroom. Under ordinary circumstances, the suppliers would have to take care of such transportation needs. With drayage services in the picture, the entire scenario gets streamlined, and the storage and movement of materials are taken care of by the trade show owners.
Shopping Mall
However, one of the most critical use cases of drayage shipping comes in the picture of retail stores or malls. As a seller, your shipment might require going to a mall, shop, or a hyperlocal point of delivery. In cases where these target areas are not easily accessible by carriers, the shipment must be taken to a familiar location and distributed accordingly. This is the part of the logistics process where the loads are handled intermediately, often undertaken by drayage services.
What are the different types of Drayage Services?
While you might have got the bigger picture of how drayage services form an essential part of the logistics process, it is also necessary to know its types. Let's quickly take a look at them-
Expedited: As the name suggests, expedited drayage is for time-sensitive shipments where you can quickly transport the shipping containers or cargo.
Inter-Carrier: Inter-carrier drayage refers to the transportation of goods between multiple transport companies. For example, the intermediate transport taking place from an airplane to a truck.
Intra-Carrier: Intra-carrier drayage refers to the transportation of products between two different hubs of the same transport mode.
Pier: When drayage services use highways for the transportation of goods, they are called pier drayage. For example, they can be used to transport goods between a rail terminal and a ship.
Shuttle: When the storage hub is overcrowded, shuttle drayage is used to move the goods to a temporary storage point.
Door to Door: Some large appliances, furniture, etc., require delivery to the customer's doorstep using a truck. In such cases, the drayage is referred to as door to door.
Find Your Perfect Drayage Service Provider!
Drayage services have a significant impact on the logistics aspect of your business. Make sure when you're choosing a service provider for the task, they have a fully functional infrastructure in place. Here are a few things that you must take into consideration-
Understand the method of tariff calculation by the service provider
Check whether tracking is available between different points of transport.
Check their end delivery timeline and schedule.
Look whether there are any charges for empty boxes etc.
Alternatively, you can also use Shiprocket's one-stop logistics platform for greater reach, faster delivery, and reliable tracking for your eCommerce products. Have any doubts about drayage shipping, or you'd like to know more about our services? Let us know in the comments section below!
Calculate Your Shipping Costs Now