Improve Your Order Fulfillment Function with an eCommerce Management Software
Order fulfillment can become an eCommerce seller's nightmare. Surprisingly an eCommerce Management Software in addition to logistic software like Shiprocket can come to one's rescue.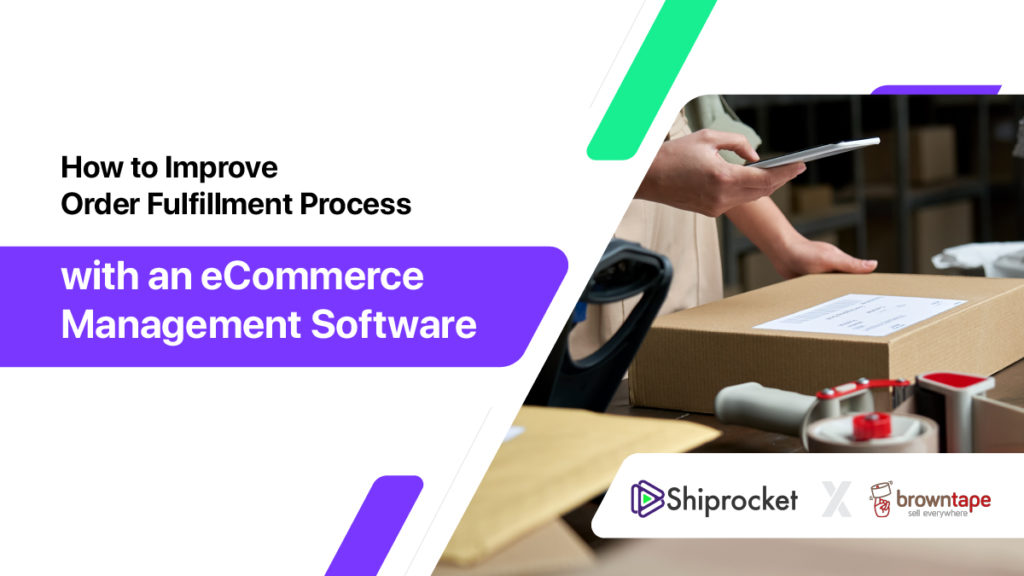 As one expands the business, adds new marketplaces and pin codes, the operational demand rises drastically.
Online shoppers in India have grown to expect a seamless experience in terms of delivery speed because of high benchmarks set by eCommerce industry leaders.
Apart from that, it is crucial that you dispatch the right orders. This is the standard that sellers have to uphold, day in, day out.
As per Tracktor, a customer looks at the order tracking page 3-5 times on average. The anticipation of delivery gives a consumer greater joy than the delivery itself, at times.
What is an eCommerce Management Software?
An eCommerce management software helps sellers manage eCommerce business across multiple marketplaces and web stores from one single panel. The functions include management of warehouse, inventory, order, courier platforms, remittance, and business insights.
Syncing eCommerce Management and Logistics Software
A business owner has to lay a strong operational foundation for an eCommerce business. This includes inventory & warehouse management, order processing across multiple marketplaces, and finally allocating the order to one's shipping platform. These can be managed by dedicated eCommerce management software such as Browntape. Further, in the era of 3PL and seamless supply chains, shipping and logistics play a crucial role. A smart & robust logistic platform like Shiprocket has the core competency to seamlessly handle multiple courier platforms, optimize delivery, and also handle NDR. Combining the two gives an eCommerce seller an edge over the competition. This can be done with just a few clicks, from one's eCommerce software panel.
What is Order Fulfillment in eCommerce?
eCommerce Order Fulfillment begins as soon as a customer places an order. The process of picking, sorting, packing, shipping, and tracking returns are all part of the process. However, we also need to understand that certain functions prior, such as inventory management are also part of the process. All in all, the following play a role:
Purchase/Sourcing Management
Multi-Warehouse Management
Inventory Management
Order Fetch from Across Marketplaces
Order Processing
Order Packaging
Allocating Orders to Shipping Partners
Return Order Processing
Types of eCommerce Order Fulfillment Models
Currently, in India, marketplaces offer or have different models of order fulfillment. It can get very confusing as an eCommerce seller has to adapt to different models as per the marketplace. An ecommerce management software helps integrate all marketplaces and fulfillment models in one place. Here are some of them.
Self Fulfillment: Also known as in-house fulfillment, the merchant himself carries out order fulfillment including shipping via his own choice of courier partner. One example is Amazon Easyship or D2C brand doing end-to-end order fulfillment. While do note, that self-fulfillment can also be part of dropshipping.
PO Model: In this model, a seller bills the marketplace and sends products in bulk to a marketplace. The marketplace in turn bills the customer, sorts and repacks the product as per individual orders. A popular example is the Myntra PO model.
Dropshipping: This is the most common model of fulfillment where the customer places the order on a marketplace. The eCommerce seller directly bills the customer and sends the products to the customer. This gives a seller more control over his eCommerce business however the responsibility of the seller increases. Especially concerning order fulfillment. While a seller can opt for pick-up by the marketplace assigned or marketplace owned courier partner. So the delivery and return process is more streamlined.
Marketplace Fulfillment: In this model, the eCommerce marketplaces (Amazon, Flipkart, etc) provide their sellers with order fulfillment services for a fee. One example is Amazon FBA (Fulfilled by Amazon). Here the seller sends goods directly to the marketplace warehouse from where order fulfillment is handled.
Third-Party Fulfillment(3PL): Owing to the exponential growth in the eCommerce sector, evolved third party logistic providers like Shiprocket Fulfillment have emerged in India. Such service providers provide warehouse, courier, logistics, kitting services and more.
Why do Online Sellers Use eCommerce Management Software?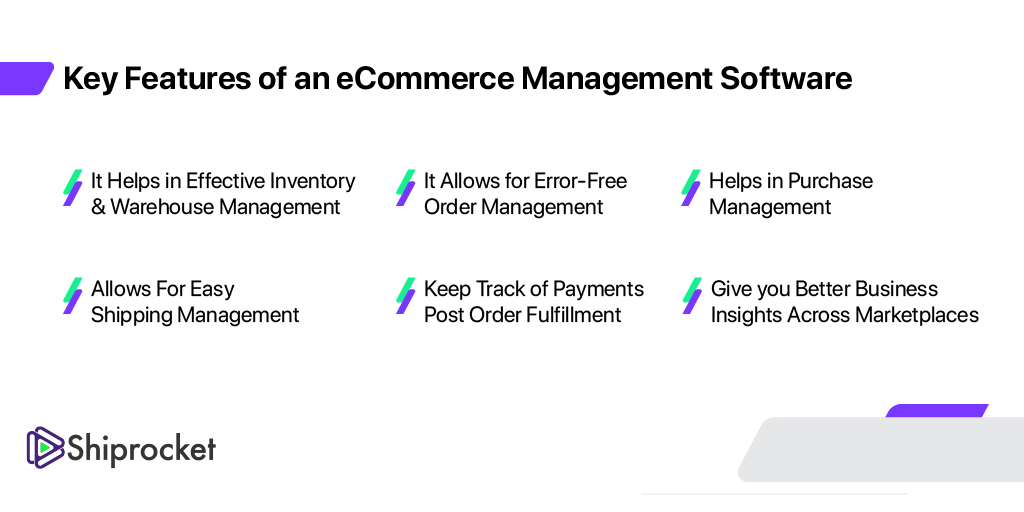 Since eCommerce is only booming, businesses need to up the way they function and process orders. Having an online business and not having an efficient way to deal with the order fulfillment process will only bring your business down.
Loss of customers; no brand loyalty
Creates a havoc-filled workplace environment
Failure to keep up and sustain with the competitors
Besides these points, as sellers, you must be aware that you can be blacklisted. That is if the delivery breach rate exceeds more than 1.5 percent. Furthermore, you can be charged a penalty of the product value in case of cancellation. To avoid all this, sellers simply adopt an eCommerce management system; like Browntape.
An eCommerce management system is equipped to handle every aspect of having an online business all from one dashboard. Besides this, a few noteworthy features include:
Effective Inventory & Warehouse Management Management
Preventing Stock Outs: When customers make a purchase they expect to simply receive the product; however, a seller may cancel the order as the item might have got sold on another marketplace. Sometimes there are repeat customers who may find the product out of stock. eCommerce flash sales are another time when stockouts are common, leading to a bad customer experience. As a seller or a 3PL provider, if you fail to do so you are bound to lose customers. However, with eCommerce Management Software, you get a complete view of your business and its inventory; leading to better inventory forecasting.
SKU Performance-Based Stocking: You shouldn't be Over-Stocking or Under-Stocking. This is a result of poor inventory management. This way you might be unnecessarily filling out inventory space. An eCommerce Software helps you know which SKU is selling well, across which geographies and thus, one can plan inventory basis performance of SKUs.
Marketplace-wise Inventory Allocation: As you keep starting to sell on more & more marketplaces, handling inventory becomes difficult. This is a key reason for adopting ecommerce management software.
Manually managing the inventory for multiple marketplaces can be an exhaustive task. Using excel sheets won't make your job easier. Allotting additional manpower to handle each marketplace separately is not the solution either, and can in turn result in manual errors. Consider this scenario: You have two units of an item and a customer orders two on Myntra while another customer orders one on Flipkart. These situations result in order cancellation from your end, denting your seller ratings.
To the above situation, an apparent solution is reserving inventory units for individual marketplaces. However, this is not practical in the real world. Forecasting the demand from each marketplace is difficult. There might be a sudden spike of sales on Amazon during the festive season or Paytm may be offering attractive cashback. This makes it virtually impossible for any seller to know in advance how much inventory to allocate for each marketplace.
Order Management
Error-free Processing: As an e-commerce seller, you are already familiar with the conventional order fulfillment steps in ecommerce. The process starts with picking the appropriate items from the warehouse as per the picklist. Next, the item is packed by marketplace guidelines, and the order invoice is generated. The process ends with applying shipping labels & generating the manifest. Indian online sellers generally manage these procedures manually. A software like Browntape is packed with features such as Automated Shipping Batch Creation, Pick List & Pack List Generation, and Scan and Print Feature to generate labels & invoices. These features considerably reduce the error rate in order fulfillment.
Scalability: Using scanners for the order processing is a giant leap towards automation and thus, it helps to use an eCommerce software with a scan and pack feature such as Browntape. Processing ecommerce orders with scanners will quickly make you realize that you are now capable of taking up more orders, owing to saved time. Thus, such automation helps sellers to scale up their business.
Reduction in Employee Costs: While you may think that you are splurging a lot of money to buy equipment, you must note that this is compensated with lesser employee costs. With scanners in place, lesser manpower is needed for order fulfillment activities. Your day-to-day processes become streamlined and fewer employees can be deployed in a conveyor belt fashion and this way, you can process more orders.
Linking to Your Preferred Shipping Platform: Order Management Softwares allow you to link your preferred shipping platform such as Shiprocket. This further optimizes your order fulfillment process. Thereon, you can manage multiple courier partners via the Shiprocket account, manage returns competitively and over and above, avail services as per your SLA with Shiprocket. Syncing is easy as Shiprocket comes pre-integrated in many eCommerce management softwares.
Purchase Management
Most likely you don't manufacture the goods you sell in-house. If you use a warehouse to store your goods from where they are transported and delivered to your customers, you will need to establish seamless connections with your suppliers. This can be done through an eCommerce Management Software with an inbuilt PO module. This will allow you to smoothly communicate with your suppliers. You can create purchase orders, manage GRNs, and much more.
Shipping Management
After perfecting the back-end of your order fulfillment process. You now have to make sure that the shipping process is dealt with smoothly. Firstly, make sure you have a reputed shipping company. Since any delay or damage will reflect on your brand. Keeping this in mind, make sure you have thorough research about the same.
eCommerce shipping Software such as Browntape is pre-integrated with Shiprocket which gives you not just access to courier providers but also other important shipping & logistics features as it is integrated with several aggregators and courier partners. Collaborations with 17+ courier partners and delivery operations to around 220+ destination countries and union territories make Shiprocket a leading courier aggregator in India. Known for offering logistics services at reasonable rates, Shiprocket is unanimously appreciated by customers for its tracking platform. The software dashboard allows easy tracking of delivered & non-delivered products. Moreover, the platform is packed with a courier recommendation engine – CORE which allows for a customized shipping rule-based courier partner selection. With Browntape as the e-commerce software and Shiprocket as the logistics aggregator, any seller can excel at order fulfillment.
Remittance Management
As sellers work across marketplaces, it becomes difficult to keep track of payments post order fulfillment. There are cases of cancellations, returns, and fulfilled orders. Now an eCommerce management software, helps you keep track of how much payment was received from each marketplace and if the cost of returns was deducted properly. Thus, you are not just selling on various marketplaces but managing a consolidated eCommerce business.
Business Insights & Dashboards
An eCommerce management software gives you a bird's eye view of your business across marketplaces. Thus, you know which geographies perform better; and then can set up warehouses in those regions. This helps improve your order fulfillment function. Similarly, if you have your best-performing SKU filtered; you can stock those and contribute towards better order fulfillment. Dashboards can also indicate the busiest days of your week, allowing you to better manage your human resource.
Conclusion
There you have it! You can now improve your order fulfillment function with an eCommerce management software synced to your Shiprocket account. Remember always to take a demo and choose a software that is easy to use & has a support team to assist you through your journey.
Calculate Your Shipping Costs Now