5 Best Tips To Consider For Your eCommerce App
E-commerce mobile apps help merchants to sell their products and services online. Just in the last few years, the eCommerce market has exploded with a number of mobile apps in many consumer categories from food to clothing, retail items to accessories, and many more. Not surprisingly, the emerging m-commerce markets are the driver of this trend. In 2021, 72.9% of all retail sales are expected to be generated via e-commerce mobile apps.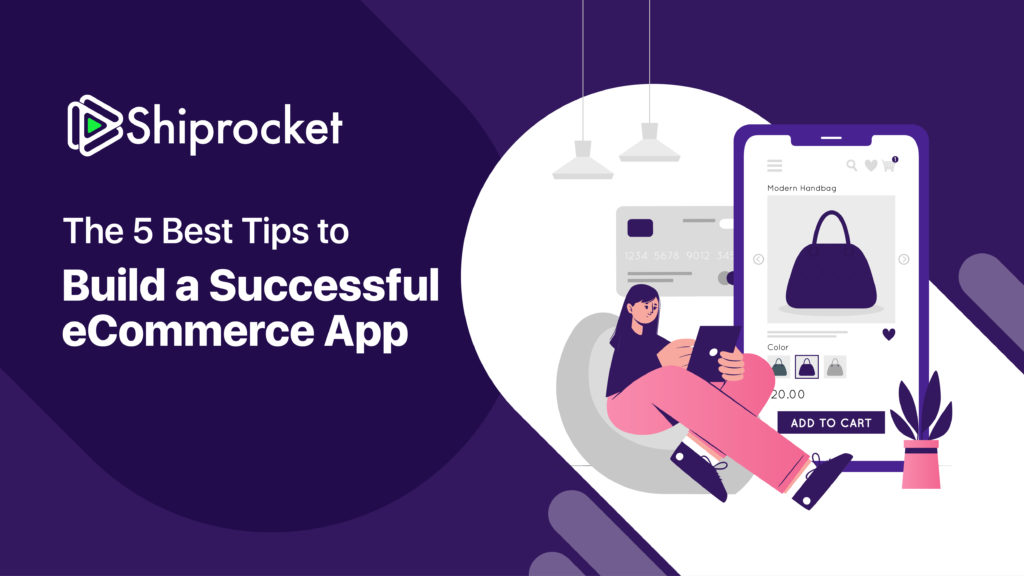 Online shopping has become increasingly popular in India. Post lockdown the way people shop in India has changed a lot. Yes, people are practicing social distancing for the year, but this doesn't stop them from buying stuff they need.
This is where the eCommerce mobile apps come in and offer the ease and convenience to get everything delivered to their doorstep. Developing your eCommerce mobile app is not a big deal today, especially with a variety of tools and technologies available around. Mobile apps are the future of retail and now is the time should seriously consider building your very own eCommerce app.
How To Build an eCommerce App For Your Store?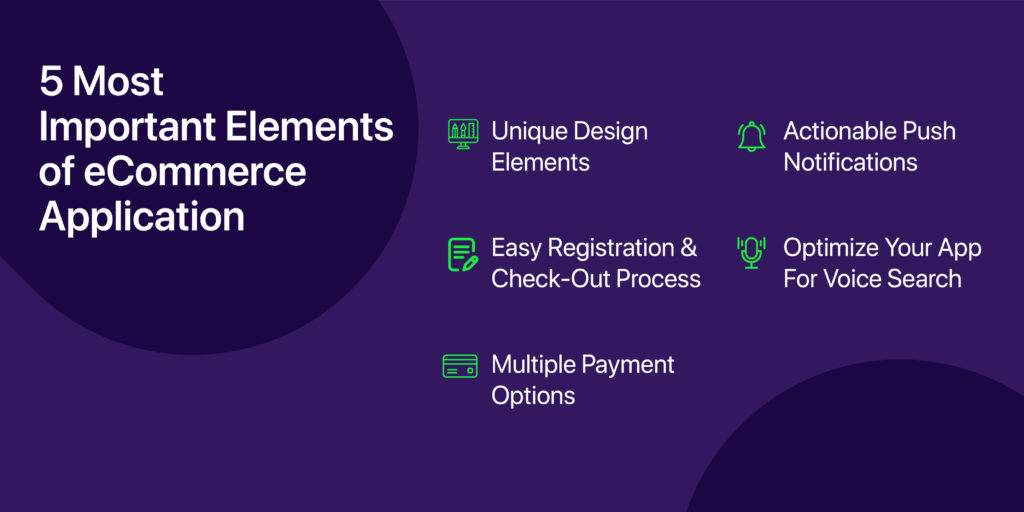 To build an effective eCommerce mobile app for your store that results in more visitors, more clicks, and sales, it's important to know what you exactly want and how you will measure success. You need to determine goals by analyzing how much traffic your store generates every month. And what is your current conversion rate?
You will also make a list of the core features that you need in the eCommerce app. The process of eCommerce app development requires close attention to features such as push notifications, checkout process, voice search, and more. By providing advanced functionalities in your eCommerce app will give your business a chance for a solid start. Let's start with the features.
Unique Design Elements
It's no wonder that modern users demand high-quality eCommerce apps like Walmart, Amazon, and Adidas. If you look at the Amazon app, you find unique elements such as the one-column structure to showcase the whole product range, minimal graphics, easy navigation, and user interface to keep things clean and clear. Dark themes, gradients, micro animations, 3D graphics, voice interface, augmented reality, bottom navigation, passwordless login are the prime examples of unique design elements to add to your eCommerce mobile app.
The next step is choosing the right platform for your app. Whether it is Android, iOS, or PWA, that you want for your next application. The region where you operate, the economic situation of your business, and the products that you offer are the deciding factors of your platform selection. Android is the best option to choose for on-demand apps and iOS for targeted apps. Testing your eCommerce app is an inevitable task for the success of your application.
You need to check the most important areas of your application such as design & navigation elements, payment gateway functionality, mobile responsiveness, browser compatibility, and integration abilities. Finally, you're ready to launch your e-commerce app.
Easy Registration and Check-Out Process
The registration process is most important for your eCommerce app. You should optimize its flow of work to provide the best services to your customers. Give your customers the option of Single Sign-on, as opposed to email registration. Allow them to sign in from their social media platforms and through email or SMS.
To keep your operations simple, placing the registration button on the center or front of your e-commerce app is not enough. Using visual cues like color, symbols, and gestures boosts the engagement ten times over. Similarly for a well-structured check-out process, integrating the best navigation features will make the process seamless. Providing an easy-to-use checkout process ensures that your customers do not abandon the cart, which helps you win over your competitors.
Multiple Payment Options
Payment options are the key components of your eCommerce app strategy. Mobile shopping is about purchasing on the go using your smartphones. To enable payments on your eCommerce mobile app, you need to understand the basics of how it happens.
The first thing to analyze is what you really want. In other words, are you selling something on your app or enabling another company to process payment from its customers. Once that is clear, you can open the doors to the most popular payment methods via your built-in app wallet, debit card, credit card, net banking, and e-wallet.
Setting up a payment gateway on your eCommerce app means being flexible in adding payment options. Security of payment gateways is important. If payment is not done securely, it will be subject to getting hacked and you're liable for that. So keep a check on security measures before designing your app.
Actionable Push Notifications
Push notifications are a great marketing tool to promote your mobile app. They are used to send product updates, reminders, news, deals, discounts, and any information that's related to your app or business. Many studies show that users visit your eCommerce app after receiving a push notification. This is why you need app push notifications to get more users. Sometimes the users will forget about your app, with push notifications you can remind your users of the value that your app brings to them.
Mobile app push notifications work as an effective tool for boosting app engagement and retention rate. This, in turn, provides you the opportunity to sell your products or services to the right set of audiences. As soon as a user downloads your eCommerce app, start sending them notifications with rich content, images, and GIFs. But don't crowd them right away. Give your users some time to explore your mobile app. If they leave your app after 24 hours, then you can send them a notification or reminder to give them a taste of your app.
Optimize Your App For Voice Search
Reports show that over 50% of mobile users have used voice search at least once a week. This is why many businesses consider adding voice search to their eCommerce mobile app. Voice search enables you to describe product features in multiple languages by using multilingual voice technology. This means you can target customers from different regions and countries regardless of the language you speak or understand. It improves customer satisfaction as well as improves interaction abilities with your customers, and expands the boundaries of your business.
To add the voice search to our eCommerce app, you can use the tool Speechly that works on all platforms with a single configuration. The tool enables speech correction and easy integration abilities into your app. So voice search is a great feature that must be added to your eCommerce application.
Now that you've figured out what your eCommerce app needs in terms of features, let's talk about some other aspects such as social sharing, app analytics, wishlist, contact, and rating & review options. By adding these features, you can make your eCommerce mobile application truly successful and user-friendly.
Final Words
Whether you're planning to launch a new app or updating the existing one, it is essential to have a proper strategy. There must be clarity in goals while building your eCommerce app. So, what is stopping you to win over your customers? If you also want to build your eCommerce store for free, request more information here.
Calculate Your Shipping Costs Now