Funding Ideas for Your Small eCommerce Business
Investing in a startup comes with its own set of challenges, opportunities, risks, and obstacles. Small business firms have a huge concern for gathering enough funding for the operations of their businesses. In the initial phase of any business, some quick business funding is required.
The eCommerce in India is growing and it's growing fast. If you're a budding startup, here's how to find funds for your business and become your own boss.
How to Find Funds for Your eCommerce Business?
If you've decided to start an online business, it's time to consider how to arrange funds. There are costs associated with creating a website, promoting a product, managing inventory, paying for shipping, and more.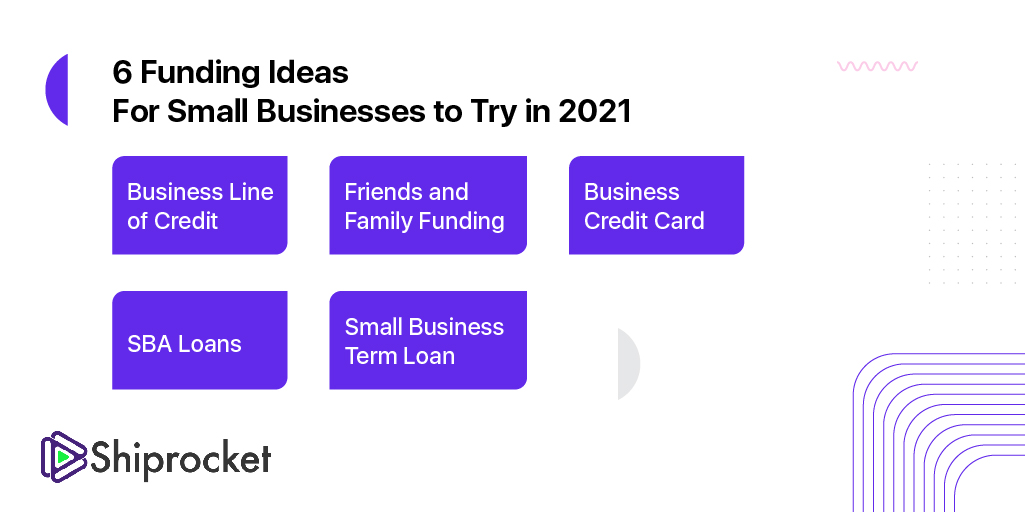 Additionally, you'll also have to invest in your digital storefront and consider necessities such as buying a domain, URL, website designing, and marketing your business. Let's start with some funding ideas for your eCommerce business.
Two-Way Crowdfunding
Crowdfunding is the way to raise the money you need for your business. It follows two models that allow you to raise funds differently. The first one is the rewards-based model, which offers donations in exchange for a predetermined reward. As the price of the donation amounts gets larger, so does the value of the prizes.
Equity-based crowdfunding is the other option that allows investors to invest in a company during the early stages of its development in exchange for a percentage of equity in the business.
Both of the models have their own benefits and trade-offs that will affect your business. For example, You may not get the money unless you reach the end goal. For the equity-based model, you may find it difficult to prepare the necessary legal documents, so it is time-consuming and costly. All in all both crowdfunding models can be used for your business.
Personal Funding
You can take help from individuals who are willing to help you succeed. It is a good idea as you allow your family members and friends to support you financially through a loan. But make sure you treat your friends or family as professional investors. Ensure that everyone agrees to a structured repayment plan and deadlines. This way you can keep the funding professional and as hassle-free as possible.
Business Line of Credit
The business line of credit allows you to borrow a pool of money up to a specific limit and pay interest on the money you borrow. Plus, for startup businesses in India, a business line of credit may be easier to obtain than a traditional bank loan.
The application process for a line of credit is usually pretty simple. Once your loan application has been approved, you can withdraw funds against your credit limit. And you need to pay back principal and interest on only what you've drawn from. Additionally, most lines of credit loans are renewable, which means you can borrow again and again from the lending entity as long as you pay back what you've borrowed. This is why a business line of credit is a flexible way to arrange funds for your ongoing business.
Credit Card Loan
If you need a little money as your business funds for those unforeseen expenses, a credit card loan could help fund your eCommerce business. A business credit card is like a personal credit card that gives you access to a credit limit and covers all your business expenses. Plus, business credit cards can be helpful when applying for funding loans.
Small Term Loan
For more capital investments a small term loan can offer you good funding. Though it's important to know that most small-term loans require you to have been doing a business for a couple of years to qualify.
The benefit of applying through a bank is that they offer small-term loans at a lower interest rate. But you may have to follow a lengthy application process with some fees for low approval rates. If you've been doing business for years and have a track record of success, this can be a great option for arranging funds. A term loan can help make your business successful, but make sure you look into all of the options before you opt for the loan agreement.
SBA Loans
SBA loans are guaranteed by the Small Business Administration that come with low-interest rates and manageable repayment terms. The SBA loans make it more comfortable for you to get money from the bank.
SBA loans are usually offered at a lower cost, that's why they're incredibly popular among small business owners. The application process is also long and takes around 4 to 6 weeks to clear the loan amount. There are types of SBA loans to consider, but all of them require good credit and some history in the business.
Final Words
Whether you've had an eCommerce business for a while or you're planning to launch a new one, it can be a rewarding way to become your own boss. And your funding is the only thing that holds you back. There are options available for every eCommerce business owner to get the funding they need to succeed.
Calculate Your Shipping Costs Now