Quick Guide To Ship Worldwide Easily
After the COVID-19 pandemic, domestic and international shopping lines have blurred drastically. With the surge in eCommerce and online shopping, customers are now willing to purchase products from anywhere in the world until it satisfies their needs. According to eMarketer, online retail sales will reach $6.17 trillion by 2023, with ecommerce websites taking up 22.3% of total retail sales. The stats clearly state that you don't need special provisions to ship worldwide. Most businesses that might operate from their house today are also doing it.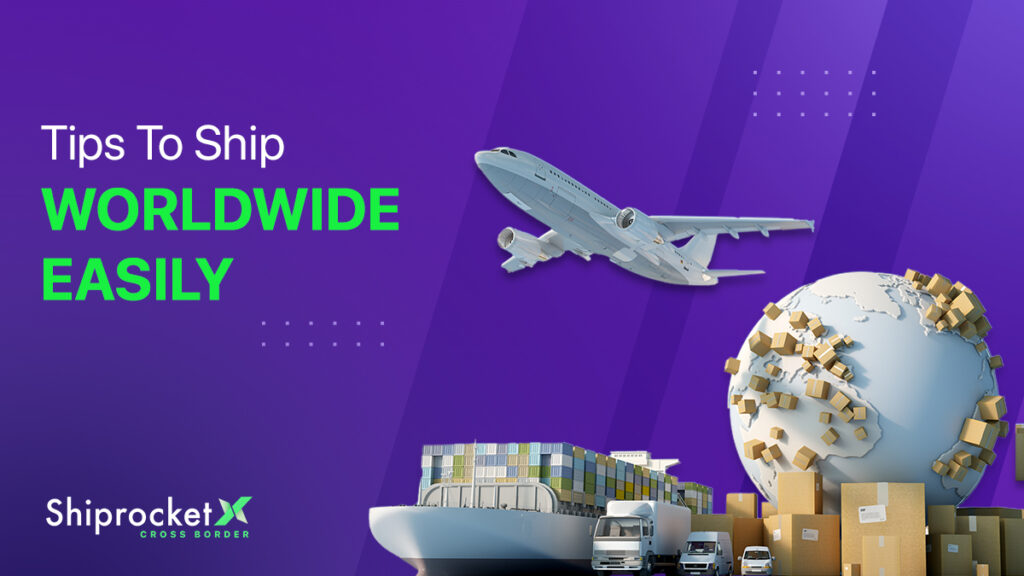 Even though it might seem like a very lucrative option, is international shipping as easy as it sounds? Well, it can be. International shipping can be significantly simplified if you follow the proper process and take the right steps toward growth. You need to be prepared.
The competition for global selling is increasing rapidly, as most international customers purchase from global brands. Most small eCommerce companies often utilize marketplaces like Amazon and eBay to sell their products. However, the supply chain and shipping often challenge international eCommerce. With the rapidly growing global growth, it is often challenging to meet customer expectations like free shipping, on-time delivery, etc. It can often lead you to run dry and save no profits for your business.
Let's look at a few tips that can help you ship worldwide quickly and secure a market for your business.
Tips to Ship Worldwide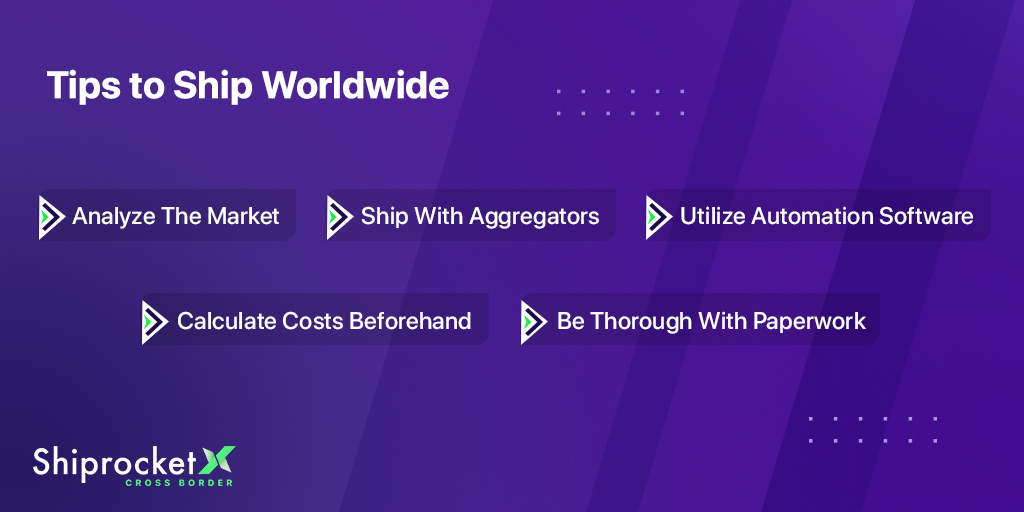 Analyze the Market
The first and foremost best practice to ship worldwide is to analyze the market thoroughly. You might have plans to grow your business rapidly and reach every country globally; however, it can be a considerable challenge if you do not thoroughly research the market and see the product-market fit for your business. It can even lead to losses. Not just a product-market fit, you also need to analyze the delivery challenges the area might pose. Last-mile delivery is a huge challenge in most countries. You must ensure that the last mile delivery does not affect your shipping costs. We suggest you conduct a thorough analysis by talking to the local fulfillment providers, shipping partners, etc., to see how your business will perform in the new global market.
Ship With Aggregators
Another helpful tip when shipping internationally is to ship with courier aggregators like Shiprocket X. Aggregators usually have multiple courier partners on their platform, and they can offer you the lowest shipping rates for your business. You not only get an A grade pick up, transit, and delivery service, you also get complete assistance till your product is delivered. Not just that, you can provide your customers with a simplified tracking experience to ensure that they receive their package on time.
Utilize Automation Software
You can save on time and costs by automating your operations. By using automated software for invoicing, label generation, and order management, you can process orders faster and deliver them on time to your customers. Since automation software usually synchronizes with marketplaces and websites, eliminating addresses, information, and other errors.
Calculate Costs Beforehand
If you calculate the cost beforehand, you can decide whether you want to accept or reject international orders. Using an efficient rate calculator for international shipments can help you know the shipping costs and charge your customers accordingly.
Be Thorough With Paperwork
Paperwork is one of the most crucial aspects of international shipping. To ensure that your delivery goes through customs and reaches the customer without any roadblock, you need to ensure that the paperwork is completed thoroughly and accurately. Tie up with a service provider that can help you with this paperwork, and you can also maintain a record of it online.

Ship Worldwide With Shiprocket X
When you think of international shipping from India, express shipping at sky-high rates comes to mind. However, the times have changed, and you can start shipping globally at a button with service providers like Shiprocket X.
You can ship worldwide quickly across 220+ countries with multiple carriers and track them all in one place. Not just this, you can integrate with leading global marketplaces like Amazon, eBay, Shopify, and Woocommerce. The best part is that you can get started with your IEC(import-export code). Additionally, you can also protect your shipments against damage or loss with a claim of up to Rs 5000.
All you need to get started is to upload your IEC and PAN card for verification, add your orders or import them with a website in marketplace integration, select your mood of shipping, shipping orders, and track your shipments.
Not just big brands, now even you can provide your international customers with a branded shopping experience when they shop from your niche online store.
Final Thoughts
When you ship worldwide, the pressure of shipping correctly and at the correct cost can seem like a roadblock. With Shiprocket X, you can eliminate half the hassle, concentrate on your products and make sure they reach the customers properly. Follow these tips and best practices to make the most out of global selling without heading towards losses.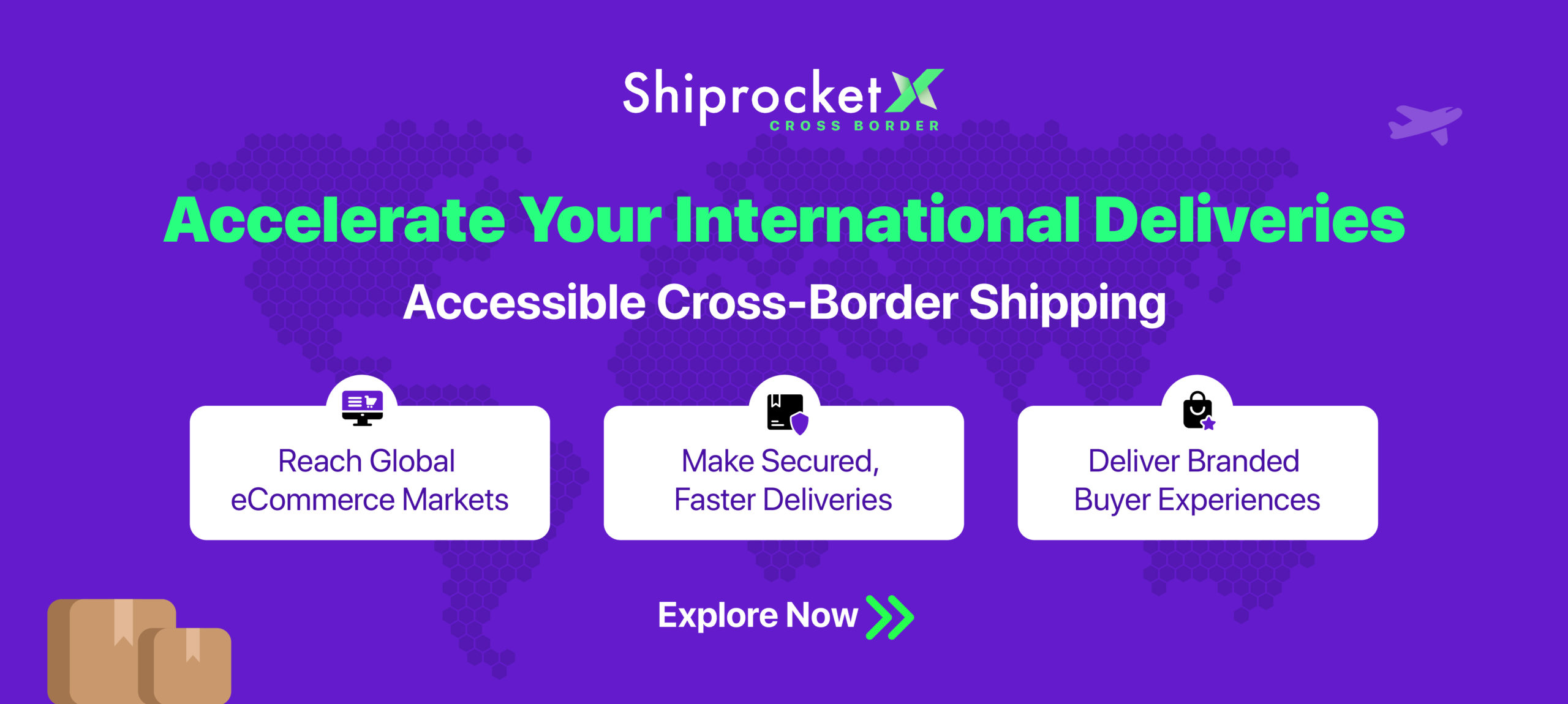 Calculate Your Shipping Costs Now