How to Use eCommerce Referrals for Your Business
What does brands like Amazon, Flipkart, Myntra, etc., have in common? And it's not just that they are the market titans when it comes to eCommerce.
They all use the power of referral marketing!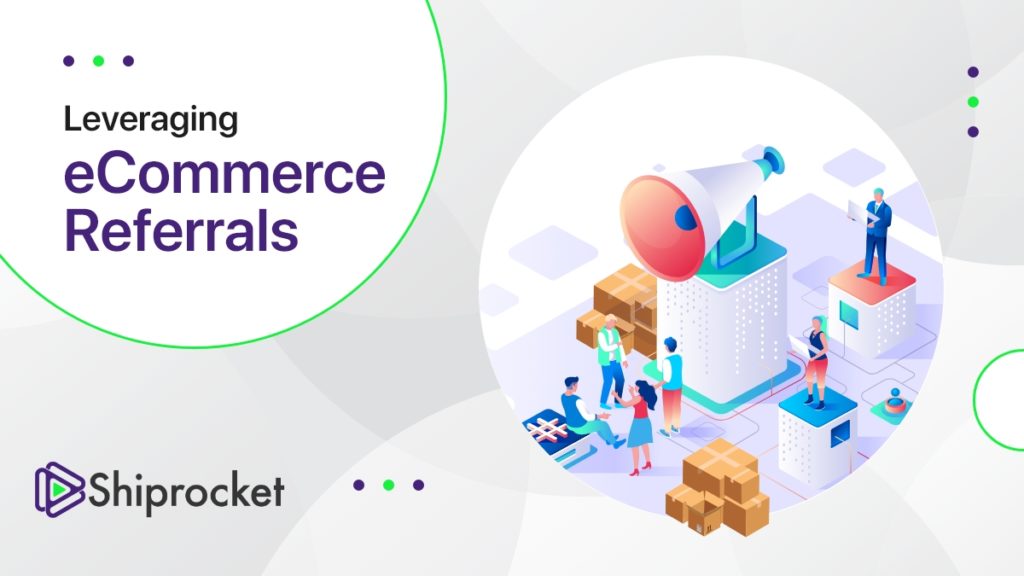 Referral marketing is one of the most powerful tools out there that help businesses earn the name they have in the market today. If you look at the history of the most successful brands, you'll find that all of them have a straightforward referral marketing strategy in common.
Referral marketing is the key to spending less and growing your business exponentially. It is one of the best ways to leverage your customers' loyalty.
But despite the immense benefits that referrals have in store for eCommerce businesses, there are very few sellers that make the most of it. If you are one of those, it's time that you use referral marketing to grow your business. Don't worry. We'll hold your hand on this journey.
Here is how you can use referral marketing for your eCommerce business-
Why Referral Marketing?
You put in the best efforts to create an excellent experience for your customers. While all the hard work brings you customer loyalty, there is more that you could do with it. We're talking about increasing your customer base and how referral marketing can help you do that.
Automated
Referrals are pretty much automated and do not require you to work on the night and day. Once you set them up, they will be automatically sent to the customers in emails, push notifications, etc. And when the referrals start coming in, all there's left for you to do is cater to their orders.
Easy to Set-up
Referrals are the easiest to set up. You can set up your program through various means on your website and watch your loyal customers spread word of mouth.
Improve Customer Loyalty
Remember that your customer will only refer you when they are satisfied with your services. So, when they do, they feel invested in your brand. The same goes for the person who is being referred to.
Make your Customer Acquisition Cost Predictable
Predicting customer acquisition costs are essential for a business. But it's often challenging to tell how much prices you have invested in acquiring a customer from sources like blogs, etc.
5 Quick Ways of Using Referrals for Your eCommerce Business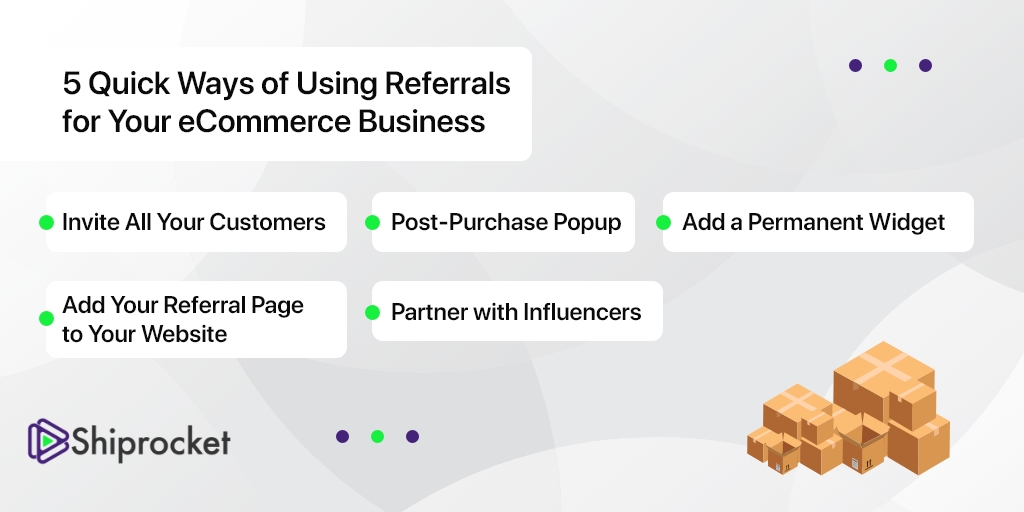 Invite All Your Customers
Why reserve your referral program to only a handful of few when you can capitalize on all your past customers. If you think a referral is one of the easiest ways to earn more customers, it's time you should probably reconsider it.
Just like content marketing, a referral program takes time to yield any results. It works well, but you have to wait for your program to pick up customers and start reaping your profits. Even though it might seem like you are not getting any new customers at first, just wait patiently as your customers refer to their friends and family. The best thing you can do is create an attractive copy that your customers can't resist sharing with their peers. Also, give your existing customers some incentive in return for a referral.
Post-Purchase Popup
Another great tactic to advance your referral program is when your customers have just made a purchase. Remember that when your customers create an actual purchase from you, they are invested in you. They trust your brand and are committed to you.
This is a perfect time to ask your customer for a referral. Many websites don't even let the visitor know that they are running a referral program until they turn into customers and make an actual purchase. On the other hand, once the customer makes a purchase, it would be great to ask them to join your rewards program and refer your website to their friends and families.
You can use a pop-up to catch their attention post-purchase. Make sure you write a creative copy and have attractive visuals in place for the referral pop-up.
Add a Permanent Widget
Why not add a permanent widget to your website or eCommerce store? The idea is to catch the attention of the customer with an enticing offer for them. For example, you can use a widget that says, 'Get Free Meals for a Month.'
The benefit of adding a widget to your eCommerce store is that it helps catch the attention of even your visitors. This means you have a chance of asking your customers to refer others and lure visitors into becoming your customers.
Don't worry; you can add a sticky widget to your website to go wherever the customer browses or whichever page they land on. But as you add an adherent device to your website, you have to make sure that you write a copy that appeals to every visitor who might be interested in your product.
Add Your Referral Page to Your Website
One of the best ways to make the most of your referral programs is to embed them on your website. Add the page in your footer so that it catches your customers' attention and stays subtle. This would mean not directly promoting your referral program but making your customer feel valued with your enticing offer.
In other words, passively promoting your program can help your business stand out and make your customers referrer you more than usual.
Partner with Influencers
With influencer marketing growing with each passing day, it is becoming one of the most helpful marketing tactics for small businesses. All you have to do is research people in your niche who have a large follower base and partner with them.
By partnering with an influencer, you can ask them to review your product on their social media page and provide the customers with an exclusive referral code for making a purchase. This way, you can reach out to customers who are already looking for products in your niche with an attractive offer.
Final Thoughts
Referral programs can help you garner a lot of customers and make your existing customers valued simultaneously. Just make sure you take one step at a time and stay patient with your endeavors. But most of all, make sure that you focus on providing your customers with an outstanding experience because that is how you will earn their loyalty. Start by partnering with a shipping platform like Shiprocket that can help you deliver your products faster and cheaper and also provide them an experience that is at par with Amazon and other market players.
Calculate Your Shipping Costs Now