Top Hyperlocal Delivery Services in Bengaluru
With eCommerce becoming a massive hit due to low-cost Internet services and an increase in mobile phone usage, several other opportunities have come up for sellers. eCommerce sellers are not limited to just selling on marketplaces and websites, but are also reaching out to their neighborhood.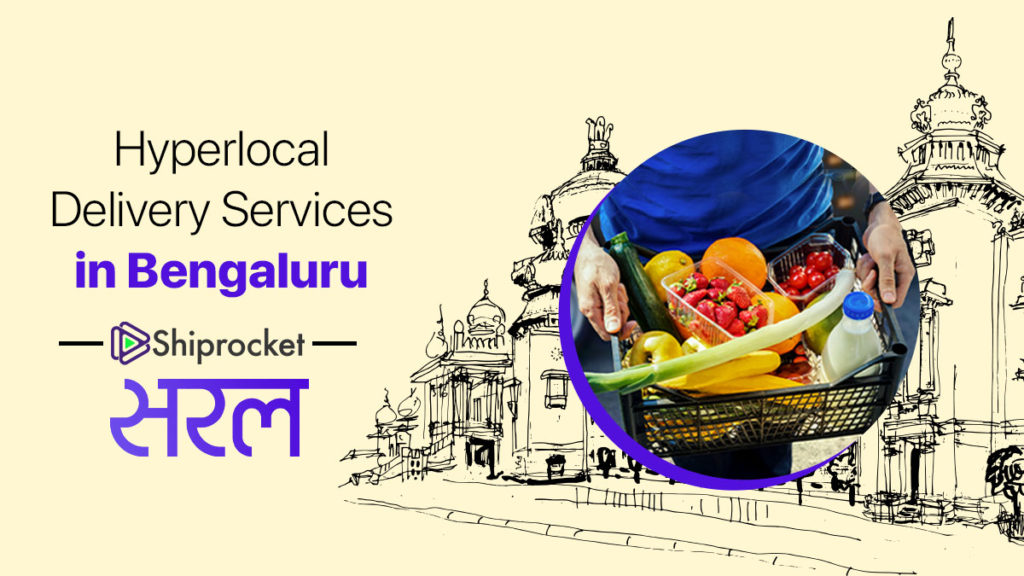 Traditionally, ecommerce crosses all barriers of distance and helps a business reach out to its customers no matter where they are. Be it someone in your state or across the globe, eCommerce breaks all the barriers and helps you bridge the geographical boundaries.
But, as you reach off to your far off customers, it is also essential to pay attention to the demands of those that lie close in your geographical area. Reaching out to the needs of customers in your neighborhood is an excellent business opportunity. This is what hyperlocal services are all about.
If you're looking forward to such an opportunity and helping your business grow locally in Bengaluru, hyperlocal services are for you. Read on to find out more about these-
What are Hyperlocal Delivery Services?
In simple terms, hyperlocal services refer to businesses in your vicinity. They are limited to your establishment's geographical area and help deliver products to customers on a short and faster basis. The goal of hyperlocal services is to build a local ecosystem that allows the customers to find products from their neighborhood stores and shops.
For example, restaurants, grocery stores, local merchants, malls, etc. refer to hyperlocal services. They are more urgent need-based services delivered to the customer's doorstep either directly by the seller, such as the shop owner, or a fleet of third party delivery services.
The hyperlocal business model concentrates on catering to the demands of customers in your neighborhood. If you're planning to lay the foundation of a hyperlocal business in Bengaluru, remember that your business will solve the issue of immediate demand with the supply that is available at the nearest.
In the world where everyone is reaching out to customers across the globe, hyperlocal presents the opportunity of instant profits and more outstanding orders with short delivery times. When you're delivering to your local customer's doorstep, you can quickly deliver their orders and look forward to fulfilling a higher number of orders in a day.
But don't worry if you don't have a delivery fleet of your own. With some of the fastest and low-cost hyperlocal delivery services in Bengaluru, you can carve a niche for yourself and satisfy your customers' demands like a pro. Here are the top courier services you can look out for-
Wefast

Wefast is one of the most popular courier services in Bengaluru. The company has a wide network in intracity and helps deliver the products on the same day to the customers. You can rely on Wefast for fast services without a compromise on the quality. The delivery agent is assigned within 15 minutes of the request, enabling you to deliver more orders in a day and satisfy your customers' demands seamlessly.
Easy Tracking
Expedited Delivery: Yes 90 (minutes)
Shadowfax

Shadowfax is yet another eCommerce logistics company that provides same-day delivery options in Bengaluru's neighborhood geographical area. Shadowfax has no minimum orders, which means you can deliver no matter how small your order is. Shadowfax is a trusted courier service not just for hyperlocal orders but also for orders shipped across India.
Easy Tracking
Expedited Delivery: 30-90 minutes
SARAL

SARAL is a hyperlocal delivery service in Bengaluru by the AI-backed logistics platform SHiprocket. Shiprocket is a reputed logistics platform that helps sellers ship their products across 26000+ Pin codes and countries worldwide. WIth SARAL, even small businesses can start earning profits and deliver more orders in their geographical area. SARAL facilitates reaching out to customers across a wide area with fast and low-cost delivery services in Bengaluru.
Wide area coverage up to 50 km
Multilingual support
Pickup and drop service
Multiple payment modes
COD orders
Quick and hassle-free remittance
Regular tracking updates
Grab

Grab is a front running technology-based platform that offers high-quality delivery services in your neighborhood. The company was established in 2013 and has ever since earned its name for good quality and technology-backed delivery services in Bengaluru. Using Grab you can expand your business to hyperlocal markets and deliver orders at low cost within a short time.
Tracking: Yes
2-hour pickup slots for deliveries within 5 km
First Mile Delivery Service
Reverse Pickups
EazyKaam

Another delivery service in Bengaluru for hyperlocal orders is EasyKaam. They help businesses deliver orders the same day with hassle-free pickups. Be it cakes and food or groceries, EasyKaam has good coverage and low-cost services in Bengaluru. With an experienced team and easy to understand the platform, EasyKaam is a good option for starting your hyperlocal delivery business.
Same day delivery
Cake, delivery and flowers delivery
Bulk delivery services
Last-mile services
Document and cash delivery etc.
Final Thoughts
With these delivery services by your side, you can start shipping instantly and reaching out to your customers. Since hyperlocal services offer a vast market for sellers, they can capitalize on it and start providing their customers with products like pharmaceuticals, gifts, flowers, groceries, etc. Remember that by starting to understand the customer's demands in your neighborhood and using the best services for rapid and satisfactory delivery.
Calculate Your Shipping Costs Now