What is a Hyperlocal Marketplace & How Can You Start Yours?
Hyperlocal businesses are making a comeback but with a twist. People are now looking for nearby delivery services to get items delivered to their doorstep the same-day or maximum within the next-day.
With the outbreak of COVID-19, the purchase dynamics have shifted drastically. The focus is now on essentials and items related to health, hygiene, and safety. People prefer ordering from local shops in their neighborhood to get their products delivered sooner rather than wait for standard delivery in 5-6 days.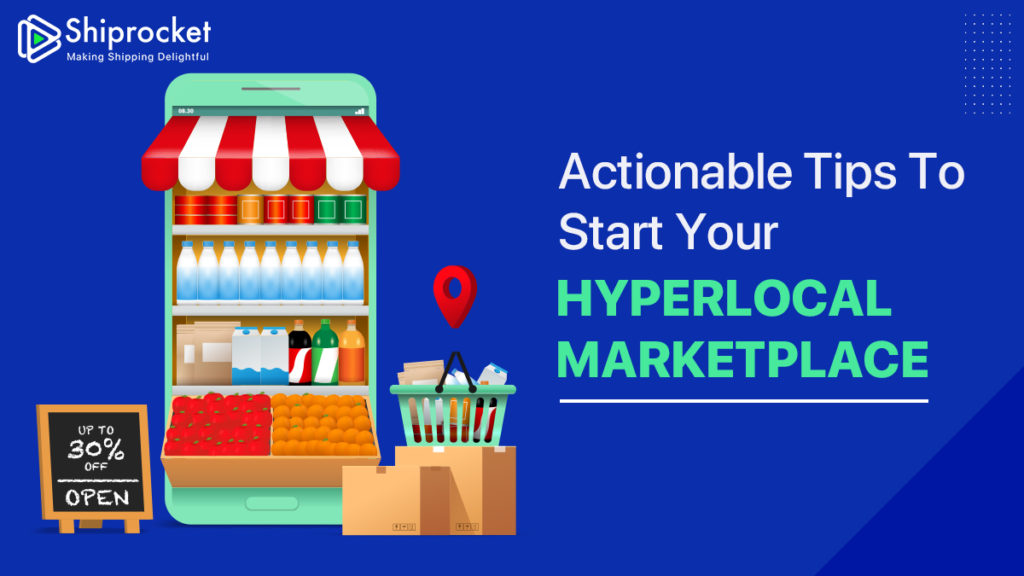 Hence, hyperlocal businesses are gaining a lot of positive traction. If you are someone who wants to join this bandwagon and sell successfully in a limited demography, we have a suggestion for you – Hyperlocal Marketplaces.
Let's look at what hyperlocal marketplaces are and how you can leverage the concept to become the one-stop grocery, medicine, and food delivery shop for your consumer.
What is a Hyperlocal Marketplace?
What is the best part about shopping on Amazon or Flipkart? You do not need to know about the individual brands. You can select the best product based on the ratings, reviews, price, and purchase it.
Like Amazon or Flipkart, a hyperlocal marketplace is an online multi vendor marketplace for a small geographic zone. The stores listed will be specific to the location and the delivery range.
For example, My Kirana. My Kirana is a popular hyperlocal marketplace app. You can order all your essentials, including grocery & personal care products from it.
They have shops for different locations listed on their app & the products available in these stores. For instance, if you are in sector-40 Noida, you will not be shown shops in Vasant Kunj.
Hyperlocal marketplaces provide you with a platform with several local shops and inventory from which you can purchase the products you desire.
How do Hyperlocal Marketplaces Work?
The working of hyperlocal marketplaces is simple. Here is how it works –
Sellers upload their inventory on the marketplace website or app
Customers browse items they want & add them to the cart.
The customer makes payment via online or cash-on-delivery modes.
Seller receives the order on its marketplace website/app.
Next, the seller accepts the order.
They pack the order to avoid any shipping and transportation damage.
Delivery agent visits the store and picks up the order
The order is delivered to the customer's doorstep.
For these setups, the customers and sellers have separate apps or website fronts with different features according to requirements.
With this process, the orders get processed quickly, and the customer can also be provided with order tracking information within the app or via email & SMS update.
Benefits of Hyperlocal Marketplaces
Faster Delivery
Hyperlocal marketplaces can be useful for sellers if they want to deliver orders to their customers in a few hours or the same day. With the increasing demand for nearby deliveries, sellers wish to establish a presence online so they can deliver quickly. With a hyperlocal marketplace, they can get a platform to do the same.
Versatile Inventory
Hyperlocal marketplaces are geography-specific. Thus, if you start a hyperlocal on-demand market, you can aggregate various sellers onto one platform and deliver seamlessly in a small area in a short period.
A hyperlocal marketplace can give you access to a variety of inventory and be beneficial to the sellers on your platform and your business.
Sell Directly to Consumers
As more products would be available on one platform, sellers will be able to browse and shop conveniently. This would give your sellers more visibility. They will be able to sell directly to customers without the involvement of mediators who take commissions to provide a fleet of riders.
No Specific Packaging Guidelines
A great advantage of hyperlocal deliveries is the absence of packaging guidelines. No rider will send you packaging requirements for each order. The sellers will only need to package them according to the product and vehicle. Since the distances are not very long, the packaging will remain sturdy.
The only condition is that the products must not spill or get tampered on the way.
No Additional Investment for Sellers
With hyperlocal marketplaces, local sellers get a platform to sell their products without setting up their stores online. Also, buyers get multiple options on one stage. Hence, it is a win-win solution for everyone.
How to Get Started with Hyperlocal Marketplaces?
Hyperlocal marketplaces can be a great starting point for your business. Here is all you need to begin with your hyperlocal marketplace –
Website
To begin your hyperlocal marketplace, you need to have a full-fledged website that can accommodate stores of multiple sellers. It must be similar to a multivendor marketplace. Also, it must have location tagging enabled so that customers can order according to their location.
Seller Login
Your website must contain two faces – one for the seller and the other for the buyer. In the seller end, there must be options to upload inventory, list products, add discounts, etc. Also, they must have dedicated credentials to ensure security.
Next, the seller must receive notifications about the new orders placed, and they must be given complete information about the delivery partner assigned to them.
Buyer Login
The hyperlocal marketplace must also have a customer-facing front. This must contain auto-detection of the customer's location, categories and product display, various payment modes (online & offline), delivery slots, order confirmation, tracking details.
Payment Gateway
Your hyperlocal marketplace must provide multiple payment options to buyers. Hence, you must integrate a suitable payment gateway into the website to give payment options like a credit card, debit card, net banking, UPI payments, etc. Also, provide an option for cash on delivery and vouchers.
Delivery Partners
Shipping and delivery is an essential aspect of a hyperlocal marketplace. It can be done in two ways – the owner of the marketplace can arrange for delivery, or sellers can do it individually.
If you plan to do it for all sellers, you can do it with shipping solutions like Shiprocket. They offer delivery with multiple partners like Dunzo, Shadowfax, and Wefast. With various partners, you won't face any difficulties like delays due to a lack of agents. The rates start at Rs 37, and you can conveniently schedule pickups and deliveries while your sellers manage their stores and listings.
Tracking Details
Lastly, you need to provide tracking details for all orders. If you ship with partners like Shiprocket, you can give the buyers estimated delivery dates, contact details of delivery agents, and accurate tracking details of your orders.
Conclusion
Hyperlocal marketplaces are a great tactic to expand your reach in a limited geographical area. You can get on with sellers with local shops & small ecommerce stores and make products easily available to your target audience.
Calculate Your Shipping Costs Now