5 Hyperlocal Delivery Services In Mumbai
One of the most profitable business models in today's times is hyperlocal delivery. While eCommerce is already a hit among customers due to doorstep delivery, ease of browsing products, and payments, and other options, hyperlocal business models offer more rapid and reliable services.
The hyperlocal delivery model helps the customer get products in the shortest duration of time. It also targets those areas of business, where traditional eCommerce services don't step in. For example, delivering perishable items like cooked food, cakes, etc. along with medicines, wellness products, documents, etc. are seldom made available by big eCommerce companies like Amazon and Flipkart.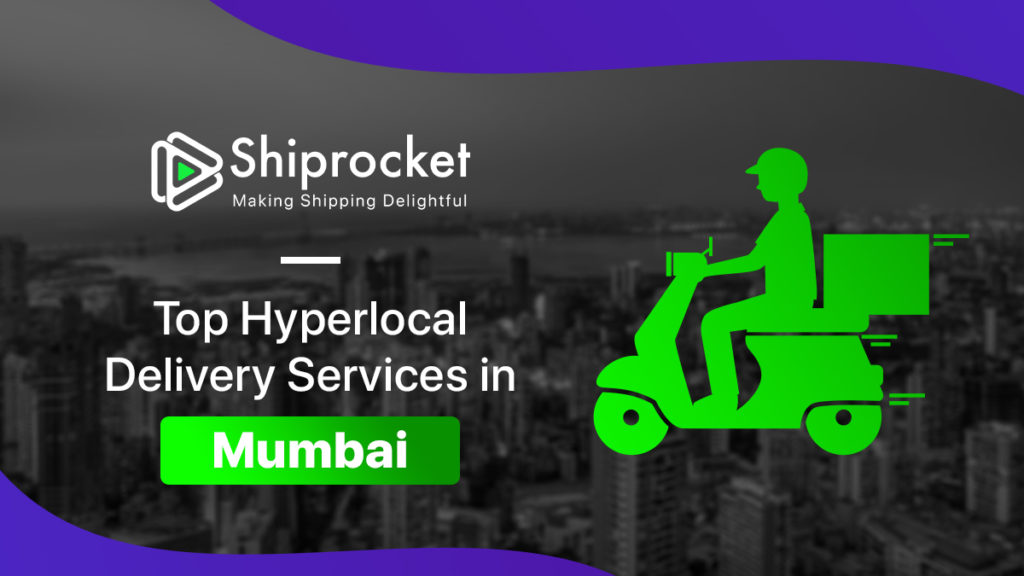 Therefore, the customer relies on local shops and services in their geographical area for such products. The hyperlocal delivery model capitalizes on this fact and helps local shopkeepers and sellers deliver products to their customers living in a neighborhood area. While this means convenience for customers, it means more business opportunities for local customers.
Hyperlocal deliveries are also a good idea because customers receive all that they want, no matter how small the product is, within the shortest amount of time, such as hours. Meanwhile, it is an excellent opportunity for businesses to reach out to them, especially with hyperlocal delivery services.
For example, in Mumbai, if you want to deliver a product from Dharavi to nearby areas, you can use hyperlocal services like Wefast, Dunzo, SARAL, etc. These top-notch delivery services pick up the product on the same day and deliver it to the customer within no time. Therefore, any risks to perishable items are avoided, making them entirely safe for sellers to ship.
In case you are considering which products to ship hyperlocally in Mumbai, don't worry, we've got that figured out for you as well.
Importance of Hyperlocal Delivery Amidst COVID-19 Pandemic
As the world was hit by a deadly virus, coronavirus, in 2020, people were forced to live inside their houses. After a year, the situation is not much improved, and the world is still fighting from it. The brick-and-mortar stores are not in much demand as the world has turned towards online stores to meet all their needs for day-to-day essentials. This has hit hard the offline stores, leaving them with no option other than to take their stores online. This, in turn, has increased the popularity of hyperlocal delivery services to a great extent.
COVID-19 outbreak has indeed caused a major panic amongst the customers, forcing them to buy everything, even essential items like groceries, online. Thus, we cannot deny the fact that the pandemic has caused a change in customer behavior making online shopping their only resource for meeting their daily needs. The major concern for all online sellers right now is to deliver their products in the shortest span of time. And this is where hyperlocal delivery plays a crucial role.
The hyperlocal marketplace model has become the savior for all. It is the most promising model for on-demand delivery. The model is standing up to the market standards and appealing to most online businesses that wish to deliver products faster and cheaper.
Products to Consider for Hyperlocal Delivery in Mumbai
One of the most prominent goods for hyperlocal delivery is groceries. Every household requires supermarkets, and ordering it from a traditional eCommerce store is cumbersome. Moreover, even online grocery stores like Amazon pantry seldom offer same-day delivery of goods.
By sourcing groceries from the local grocery stores in a particular area or registering your grocery shop for hyperlocal delivery, you can quickly cater to the demands of the customer.
Another category of products that you can offer is medicines and wellness products. Since many customers cannot step out of the house and need urgent drugs, hyperlocal delivery can be their rescue and convenience option. For your business, this can be an excellent opportunity to earn the customer's loyalty and serve them in times of need.
Similarly, suppose you are a restaurant owner who only offers a dine-in option to the customers. In that case, hyperlocal delivery can be your chance to deliver your food to your customers' doorsteps. Moreover, since the pandemic is reshaping our society's habits, more and more people will prefer to opt for home deliveries. Therefore, if you reach out to these people with hyperlocal delivery services in Mumbai, you can open your business to huge profits.
Top Hyperlocal Delivery Services in Mumbai

Wefast is one of the top delivery partners for hyperlocal deliveries in Mumbai. No matter which area you are located in, wefast can help you reach out to your customers in the neighborhood on the go. Similarly, with its expedited delivery options, you can deliver fresh-cooked products at your customer's doorstep while still warm. They have easy delivery platform and low shipping rates.
Some of the features of Wefast include:
Easy tracking of order
90-minute rapid shipping
Low-cost shipping rates
Pin code coverage up to 50 km
Delivers gifts, groceries, documents, etc.
SARAL

SARAL is one of the top courier services for hyperlocal delivery. It is the hyperlocal delivery division of the logistics platform Shiprocket. Shiprocket is an artificial intelligence-backed platform that helps deliver products to customers across 29000+ pin codes in India and 220+ countries abroad. With SARAL, Shiprocket helps small and medium shopkeepers and sellers to reach out to the customers in their neighborhood without any hassles. It is one of the low-cost shipping services.
SARAL offers the following features-
Multiple delivery partners
COD options
Quick remittance
Multi-lingual support
Wide pin code coverage
Pick and drop service
Low-cost shipping

One of the most popular courier services for intracity shipping, Dunzo, has a reputed name among shippers. No matter what your needs are, Dunzo is the perfect delivery partner for your hyperlocal business. It assigns a delivery agent within 15 minutes of placing a request and then delivering it to the customer within 45 minutes. Dunzo has excellent customer support and low shipping rates.
Dunzo lets you take advantage of the following-
No minimum order shipping
Free delivery for first-time users
24*7 availability
Bike pool
Delivery of groceries, food, fruits and vegetables, gifts, medicines, etc.
Grab

Grab is the local name in Mumbai that owns a delivery fleet who understand the city like no one else. With Grab, you can deliver your products to your neighborhood hassle-free. The company was established in 2013 and is entirely technologically enabled. With Grab, you can take your business to the next level without the hassle of investing a lot of money.
With Grab, you can enjoy the following services-
Reliable intracity delivery
Easy tracking
Delivery of food, groceries, pharmacy products, etc.
Pick and Deliver

Another hyperlocal delivery service in Mumbai is Pick and Deliver. The courier company offers low-cost shipping options within the city. Pick and Deliver offers both first mile and last mile services for businesses and helps deliver the products the same day they are dispatched. The company was founded in 2015 and has since provided convenient delivery options to sellers across B2B and B2C companies.
Pick and deliver offers services such as:
First-mile delivery service
Last-mile delivery service
Warehouse and Order fulfillment
Delivery of products like custom packages, pharmacy products, etc.
Now that you know about the top hyperlocal delivery services in Mumbai, you can start shipping with them without delays. The key is to understand the requirements of customers in your area and reaching out to them extensively with your products.
Calculate Your Shipping Costs Now