6 Reasons Why You Must Use Shiprocket For Improved Pickups & First-Mile Service
In today's ever-growing eCommerce ecosystem, quick deliveries are the need of the hour. But, can last-mile delivery ever be successful without a proper first-mile system in place? In our opinion, that is next to impossible. Maybe in a few cases, it might work for you, but in the long run, you wouldn't be able to develop a strong foundation for your business. Pickups are what drive the speed of your order delivery. Here is why a robust pickup service is necessary and how Shiprocket can help you achieve it with its new-age features. Read on to find out –
Why Does Your First-Mile Service Need to be Top-Notch?
Most eCommerce companies fail to recognize the importance of quick pickups and how they impact the entire journey of order delivery. Hence, they do not consider it when choosing a courier partner. Later, these companies face NDR, which leads to RTO, and ultimately causes a loss in the business. To help you gain a clear perspective, here are a few reasons why pickups are as crucial as final deliveries –
Streamlined Process
When you schedule pickups soon after you pack and label them, a pickup request is generated with the courier partner. If they follow the pickup schedule and complete the task on time, your entire process becomes uni-directional and streamlined. This is so because the first task of the chain is carried out on time. This propels the entire chain, and responsibilities are much more sorted.
Quicker deliveries
When the first job of the chain is carried out on time, and without errors, there is a very high chance that the final delivery will also be on time. The main reason for most late deliveries is delayed pickups that lead to a delay in the following processes. If you and your courier partner can coordinate and pick up orders on time, you can quickly complete all deliveries on time and also avoid non-delivery.
Fewer Errors
When you have a pickup agent coming to the warehouse according to schedule, they can devote more time to conduct all necessary checks. These include critical aspects like the label correctness, packaging, delivery address, etc. If these checks are not carried out properly, it can lead to the wrong delivery or loss of the package.
Faster Order Processing
It goes without saying that if you arrange your pickups on time, the subsequent activities will be carried out much sooner. These activities include carrying the package to the courier warehouse, pre-delivery checks, and delivery scheduling. Any delays can also be catered to if your pickup is done on time.
How Does Shiprocket Assist With Speedy Pickups?
Shiprocket is India's leading shipping solution for eCommerce sellers. With a plethora of features on your Shiprocket dashboard, you can make pickups much more simplified for your business. Let's take a look at some of Shiprocket's features that make pickups easier for your business –
Multiple Courier Partners
With Shiprocket, you get to ship with 17+ courier partners. This means you do not need to rely on one courier for pickup and delivery services. You can judge the pickup performance of one courier partner, and if you feel that it is not upto the mark, you can choose another one for your next shipment. This is a win-win scenario for your business, and you have the room for experimentation. You can choose the best courier partner based on their performance in different regions. Moreover, our proprietary courier recommendation engine recommends the best courier partner for your order based on several parameters. One of these parameters is pickup performance. Hence, you can ship with the most suitable courier partner for every shipment.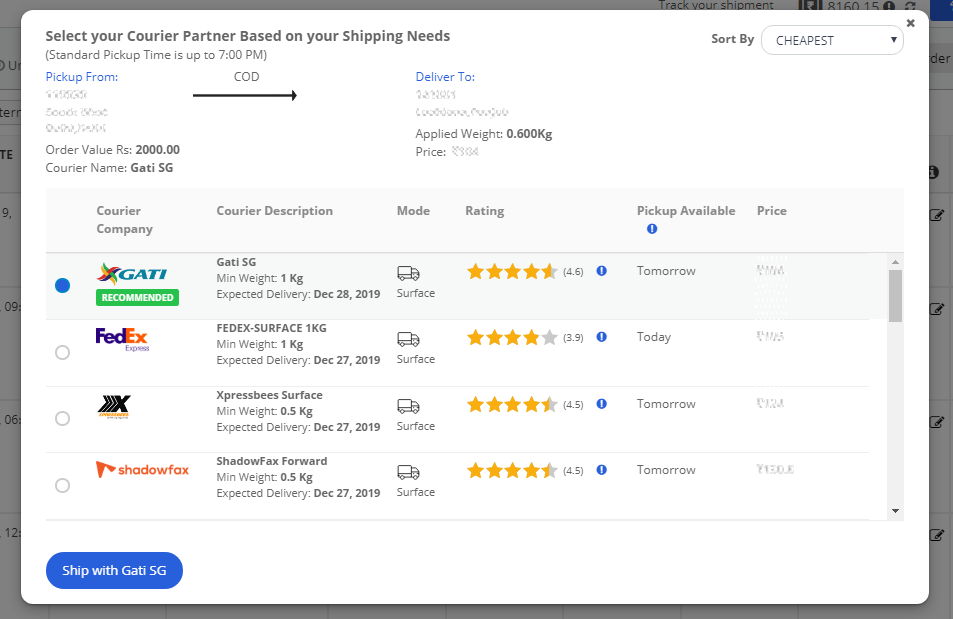 Pickups Till Late For Faster Delivery
To make sure your orders are picked up on time, Shiprocket works to provide its sellers with a wide pickup window. This provides sellers a chance to ship orders till late so that courier companies can accommodate them in their earliest shipping cycle. Through a late pickup, your product can be delivered on the second day and even the next day after pickup.
Standardized Cut-Off Time For All Carriers
Being an aggregator, it is primary that you receive a standard cut off time with all courier partners. While most courier companies shift their pick up times throughout the day, we aim to provide standard time for all carriers so that you don't have to delay your by the courier partner you choose.
Sectioned Dashboard
The Shiprocket panel gives you a thoroughly researched and sectional order dashboard. This dashboard reduces errors and the manual record-keeping that you have to carry out otherwise. All data ranging from the gross weight, dimensions, pickup address, etc. are stored in this section. Furthermore, you can process all orders from here and know the status of every order. Here are the sections you find in the Shiprocket panel –

Processing: Here, the incoming orders are stored and all details such as order date, customer details, etc.
Ready to ship: It contains the details of orders whose pickup is yet to be scheduled
Pickups: It has details such as the manifest, label, pickup address, courier, etc.
Returns: Shows all the orders that have been marked to be returned to your store
Auto Label Generation
Once you choose your desired courier partner and schedule a pickup, the label for your shipment is auto-generated, and you can directly download it from the panel. This feature saves you ample time and money as you do not need to invest in any additional label printing software. The auto-generated label contains all details like the buyer's address, pin code, products, and contact details. Moreover, you can edit the information you want to display in the label.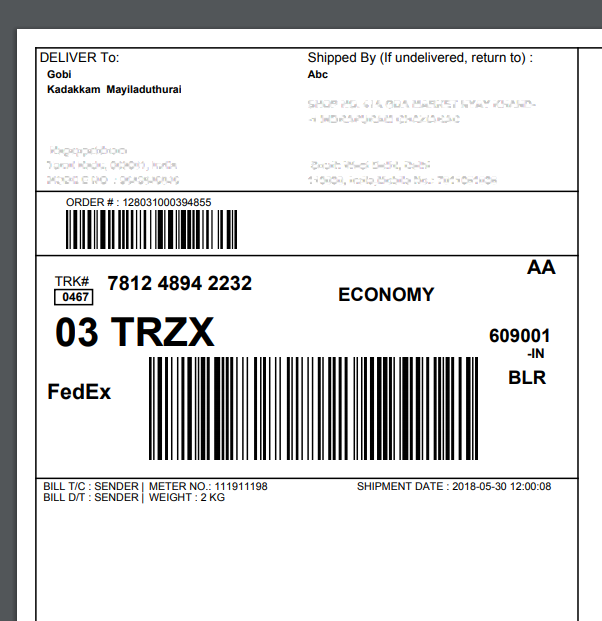 Pickup Escalation
Failed pickups are troublesome and cause delays for your business. But more than that, it's the long-drawn procedure of raising a ticket for the same and following up that eats up time and resources. On your order dashboard, you can directly build a pickup escalation request for manifests with no pickups done or those that have pickup exceptions. Just cite the reason for your escalation, and the courier will get in touch with you! Save on time and process orders faster.

Multiple Pickup Addresses
Shiprocket gives you the liberty to schedule pickups from anywhere in the country. Also, you can add multiple addresses and select a different pickup address for every shipment. This enables you to seamlessly integrate your shipping with your store and carry out operations from various locations in the country.

Experienced Support Team
Shiprocket has one of the most experienced support team that caters to all your shipping queries. Be it pickup delays, order processing, or trouble using the platform, you can quickly get in touch with our team and get priority support for your store's shipping concerns.
Expert Tips – Things to Keep in Mind for a Successful First Pickup With Shiprocket
For all those who have just come on board the Shiprocket platform or are yet to ship their first order, pickups can be intimidating. To make this process easier for you, here are some secrets for ensuring fast pickups.
Pack your products according to guidelines
Follow the courier company's guidelines to make sure you appropriately pack and seal the product
Ensure you attach the label (with all details) to the package
Print the auto-generated label from your Shiprocket panel and attach it to your package. It makes it easier for pickup agents to collect details.
Record the gross weight and dimensional weight
You need to measure the volumetric weight for your shipment. Keep a record of the dimensions and the gross weight of the final package.
A video recording of the final weight and dimensions
To quickly tackle any weight discrepancies that might arise later, make a video showing the final weight of the packaged items.
Final Thoughts
Pickups are a significant contributor to your order fulfillment process. So, make sure you pay enough attention to it and ship with a carrier or shipping solution whose pickup performance is as good as their delivery performance. Choose wisely and ship with the best to avoid any discrepancies!
Calculate Your Shipping Costs Now