11 Instagram Tools That Can Help Grow Your eCommerce Business
With more than 1 billion monthly active users, Instagram is the sixth most popular social media networking site. With these statistics, Instagram has enormous opportunities for brands to find potential customers and get their products/services seen.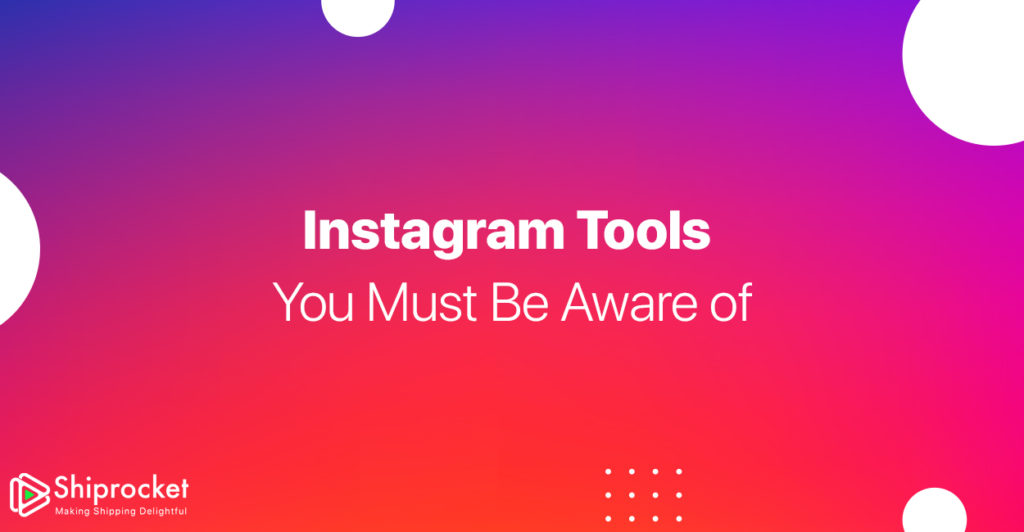 Instagram can be really beneficial for brands to reach out to influencers and run Instagram ads. However, it might be difficult for you to get the results you want without effective Instagram tools. With the right Instagram tools, you can enhance your marketing strategy drastically.
To make things easy for you, we have listed down several Instagram tools. Evaluate your current approach, analyze your audience, and create engaging Instagram posts. Ensure you use them properly to achieve the best results.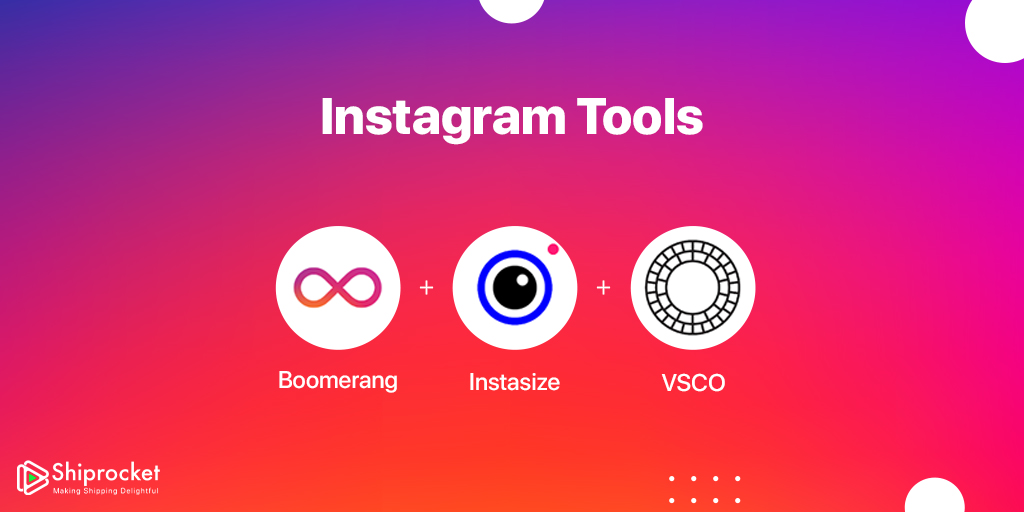 Boomerang
Boomerang is a free-of-cost tool that is created by Instagram itself. It lets you create a GIF-like video from a series of photos. Once you complete your video, you can either publish it in your Instagram feed or save it for later.
Instasize Photo + Video Editor
An engaging Instagram feed can either make or break your brand's presence on social media. The best Instagram tool that can help you with this is Instasize photo and video editor. The tool is available for both Android and iOS. This tool is a must-have for any brand having a social media presence.
With this App, you can change exposure, brightness, tint, warmth, shadows, highlights, contrast, sharpness, and saturation of the image and video. You can choose among 130 filters. You can find the filter that fits your brand and enhance your photos and videos accordingly.
VSCO
VSCO is one of the most widely used Instagram tools. VSCO filters are brilliant – from their most popular analog filters to Kodak inspired filters. Besides, you also get a good amount of control over the filter intensity. It has a solid mix of editing tools, including exposure, grain, and contrast. All the tools in VSCO apps are simple and easy to use.
The high-level default filters of the VSCO take photo editing to the next level. There's a huge library of filters available that gives endless options for customizing the photos. The primary and standard filters are free of cost. To get access to the tool's full suite to edit photos and videos, the App charges $19.99/year.
Instagram Feed WD
It is an easy-to-use plugin. With this App, you can display different feeds of hashtags to your users. You can also use attractive payouts, like thumbnail, Masonry, blog style, and browser. You can use the tool's different functionalities to display different feeds to your consumers and create a feed based on a specific hashtag, username, or description. Notably, the plugin is SEO-friendly and customizable.
Other tools of Instagram Feed WD include:
Customizable themes
Multiple and mixed feeds
Sorting feed by options
Social sharing buttons
Instagram comments display
Snapseed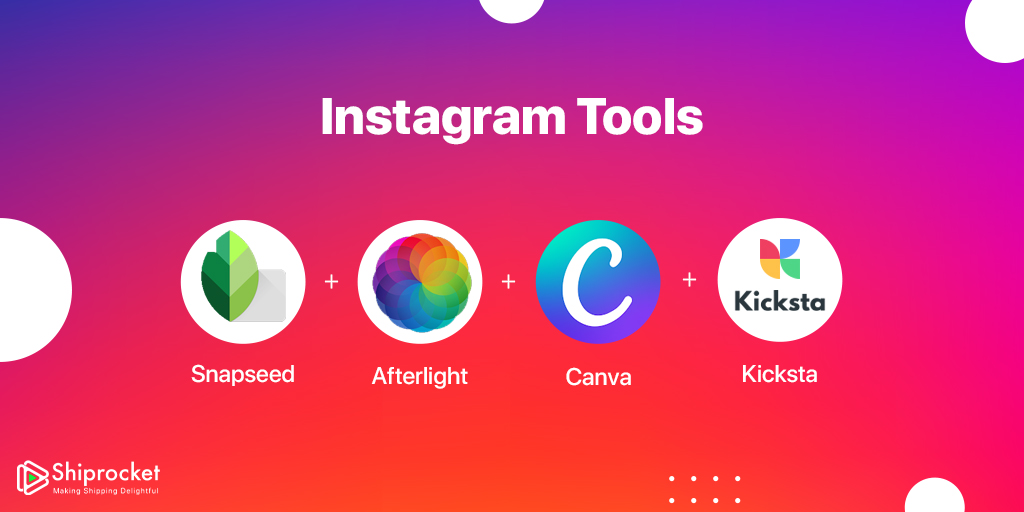 Snapseed is another photo-editing tool that is available for both Android and iOS. With Snapseed, you can apply effects with a brush so that you can fine-tune your photos conveniently. The App is easy-to-use and very popular as well. Apart from standard editing features like crop, contrast, and brightness, it is also loaded with some cool features like perspective, ambience, and brush.
With this App, you can also save a group of filters. You can then apply these filters to your future photos, giving a consistent look to your feed.
Afterlight
Afterlight is a photo-editing application with a dozen filters, frames, and textures. It gives you many options to tweak your photos and make them more attractive. You also use typography tools that can help your images stand out. Afterlight is easy-to-use and has a sleek and straightforward design. It offers a 7 days free trial and then costs $2.99/month or $17.99/year.
Canva
Canva can be used to create images that stand out, whether for feed or Instagram stories. You can impose text, create different layouts, and pull in a wide range of predesigned graphics. They help in levelling up the posts and get more attention from the followers.
However, you are suggested to stick to a few consistent image formats and fonts that can create familiarity with your followers. The Application is free for image design with pay-per-use premium graphics. You can also buy a Canva Pro subscription at prices starting from $12.95/month. This subscription includes transparent backgrounds and animation creation.
Kicksta
Kicksta is a growth tool that focuses on organic follower growth on Instagram. It has helped more than 10,000 brands and agencies gain footfall and followers. When you sign up for the Application, you provide a list of your competitors and complementary brands. You can also provide a list of influencers whose followers you want to target.
Kicksta helps in creating organic growth by auto-engaging likes on the feed. They also provide email, video onboarding, and chat support.
Photoshop Express
Photoshop Express is free of cost Adobe Photoshop application for your phone. It offers a powerful photo editing experience. It streamlines your work with handy tools like removing blemishes, getting rid of spots, dirt, and dust from your image with just a touch.
With this Instagram tool, you also get access to multiple controls, presets, filters, and options. You can also add a watermark to your photos.
Later
Later is an Instagram tool that offers a free plan that provides you with 30 posts a month, one user, and one social profile. It also has a tool called Linkin.bio that helps in making shopping easy on Instagram feed. Notably, Linkin.bio is a landing page that resembles an Instagram feed and displays the posts as clickable photos.
With Later, you can manage access to photos, videos, and Instagram accounts. You can also have multiple media libraries, so you don't have to share them with all the accounts and team members. Also, Later allows managing multiple Instagram accounts in their Business Plans. The App offers your contributors to submit media, team members to publish posts, and managers to approve content.
HypeType
HypeType has a large library of fonts and animations. It helps create captions quickly and easily for different sections of images and videos shot or uploaded online. Once you are finished editing the video, you can directly post it on Instagram without leaving the Application.
With its video watermark, the Application is free of cost. However, in-app purchases are also available to add new fonts or remove the watermark.
The Final Say
Instagram bio, posts, and captions help get likes, comments, and followers. But with having the right Instagram tools and efficiently using them, your Instagram account has the potential of becoming a powerful business platform. From a wide variety of tools, you can use those that can meet your needs and improve your social media presence. Now that you know several effective tools to help you with Instagram, it's time to use them and start taking amazing photos and videos that can add value to your business account.
Calculate Your Shipping Costs Now