Beginner's Guide to Start an On-Demand Hyperlocal Business in India
The 21st century is an era of the on-demand economy. Starting from booking a cab to ordering food, buying groceries, or medicine delivery, on-demand mobile applications have spoiled all of us for the good.
Especially during a time when the entire country is under lockdown, people prefer essential items to be delivered at their doorsteps.
To stay ahead of the curve, businesses are coming up with innovative ideas of building on-demand hyperlocal models. They are developing mobile applications in various industries to cater to the needs of the on-demand economy. And in this entire scenario, smartphones have become the real game-changer for the on-demand delivery business models.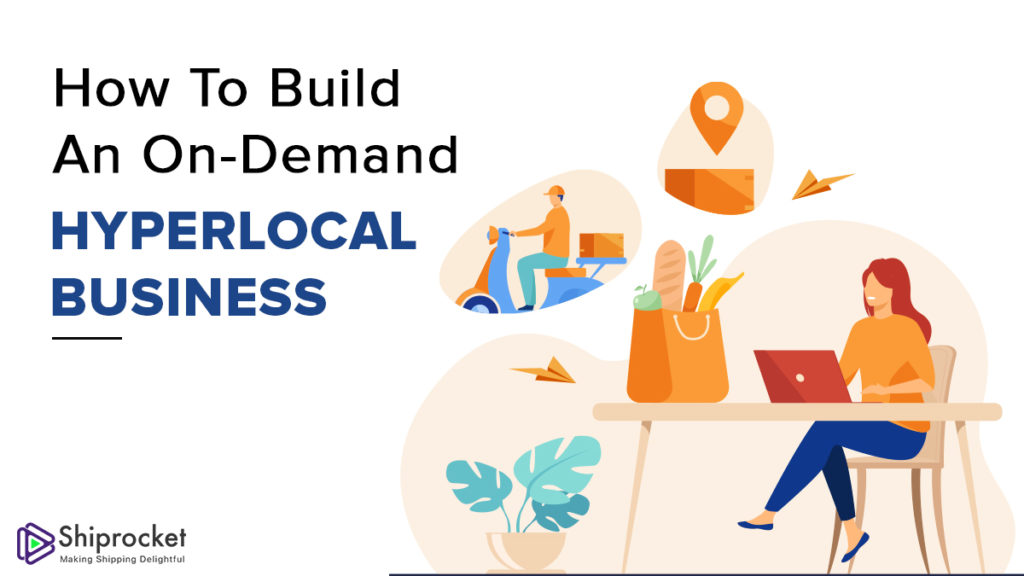 What is an On-demand Hyperlocal Business Model?
Firstly, let us focus on the term hyperlocal. Hyperlocal refers to a small area or specific demography. A hyperlocal on-demand business model can be defined as a business model where the business owner or the service provider acquires the requested items locally and caters to customers residing within the same pincode or the same geographical location.
Let us take an example to understand this better. For instance, David runs a hyperlocal on-demand business in medical supplies. His customer places an order for the required medicine delivery through his dedicated mobile application. The aggregator (David) receives the order and passes on the order details to a courier partner. The courier partner allocates a delivery executive to procure the requested medicine from a local store and makes sure that it reaches the customer on time. David drives the entire delivery process and earns a handsome commission for the role it plays.
This kind of business model applies to products as well as services. A few examples of hyperlocal on-demand business models are Zomato, UrbanCompany, BigBasket, and so on.
One of the most relatable examples of another hyperlocal on-demand model is Shiprocket's hyperlocal delivery services. This is a unique offering by Shiprocket where a seller will be able to deliver items to their customers residing within a distance of 50 km from the pickup location.
To make it easier for sellers, Shiprocket has recently launched its hyperlocal delivery mobile app Saral. With Saral, sellers can easily schedule pickups for their hyperlocal orders, post which the items will be picked up from the store by a courier executive. Apart from delivering hyperlocal orders, Saral also offers a pick and drop service, using which you can send packages to your loved ones, anytime from anywhere. Read more about Saral here.
The ongoing global pandemic is urging all of us to stay indoors. At such a time, Shiprocket will ensure the availability of all essential items to everyone in the country with its lightning-fast delivery model.
If you want to get started with Shiprocket's hyperlocal delivery services, click here.
Benefits of an On-Demand Hyperlocal Business
There are many benefits that a hyperlocal on-demand business model has for both customers as well as eCommerce businesses. Let us take a look at a few of them-
Brick-and-mortar Stores Get a Boost
While online retail has become a threat for all brick-and-mortar stores, the hyperlocal business model provides these offline shops with scope to increase their sales.
Minimum Investment Required by Retailers
Hyperlocal delivery models create a great environment for offline retailers. You don't need to invest in buildings or maintain a dedicated app. Even the delivery will be taken care of by the courier partner of the respective aggregators. Hence, you can grow your business with minimum efforts.
Maintaining All Errands Through a Single Device
Life becomes easier when you can do all the errands using a smartphone. Be it shopping or availing a range of services (plumbing, house painting, etc), you can do it with a mere tap on your smartphone.
How to Build an On-demand Hyperlocal Business Model
Choose What You Want to Deliver
The first and the most important decision you need to make is the choice of industry to operate in. Hyperlocal on-demand delivery models have tremendous utility and scope for success in a wide variety of sectors – food & beverages (restaurants), medicines, grocery, cabs, and hyperlocal logistics, to name a few. You can think of professional services like plumbing, electric repair, beautician, etc., on a hyperlocal basis. Your choice of the industry is a make or break factor.
Choose Target Audience
Your strategy around a hyperlocal business model depends on the audience you plan to target. Your target audience may be busy professionals who have no time to head down to a restaurant for a meal, or you may target senior citizens who are unable to walk to their nearest grocery store. Millennials, who tend to stay awake at night, often order food at odd hours and could be a good choice for your target audience.
Create a Revenue Model
Your revenue model would be based on two sources – commissions from the merchant-partners and delivery charges from the customers. The commission is your business model's lifeblood and the major contributor to your revenue.
Your local partners pay you an agreed percentage of the order amount as a commission on every order placed from their store. If you wish to increase the commission rate, you could restrict yourself to a selected few partners in the locality. So the orders you receive would be divided among the merchant-partners and not get scattered in a large partner pool. Thus, you can demand a higher commission from the partners. They will be happy to pay you more if you bring them more business.
Create a Dedicated Mobile Application
The next big step is to start working on the platform. You need to build separate mobile apps for iOS and Android for each of the three parties – the merchants, the customers, and the courier partner.
The app is a major factor to differentiate between hyperlocal logistics businesses. A user-friendly app plays a major role in creating a solid customer base, and in the end a steady revenue stream.
Final Say
Hyperlocal has become one of the hottest buzzwords in the on-demand delivery industry at present. The customers, retailers, entrepreneurs, and the economy – all of them have a host of solid reasons to accept and welcome the hyperlocal on-demand delivery model with open arms. You can expect rapid growth of such businesses in the near future!
Calculate Your Shipping Costs Now