9 Early Stage Online Business Challenges (with Solutions)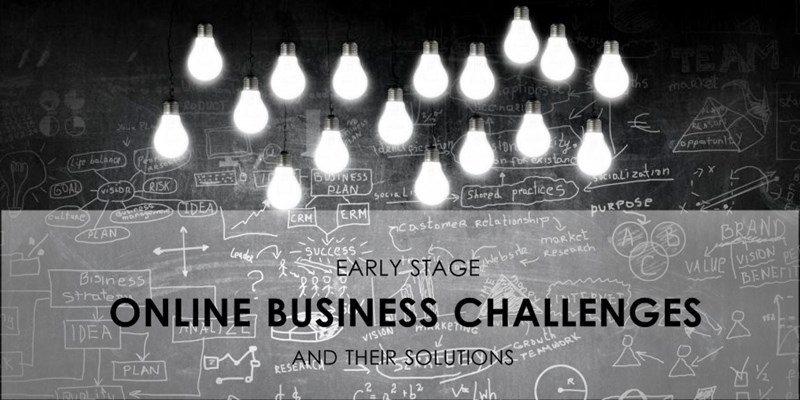 As the new year embarks, you may have already started reviewing your business strategy to find the new opportunities to grow your business. There are many businesses that are still running offline and haven't yet considered to be a part of the online business world. As per the Statista, in 2017, the total share of eCommerce in global retail sales was 10.1% approximately, which is estimated to be 11.6% in 2018.
Before you come up with the idea of opening an online store or starting an eCommerce business, here are some challenges and their solutions that you need to be aware of and consider them with immense importance:
Lacking Computer Knowledge and Skills to Develop Web Store
It's important that you are aware of some computer skills so that you would be able to setup your online store, at the same time you can promote your products/services using the power of the Internet. But, we understand that computer knowledge is not something that everyone posses with. So, the solution to this problem is to hire someone else who can do that for you.
Getting hold of the right service providers is something that you really need to be aware of. From getting the right website developers and designers to the most appropriate optimizers, you would need these service providers for optimum performance of an online business. You need to make sure that you hire a team that is well capable of building an attractive online store, writing influential content, and promoting your products and services in a way that you get more leads and conversions.
A good idea is to prepare beforehand and get an idea of the features that you require. Accordingly, you can search for the service providers. If you get hold of the right providers, they will help you to create an online business that is customer friendly, professional, and creative.
Making Customer Friendly Payment or Checkout Process
Provide a range of payment choices to the customers, as this helps them to make a purchase with their preferred payment mode. According to a recent survey by PYMNTS.com, it was noted that around 40 percent of online shoppers tend to leave their carts while completing a transaction due to a complicated payment process. The challenge here is to make sure the customer is presented with all the possible payment options as per their choice during the checkout phase.
Creating a Single Account for Online and Offline (in-store) Payments
Reconciling or combining the offline (in-store) and online purchases can pose a challenge sometimes. To tackle the issue, you can make use of the cloud-based tools. For example, if you have well-defined accounting software, it can very well integrate properly with popular payment providers and keep track of your invoices. Whether you are getting paid in-store or online, you will be able to keep track and reconcile the whole payment process. This will also help you immensely while calculating taxes.
Concerns Related to the Privacy and Security
Web privacy and security concerns are also a problem for an eCommerce store. The online businesses are more vulnerable to the frauds and crimes than offline stores. It's highly recommended to adopt an online security mechanism to save your customers and data from such crimes and frauds.
Building Customer's Loyalty
Never consider the job done once you made a sale online. Just like in the offline world, one of the main challenges of an online business is the need to maintain their customer's loyalty to be a successful venture. In an eCommerce business, a buyer and a seller do not know each other, so the transaction takes places purely based on the trust. It's important to build that trust by providing great customer support and service.
Handling Product Returns with Maturity and Return Policy
Though it's not a happy scenario for a business when their products are returned by the customers, this is something which is a common problem for online businesses. When customers are not happy with the delivered item, they return the product to the seller for replacement or refund. It becomes very important for you as an internet entrepreneur to handle such things with maturity.
You should also have a return policy on your website which should clearly suggest the terms and conditions for returning the products after purchasing. Also, make sure you mention about the products that are non-returnable to avoid any confusion for the buyer.
Disrupting New Markets for Business Growth
To add more numbers to your target audience count, you need to dive into newer markets and sectors. This is one of the best benefits of an online business that it allows you to serve customers on a global scale. However, you have to upgrade and tailor your products to cater to the international customers. Some of the vital aspects include varied and secure payment methods, website content translation as per the audience's local region, proper shipping & delivery, proper pricing, and so on.
Combining the Online and Offline (in-store) Shopping Experience
Customers nowadays expect a very efficient and timely shopping experience while shopping online. In that case, it is useful to combine the online and in-store shopping experiences. For example, you can offer customers with the option of store pickup or buy online, return in store. This creates a level of unique shopping experience for customers and helps drive better sales.
Limitations of Online Business Models
While the internet is a great place for doing business, there are few business models that still work best in offline mode. For example, people buying automobiles care to see the product themselves before making the purchase.
But that doesn't mean you can't have a website for such businesses. Even in these scenarios, people do online research about the products they wish to buy offline. You need to help your target audience in their research work with your website which may influence them buying the same product from you offline.