Scope of Make In India Products In The Global Market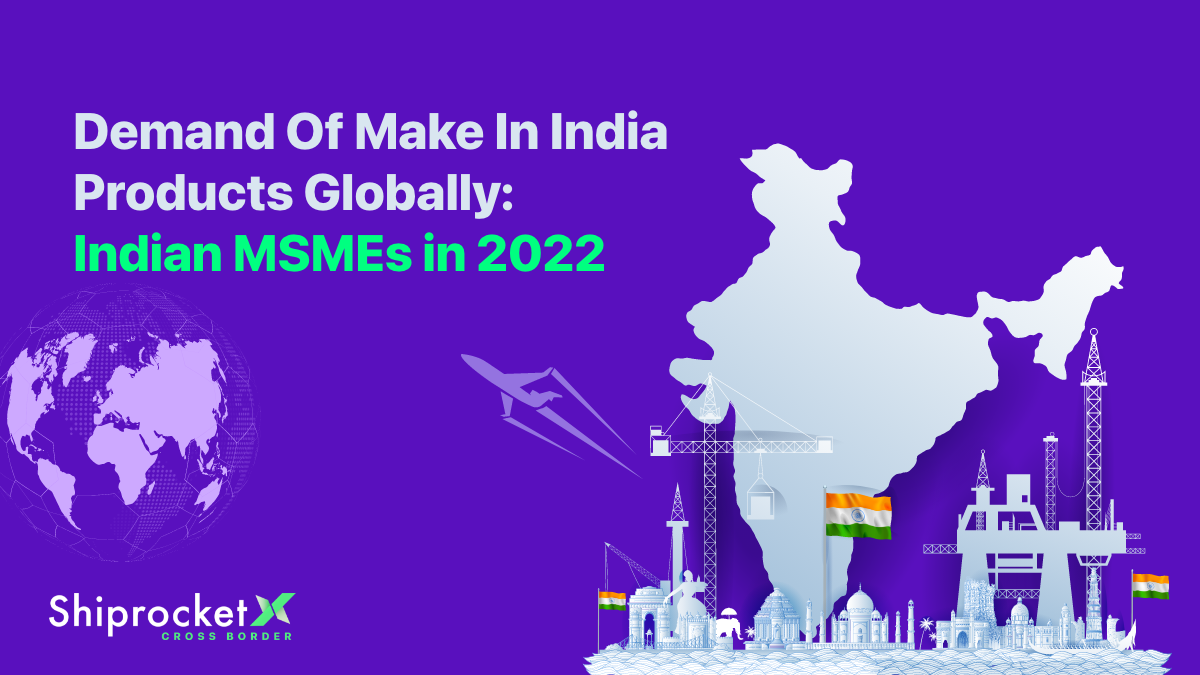 Introduction
The phrase "Make in India" was coined on September 25, 2014, to encourage businesses from across the world to invest and produce their goods in India. With the aim of establishing the nation as a center for manufacturing on a worldwide scale, this ambitious program was launched.
With the same in mind manufacturers across the country have come up with wonderful "Make in Inda" products. These products don't just come from Tier I cities; Tier II and Tier III cities are major players in the segment. The challenge that these product owners face is the lack of proper shipping partners for efficient delivery, especially for cross-border trades. There are few gateways available but they mostly work in the favor of the channel partner (or middlemen) rather than the product owner.
There are always certain issues that hinder an organization from keeping a stable shipment process, such as regular pricing fluctuations and tariff disruptions. The need for a dependable, affordable delivery option is imperative. Shiprocket provides an efficient solution and helps in the easy management of the shipment process.
Scope Of Make In India Products
Interestingly, there is a lot of talk right now about Make in India products exported to other countries. When researching Indian brands, it is amazing that certain Indian businesses are sweeping the globe with their wares.
Here is a list of some products under Make in India scheme that have the highest demand overseas:
Leather Products
The Indian leather sector is well-known internationally and is one of the top 10 sources of the nation's foreign exchange earnings.
Sellers capitalize on this need by offering leather notebooks, wallets, shoes, and purses among other products as the second-largest exporter of leather apparel.
Leather goods are still one of India's most popular exports, notwithstanding COVID-19's negative effects on this sector.
Herbal Products
The market for herbal goods and Ayurvedic treatments has grown significantly, by 38% year over year, as global knowledge of these practises rises.
The most popular exports from India in this category are herbal-based beauty items, cosmetics, and medicinal plants.
The National Medicinal Plants Board (NMPB) was established by the government to provide subsidies for the export of medicinal plants, and export promotion committees have been established specifically for this product category.
Fashion And Fine Jewellery
The patterns and classic cuts of Indian jewellery are renowned around the world.
Among the best-selling items in this category are cut and polished diamonds, gold jewellery, and silver jewellery.
The USA, Israel, Hong Kong, and the United Arab Emirates are among the top exporting nations of jewellery for the year 2019–2023, according to the Gem & Jewellery Export Promotion Council.
Home Décor Items
Indian handicrafts, including kitchen linen, solid and printed bedsheets, and handicrafts, are well-liked worldwide.
Within handicrafts, a wide variety of products are exported, including metal and wooden décor.
Toys
Educational toys with a focus on certain fields and professional routes, like STEM (Science, Technology, Engineering, and Math), are also one of India's top exports.
Vendors who sell on international marketplaces have been successful in growing their customer base and brand awareness on a worldwide scale.
Cloth & Apparel
It is not surprising that clothing on the list of India's top 10 exports given that the country is a major supplier of textiles.
India is well-known for its cotton, silk, and denim. Indian fashion designers and their creations are increasingly successful in international fashion hubs.
The textile business in India produces, packs, and sells a variety of items every day, ranging from home and kitchen linen to clothing for both ethnic and Western wear.
The demand for its well-known low prices and delicately crafted goods is undoubtedly rising quickly in the global market.
It's interesting to note that the Indian textile sector accounts for more than 12% of the country's export revenue.
Tea
Across the nation, tea is without a doubt cultivated in large quantities. In 2021, a total amount of 1.28 billion kg tea was produced nationwide.
Assam, Darjeeling, and the Nilgiris area are noted for producing tea that has a unique flavour and superior quality. India is the second-biggest producer of tea in the world.
Tea, along with other commodities like ayurvedic medicines and spices, account for a sizable portion of India's exports, which have grown by 38% annually.
Sports Equipment
Sports equipment is unquestionably one of India's top 10 exports among the country's main goods.
Inflatable balls and cricket gear like bats are among the many sports accessories that India sends to other countries.
Cricket bats, sporting gear, hockey, boxing, and carrom boards are among the other exports. US, UK, Germany, and France are the top export destinations.
Automotive Accessories
A large chunk of India's exports are made up of auto parts.
The majority of India's auto parts exports, including bearings, shafts, and fasteners, go to clients in the US, Europe, and China.

Impact Of Choosing The Right Courier Partner When Selling Online
With Made in india products gaining centre stage at the global markets, a robust shipping service is a must for businesses. To make it relatable it is imperative to understand the recent problems faced by Indian exporters and importers.
Recent Shipping Problems
The global shipping system is under strain as a result of the robust recovery in global commerce and the rise in demand for durable consumer products.
Shipping prices have significantly grown, in particular due to a persistent growth in East Asian demand for shipping containers and a scarcity of spare capacity in container ships.
Although it appears that the recent increase in shipping costs is more a result of the robust demand for traded goods than it is of supply limitations, operational disruptions, such as the closure of important ports due to the pandemic and other disruptions, have increased the uncertainty surrounding trade costs.
In this regard, the transportation of goods is now posing enormous difficulties for importers and exporters for countries like India.
Due to their precarious financial situation, small and medium-sized businesses are most impacted.
How Shiprocket X Helps In Making Shipping Easy For You
Shiprocket X makes it convenient by taking care of every facet of the shipping procedure and customer journey, enabling merchants to reach a worldwide audience. With unified tracking capabilities, merchants can now follow all of their shipments, independent of the carrier they use, and can give their end consumers real-time tracking notifications through email and SMS.
Shiprocket X provides sellers with a security cover to secure their shipments from loss, or other harm since it recognises the necessity to protect shipments. It also incorporates automated shipping procedures, assuring prompt delivery while enabling sellers to add their brand's logo, name, and other information to the Shiprocket tracking page for a fully branded experience.
Make In India Products List
Bira91: India made beer that is giving tough competition to imported products.
Cosmetic soaps from Patanjali, Medimix, etc. a decent alternative to imported products
Local inner wears (Lux/Rupa etc)
Madura Fashion and Lifestyle (Allen Solly/Van Heusen)
Lakme
Skincare products (Himalaya/Biotique/Kaya)
Café Coffee Day
Automobiles from Mahindra/Tata
Frooti, Maaza/Paperboat
Washing powder (Nirma/ Tide)
Amul/Britannia
Mobile phones (India manufactured)
Medical products
Make In India Products Online
With modern digital era, even when we agree to support our Indian brands, there is a lack of easy availability of the products online, the same may be because of lack of top-notch shipping infrastructure available at all the locations in the country or risk of getting defrauded.
When it comes to shipping the Make in India Products, we should choose our Indian brands that provides comprehensive shipping solutions like Shiprocket.
Some of the Make in India products available online:
XElectron Reflective Fabric Projection Screen
Home and office automation
Portable oxygen can
Plastic kitchen organizer
Poshak Herbal Massage Oil
Indian toys
Inner wear
Auto parts
Mobile phones
Leather products
The Make In India initiative by our government has given scope to variety of entrepreneurship to start many ventures. These products are manufactured in urban as well as rural settings. The scope of Indian products has grown by leaps and bounds and is expected to keep the pace of growth in the years to come.
With the products being received very well across the country and the globe, the manufacturer needs a reliable and trusted shipping partner to make these products reach where they are desired, no matter which part of the globe it is. When it comes to shipping and becoming "Atma Nirbhar", why go any further? Trust us, your own Indian shipping brand that has reached across the globe and has an impeccable network.
Shiprocket, a locally developed logistics software, is crucial for assisting small firms in reaching a wide clientele. It may be used by business owners of products and brands to manage a top-notch shipping processing operation. Customers can benefit from products with top-notch delivery experiences because of these facilities.
Learn more about how Shiprocket X's services may help your business.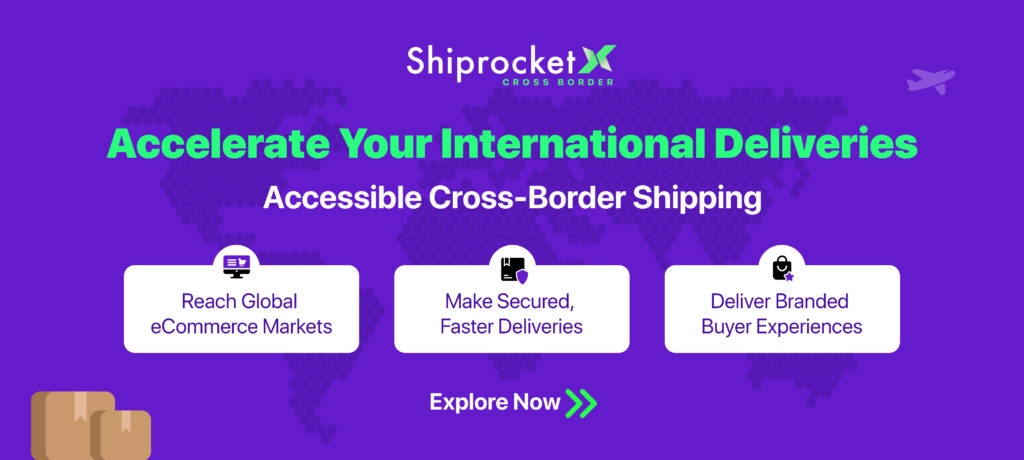 Calculate Your Shipping Costs Now