What is Shipping SLA? Your Guide to Understanding Service-level Agreement
The Indian retail market has witnessed tremendous growth in the past few years and has become one of the fastest-growing eCommerce markets in the world. Being a part of such a competitive market is not easy, primarily because as a seller, you need to deal with the customers' expectations.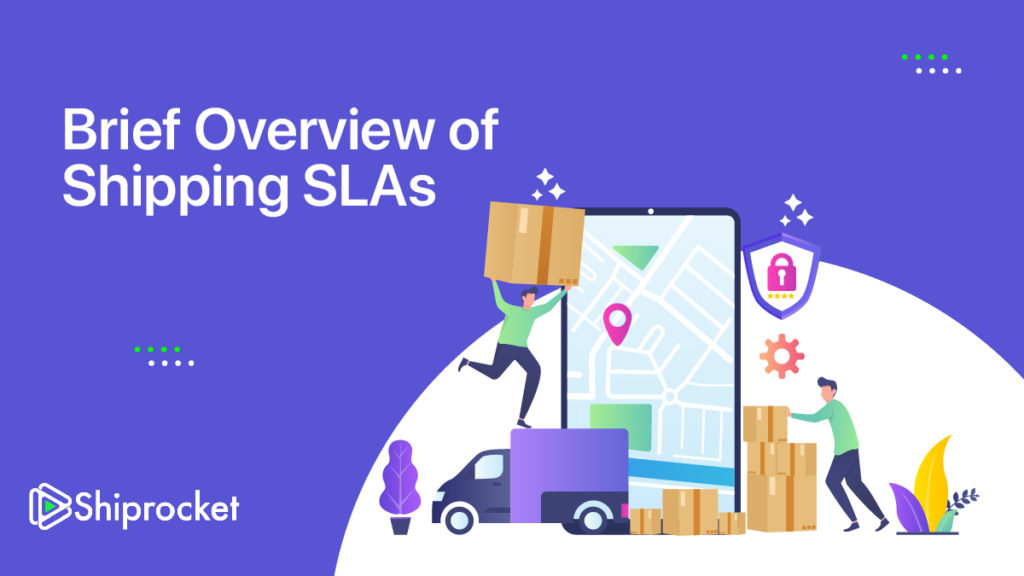 The major online retail marketplaces in India – Flipkart, Amazon, and so on, have been trendsetters providing high-quality customer service. These companies operate because more than discounts and sales offer, it is efficient customer service that leads to loyalty and market share. With this in mind, these marketplaces enter into a contract with their sellers that stipulate the terms and conditions of the services to be provided by and to each other. This contract is known as a Service Level Agreement or an SLA.
What is an SLA?
A Service Level Agreement defines particular aspects of a provided service – from the time frame to the quality, among various other specifics. Since the marketplace is directly answerable to the customer, the seller essentially has to enter into an SLA with the market. Certain assurances that the marketplaces provide the customer are being met. There can be many types of SLAs – a customer-based SLA that stands between the buyer and a seller or a service-based SLA that operates between a seller and a service provider, for example, a logistics company. SLAs are taken quite seriously by most online marketplaces because their reputation depends on them.
Importance of an SLA
Reduces Order Cancellations
An SLA provides you with a definite time frame that you can stick to while processing and delivering an order. This way, entering into an SLA with your marketplace is one way to ensure that your product reaches your customer on time, reducing cancellations.
Increases Loyalty
Adhering to an SLA is a sure-shot way of getting better seller ratings and increasing the level of commitment and loyalty of the customer. SLA is a great way to have transparency and mutual agreement between different parties in the transaction–the seller, the customer, and the marketplace.
Helps Manage Customer Expectations
From the seller's point of view, an SLA is a great way to manage the customer's expectations. While marketplaces tend to push for faster delivery times, it is not always possible to provide such services for various reasons. A well-drafted SLA prepares the seller and the marketplace for such possibilities and envisions consequences if such situations occur. This might include a penalty system for the seller, the logistics provider, or the relevant service provider.
Things to Consider before Signing an SLA
Is the SLA aligned with your business objectives?
Are the terms of the SLA manageable?
What are the specific benchmarks that are monitored in the process?
How does the SLA measure performance, and how does it deal with non-performance?
Is there a reward system for exceptional performance?
Creating a plan in case of liabilities.
Reap Benefits of the SLA – Improve Your Shipping Time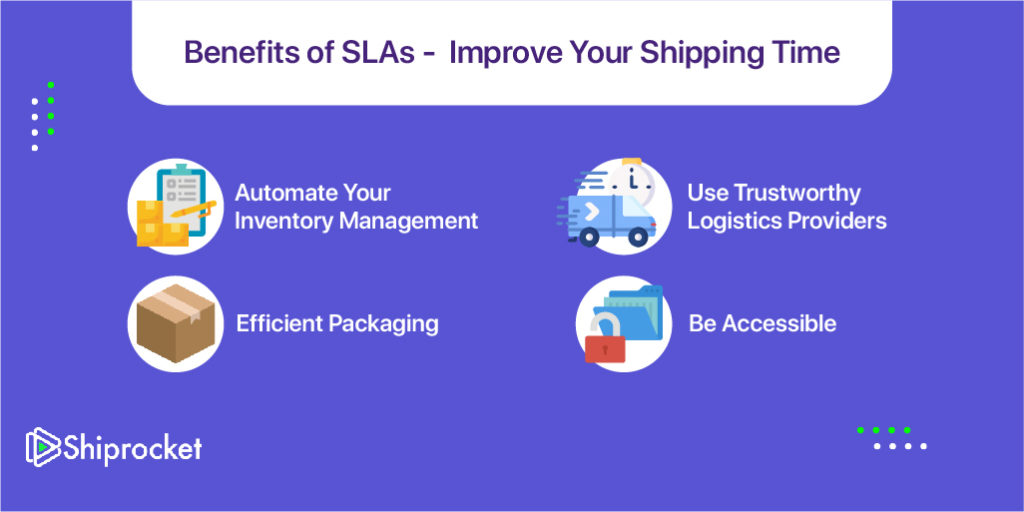 Having an efficient picking, packing, and logistics system is the only way that you can honor the terms of your SLA and reap its benefits. If you are outsourcing your logistics needs, then you might need to sign another service level agreement with your logistics provider, except for the fact that, in this case, they would be the ones liable to provide the service. Here are some tips that would help improve your shipping time and therefore make the most of your SLA –
Automate Your Inventory Management
Use multi-channel inventory management software to automate your warehouse. This will save you valuable person-hours of doing monotonous work and drastically reduce the chances of mistakes.
Use Trustworthy Logistics Providers
Using reliable logistics partners will make sure the shipping liability falls on them, and in turn, you only have to worry about product quality and packaging. And you would know, you can trust them with on-time deliveries.
Efficient Packaging
Having an efficient packaging system saves a lot of time and effort in a warehouse. Try to automate as much of the process as you can. Create standardized methods and steps that the package must go through, from quality checks to invoicing, adding shipping labels and safety materials to ensure that the package is safe and sound when it travels. This reduces the chance of damage during transit and, therefore, product returns.
Be Accessible
Finally, always be accessible to your customer and your service provider. Try to find quick and efficient solutions to problems. The longer you let a problem sit idle, the more time-consuming it becomes.
A Service Level Agreement can either become a hassle, or it can become an efficient tool to keep track of your progress, depending upon how you look at it. Hope this article has cleared all your doubts on SLA. For any queries, do not hesitate to write to us in the comments section below!
Calculate Your Shipping Costs Now