Shiprocket Fulfillment Vs. BoxMySpace – Choose the Best Fulfillment Solution for Your Business
Fulfillment, warehousing, and inventory management are essential aspects of any eCommerce business. Without them, the entire supply chain is hampered, and you cannot deliver products successfully to your customers.
However, it is not suitable to always fulfill your orders yourself. There are parts of your business, like storage and inventory management, that you need to outsource to third-party warehousing and logistics providers. You are faced with the dilemma of choosing a suitable partner that can help you with providing maximum value for your eCommerce business.
Shiprocket Fulfillment and BoxMySpace must be two such providers, amongst many others, that you must be considering for certain aspects of your eCommerce business.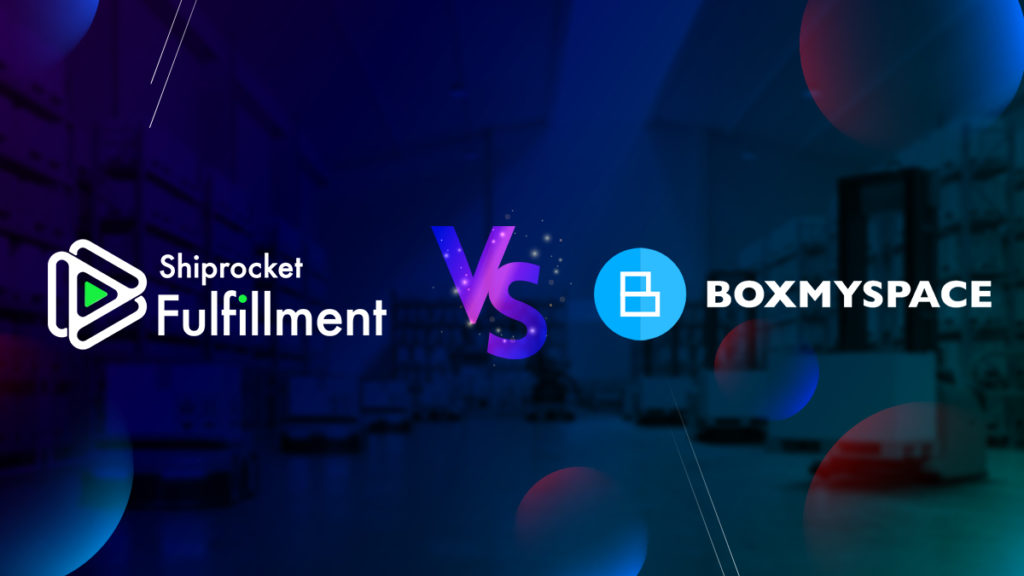 You need to ensure that they tick several boxes on your research and give you a platform that can be best suited for your needs. Here is a brief comparison between BoxMySpace and Shiprocket Fulfillment to help you decide the best 3PL warehousing & eCommerce fulfillment provider for your business.
Shiprocket Fulfillment
Shiprocket Fulfillment is an eCommerce fulfillment, warehousing, inventory management, and logistics solution for eCommerce businesses. We provide fulfillment services to sellers to store their inventory closer to customers and deliver with over 17+ courier partners via an all-integrated platform. It is an end to end solution for sellers designed to eliminate any hassles regarding storage, inventory management, and distribution.
BoxMySpace
Boxmyspace is an on-demand warehousing solution for eCommerce sellers to store their inventory in warehouses provided by BoxMySpace. Further, BoxMySpace takes care of logistics & distribution through its network.
Feature Comparison
Pricing Comparison

Why Choose Shiprocket Fulfillment?
No Additional Warehouse Investment
With Shiprocket Fulfilment, you get to expand your warehousing and storage space without having to invest in any additional storage space of your own.
This way, you can expand your business and deliver seamlessly to your customers without investing a huge chunk into storage facilities. With Shiprocket Fulfilment, you can accommodate occasional surges in order volume by outsourcing your warehousing and inventory management operations to experts.
30-Day Free Storage
Shiprocket Fulfillment offers you free 30 days storage if your product that is stored in the warehouse ships within 30 days. Post 30 days, the processing rates start from Rs.11 per unit. Therefore, if you have a fast-moving inventory, you can store your products for much cheaper rates in the Shiprocket Fulfilment fulfillment centers.
No Fixed Minimum Costs
Most fulfillment providers charge you with a minimum fee to store and distribute your products with them. Other than this, they charge a set of other costs. Shiprocket Fulfillment offers you a flexible, tier-based pricing model based on your business needs without any additional commitment. Pay as you go and process as and when you please!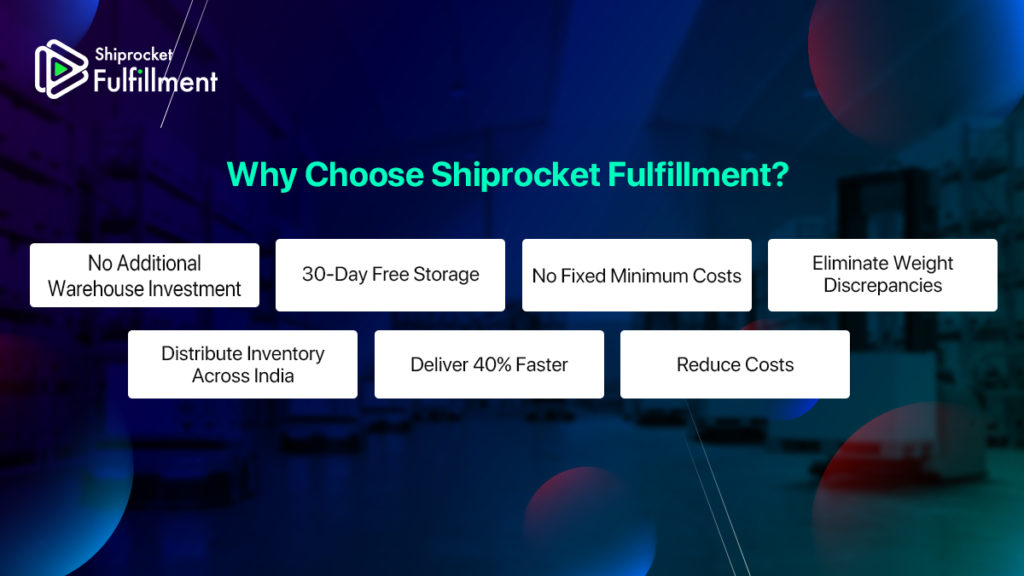 Eliminate Weight Discrepancies
At Shiprocket Fulfillment, we use an in-house weight management system to ensure that you do not face any weight disputes with courier companies. This helps you save time and money when it comes to fulfilling your eCommerce orders.
Distribute Inventory Across India
With Shiprocket Fulfilment, you can distribute inventory in different zones across India and arrange for distribution of products from the nearest storage facilities. This will help you assess orders better and deliver much faster to customers.
This will also help you reduce weight discrepancy issues as the product would be packed and shipped by packaging experts. Along with this, the RTO rate will also decrease as the delays would be avoided.
Deliver 40% Faster
Also, since the products would be stored closer to customers, you would deliver them faster and increase the delivery speed by upto 40%. You would be able to provide your customers with next-day and same-day delivery options.

Reduce Costs
Last but not least, you will be able to reduce costs as multiple fulfillment centers will facilitate faster intra-city and intra-zone shipping. You would be able to reduce shipping costs by up to 20% by decreasing the distance between the pickup and delivery location and reduce RTO by 2 to 5% as the on-time delivery of products would become a norm.
Conclusion
Choosing the right 3PL partner is imperative for the success of your eCommerce business. If you plan to outsource critical operations, you must do it with the most suitable and reliable partners. We hope this article will help you make an appropriate decision!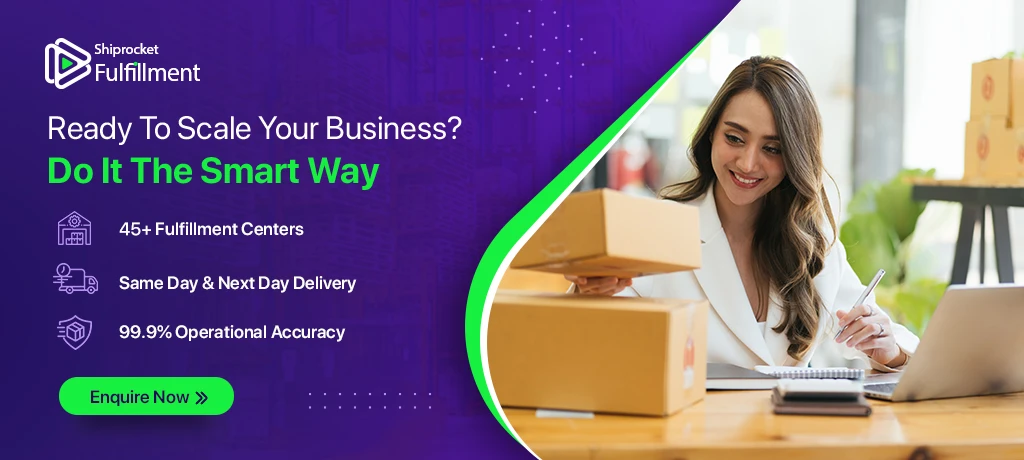 Calculate Your Shipping Costs Now