Top Dropshipping Products That You Can Sell On in 2023
If you are a budding entrepreneur and want to have some sort of experience in eCommerce, dropshipping is one of the best ways to start your journey. It is touted as one of the best and hottest online businesses in the year 2020. Not only is dropshipping easy, but it is also almost free.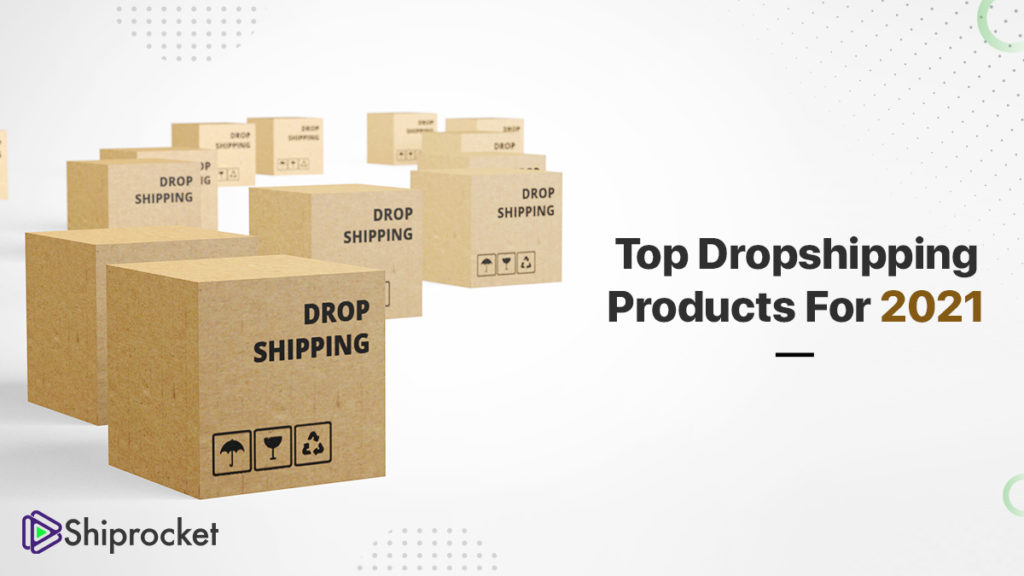 Starting a dropshipping business requires no inventory, no production, and initially requires no employees. Unlike a conventional eCommerce model, in dropshipping, you just need to buy the products as needed – from the third party and sell/ship them to their customers, thus fulfilling orders when required.
When starting a dropshipping business, it is imperative to understand the customers' needs and zero-in on the products you want to sell. The best way to choose the right product is to study the audience and find the problems they are going through and select a product that can help them overcome their problems. However, in some cases, dropshipping may also require capitalizing on a trend and selling trends.
There is no set pattern to choose a product, but here is a guide that can help you determine your dropshipping store outcome.
Discover new products: With your existing knowledge of the products, you must find a new audience and new products. Find products that you think are problem-solving, and then create a niche for yourself.
Narrow down your ideas: whatever might be your niche, there is always a sub-category within the niches that are either untapped or might not be fulfilling the demands or needs of the audience. Research what is selling and what people are buying.
Go for short-lived trends: There are always products or trends short-lived and can be capitalized upon. One such example is the trend of N95 masks that came into existence post-February 2020.
Best Dropshipping Products to Sell In 2023
If you are looking for a list of new business ideas and products to sell for your new dropshipping store, we present a comprehensive list of products you can choose from.
While these products are already in the market, and you might not choose products from this list, you can always think of products in the category and select your own set of products.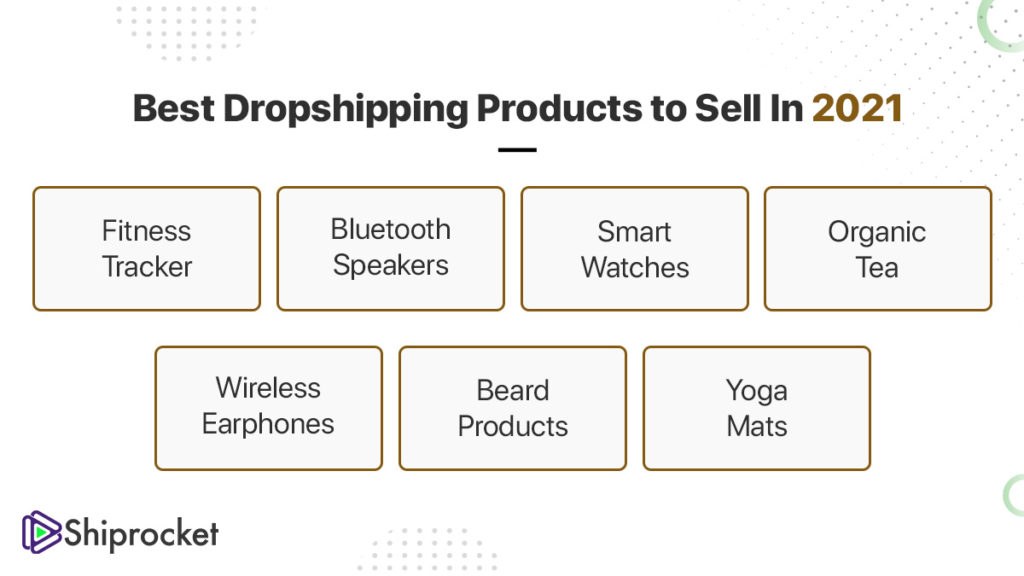 Fitness Tracker
The health industry has been at the forefront for a decade now, and more so during the Covid-19 period as everyone is confined to their homes. Fitness trackers exploded onto the market and have capitalized on the trend in recent months. Brands such Fitbit, Fastrack, Mi, and many more have capitalized on this trend and flooded the market with various fit bands. These devices measure activity and sedentary lifestyle, steps, heart rate, sleeping patterns, and more. Amateurs and professional sports enthusiasts use these bands. It is expected that the fitness tracker industry will grow to $3.33 billion by 2022 as compared to $2.57 billion in the year 2020.
Bluetooth Speakers
The Bluetooth speaker industry is an ever-growing industry, and more and more brands like Boat, Bose, JBL, and more everyday floods the market with excellent and new-improved speakers. Although the market is full of brands and is very much saturated, there are untapped aspects of the niche that you can benefit from. The Bluetooth speakers' industry is expected to grow at an annual rate of 11% between 2017 and 2021. These untapped aspects can lead to a profitable business.
Smart Watches
With fitness trackers acting as the health industry's kingpins, a new industry came into existence; smartwatches. These watches combined the aspects of digital watches with fitness bands. They presented a unique niche that is flourishing and is expected to become a $29 billion industry by 2022. Smartwatches are not going anywhere soon, and it means that it is an industry with many scopes to tap into.
Organic Tea
For health-conscious consumers, organic-tea has proven to be a boon. The area's interest has garnered big competition from the various brands, leading to much organic tea being introduced in the market. There are so many varieties of tea which suit the needs of all kinds of people. Some of the various types in the market are Matcha, Chaga, Herbal, and Turmeric teas. Other than these, you can always blend your tea and create a niche of tea that caters to your audience. The organic tea market is expected to grow by more than 5% a year till 2021.
Wireless Earphones
More and more smartphone companies move towards ditching the headphone jack from their phones; Bluetooth earphones and headphones are becoming a huge deal. It is one of the most rapidly growing industries and makes quite a big splash in the industry. The Bluetooth earphones ensure that people no longer have to deal with tangled earphones while they are in the gym or running on a jogging track. It is believed that this industry is not going anywhere, and the demand is only going to increase with time. The industry is headed towards massive growth and is expected to exceed $25 billion by 2025. If you are looking to open a dropshipping eCommerce store, it is one of the most prominent industries to act upon.
Beard Products
Beard product was a market that barely existed in the year 2013, but today in the year 202, the market not only exists but is also flourishing and heading towards unprecedented growth. Thanks to hipster and model influencers, beards are cool again and brought a surge of products that specifically cater to beard growth and care. While many significant players have latched onto this market and flooded the market with many products such as beard oil, beard wash, beard wax, etc., there is always a scope of introducing something new for the audience. It is expected that the market is looking at a growth of 8% by the year 2022.
Yoga Mats
There is a likely possibility that consumers using fit bands, smartwatches, Bluetooth earphones are also doing yoga or exercising at home and require yoga mats. Yoga mats are among the most in-demand things, especially for those who want to stay fit during the Covid-19. Health-conscious athletes or individuals looking to get healthy during the pandemic are moving towards buying yoga mats. Many companies offer yoga mats, but if you can create a niche of yoga mats that no one can offer, you can succeed in this business.
What Should You Avoid Selling?
While opening up your dropshipping eCommerce store, it is essential to understand that some things should be avoided altogether. Some of these items are:
Sharp or flammable products
Fragile products
Copyrighted products
Heavy-duty products
Ready to Set-up Your Dropshipping Store?
These are some of the best dropshipping products that you can use and take note of to create your niche and ultimately your dropshipping eCommerce. Always weigh the pros and cons of the products. These products will inspire you to work your inventory and start selling through your dropshipping eCommerce store.
Calculate Your Shipping Costs Now