Why is Risk Assessment of a Warehouse Vital for Seamless Logistics Movement?
According to a warehousing report by JLL, India's warehousing sector has grown from 32 mn sq. ft. in 2018 to over 37 mn sq. ft. in 2019. Over 80% of the demand comes from the eCommerce and 3PL logistics sector and this segment is only expected to grow.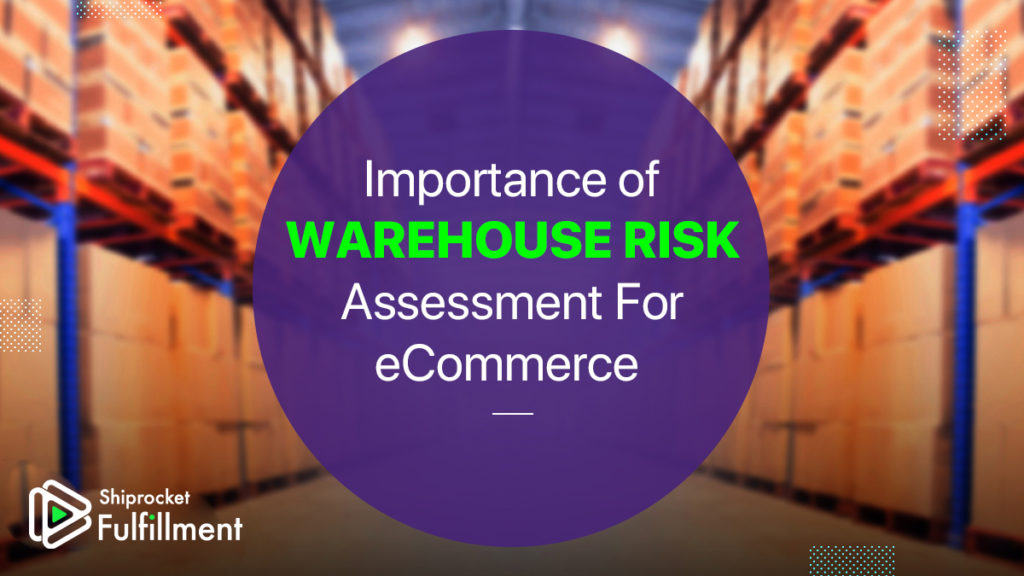 This implies that the demand for warehousing is going up by a large number and the competition for safe and efficient delivery is also increasing rapidly. This means that you need to have warehouses that are optimized and safe for efficient storage and distribution.
In this case, you need to make sure that your warehouse or your 3PL provider's facility does not pose any threat to your workers and products. Hence, it is important to conduct a thorough risk assessment to analyze the safety of your warehouses so you can run an efficient supply chain.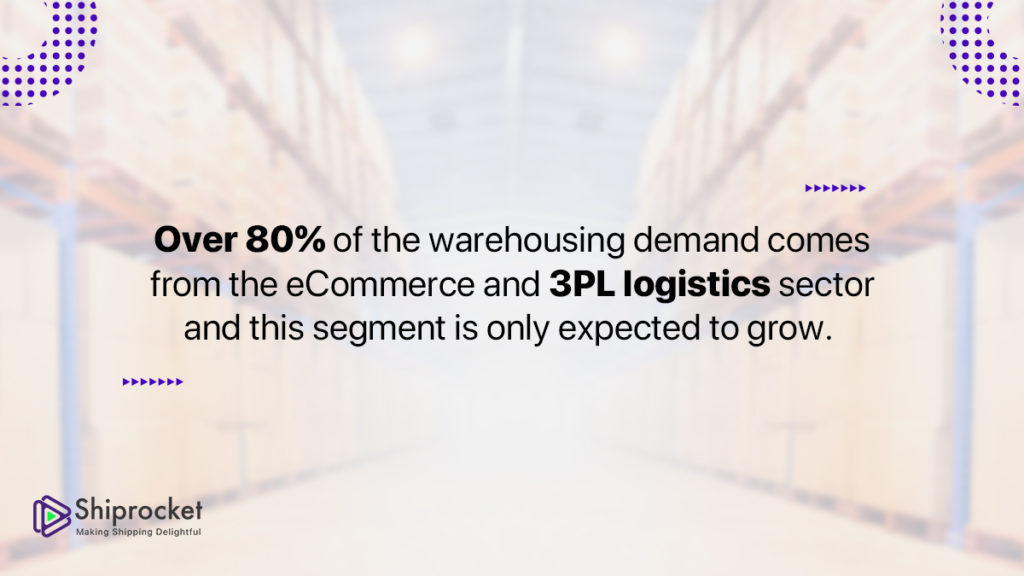 Let's have a look at what risk assessment and management is, why it is important for your warehouse, and how you can do it correctly.
What is Risk Assessment?
Risk assessment refers to the process of evaluating risk to the safety of the workers. It refers to identifying workplace hazards and putting into place protective measures that would help control the risks of these hazards.
Risk assessment helps you eliminate any hazards that can potentially damage the functioning of your warehouse and cause harm to the resources that carry out the operations.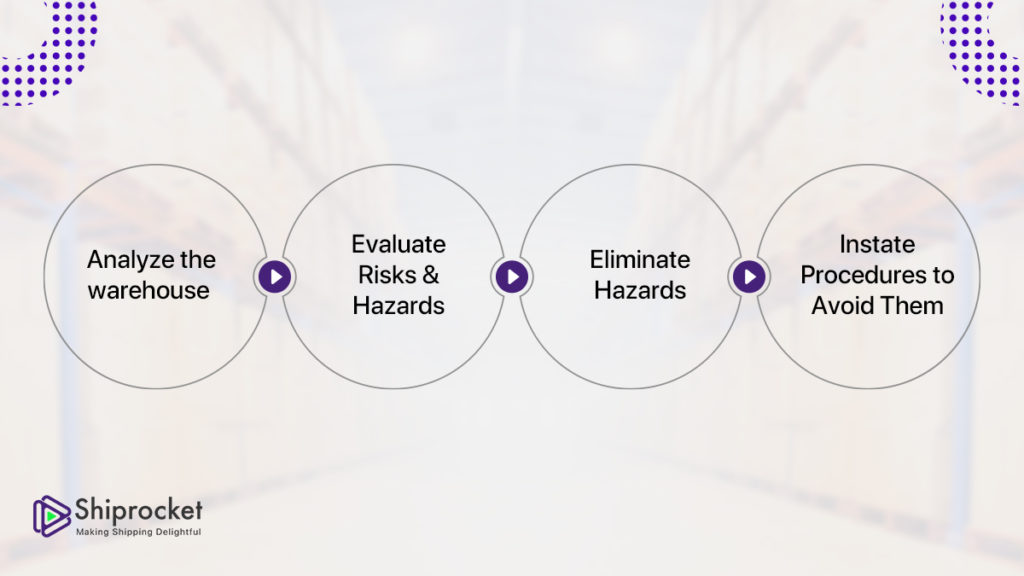 Why is Risk Assessment Important?
This table shows the major causes of injuries in warehouses. If these risks are identified and handled beforehand, they can be avoided. For example, a major risk lies in the manual handling of goods. Therefore, if each previous accident is examined and the threats are identified, you can develop safety protocols and proper processes around the warehouse. Here are a few reasons why risk assessment and management is important –
Preventing Accidents
Risk assessment plays a central role in the safety and safekeeping of employees. If risk assessment is not carried out properly, it can lead to life-threatening accidents. Risk assessment takes care of a thorough evaluation of impending threats. This information can help prevent accidents that can result in injury or ill-health.
You can identify hazards that have the potential to cause harm, and eliminate them beforehand.
In warehouses and distribution centers, there are huge facilities, risk assessment can be vital to avoid unforeseen accidents that can hamper the supply chain.
Evaluate Safety Protocols
Your warehouse definitely has several safety protocols in place to avoid accidents or take action on them as soon as they occur to avoid further harm. Risk assessment gives you an opportunity to assess the safety protocols and identify if they are still functional in your set up.
With time, safety protocols can also become outdated. Continuous risk assessment can help you identify these loopholes and ensure that you stay up to date with your safety protocols so that you do not have to lose out on time or resources.

Training Employees
With risk assessment, you can also train your employees about the safety hazards that surround them. You can give them a clear understanding of dos and don'ts when they work with different machines and equipment.
For example, when using a forklift your employees must follow a specific set of instructions or else their safety could be at risk. If you conduct regular risk assessments, you will have this information to share with your resources.
Safety of Goods from Damage
The main purpose of your warehouse is to store your goods safely before they are distributed to customers. If the risks are not eliminated, your products could face severe damage. For example, if you sell fragile products, they can be broken or cracked if picking and packaging risks are not eliminated. Similarly, there are several other risks that you must assess to ensure the safe storage of goods.
Prioritization of Resources
Risk assessment can give you a clear picture of the resources you need to prioritize in order to maintain the safety of your workers and staff. This would include additional controls that need to be implemented wherever there is a high-risk situation.

Steps to Perform Warehouse Risk Assessment
You can follow a particular protocol to ensure that your warehouse is examined properly for potential risks and hazards.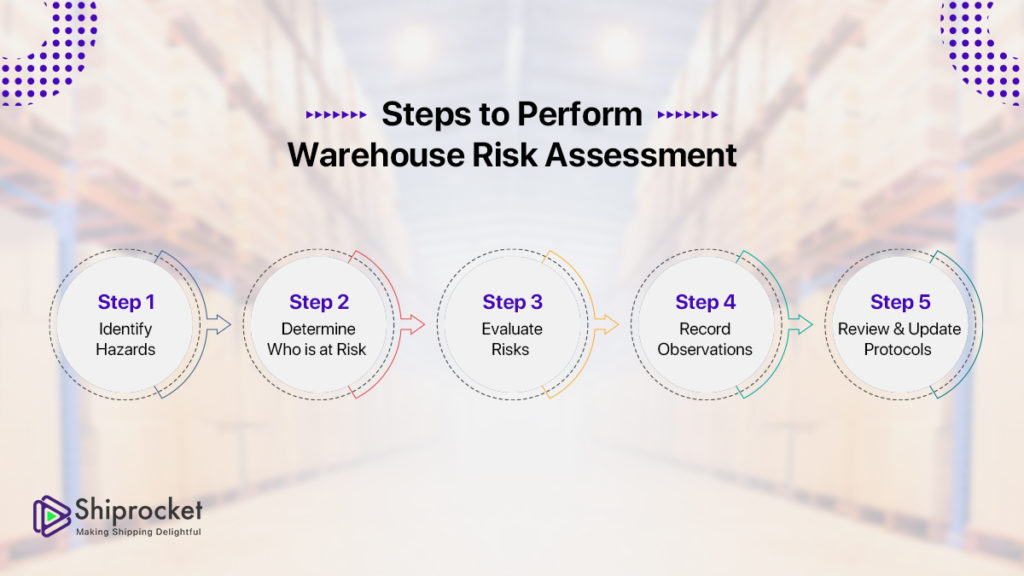 Step 1 – Identify Hazards
Examine the activities in a warehouse and identify the hazards at every step. Figure out what can lead to a potential accident and make a record of it. This will help you get a clear picture of the risks and you can decide your safety protocols based on this raw and insightful data
Step 2 – Determine Who is at Risk
Next, determine who is at risk because of these hazards. Determine safety protocols on basis of who is at risk and how they can be protected.
Step 3 – Evaluate Risks
Third, on the basis of the threats and accidents examined, figure out the risks associated with every operation. Carefully analyze past accidents to evaluate risks even further.
Step 4 – Record Observations
After evaluating your risks, record all observations, and keep them safe. On the basis of these, all observations draw your safety protocols and implement them by training your resources and staff and making changes that are necessary.
If you have a team of five people carrying out this activity, record the observations of all to maintain a detailed and thorough record.
Step 5 – Review & Update Protocols
Carry out this activity at fixed intervals to ensure that you review all risks and update your safety protocols accordingly.
Types of Risks in the Warehouse and How to Manage Them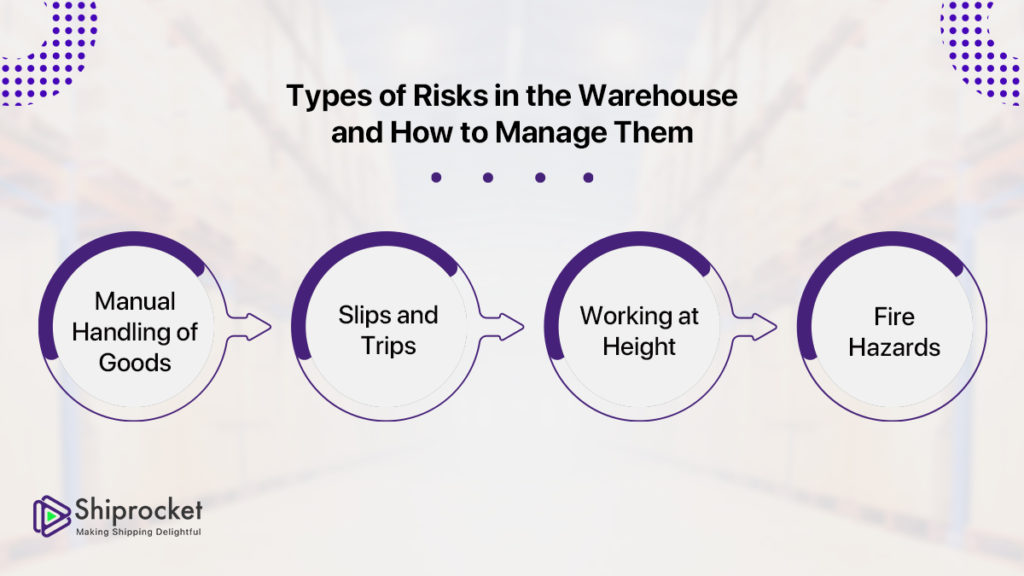 Manual Handling of Goods
According to a report by Assocham, about 80% of handling and warehousing facilities are not mechanized, and traditional manual methods for loading, unloading, and handling of food grains and other commodities are used. This means that we require risk assessment more than ever to ensure that the lives of workers are prioritized and at the same time the goods being stored by sellers also remain safe.
Manual handling of equipment should be associated with the assessment of the risks. The assessment should take into account the various sports of improvement to reduce the risk of injuries and damage to products like spillage, breakage, etc.
The assessor must find out the task that includes the risks. For example, lifting, pulling, pushing, etc. where the body posture is affected. They must identify non-handleable loads that may be slippery or bulky.
After the identification of these risks, you must identify practical solutions that can help eliminate them. These can include upgrading your machines or redesign of the system or process of tasks.
Slips and Trips
Another huge risk while working in warehouses is slipping and tripping. This does not only cause alarming injuries but can also affect your products greatly. Thus, you need to identify threats such as uneven surfaces, improper placement of goods, improper lighting, no spillage of water or oil, etc.
After identification of these threats, just take action to manage them. A few actionable tips would be, ensuring proper use of footwear, lighting at all nooks and corners, floor repairing for uneven surfaces, no storage of goods in the pathways on your stairs.
Products like Dry powders, oil, water, and food products must always be cleaned from the floor to avoid any contamination and to ensure that the floor is completely clean when staff is traveling on it. You can use signs like 'Wet Floor' to prevent anyone from walking on it.
Working at Height
Working at height is another potential hazard that can lead to immense damage if not taken care of early on. It can lead to fatal injuries like fractured skulls, broken bones, or injured muscle tissues.
Thus, carefully examine the elements that can lead to accidents while working at height. These could be improper or unserviced work equipment like step ladders, edge openings, and uneven surfaces.
Thoroughly conduct checks and encourage your workers to avoid working at a height as far as possible. Deploy mechanical equipment such as forklifts to mitigate the risks associated with working at height.
Carry out maintenance work and service all equipment like step ladders, racks, etc., to provide a safe and supervised space for all workers.
Fire Hazards
Fire can spread really quickly in a warehouse as they are tightly packed and stored with goods. Along with complete damage to stored goods, there might be employee injury too that can take place. Therefore, always assess the risk of fires and pre-plan your evacuation and fire safety plans to ensure the mitigation of risk.
A few risk management techniques would be –
Installing fire suppression systems like fire extinguishers, sprinklers, etc,
Installation and constant testing of fire detection systems like smoke alarms
Conducting fire drills to ensure that all employees are updated with the fire evacuation plan.
Conclusion
Management is vital to ensure the safety of your products and your resources in order to carry out your warehousing operations smoothly. If at all your warehouse faces any setback due to an accident or a hazard, you might have to halt all your supply chain operations to cater to it. As it is said, prevention is better than cure. Therefore, you must ensure that you take all necessary steps to ensure the safety and efficiency of your warehouse.
Calculate Your Shipping Costs Now