The Best B2B Couriers in India for your eCommerce Business
For all those engaging actively in eCommerce, business-to-business or B2B eCommerce might not be a new term. For all those who are new to this concept, B2B commerce refers to the trade of products and services between two business entities. Comparing it to a more customer-focused or usual ecommerce, the transactions in B2B commerce are larger in quantity, while the business between the two parties lasts for a longer time.
According to a report by InSync, the B2B market is valued at $525 billion and run by almost 14 million business people. Since this sector is mostly unorganized, it is not as expansive as it looks.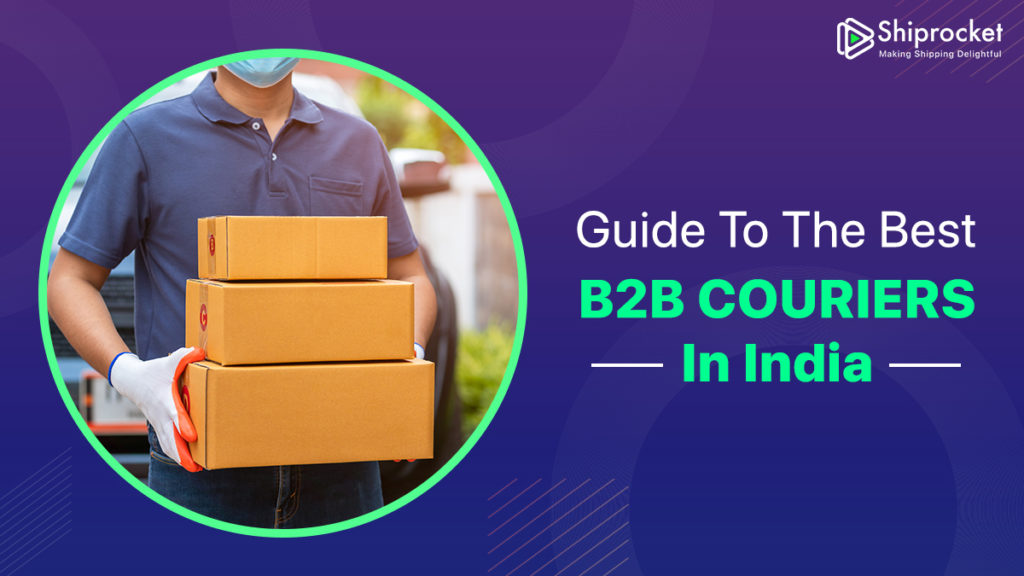 But, with the advent of digitization and eCommerce, the B2B eCommerce industry has taken an exponential flight towards growth. Backed by foreign direct investments from global players, India is expected to become the next seeding ground for the B2B eCommerce market. Current trends suggest that the market size of B2B eCommerce is double than that of B2C, and it is only expected to grow faster in the coming years.
Another critical aspect of the B2B eCommerce industry is the business to business courier services that feed the supply chain of these companies. With a robust eCommerce fulfillment framework in place, B2B companies also need to have a strong logistics network in place. It is to ensure the last leg of their fulfillment chain is sorted, and customers receive their orders on time.
Therefore, it becomes essential to have a professional courier experience in B2B eCommerce so that all the deliveries are handled seamlessly. For businesses, it is necessary to have a wide pin code reach as it facilitates the delivery of bulk products at the right time. This means you need to partner with companies that have an excellent infrastructure to ensure safe deliveries.
Here is a list of courier partners to get you started with B2B eCommerce fulfillment.

Blue Dart is one of Asia's biggest express delivery service providers. It has warehouses in over 85 locations across India making it one of the most comprehensive logistics networks. They service over 35000 locations in India and 220+ countries abroad. They have been a household name for deliveries in India for a long time and earned people's trust. Among other parameters, what makes them a good choice for B2B deliveries is their offering of the maximum weight limit of 100 kg.
Serviceable Area – 17,677 pin codes
Maximum Weight Limit – 100 kg

FedEx is a renowned courier brand worldwide. Their services are diverse, along with their reasonably good track record concerning hassle-free deliveries. Businesses have been trusting FedEx with their eCommerce goods for decades now. Since they offer heavyweight shipping, you can leverage it for your B2B business too.
Serviceable Area – 6000 pin codes
Maximum Weight Limit – 500 kg with FedEx Economy

DHL has three major divisions, DHL Supply Chain, DHL Express, and DHL Global Forwarding. They have extensive offerings for SMEs and an excellent record with integrated logistics services. Without any doubt, they can be a reliable partner for your business courier needs.
Serviceable Area – 6500 pin codes
Maximum Weight Limit – 70 kg for DHL Express

They have special delivery services for eCommerce companies and cover almost all critical locations and Pincodesin India. Their warehouses are spread over an area of 3.3 million square feet. One of the elements that make Gati stand out is its exemplary service in terms of delivery time and cost.
Serviceable Area – 19,000 pin codes
Maximum Weight Limit – 50 kg

Delhivery has become an immensely popular name in the world of eCommerce logistics. Their service offerings are versatile, along with being a dependable business-to-business courier solution. Among other B2B Order Fulfilment services they also offer express, freight forwarding, and category-specific delivery.
Serviceable Area – 14,000 pin codes

Ecom Express is a well-known eCommerce business courier provider for B2C and B2B delivery services. They have an extensive network across India and offer a plethora of services for businesses. These include express and fulfillment services. They are a good pick if you want to ship products from one warehouse to another.
Serviceable Area – 19000+ pin codes

Xpressbees is a reliable logistics company offering integrated ecommerce logistics solutions. Their services include warehouse and vendor pickups & delivery, end-to-end fulfillment, same-day, and next-day delivery. The courier company stands out because of its fast and multiple option facility for shipping orders.
Serviceable Area – 9000+ pin codes
Shiprocket – One Solution for all Business-to-Business Courier Needs

When we talk of B2B eCommerce requirements, the only inference is the transport of large and bulky goods. In most of the cases, this is not possible with just one courier partner at service. To make successful deliveries to multiple warehouses or vendors, it is vital that you tie-up with more than one logistics partner.
With Shiprocket, you get access to 17+ courier partners that give you a coverage of 26,000+ pin codes spread across the country. These courier partners include all the names we have mentioned in the list along with some other reliable ones such as Professional couriers, Rapid couriers, DotZot, etc.
More to this, Shiprocket has an impressive technical infrastructure that enables you to ship bulk orders within a few clicks from a hassle-free platform. You can schedule pickups for bulk orders in one go and hand them over to courier partners when they arrive at your warehouse.
With all these benefits and additional features, you can easily deliver your B2B eCommerce orders with trustworthy courier partners. The best part is that you can rely on Shiprocket's one-stop shipping solution for all your business needs.
Conclusion
The trajectory of the B2B eCommerce industry only seems to be growing in the coming years. With Shiprocket's all-inclusive and powerful shipping solution to back up your logistics and supply chain, you can easily conquer all the odds and deliver seamlessly to your business partners.
What is meant by B2B Shipping?
B2B shipping refers to when you ship products to another business establishment. Usually, this is done with large orders.
Does B2B shipping include shipping orders regularly?
Yes. B2B shipping refers to shipping orders at fixed intervals. It is usually done by manufacturers or wholesalers to retailers, etc.
Calculate Your Shipping Costs Now