5 Common Causes of Shipping Damage in eCommerce & Smart Ways To Prevent Them
There is no end to the convenience and ease of shopping that eCommerce offers to the customers. Lower prices, attractive discounts, an extensive range of products, doorstep delivery, among several other things, draw customers from all walks of life to ditch the traditional retail and shop online. But, as enticing as eCommerce sounds, there are several downsides to it. While these aren't immediately noticeable, they exist more than often in the bigger picture.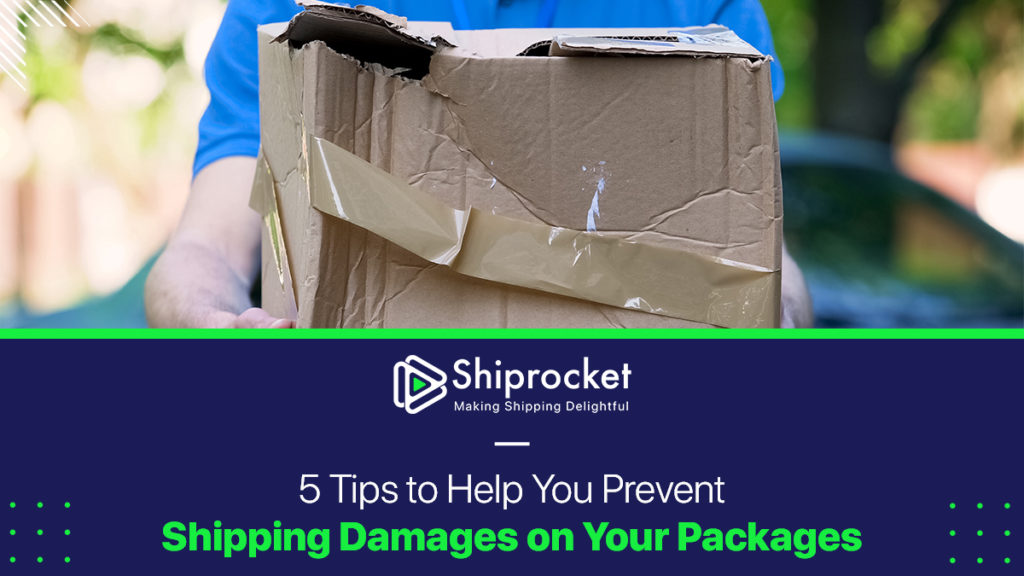 One such issue in eCommerce is the damage caused to the customer's orders during shipping. Damages that occurred during shipping are not just heart crunching for the seller but also destroy the customers' experience. While a customer can identify any damage to the product in a retail store, it is impossible to do the same when shopping online. And even though most eCommerce businesses facilitate free returns, the entire process does become a hassle for the customer.
Damaged products are distressing for the merchants as well. However, they occur without any fault of the business. But logistics is a complex process. From the moment you hand over your product to the logistics provider to the time it is delivered to the customer's doorstep, it passes through more than a couple of hands and mediums of transport. All these make the product susceptible to unwanted damages.
The nature of logistics is that sometimes lightweight packages can be crushed under heavy ones and damage the product. Similarly, if a product whose shape is maintained or fragile, they are bound to break if not handled with care while shipping. As customers receive the damaged product, they are bound to ask for a replacement from the seller.
The cost of replacing the product is high, especially when combined with the logistics cost of getting the product back and shipping a new product. More to this, the customer experience is adversely impacted, in some cases proving to be a setback to the eCommerce business.
What if we told you that eCommerce doesn't have to be such a traumatic experience for you or your customer? But, only if you take care of a couple of factors. Don't worry; we've gone ahead and researched the five most common causes of shipping damages along with their solutions.
Cause 1: Improper Handling
Improper handling is one of the most common causes of damage to a shipment. Many people will handle your package before it is delivered to the customer's doorstep. No matter how careful you ask your logistics provider to be, there will not be many people who will read the instructions that come with the package before handling it. These experiences leave your customers unhappy and dissatisfied and can cost you money for replacement as well as your reputation.
Solution: Stick a Label and Ask for Insurance
While there's nothing you can do about people handling your packages in a specific manner, you can ask your logistics provider for shipping insurance. This will help you cover the product's cost if it is damaged due to the logistics provider's fault. Shipping insurance is also helpful if the package gets lost. Apart from it, don't forget to stick a label on your product that clearly says you're shipping fragile items or items that need to be handled with care.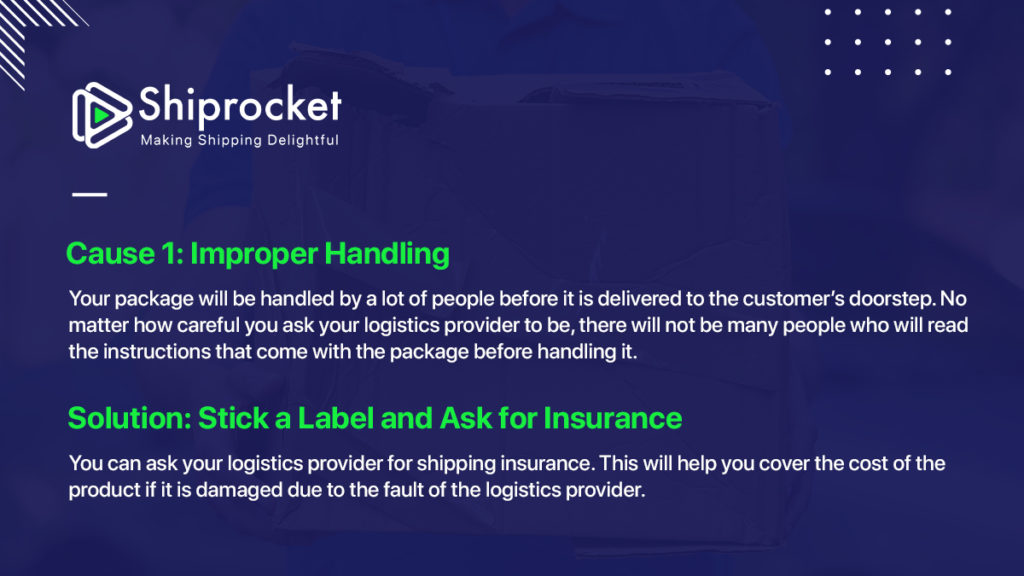 Cause 2: The Size of the Box
The size of your shipping box can be one of the most significant factors behind your orders' damage. If you're shipping your product in packages that are too big compared to the size of the product, the chances are that the product will be volatile inside the box. It will lead to breakages or sometimes disfigured products. Large boxes have another problem that your courier partner will charge them more. Remember that logistics providers charge you based on dimensional weight, implying that a giant box will incur a higher shipping cost.
Solution: Pick an Appropriate Box Size
Take the dimensions of your product into consideration before you pick a box for it. Remember that when it comes to packing your items, the compact the box is concerning the product dimensions, the better it is. Make sure it has enough space for the product to fit in its entirety adequately.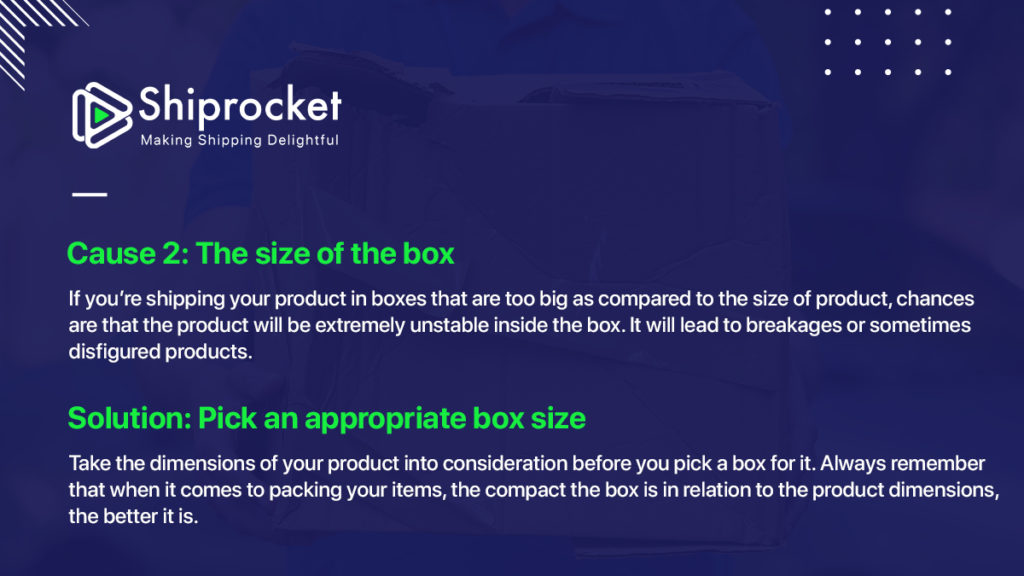 Cause 3: None or Insufficient Cushioning Material
Cushioning or padding isn't just needed for a fragile product. Most sellers choose to skip the padding material on non-fragile items, considering their product to turn up in good condition at the customer's doorstep. However, this practice often backfires due to the improper handling of orders by the logistics providers.
Solution: Wrap Every Item
It is essential to take care of all your products to be well shielded from shipping damage.
The cushioning material you choose will often depend on the type of product and range from a bubble wrap, recycled, crafted paper to air pillows, etc. While wrapping fragile items is necessary, make sure to also use proper dunnage for beauty products, books, accessories, etc.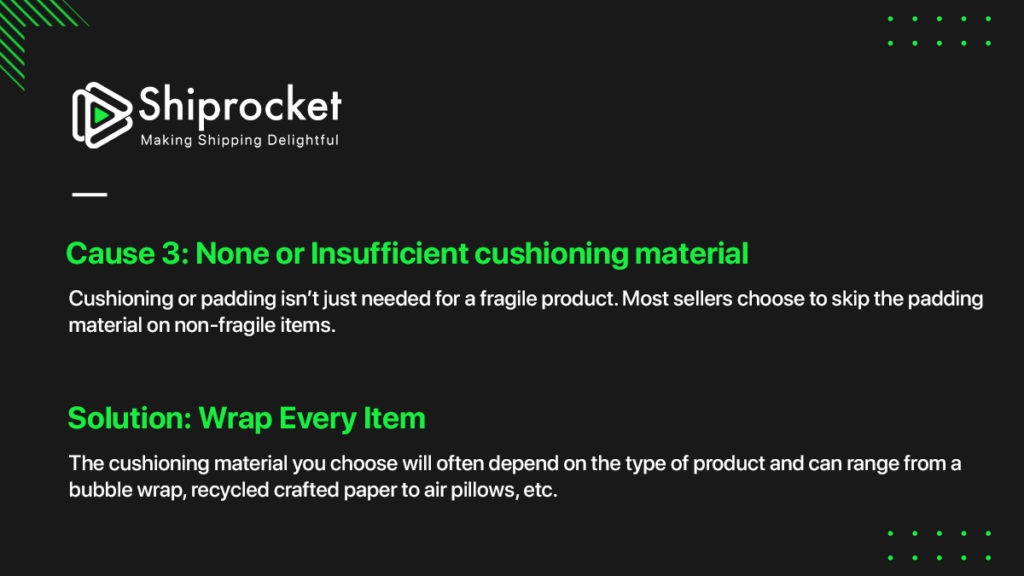 Cause 4: Perishable Items
Shipping food can be one of the biggest challenges for a business. If you're selling food items to your customers, logistics can directly make or break your business. Delayed deliveries can make food perish. Since the nature of food items is such, its contents are prone to spillage. More to this, your orders can be infested by rodents or insects if they are kept in such places by your logistics providers. This, most of all happens in the case of international shipments.
Solution: Use Drier Ingredients and Airtight Packing
While you can't altogether avoid your food items from perishing, the best you can do is use drier ingredients while cooking so that the bruising time can be delayed. Make sure you pack food in airtight containers that ensure no spillage. Label the boxes appropriately, and don't forget to use appropriate dunnage.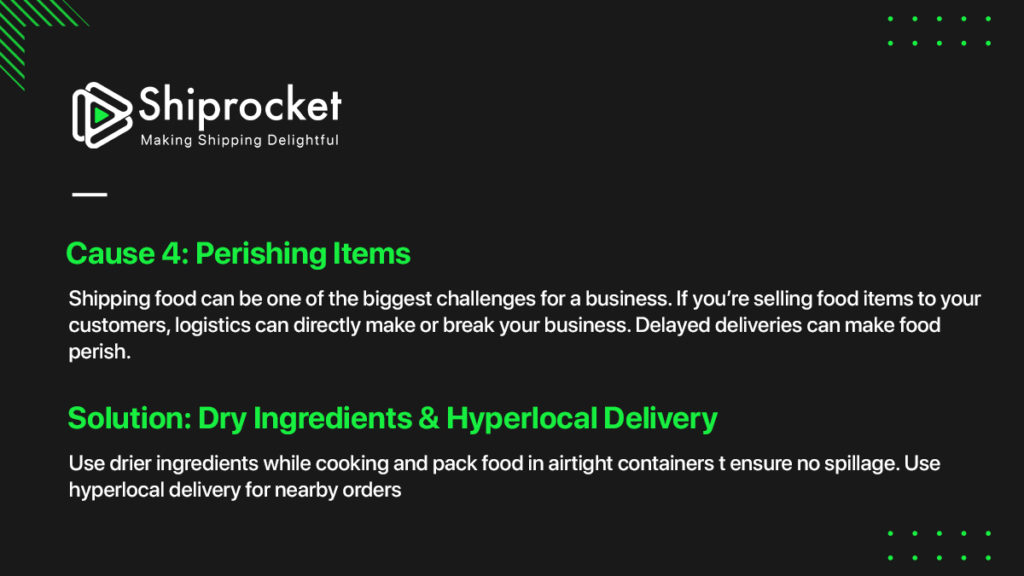 Cause 5: Miscellaneous Damages Due to Weather
The process of transit for your orders might meet with sudden weather changes. Rain, increase in humidity, etc. can cause your items to perish or become damaged. If the courier company leaves the package at the customer's door, several weather factors such as unexpected rain can damage the box.
Solution: Use waterproof packaging
Make sure you use waterproof material to primarily pack your product. This would ensure its good condition even if the external cardboard box is damaged due to rain. Additionally, if you have multiple products in a single package, wrap them individually using a cushioning material before placing them in a cardboard box.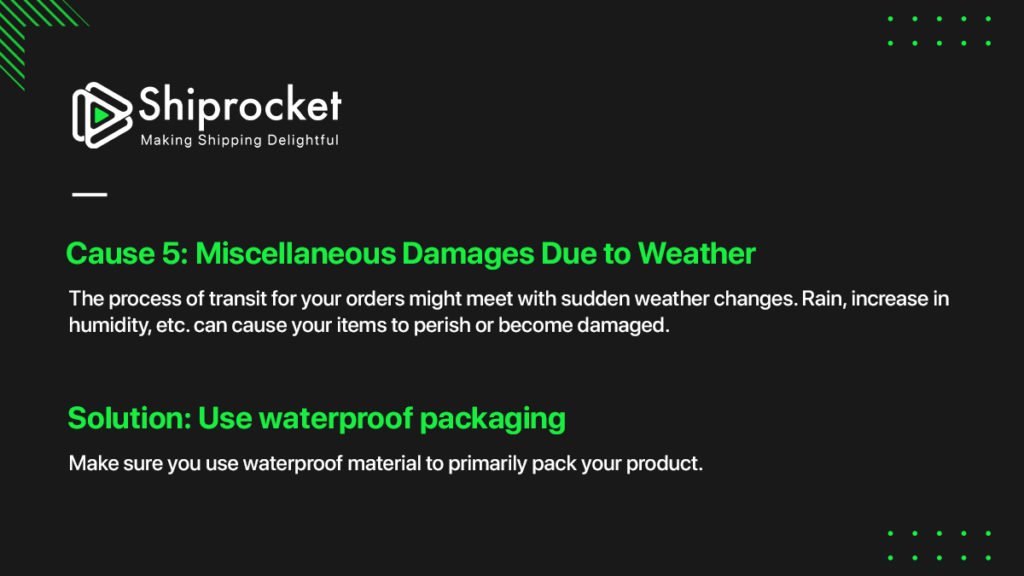 Frequently Asked Questions (FAQs)
What should I do If I receive goods that are damaged during shipping?
If you receive damaged parcels, you must report them immediately to the shipper. You should get in contact with the shipper as soon as possible.

What happens if the shipping carrier refuses my damage claims?
While it is unusual for a shipping carrier to refuse damage claims, any such rare occurrence can be handled by appealing the decision within the shipping company. As a last resort, you can seek legal action.

Is there a timeline by which shipping damages have to be reported?
Most shipping carriers have a timeline before which damages have to be reported. You may forfeit the right to stake a claim if you are late in filing damages.
Conclusion
Proper packaging is responsible for ensuring the safety of your product from unwanted shipping damages. For this reason, you must invest adequate time in deciding the packaging for your products. Alternatively, you can also choose a fulfillment solution like Shiprocket that takes care of your product's picking and packaging and gives you the option to ship via multiple trusted courier partners. With the lowest shipping rates, your packages are also insured, ultimately leaving a fulfilling eCommerce experience for your customers.
Calculate Your Shipping Costs Now