eCommerce Order Fulfillment – Common Definitions & Terminology
The world of eCommerce might seem vast, especially when you try to understand the complex terminologies used in the business. If you're a newcomer in this field, you might get perplexed trying to understand and differentiate between multiple terms that are used quite often while running an eCommerce business.
One of the crucial parts of an eCommerce business is order fulfillment. While you're dealing with it, you're bound to run into some specific terms, acronyms, and abbreviations. For instance, you have recently joined an eCommerce firm and your supervisor wants you to prepare a list of products with low inventory by tracking their SKUs.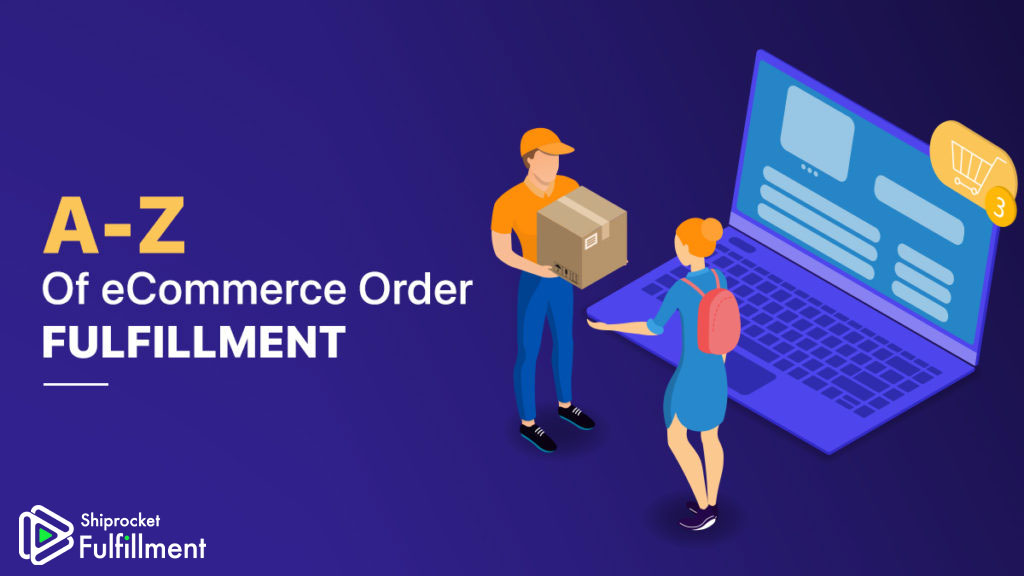 However, you are unaware of the term SKU. Embarrassing right?
To save you the time you would spend looking for the definitions, we have picked some of the basic and advanced order fulfillment terms and built a glossary for you. Read further and ace these eCommerce Order Fulfilment terms-
Third-Party Logistics or 3 PL
3 PL or Third-Party Logistics Providers allow eCommerce businesses to outsource either all or part of their logistics processes. These mainly include distribution, warehousing along with order fulfillment services. The third-party logistics providers like Shiprocket specialize in integrated operations, warehousing and transportation services that can be further customized as per the needs of their customers.
Fulfillment Centre
A Fulfillment centre is a hub where inventory management and order fulfillment activities for an eCommerce business takes place. Right from receiving inventory to shipping products to the end customers, everything happens inside a fulfillment centre. Shiprocket Fulfillment has fulfillment centres across India where the businesses'' inventory is stored, managed, picked up, packed and, ultimately shipped to their customers within the same day or next day.

Distribution Centre
A distribution centre is a facility used for receiving, storing inventory temporarily, and redistributing goods based on the customers' orders. At this point it is likely that you get confused between a warehouse and a distribution centre, but there is a fundamental difference between the two. A warehouse is used to store inventory or goods for longer periods-, whereas a distribution centre is focused on a faster turnover of goods; i.e., it holds inventory for a lesser amount of time.
Dropshipping
In layman terms, dropshipping is a process where the order fulfillment is directly done by the manufacturer instead of the seller. The seller's task is to receive the order from customers and forward it to the manufacturer for fulfillment.
Dropshipping is an order fulfillment process in which goods are produced as well as stored by the manufacturer himself. Whenever a customer places an order, the product is shipped directly from the manufacturer to the end customer. This is one of the most cost-effective order fulfillment processes for small businesses that are just stepping in the market. You can read more about dropshipping here.
Inventory Management
Inventory management is the process of managing inventory levels, sales, and deliveries. It also includes tracking inventory levels to ensure adequate stock at all times. Management of raw materials, components, and finished products, as well as warehousing and processing such items, are all components of inventory management. To know about the best inventory management techniques for your eCommerce business, click here.
Self-fulfillment
Self-fulfillment is an order fulfilment method where the eCommerce seller or merchant takes up each step of the order fulfillment process internally, without the help of any third-party logistics provider. It's common among eCommerce businesses that are just starting -to manage inventory and pack orders in their residence or place of work.
Barcode
Barcode is typically a machine-readable form of data representation that contains information to identify products faster. The data in a barcode consists of information related to the purchase order.
A shipping barcode can identify the order and help access information such as products in the carton, customer name, delivery address, or mode of shipping. Barcodes on documents like purchase orders or return documents can retrieve the appropriate record from the server.
SKU
SKU or Stock Keeping Unit is a unique number associated with a particular type of inventory for an eCommerce business. It is internally used to track business' inventory. SKUs are alphanumeric in type and provide information about the essential characteristics of a product — price, colour, style, brand size, etc.
WMS
WMS or Warehouse Management System is a software used in warehouses to control and automate warehouse operations. It increases the efficiency of business' warehousing operations. It facilitates the warehouse management team in their day-to-day planning, organizing, staffing, directing and controlling the use of available resources to move inventory inside the warehouse. At the same time, it supports the staff in monitoring the performance of movement and storage in the warehouse.

SLA
A Service Level Agreement or SLA is a contract provided by the fulfillment service provider that tells the business owner about how they will handle incoming orders, ship their items, and how they will carry their role in the overall business arrangement. SLAs report on order accuracy, the number of orders that get shipped every day, inventory shortages, and so on. These reports form a crucial part of order management as they produce a clear picture of expectations versus deliveries from the fulfillment provider.
FIFO
FIFO or First-in-first-out is a warehousing method where the first items to arrive at a warehouse are the first to leave the facility. The concept behind it is simple; the items received first at the warehouse are the ones held for the longest time. As a result they grow closer to their expiry date as time passes. Business owners move up the SKUs of such products in the inventory, so that they are sold before they expire or perish and no worthless stock lies around in the warehouse.
Storage Fees
Storage fee is exactly what it sounds: the fee charged by the owner to store inventory in their warehouse or fulfillment centre. Shiprocket Fulfillment, a unique offering by Shiprocket that provides end-to-end fulfillment solutions for eCommerce businesses, offers 30 days of free storage from the time a business has connected its store with the platform.
Cross Docking
Cross-docking is a logistics process where goods reach the end customer from a manufacturing unit or supplier, with close to none storage in between. This takes place in a distribution docking station or terminal that has minimal space for storage. Products are received at one end of this cross-dock called the inbound dock and transferred to the outbound dock. These materials are screened and sorted according to their destinations and carried to the outbound dock.
Warehouse Kitting
Warehouse kitting is a process where different yet related SKUs are combined to create an altogether new SKU. Warehouse kitting involves fulfilling customer orders by assembling single items into kits that are ready to be shipped right away, rather than picking and packing each item individually. For example, if a customer orders a mobile phone, he might have also ordered a mobile screen guard, headphones, and a back cover. The supplier, in this case, will assemble all of these into a single kit and ship to the end customer.
Conclusion
We hope this glossary will help you understand the process of order fulfillment – better. In case there are any other terms that you're unfamiliar with, kindly let us know in the comments section below. Till then, happy shipping!
Calculate Your Shipping Costs Now