Essential Guide To DHL Tracking
DHL is a name to be reckoned with when it comes to sending shipments across the world. It is one of the biggest courier companies in the world for both domestic and international shipping. DHL offers various ways for people to track their shipments and be informed about the whereabouts of their orders in real-time.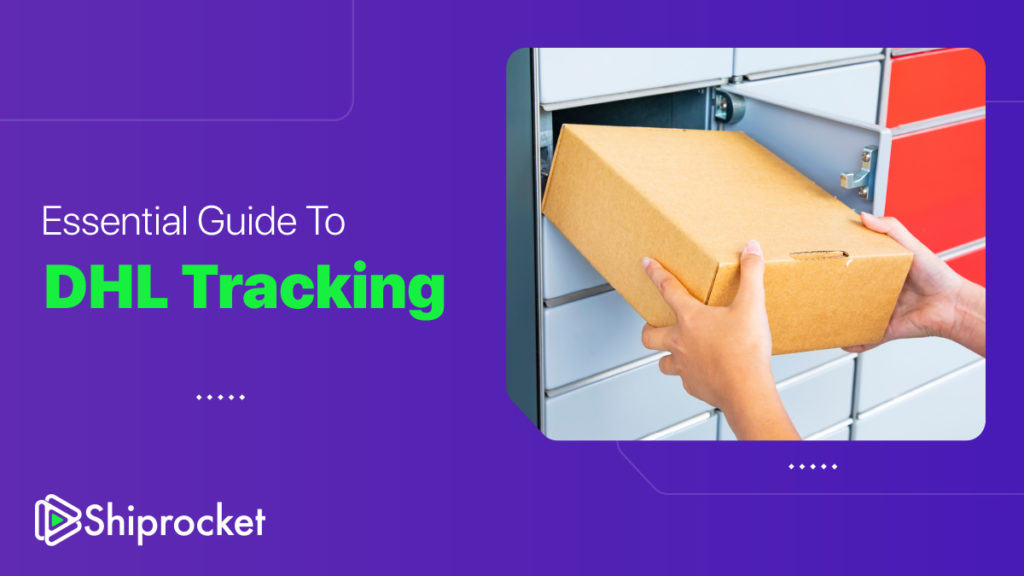 Tracking is usually easy, but there are options that retailers need to understand in order to better serve their customers, especially for international freight.
This DHL tracking guide will help you understand the basics of the DHL tracking system and numbers, various tracking shipment options, and the meaning of the DHL statuses.
How Do I Track Shipments Handled By DHL?
DHL offers a variety of tracking tools for monitoring domestic or international shipping status. The fastest and most efficient way is to visit the DHL website and enter your tracking number.
Customers can enter up to 10 tracking numbers at any given point and get the status updates for all the 10 tracking numbers.
You also have the following options:
Phone number: 1-800-225-5345
DHL ExpressSMS for International Players: 44 7720 33 44 55
Email your tracking number to track@dhl.com
DHL Express mobile app
Shiprocket customers can find the package directly from the dashboard and track their packages easily. From there, you can manage all your shipments and get detailed tracking information and status updates. One can easily set up their account to send the branded tracking information automatically to the customers. The branded tracking information will offer them delivery information in real-time.
What is a DHL Tracking Number?
A tracking number provided by DHL is a combination of numbers and letters that are used to identify the package that is being shipped either to a domestic destination or an international destination.
If you shop with an online store or sender, you will receive an email notification or confirmation with a tracking number.
Depending on your service, DHL tracking numbers are provided in various formats.
DHL Express: A 10-digit number starting 222, DDJ05, DDJ99, LGVJ, or a similar variation.
DHL Package: 10 digital numbers starting with 4H, KBHA, or KKF.
DHL E-Commerce: Ranges from 10 to 39 characters, starting with GM, LX, RX, or up to 5 characters.
DHL Global Forwarding: Available in a few formats.
7 digit numbers only. Example: 2345678
It starts with one number, followed by two letters and 4-6 numbers. Example: 3GH7890
It starts with 3 or 4 letters. For example, BGH23456 begins with a 3-digit code of carrier, followed by a dash and an 8-digit number.
Can I Find A DHL Package Without A Tracking Number?
If you do not have a tracking number, you must first contact the sender or dealer to see if they can provide you with a tracking number, as this is the easiest way to track a package. In some cases, you can use the reference number by entering the reference number in a tracking system for the product you purchased, e.g., DHL Express.
Which DHL Services Provide Follow-Up?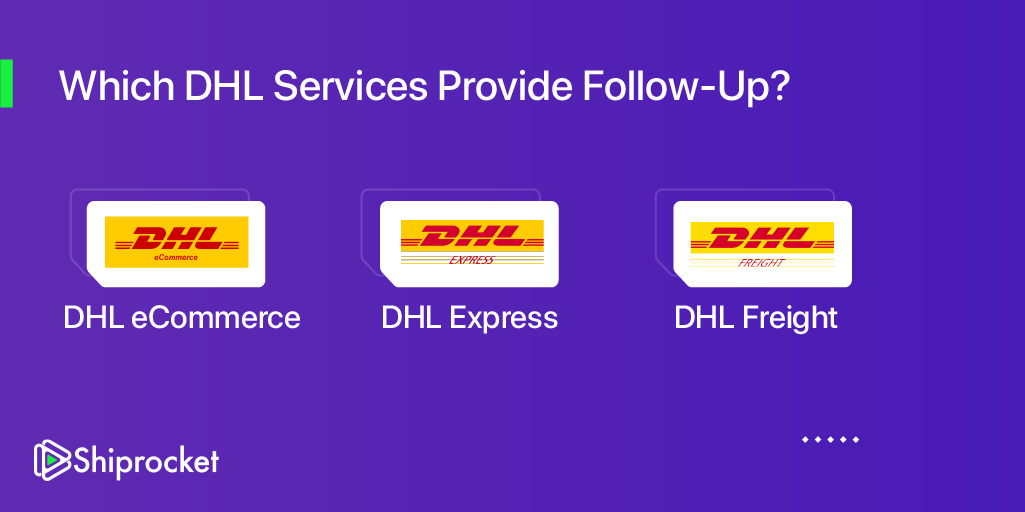 DHL's product portfolio and solutions offer customers a wide variety of local and international package delivery services with reliable end-to-end tracking.
DHL eCommerce: National and international shipment for commercial eCommerce customers, including a dedicated customer portal for tracking the shipments.
DHL Express: National and international parcel and envelope overnight shipping options. Includes DHL ProView, an online service for express tracking.
DHL Freight: National and international shipping for businesses.
What Are The DHL Online Tracking Statuses?
A DHL Tracking Number helps to track shipments throughout the journey of the packages.
Here is a simple explanation of the definitions of each status:
In transit: A package is on its way to you or to the receiver
Arrived Overseas: The package or shipment reached its overseas destination
Shipment is Pre-Advised: A package that already has a shipping label but still has to be received by the courier partner.
Poste Restante: The package will be held at the destination post office until the recipient or receiver is selected
Arrival Scan: The package has already been scanned in the courier facility
Redirected: The address mentioned on the package was incorrect, and now the delivery agent will try the package to deliver at another time.
Out for Delivery: This state shows that the package has already arrived at its destination point
Cleared Customs: Shipment went through customs
Unsuccessful delivery attempt: There were problems with the delivery of your package.
Returned to Sender: The package is returned for some reason.
How Long Does It Take With DHL To Update Detection?
Under normal circumstances, it does not take more than a few minutes for DHL to update the package's status. This update is generated by an electronic device that generates this update from a DHL facility.
What Happens When The DHL Tracking Is Not Updated?
There are many reasons why the status is not updated with a DHL tracking number. Many times, the order might have been delivered to the local postal service to cover the final route of the delivery journey. To ensure timely delivery and status of the shipment, contact DHL customer service by phone, 1-800-225-5345 and provide the tracking number.
How To Track DHL Deliveries For International Shipping?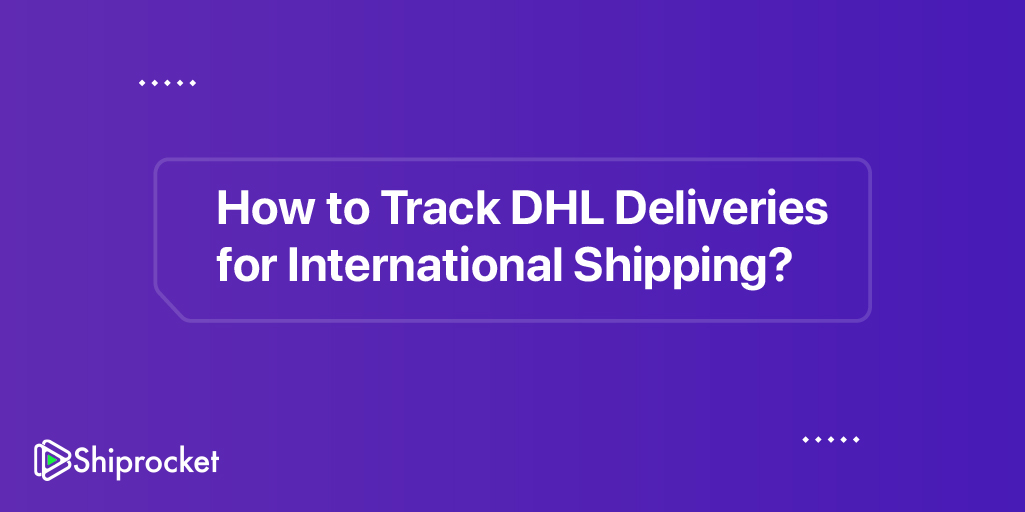 DHL eCommerce covers 220 countries, with a variety of products that include end-to-end tracking of shipments. The local area's postal service will handle the final delivery, so you need to contact it to get a status update.
This is how you can obtain the correct corresponding postal service tracking number for your international delivery:
First, obtain your tracking number, either from the DHL or your Shiprocket's dashboard.
The next step is to visit the tracking page on the website of DHL.
Once you enter the tracking number, you will receive the tracking number for the area's postal service.
Keep An Eye On Your Package With DHL Tracking
It is very convenient and easy to keep an eye on your shipments when using DHL. They offer multiple channels to find a tracking number and offer status updates at various points in shipments.
Shiprocket also offers various powerful tools to keep track of the shipments being shipped by DHL. The shipments can be tracked directly through the dashboard for shipments handled by DHL and other courier partners.
Calculate Your Shipping Costs Now