How to Write Instagram Captions to Get More Likes and Followers?
For a growing business, it's impossible to ignore what Instagram can do for it. As of now, Instagram is one of the fastest-growing social media platforms, and all businesses can leverage it for their business growth.
You may be posting some stunning pictures and videos on your Instagram handle. But if you are not giving proper attention to the social media copy, including your Instagram Captions, there are high chances that you are losing out on ample of opportunities.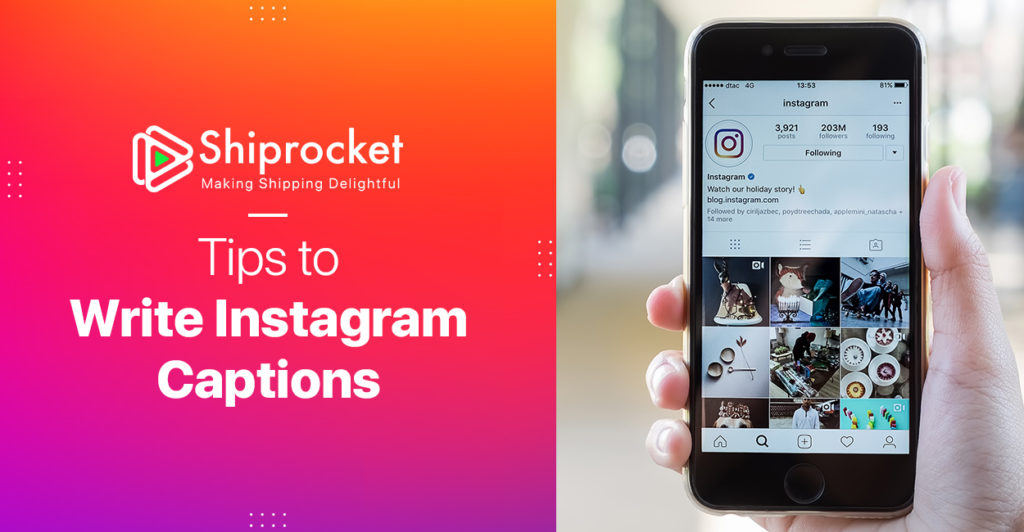 Instagram captions don't only serve the purpose of explaining the image or video. But they can also help increase website traffic, get more likes, comments, and followers, and even sales.
Stunning and strong images on Instagram can certainly make your users slow down and look at your posts. But thoughtfully written and engaging Instagram captions can do a lot more than just that and lead to increased marketing and sales.
What Goes Into Compelling Instagram Captions?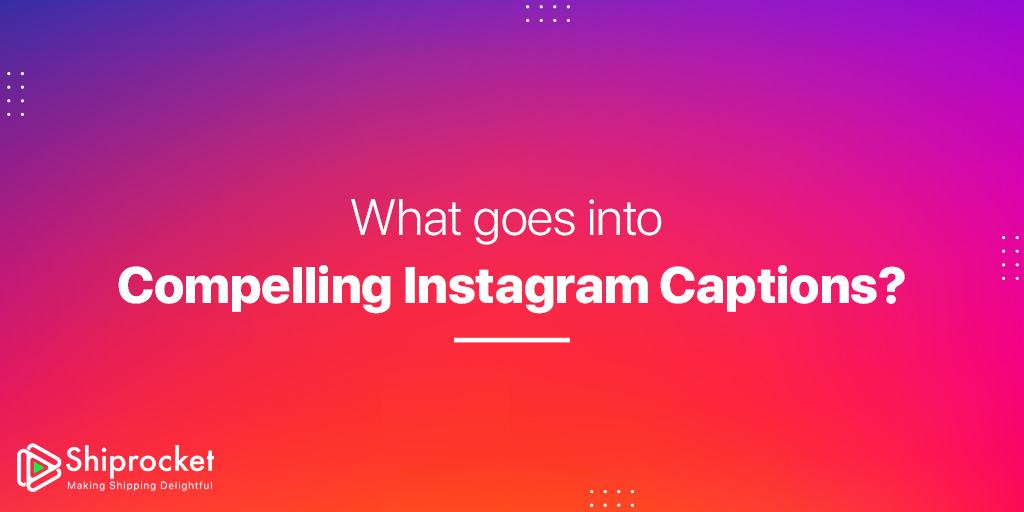 Thoughtfully written Instagram captions can create more than just engagement because it is critical for Instagram's algorithm. Strong Instagram copy shapes the brand's story and personality. This, in turn, helps the followers realize what the brand has on offer. Instagram captions can elevate your brand's success and help meet your marketing goals.
If the social platform likes your engagement rates, your post is more likely to be seen by the users. Whether your post is shown in the users' feed will depend on if your post is getting a lot of user comments and likes. This means, it doesn't matter if you have a large number of followers on Instagram, your posts will only be seen on the users feed if you have a high engagement rate.
As per the Instagram algorithm, what shows first in the Instagram feed is determined by which posts you engage the most with, as well as the timeliness of the posts, how often you use Instagram, and how many people you follow.
In a nutshell, what shows at the top of the feed is the result of the user's own activity. A business must entice the users to engage with their posts – whether they like or comment on your post or stay on the post for a few seconds. Moreover, captions can help you achieve this.
What Makes a Caption Good?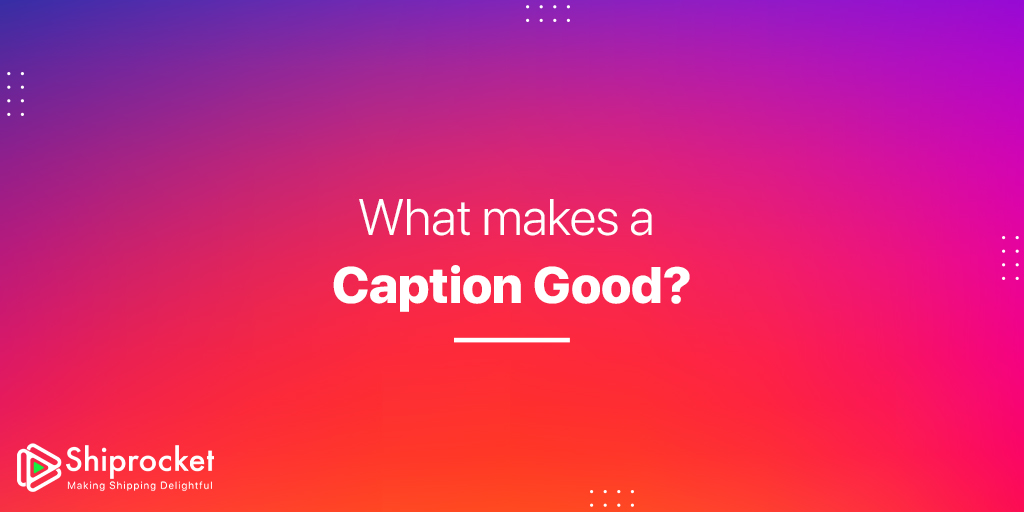 A great Instagram caption adds context to your post, shows your brand personality, and compels your audience to take action. It also entertains your audience. You can use emojis in the captions. But don't overdo. Also, use hashtags efficiently – this will help your post to reach more audience.
Just like any piece of content, your Instagram captions should be a good piece of writing that is easy to read. It must be attention-grabbing as well. It should be written keeping your audience in mind.
Tips to Write Perfect Instagram Captions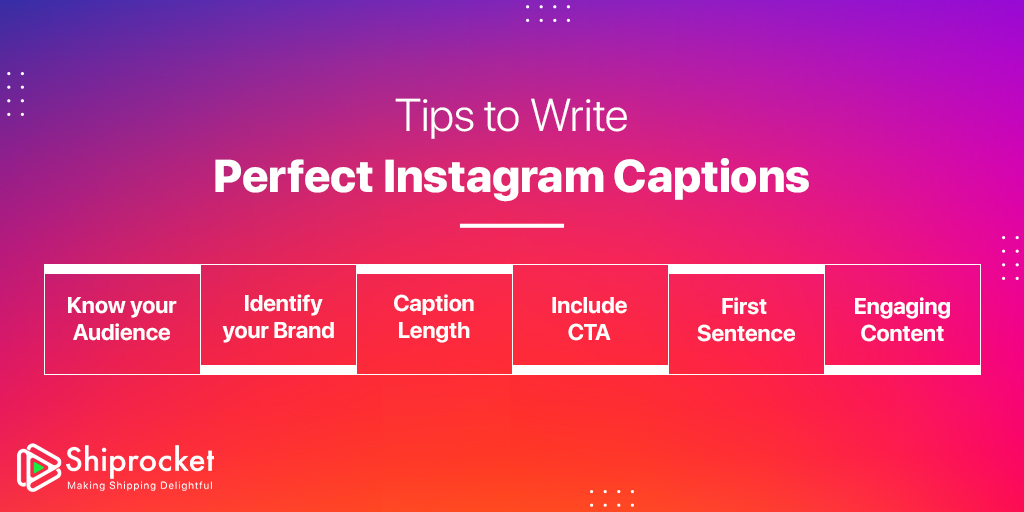 Here's how you can write the best captions that can bring you likes, comments, and high engagement rate:
Know Your Audience
Who is your target audience out of the 1 billion million users on Instagram? Whose profiles do you want to target? Instagram demographics tell that the social platform is used by women more than men. Besides, people from all income groups use the platform.
You must know your audience and tailor your Instagram posts and captions according to the target audience's needs and expectations. But don't forget to align your posts as per your marketing strategy.
You can also build audience personas to outline your target customers' basic details, pain points, and goals. You can consider questions like – how old your customers are, where they live, what they do, and what they like to do outside of work.
Identify Your Brand
What are the qualities of your brand? How do you want your customers to perceive your brand? Jolt down a few adjectives that better describe your business and use them to define your business.
It is not necessary to use formal or serious tone in your posts. Although it depends on the industry and the audience you serve, you should keep the things light, add humour wherever appropriate, and showcase your brand's personality.
Caption Length
Most of the Instagram users scroll through their Instagram feeds quickly. If you are confused as to how long your caption should be, keep it short. Give context wherever possible, be brief, and let fewer words speak volume.
Only the first three caption lines will be displayed in the feed. Any word more than three lines will not be visible and go under "more" section. So, if you want your entire caption on display, you are recommended to use 125 characters or fewer.
Include CTA
Each post that you publish on Instagram, it must have a purpose or intention. It must have a specific goal, and it should dictate CTA (Call-to-Action). What do you wish your followers to do:
Visit your website
Order your product or use your service
Share the post with friends/family/other users
Enter a contest
Shop promotion
Don't forget to ask them to share your posts using a hashtag.
The key here is to encourage engagement on your post to create a sense of conversation with the audience. As discussed above, Instagram's algorithm takes engagement as an important metric to show your posts on the followers' feed. Also, if you encourage engagement, this will increase your post's chances to appear in other users' feeds.
Here are a few actions that you can encourage your customers for:
Click the link in the Instagram bio
Leave a comment under the posts
Tag a friend
Repost your posts
Post a photo using the brand's hashtag
First Sentence
As said above, Instagram shortens the captions after 3 lines. So, you must make the most of the first line and include all the important details. Also, the users go through feed briskly. They generally get time to see the first line of the feed only. Ensure your first line is engaging and compelling. It can also ask a question, or you can even start the post with a call-to-action.
Engaging Content
Be it a blog or a caption, authenticity of the content matters the most. Write as you speak – bring out the best in your content. Be strategic and intentional but don't forget to come out as natural. Talk to your followers like a friend.
Avoid being neutral. You can add personality to your Instagram captions. Try adding phrases, words, or even anecdotes to paint a picture. If you are talking about your product, describe its touch, sight, feel, taste, or even the emotion it triggers. Don't just talk about its name. Be specific and tell your audience how the product/service feels. Don't say chips, say salty and tangy chips that can give your tastebuds a savoury taste.
Whether you are an eCommerce brand or a blogger, writing thoughtful Instagram captions is crucial. While coming up with a fascinating Instagram caption may seem hard, you can write Instagram captions successfully and easily if you follow the above-mentioned tips. Good luck!
Calculate Your Shipping Costs Now