What Is The Difference Between Hypermarket, Supermarket And Departmental Store?
Selling goods especially that of essential nature is a popular form of business. No matter where you go, you can spot stores calling themselves one name or the other. While some call themselves departmental stores, others are famously known as supermarkets. Apart from these two, you might have also heard the name hypermarkets.
Whether you're choosing to establish a new business or want to partner with such stores, you need to know the differences between them. This will help you not just in decision making but also in understanding the target customers each of these stores has.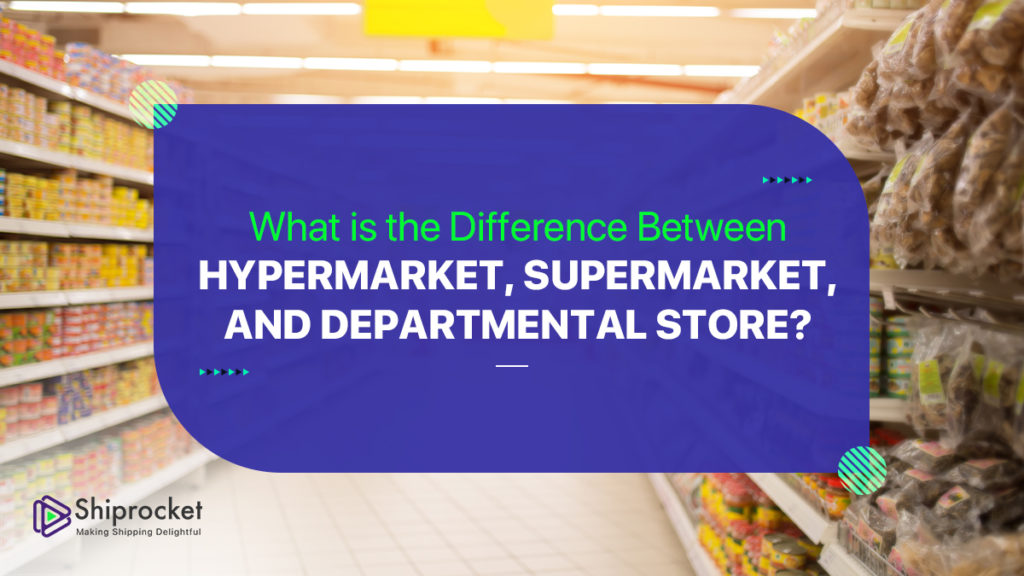 Moreover, if you are planning to start your hyperlocal business, this will give you an insight into the nature of the business you want to invest your money in. For example, you are starting in a geographical area, where customers want different kinds of products under one roof. In such cases, a supermarket or hypermarket kind of store would suit their needs better.
Similarly, there are other scenarios where a departmental store would do the job. Either way, you would have to work on your logistics to get products delivered to your customer's doorstep. Doing so will make sure that you are able to cater to the needs of your audience and make instant profits with rapid delivery and greater order fulfillment.
But, don't worry, if you can't figure out where to get started. We've gone ahead and compiled all that you need to know about the three main kinds of stores. Read on to find out more.
What Is A Departmental Store?
A departmental store is a big store that sells goods of many varieties belonging to different departments. It is essentially a retail establishment that offers a large number of consumer goods that belong to various product categories.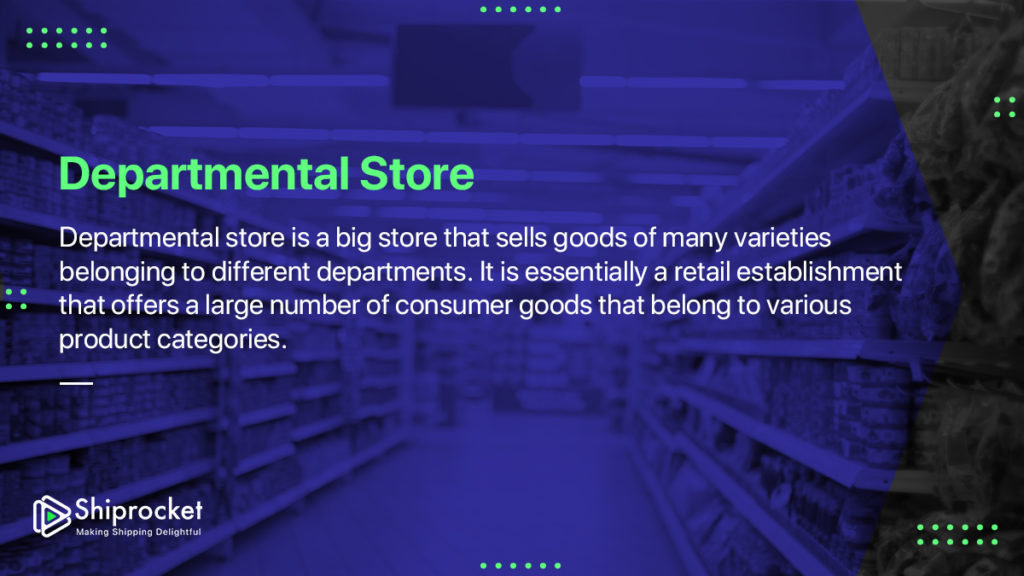 These types of stores usually have many subsites which house a wide range and category of products. The departmental stores might sell jewelry, clothing, home appliances and electronics, hardware products, sporting goods, stationery items, and many more under one roof. All these consumer goods are categorized under different sections and are found in various divisions of the same store.
The departmental store was founded on the basic concept of providing the customers with a one-stop-shop for the purchase of goods belonging to various categories. The idea of departmental stores flourished in the nineteenth century after the industrial revolution. The first-ever departmental store was opened in London in the year 1796 by the name Howell & Co. Some of the most popular departmental stores globally are Galleries Lafayette and Le Bon Marche in Paris, Selfridges and Harrods in London, and Isetan in Tokyo.
What Is A Supermarket?
A supermarket is a big self-service retail market that generally sells foods and household items. It can be called a larger version of a grocery store.
Supermarkets typically have a more extensive selection range than that of a traditional grocery store. The items are categorized and placed in aisles so that the customers can walk through them and take what they want. The aisles in a supermarket typically contain fresh fruits, dairy products, baked items, meat, canned and packaged foods, and all sorts of non-food items such as kitchen items, household items, pharmacy products, toiletries, etc.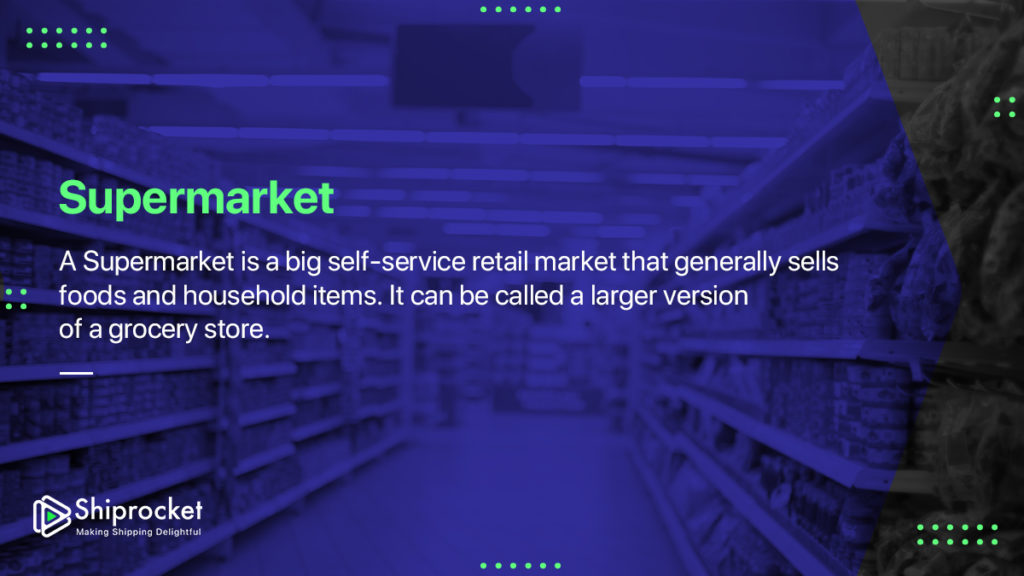 Usually, supermarkets are built on a single floor with a large amount of floor space. They are located in the proximity of residential or busy urban areas to be convenient for the customers. Most of the supermarkets are open for long hours, with some remaining open 24 hours a day.
Supermarkets are generally a part of corporate chains that possess other branches at different places. Wal-mart, Tesco, Costo, Wholesale, Kroger are some of the popular supermarkets worldwide you may have heard of.
What Is A Hypermarket?
The combination of a departmental store and a supermarket is known as a hypermarket. A hypermarket was invented in the year 1931 to give the customers a feeling of a store even more massive than a supermarket.
It was created to cite a large retail unit that was previously called a supermarket. Fred Myer chain was the first in the US to be labeled as a hypermarket, but the term hypermarket was later reserved for all such stores, which had the combined facilities of a supermarket and a departmental store.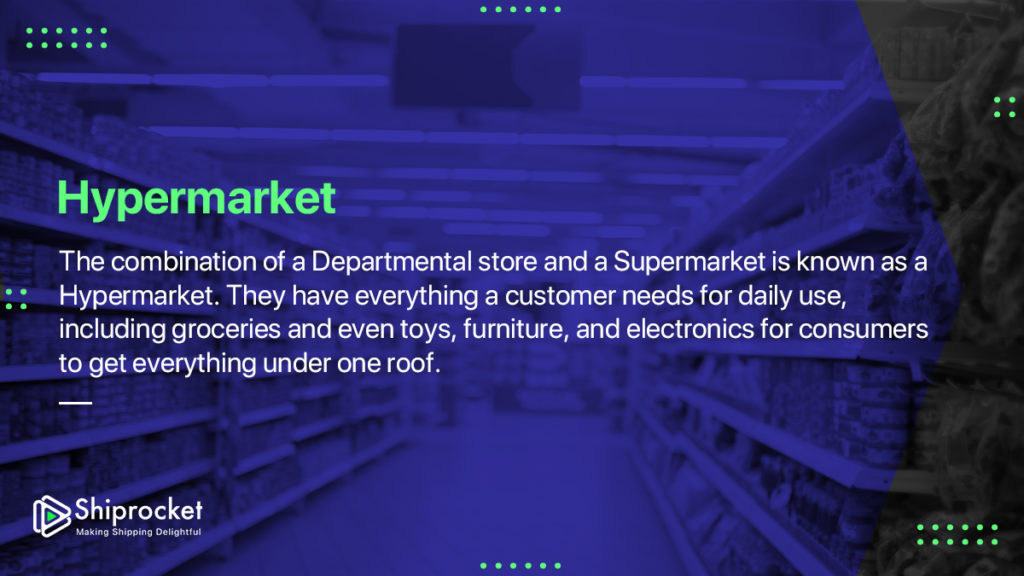 Hypermarkets usually have everything a customer needs for daily use, including groceries and even toys, furniture, and electronics for consumers to get everything under one roof.
Hypermarkets are so common today that you can find many of them in both urban and rural places across the country. Some hypermarkets are so large that they even house restaurants, cafes, and beauty parlors with the convenience of shopping around all under one roof.
Differences Between Supermarket And Hypermarket
A supermarket is a large store, but a hypermarket is much bigger than a supermarket. Hypermarkets store a higher number of FMCG products than supermarket. A supermarket has a warm, pleasant look that attracts customers, whereas a hypermarket usually looks like a warehouse. Also, the supermarket decoration is more inviting than a hypermarket.
Supermarkets provide more customer-oriented services and a warm touch, which is not seen in a hypermarket. Prices of items at a hypermarket are generally lesser than in supermarkets. Supermarkets are redecorated during festivals and introduce games and activities during this period, which is not usually seen in hypermarkets.
Differences Between Departmental Store And Supermarket
A departmental store is a big retail store that sells goods of many varieties belonging to different departments. In contrast, a supermarket is a big self-service retail market that generally sells foods and household items. Although supermarkets are big stores, they are usually smaller than departmental stores.
Departmental stores can have many floors, whereas a supermarket often is limited to a single level. Supermarkets typically do not sell clothing, jewelery, and hardware, unlike a departmental stores. Departmental stores are not generally owned by corporate chains, unlike supermarkets.
Application of eCommerce in these Stores
In today's generation, it is essential to have some other online presence to enhance your business. It will help you increase your age, help process orders more officiant Lee, and also give your business an extra edge over your competitors.
Whether you want to go to a Kirana shop, supermarket, hypermarket, or departmental store, having a social media presence or an e-commerce website can help you gain many more customers than you would in a brick-and-mortar store.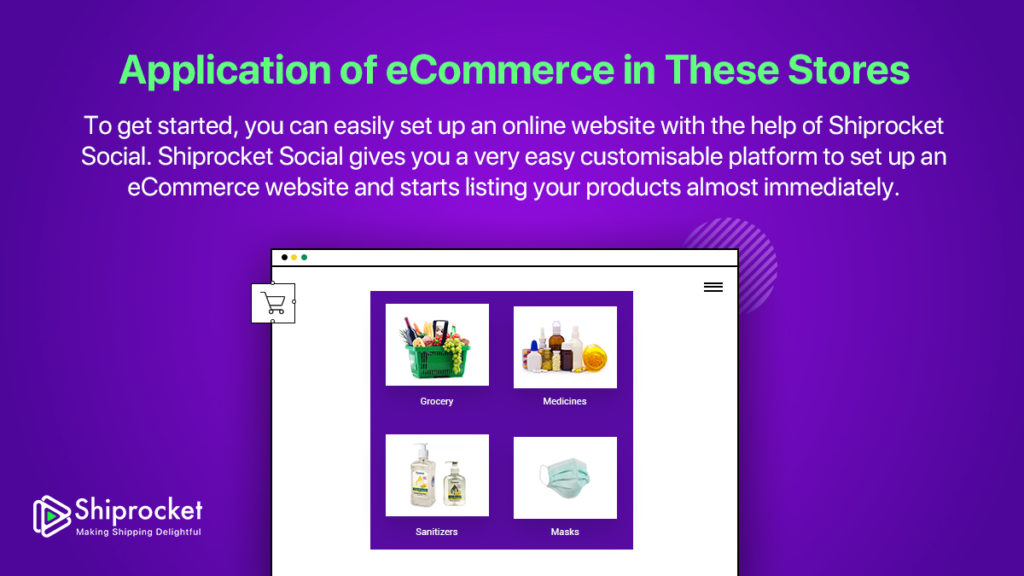 By this, we do not imply that you should shut down a brick and mortar store and start selling online, we are trying to explain how you can have a mix of both and attract more customers to a brick and mortar store with attractive offers, adequate information, buy online and pick up in-store facilities, etc.
To get started, you can easily set up an online website with the help of Shiprocket Social. Shiprocket Social gives you a very easy customizable platform to set up an eCommerce website and starts listing your products almost immediately. Not just that, it also gives you integrations with leading payment gateways like PayU and also marketing support to make your website an instant hit.
How To Deliver To Your Customer's Doorstep?
Now, if you own any of these hyperlocal businesses and wish to take online orders, it is essential that you incorporate means to deliver your products to your customer's doorstep. You can tie up with a hyperlocal marketplace to deliver your products or hire your own fleet of riders. But this can often be too costly for you!
Hence, you can start delivering your products instantly with the help of an Android app – SARAL.
SARAL brings to you a hyperlocal delivery platform with delivery partners like Dunzo, WeFast, and Shadowfax! You can conveniently deliver within a radius of 50 km at a starting rate of Rs. 37! With our multilingual feature, you can conveniently use the application in Hindi and English both. Also, with different delivery partners, you can choose the courier partner of your choice. With the wide coverage of 50 KM, you can take as many orders and cater to more customers. Not just this, but also offer different payment options to your customers like credit or debit cards, cash on delivery, or online wallets. Also, with SARAL App, offer live tracking to your customers with SMS updates, rider details, and other delivery notifications.
Want to learn more about SARAL? Do it here
Conclusion
Now that you know the difference between a departmental store, hypermarket, and supermarket, making decisions will become much easier. You can get to know your audiences better and lay the foundation of your business more robustly. Also, with tools available for eCommerce and hyperlocal delivery, you will be able to deliver products and give your business an additional edge! Moreover, you will be able to make strategies around your business in a more convenient manner.
Remember that the foundation of a good business relies heavily on logistics, which is why you must trust the best when you make a decision. After all, it's your customer satisfaction at the stake.
Calculate Your Shipping Costs Now