All You Need to Know About Inventory Carrying Cost & How to Reduce it
According to several studies, surging customer demand is one of most businesses' highest supply chain challenges. Almost two out of every three eCommerce businesses struggle to keep up with the rising demand. While inventory stock out situations, especially during the peak seasons, can be harmful to a company, the irony is lakhs of rupees are wasted every year in excess stock situations. Most businesses often struggle to maintain a balance between the two costly challenges.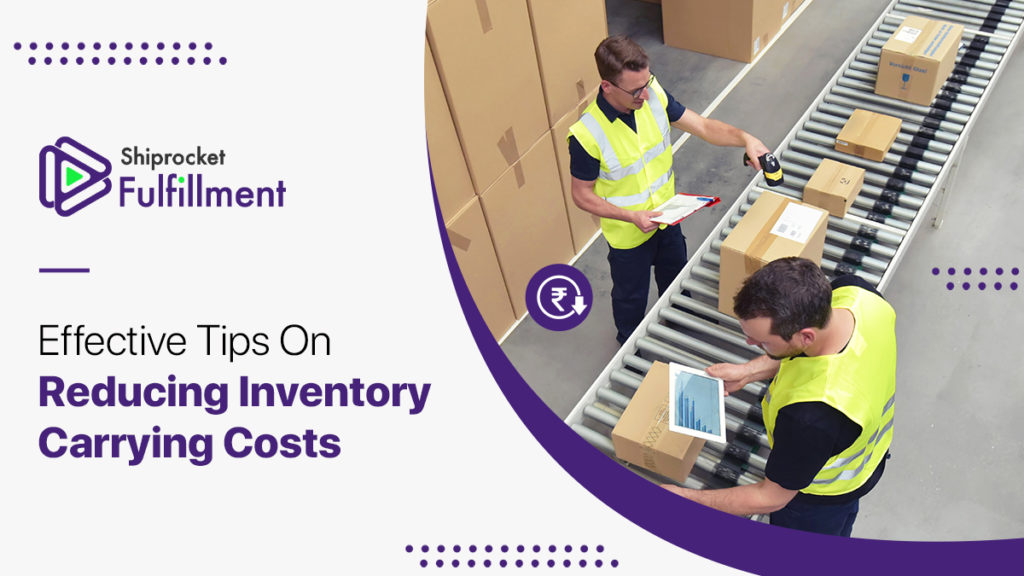 An inventory doesn't only cost when a business purchases it; it costs, even more, to preserve that inventory inside the warehouse, especially when you have excess inventory lying around. This cost is what we call 'inventory carrying cost.' Let us dive deeper into the concept of inventory carrying costs and how you can reduce it-
What is Inventory Carrying Cost?
In simple terms, inventory carrying cost is incurred to hold or store unsold inventory inside a warehouse. Inventory carrying cost includes warehouse employees' salary, the price of storage of those unsold goods, handling, transportation, taxes, shrinkage, combined with the costs of out-of-date or expired items, damaged items, etc.
Inventory carrying cost depends on inventory turnover rate, number, and variety of SKUs present in the stock and whether you fulfill your orders or hire someone else for it.
Inventory Carrying Costs That Eat into your Profits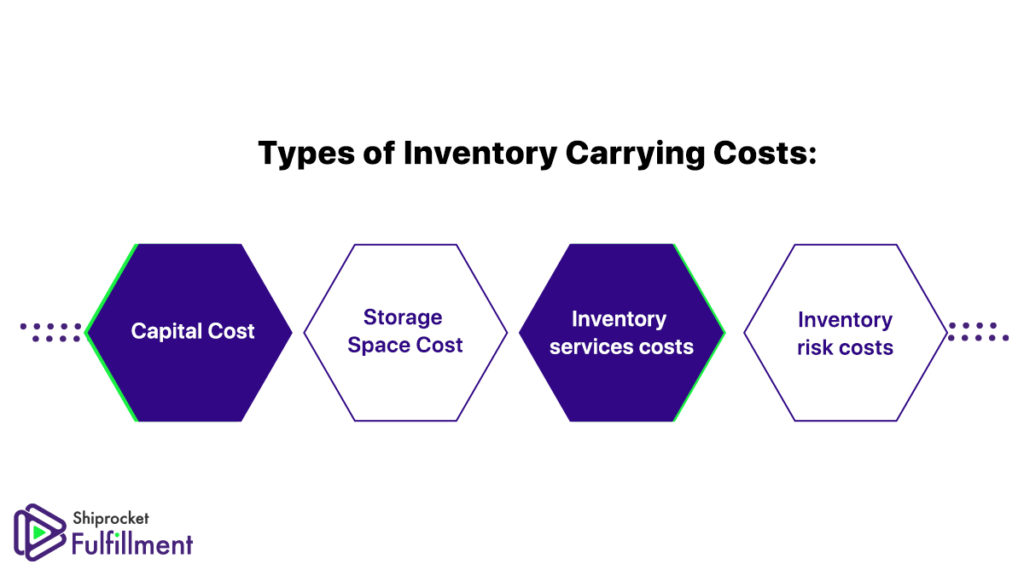 Inventory carrying costs include all of the expenses you incur by stocking material in your warehouse or your store. These costs are split into four parts:
Capital costs
Storage space costs
Inventory services costs
Inventory risk costs
Capital Costs
It is the largest component of the total costs of carrying an inventory. It includes everything related to the investment, the interests in working capital, and the opportunity cost of the money invested in the stock.
One way to determine the capital costs is to use a weighted average cost of capital (WACC). This is the rate a company is expected to pay on average to all its security holders to finance its asset.
Typically, capital costs tend to be vastly underestimated by inventory buyers. A common mistake to avoid is to reduce them to short-term borrowing rates since rates can fluctuate over time and hurt profitability.
Storage Space Costs
Storage space costs are a combination of the warehouse rent plus the handling costs of moving the materials in and out of the warehouse. These costs are dependent on your type of storage and if you have a privately owned warehouse or use Third Party Logistics (3PL) providers.
Inventory Services Costs
Inventory service costs include insurance, IT hardware and applications, tax in some countries, and physical handling of the inventory.
The insurance that a company pays depends on the type of goods in the warehouse and the inventory levels. The higher the inventory level is in the warehouse, the higher the insurance premium will be, which can also eat away at profit margins.
Inventory Risk Costs
Risks include shrinkage, which basically is the loss of products between the recorded inventory and the actual inventory. The difference is caused by administrative errors (shipping errors, misplaced goods, systems not updated, etc.), pilferage, theft (including employee theft), damage in transit, or during the period of storage (because of incorrect storage, water or heat damage, etc.).
Inventory risk costs also take into account the obsolescence factor, that is, the costs occurring when items are no longer wanted by the market.

Why is Carrying Costs Important for eCommerce Businesses?
Inventory management is a key aspect of running a successful business. It directly impacts your customer experience, which ultimately impacts your business. Here is why inventory carrying costs in important for your business-
Always Keep Track Of Expenses
Inventory carrying costs are an important part of the expenses of a business.
Inventory accounting, or the process of accounting for changes in the value of inventory over time relies on proper tracking carrying costs. If you know how many SKUs you have in hand, how much your warehouse storage costs are, and expenses like warehouse rent, salaries of employees, insurance, and other costs associated with storing your inventory, you will always have a clear idea of your total inventory carrying costs.

Calculate Profit Correctly
The accuracy of the profit that your business records are directly dependent on the accuracy of your inventory carrying costs. Simply knowing the current inventory value doesn't acknowledge the inventory holding costs associated with storing a product until a customer is ready to buy. When you understand your carrying cost, you can calculate your potential profit as well as how much cash you will have available for future production needs.
Let's take this example: If it costs you Rs. 20 to manufacture a product and you sell it for Rs. 100, then you can record a Rs. 80 profit, right? Well, if you forgot to account for the Rs. 10 it costs on average to store each unit before it sells, then you should actually add Rs. 10 more to the cost per item.
Increase the Efficiency of your Business
If you're paying a lot of money to hold a level of inventory that's not selling quickly, then you might be harming the financial health of your business. For example, if you sell inventory within 180 days of buying it as compared to having it sit for only 90 days, your carrying costs may double.
Tracking your carrying cost should help reveal areas of potential savings for your business. If your business has poor inventory flow and high carrying costs, you may want to identify products that are low sellers that must be phased off, warehouse locations that can save you money, or even find different manufactures that can lower costs.
How to Reduce Inventory Carrying Cost
Without wasting much of your time, we would suggest that it's time that you opt for an "automated" inventory management software for your business. The automated inventory management software is proactive, and you don't have to feed every piece of information manually. It can be integrated into almost all types of Marketplaces, 3PLs, shipping portals, etc.
This makes most of the tasks easy and doable while you sit and manage everything through one portal. As a result, you reduce human efforts and errors, saves time, which means you are ahead of your competitors in every aspect.
The software checks the demand forecast accuracy, which will help you to keep track of your demand forecasts and ultimately lead you towards forecasting demand accurately.
The software comes with on-demand automation that helps you to automate your order fulfillment process. Flawless order fulfillment means shorter lead time and increases perfect order percentage, which ultimately will increase the inventory turnover ratio and hence decrease Inventory carrying cost.
Conclusion
Inventory carrying cost plays a vital role in increasing or decreasing the profit of any eCommerce retailer or manufacturer and hence should be curbed down as much as you can. And to cut down on inventory cost, age-old techniques or excel won't help it; instead, you need to resort to automated inventory management software to decrease inventory carrying cost and to grow your business exponentially.
Calculate Your Shipping Costs Now