Magento VS Shopify: Which Is the Right Option?
Whether you are a new brand or an existing one, every business is looking for better opportunities and exploring different options to grow faster. Well, going online and choosing the right eCommerce platform for the same is the decision that can help you here.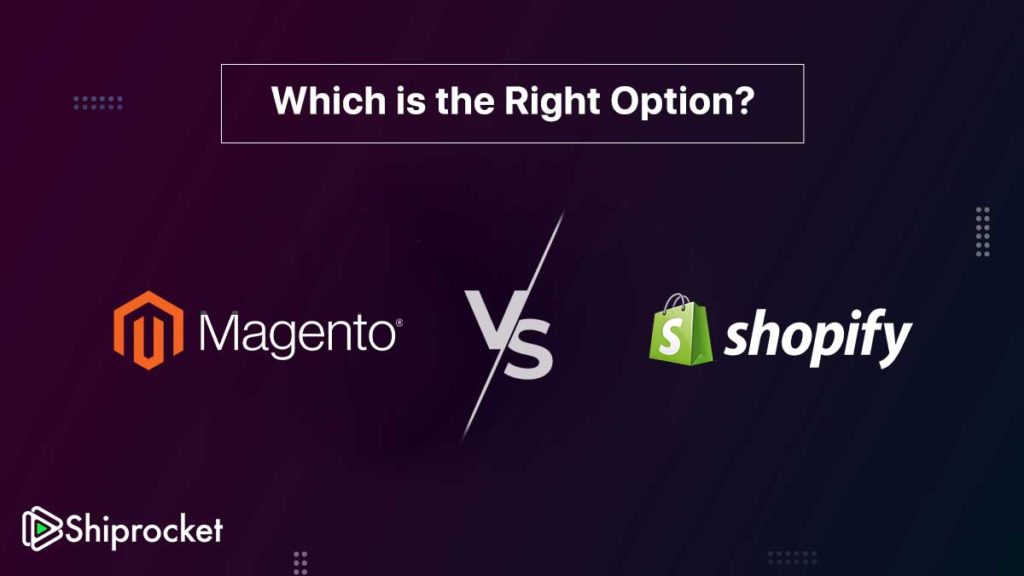 As you research online, many big names pop out like WooCommerce, Shopify, Magento, and Big Commerce. One gets confused between all these names, which is natural.
Are you having similar difficulty in deciding between Magento and Shopify? Worry not, you are not alone. There are many brands out there that are searching for Magento VS Shopify. And why not, these two brands are the best and most popular eCommerce platforms today.
While making this important decision, it only makes sense to do a comparison between the two platforms. Read on to know how each platform distinguishes from the other and which can be the best option for your business needs.
Shopify
Shopify is an easy-to-use eCommerce solution used to build online stores conveniently. It is a cloud-based SaaS service and you need to pay a monthly fee to use the services – it has different price plans. Online merchants can also sell their products with the help of Shopify POS – a user-friendly iPad App.
Magento
Magento is an open-source platform that you can install on your computer for free. However, you will have to pay for web hosting, security, and extensions. Magento is a powerful platform but you need to know coding to use this platform efficiently. Magento is the best platform for businesses that have their own development teams.
Magento VS Shopify: Pros and Cons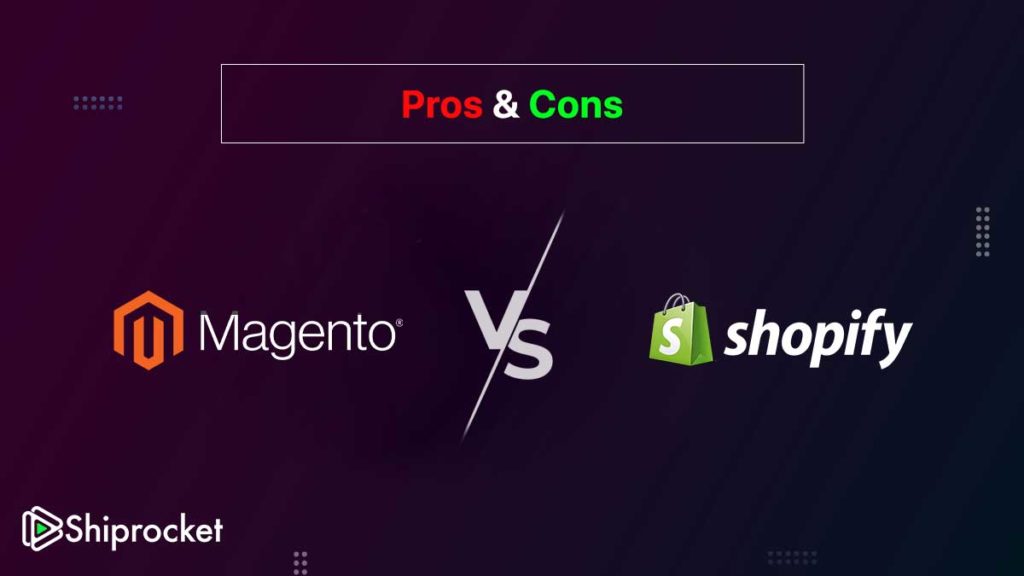 The following are the pros and cons of Shopify and Magento:
Shopify Pros
As we have discussed, Shopify makes it convenient to set up an eCommerce store. The following are its pros:
Simplicity
One of the best advantages of Shopify is simplicity and it is convenient to use. You being a business owner ultimately want to entirely focus on running a business. You can't afford to waste any time dealing with technical aspects of the online store. Shopify can be conveniently used by people who aren't tech-savvy.
Available Support
Shopify has a dedicated support team. It provides all its users with 24/7 customer support via live chat and emails to solve queries at the earliest. You can also post your queries on Shopify Forums to get help from others who are also using the platform.
Themes, Themes, and Lots of Themes
Your online store must look aesthetically pleasing. It must be cleaner and appealing, and this is where Shopify excels yet again. It has a wide range of themes – free as well as paid. Themes are categorized based on the industries as well – like furniture, art, jewellery, and food.
App Store
With Shopify, you get access to more than 1200 plugins and Apps. With this large variety, you will surely find what you are looking for. It has Apps related to inventory management, accounting, and shipping – thus, you will save a lot of time focusing on your core business. In case you wish to know, the Shopify App Store is very easy and straightforward to use.
Ease of Marketing
The best way to get more traffic to your store is with the help of SEO. Shopify has a ton of SEO-additions as well as marketing tools. On a Shopify-sponsored website, you can also offer discount codes and link products with different social media platforms. You also get add-ons to get access to data to measure results and make informed decisions.
Shopify Cons
Unfortunately, not everything is perfect. With pros, Shopify has some cons as well:
Prices
Shopify is not a free-to-use platform. You need to pay a monthly subscription to use it. Some themes are free while some come at a cost. Also, you need to pay a transaction fee every time you make a sale online unless you are using Shopify Payments.
Limited Customizations
Although you can customize your Shopify-sponsored online store, it has limitations. There are several other features as well, but they can't be unlocked. Some other similar platforms offer more customization as compared to Shopify.
Magento Pros
The following are some advantages of Magento:
Flexible
An open-source platform, Magento allows you to modify/change codes as per the requirements. So, you can customize the templates. Besides, Magento also allows third-party integration. The flexibility is one of the biggest advantages that Magento has on offer – it makes everything easy.
Abundant Features
Magento offers a wide range of features that allows you to manage multiple stores and support multiple languages, locations, pricing, and currencies. If you compare Magento and Shopify, Magento stands out with a lot of features.
Large Community of Users
Magento is one of the most used platforms and thus, it has a large community of users. Large community inspires to develop new extensions and plugins, and it also ensures quick support.
Mobile-Friendly Platform
Most of the online shoppers shop through their mobile and thus, a mobile-friendly platform is a requisite to ensure eCommerce success. With Magento, you can create a mobile-friendly website conveniently and give your customers a better shopping experience. This will help in increasing sales and decreasing the bounce rate.
Scalable
Everyone starts a business with the aim of expanding it later. As the business grows, you need to handle increased sales and manage higher inventory. Some online platforms might not efficiently handle this growth, but with a Magento website, you can handle from a hundred to a thousand products in an hour. It is a notable advantage of Magento that attracts many online sellers.
Magento Cons
Expensive
Users can use the community version of Magento free of cost, but the enterprise version comes at a cost. And if you wish to opt for the premium enterprise version, it will cost you more.
Time Consuming
Magento takes time to load and therefore, making customizations is difficult as compared to other platforms. Switching to another platform from Magento is also difficult as the data is imported at a very slow rate.
Magento's flexible architecture is the main reason behind the slow loading – it makes it time-consuming and complex.
Hosting
A dedicated server is required to host Magento. Furthermore, Magento requires a lot of high-level skills. This is one of the biggest cons as it can lead to your website getting crashed.
Magento VS Shopify: Comparison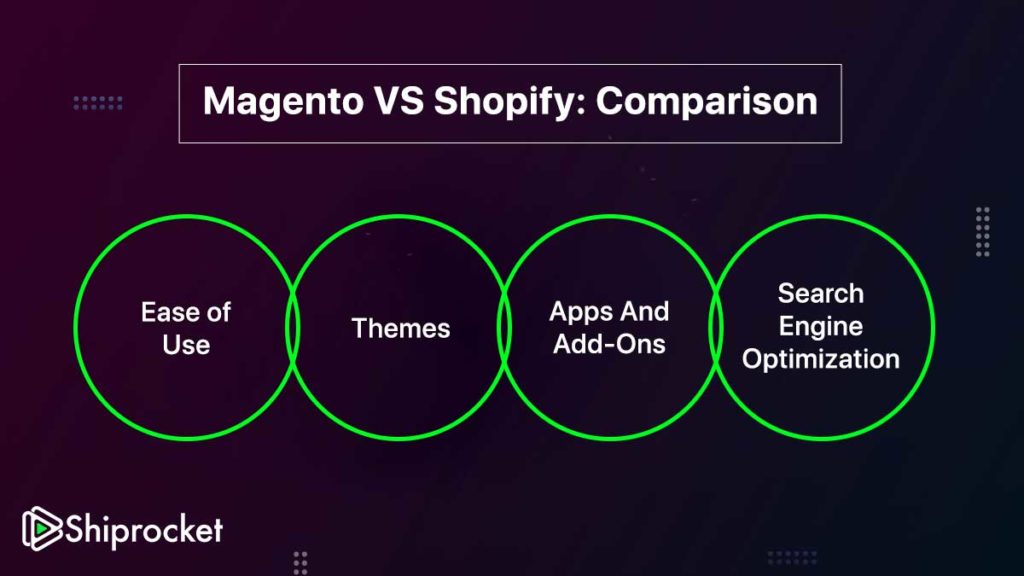 Ease of Use
Choosing a platform that is hard to use will definitely make it impossible to build an online store. Shopify, as compared to Magento, is easier. It is a one-stop-shop – a drag and drop website builder. With Shopify, you can conveniently customize your page as per the requirements.
With Magento, you need to interpret jargons and use coding to build an online store. You may also require hiring a web developer, which also means extra cost.
Verdict
In a nutshell, Shopify can be used by everyone irrespective of their technical abilities, whereas Magento can mostly be used by web developers.
Themes
The theme that you choose for your online store will build the first impression of your brand among the audience. It must be inspiring, user-friendly, and build trust.
Shopify has many themes on offer which are much cheaper as compared to Magento. All Shopify themes are mobile responsive and look good on mobile. You can customize the Shopify themes by adding new pages, changing the colour palette, integrating social media feeds, and much more. All of this can be done without changing any coding.
On the other hand, Magento offers ready-made themes. These don't require customization. However, if you wish to change something, you might need the help of a developer.
Verdict
Shopify offers wider options for themes as compared to Magento. Also, there is no need to know coding to customize Shopify's themes.
Apps and Add-Ons
To meet your eCommerce desires, you can add extra functionalities to your online store. Both Shopify and Magento enable you to install additional extensions, Apps, and add-ons to your online store.
Shopify has more than 1000 Apps, both premium and free, for different areas relating to advertising, marketing, shipping, and more. Magento has over 5000 extensions to choose from.
Verdict
Magento has more extensions as compared to Shopify, but you need to have coding knowledge to install them.
Search Engine Optimization
SEO helps in getting more visitors to your online store. With more visitors, you are more likely to sell more and earn more. Shopify has many reliant Apps for SEO. You can change/edit page titles and image alt tags. But Magento excels in SEO. It comes with numerous SEO guides that help you on how to get started. You can edit image alt tags and customize URLs as well. Notably, all these are in-built features on Magento.
Verdict
Magento is better than Shopify in this department. With a wide range of in-built SEO features, Magento is your go-to-go option for making your website more SEO-friendly.
Takeaway
Now that you know the pros and cons of each Shopify and Magento, you can make a sound decision. Both the platforms have their own set of advantages and disadvantages, but each one is best in its own way. While Shopify is more user-friendly, Magento offers flexibility. While Shopify doesn't require any coding knowledge, Magento does. But if you are tech-savvy, you can make almost any change to your online store with Magento.
Whichever platform you choose, ensure it is only for the benefit of your business. Wish you luck!
Calculate Your Shipping Costs Now