On-Time Delivery in 2023: Trends, Strategies, and Key Insights
Customer satisfaction is the real deal when it comes to growing your business. All of this begins with on-time delivery. Ensuring that your customers are satisfied with the speed and efficiency of the delivery of their orders leaves a lasting impression.
Over the years, technological advancement has become necessary to improve your supply chain processes. Today, keeping up with increased customer demand while ensuring timely deliveries can be challenging. Hence, implementing the right strategies to keep up is important. With the COVID-19 pandemic creating a complete shift in the market, on-time delivery has become crucial to any eCommerce business.
Let's explore OTD in detail, its importance for businesses, and tips to improve your on-time delivery rate.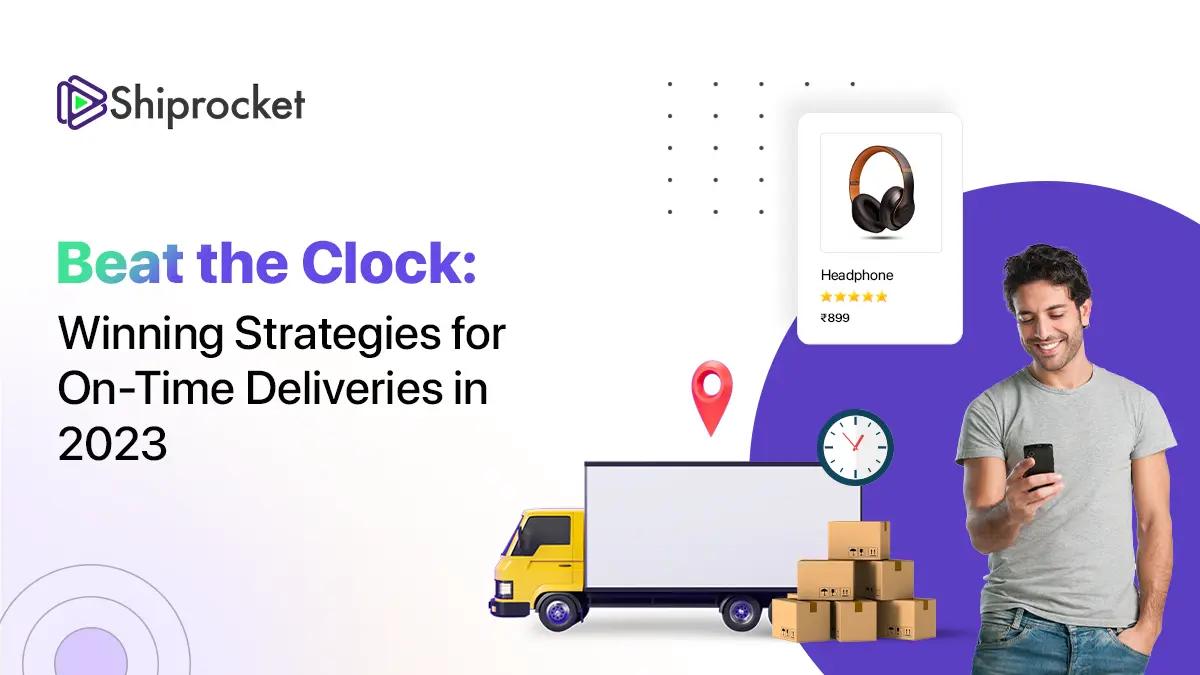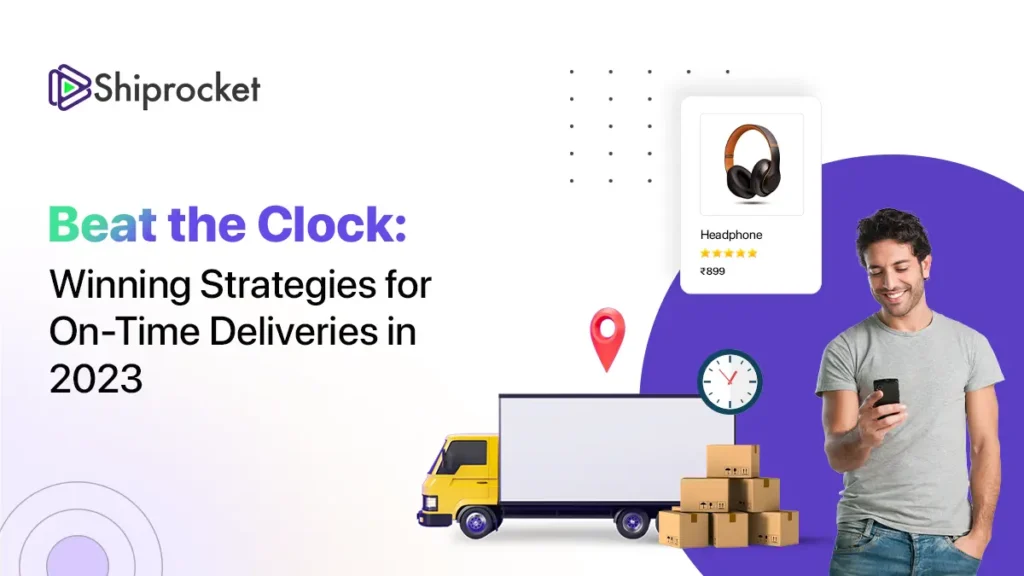 Understanding On-Time Delivery (OTD)
A metric used to measure the efficiency of your supply chain is called on-time delivery. It is an important KPI that will tell us if your organisation is meeting its goals concerning order delivery time. It helps in analysing both customer satisfaction and carrier efficiency.
Judging the delivery experience is needed to determine the critical factor of customer retention. Low on-time delivery rates will lead to greater customer complaints and dissatisfaction. Furthermore, you will also have to invest more time in customer service domains that will drive your operational costs.
Customers have very high expectations today. They expect a certain standard of delivery and quality. The competition in today's eCommerce market is extremely fierce, and your supply chain system must be optimised to ensure you can sustain your business. Irrespective of problems with inventory management, supplier issues, delivery issues, or even stocking issues, customers always expect their deliveries to be on-time.
The numbers revealed by several surveys show that most customers expect their delivery within 2 to 3 days of ordering. Furthermore, they also reveal that customers tend to never return if their orders are delayed more than three times. It costs any business their profits. Negative reviews are extremely bad for any online business. Customers are affected largely by negative reviews. Hence, it is extremely easy to harbour a bad name in case of late deliveries. Thus, retention rates of customers largely depend on customer satisfaction.
Comparing On-Time Delivery and On-Time in Full (OTIF)
Here are some of the primary differences between OTIF and OTD:
| | |
| --- | --- |
| On-time Delivery | On-time in Full |
| On-time Delivery (OTD) is a KPI used to measure the efficiency of the supply chain. | On-time in Full (OTIF) is a KPI used to measure the efficiency of a business's company's logistics services. |
| It analyses the capacity of a company's supply chain to fulfill all of its consumer demands. | It analyzes the capacity of a company to fulfill all of its commitments towards delivery. |
| Encourages efficient and optimised supply chain processes. | Encourages efficient carrier and delivery processes. |
| Bad inventory management, inefficient order fulfillment processes, resource issues, low visibility, etc., are the major causes of low OTD. | Supply chain visibility, poor communication with stakeholders, lack of transparency, etc., are the major causes of low OTIF. |
| Higher OTD implies greater customer retention. | Higher OTIF implies good supply chain systems. |
The Significance of On-Time Delivery (OTD)
On-time delivery (OTD) is the key factor that enables customers to analyse the entire delivery experience. Thus, it acts as a critical factor in customer retention. Low OTD rates lead to an increase in the number of consumer issues and consumer service calls and thus increase the operation costs of your organisation. It also infuriates your customers who choose to place orders from you.
Businesses that deliver their products on time tend to receive more frequent orders. Today, with the rapid rise in online shoppers, this becomes a primary criterion for your consumers to order from you. Greater OTD rates help you establish a loyal customer base and also help you build your brand.
Furthermore, on-time delivery enables greater transparency of your business to your customers. Traceability also becomes easier, and it helps you streamline your supply chain processes.
On-Time Delivery Disruptors in 2023: What Challenges Await?
Many businesses find it challenging to provide on-time deliveries at all times. Here are some of the most common challenges that low OTD rates:
Inefficient inventory management
This is probably the leading cause of bad OTD rates. Not having efficient inventory management software and processes to track real-time inventory levels can make optimising and managing your on-hand inventory extremely tedious. It creates backorders and stockouts due to the inability to ship on time. Inventory management software also helps you track all your historical data to predict your future demand and help stock up your inventory. Inventory visibility is another cause of low OTD rates as companies fail to stay on time. It leads to overselling and understocking.
Inefficient fulfillment processes
Significant delays are caused due to poor management and planning of your fulfillment processes. Setting up warehouse management and tracking systems can help you save a lot of time while also providing tracking facilities. Furthermore, it eliminates all manual errors as these systems are automated. It provides efficient packing and picking processes that improve order precision.
Inefficient planning and management
Failure to make efficient plans ahead of time can result in delayed deliveries. This directly affects your OTD rates. Delays become inevitable if you forget to account for specific lead times before restocking. Moreover, poor route planning might lead to delivery and management issues.
Disruptions in your supply chain
Bottlenecks in supply chains create unexpected delays indefinitely. It minimises customer satisfaction and affects your OTD rates adversely. Disruptions can occur suddenly throughout your supply chain processes, and shortages in raw materials and products can create backorders.
Finding the right delivery agents is a tedious task. It is also the key to on-time delivery. Finding loyal and reliable delivery partners makes all the difference in satisfying your customers.
Factors Driving On-Time Delivery in 2023
To understand the reason behind late deliveries, we must examine what contributes to it. Here are some of the major factors that contribute to delayed deliveries:
Retailers tend to partner with 3PL partners to handle all their delivery and logistics needs. These companies offer automated solutions to speed up logistics processes and improve accuracy and efficiency. It also ensures timely replenishment of your inventory through automated notifications for reorders. Thus, backorder creations are minimised.
Clear communication is vital as you move through your supply chain processes. It lets you minimise errors at the root before things go out of control. Effective communication must be maintained even post shipments of your orders so that your carriers can alter you in case of any issues and delays.
Machine learning will transform the technology world. It is growing rapidly, and it can effectively improve all your supply chain processes and ensure on-time deliveries. Route optimisation and demand forecasting can be done more precisely using machine learning. It can also address all the issues due to volatility.
Establishing and Evaluating On-Time Delivery KPIs
The method to determine on-time delivery is pretty straightforward. It simply requires comparing the number of orders delivered on time against the total number of orders placed that were shipped. Here is the formula to calculate on-time delivery:
On-time Delivery = (Orders delivered on-time/ total orders shipped) X 100
The percentage of on-time delivery must be done for a specific time frame.
Improving On-Time Delivery Performance
The importance of on-time delivery is already established. Here are some strategies to improve your OTD:
By setting realistic goals, your efforts and strategies that are developed can help you achieve your goals. A closer look at your current and some of your historical data can help you analyse and set realistic company goals.
Transparency with customers
Giving your customers the option to track their orders gives them transparency about your services. They can see where their orders are and if there are any delays. It helps you communicate easily with your customers and creates realistic delivery timelines.
Streamlining warehouse operations
You must streamline warehouse operations to ensure that your picking, packing, and dispatch operations run effectively and smoothly. It can also help you restock your resources on time to avoid backorders. It makes your supply chain more agile and improves your delivery rates.
Managing risks of supply chain and logistical risks
Logistics and supply chain issues are inevitable due to the erratic disruptions that can occur in the market. These issues impact your delivery rates adversely. Making your supply chain agile and resilient will help you make strategic decisions to help you improve your OTD rates.
Using management and automated software
Using procurement software, logistics software, eCommerce shipping software, etc., can help you improve all your supply chain processes and makes them more agile. Furthermore, it eliminates all manual eros and makes it more accurate. Thus, it can aid in improving your OTD rates.
How Shiprocket Can Help You Optimise On-Time Delivery and Delight Your Customers?
Shiprocket can help with all 3PL services to ensure greater customer retention for an eCommerce business. Shiprocket uses automated marketing campaigns to improve your inventory visibility to help you manage your warehouse and inventory to avoid backorders and increase consumer conversion by 40%. They help you seamlessly connect all your supply chain processes to ensure your on-time delivery rates increase. Shiprocket also has many eCommerce logistics solutions that enable you to outsource complex logistics processes to save both time and operations bandwidth, driving your OTD rates. Shiprocket's services also ensure seamless picking, shipping, and damage-free handling of your goods.
Conclusion
On-time delivery is a key metric that helps you determine your customer retention. It serves a great purpose to help you analyse and plan all your inventory and warehouse management strategies and your delivery optimisation. Your OTD rates must always be around 95% or above to help you establish a brand name. It implies greater customer satisfaction and operational efficiency. It also helps you gain greater visibility in the market, allowing you to expand your network and grow your customer base. Hence, you must deploy optimising strategies to help you drive your OTD rates.
What is the ideal on-time delivery rate?
You should generally aim for a 95% or higher on-time delivery rate. This can help your business deliver customer satisfaction, achieve operational efficiency, and establish brand loyalty.
Is it possible for a business to achieve a 100% OTD rate?
It is not just challenging but almost impossible for any business to achieve a 100% on-time delivery rate. This is because some factors affecting the on-time delivery rate are out of anyone's control. One must strive to achieve an OTD rate of 95% or above by improving the order fulfillment process and streamlining the supply chain.
How are delivery time and lead time different?
Delivery time refers to the time taken for a product or service to reach the customer. Lead time is the overall time taken to process and deliver an order to your customer. Both are important KPIs to measure the efficiency of a supply chain.
Calculate Your Shipping Costs Now