What is Logistics: Definition, Importance and Types
Any cargo movement from one point to another requires a lot of coordination and resources. It involves various aspects like sourcing, warehousing, equipment management, and fleet management to ensure timely cargo delivery to the end user.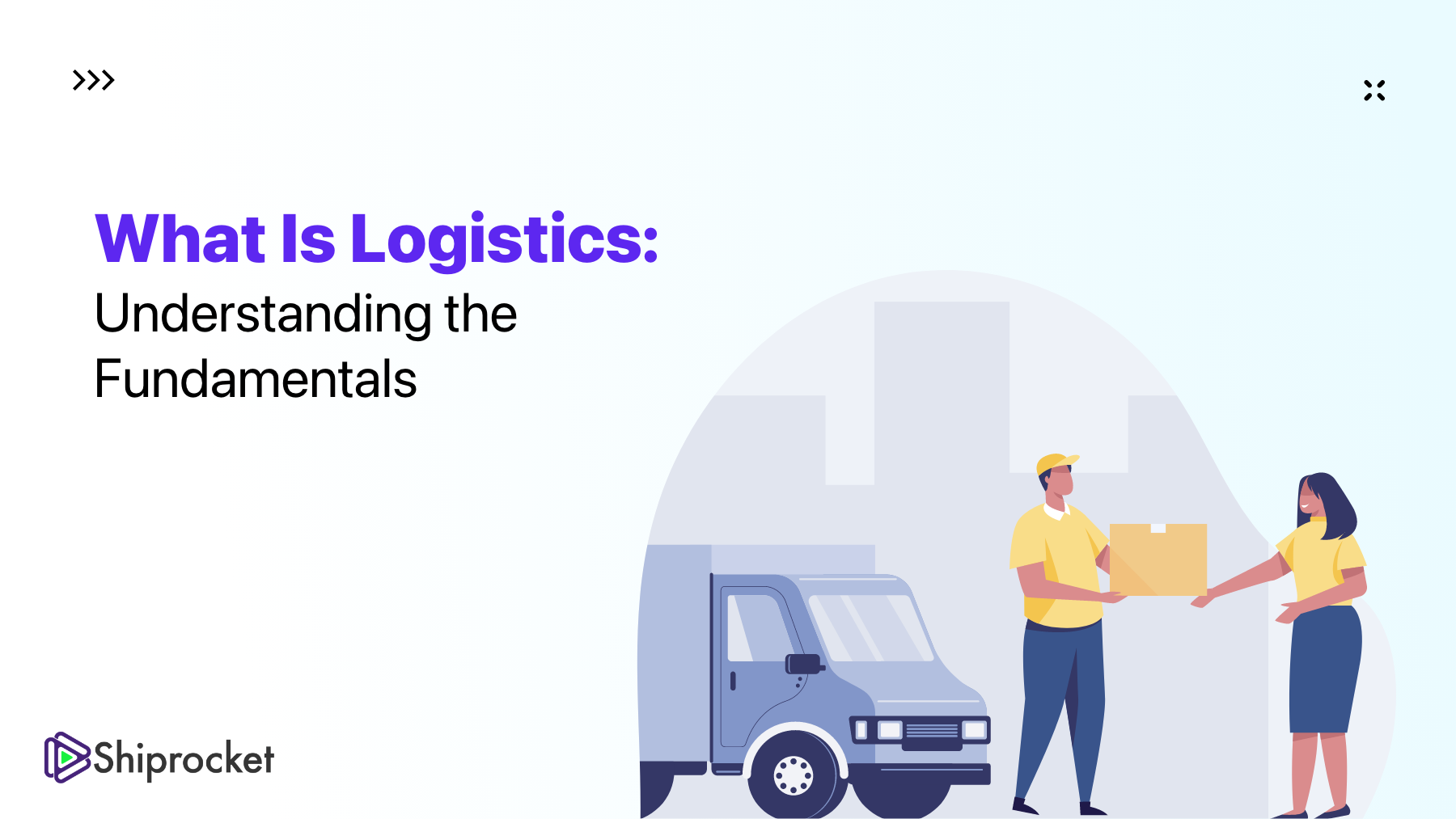 The origin of the term 'logistics' can be related to the military as it was commonly used to refer to how military personnel handled the movement of equipment, supplies, and people to troops on the battlefield. Logistics in today's business world means management of supply and transportation of products in time and good condition while keeping it as cost-effective and efficient as possible. It is a complex task as delivery time expectations are becoming shorter and effective management of the entire supply chain is required to achieve them.
The global logistics market is estimated to reach $12,975.64 billion by 2027. The main factors contributing to this growth are the evolution of the eCommerce industry, new-age technologies, and improved logistics infrastructure.
What is Logistics?
Logistics is planning, storing, managing, and shipping goods from their point of origin to the end consumer (point of consumption). Logistics is the physical completion of a sales transaction; to be honest, no transactions mean no profits.
Importance of Logistics
Effective logistics management leads to lower costs, increased efficiencies, proper inventory control, better production rates, optimal usage of warehouse space, and increased customer satisfaction. All these factors together contribute to the success of a business. Effective management of returns also helps to generate revenues for the business.
Globalisation has created increasingly complex supply chains. With customers composed of people locally and globally, the movement of products, especially in the eCommerce sector, needs to be handled safely, timely, and cost-effectively. The boom in technology and the complexity of logistics processes have led to the growth of specialised logistics-focused aggregators like Shiprocket that help accelerate the movement of resources along the supply chain.
Types of Logistics
The different types of logistics services in the industry emphasises another aspect of the supply process. The various kinds of logistics services include inbound logistics, outbound logistics, reverse logistics, green logistics, third-party logistics (3PL), fourth-party logistics (4PL), fifth-party logistics (5PL), digital logistics, and many more.
1. Inbound Logistics
Inbound logistics comprises the transportation, storage, and receiving of goods into a business. It is the movement of resources from suppliers to manufacturers. It is the first and most important step in the logistics value chain, as it can impact the remaining processes.
2. Outbound Logistics
Outbound logistics involves transporting semi-finished/finished products to customers from a warehouse or distribution center. It comprises various stages like warehousing, storage, distribution, transportation, and last-mile delivery. Outbound logistics' primary objective is better customer satisfaction.
3. Reverse Logistics
Reverse logistics is transporting products from the end-users back to the warehouse or distribution center. It is associated with returns and recalls but is also used for recycling programs, asset recovery, and disposal. Reverse logistics aims to recover the product's value, ensure customer satisfaction through a satisfactory returns experience, and reduce waste.
4. Green Logistics
Green logistics describes measuring and minimising the environmental impact of supply chain activities on the planet. It needs to be implemented without compromising on the quality of services and customer satisfaction.
5. Third-party Logistics
Third-party logistics, or 3PL, is where a business outsources the management of one or more components of procurement and fulfillment operations. The 3PL companies provide transportation, warehousing, inventory management, terminal operations, customs, freight forwarding, and reverse logistics. Most 3PL service providers partner with eCommerce merchants for fulfillment services.
6. Fourth-party Logistics
Fourth-party logistics, also known as 4PL, is where a business outsources its entire supply chain management and logistics to one external service provider. They are often called Lead Logistics providers and act as consulting companies for many supply chains.
7. Fifth-party Logistics
5PL logistics, also known as a logistics aggregator, focuses not on an individual supply chain but broader supply chains. It combines the needs of the 3PL and others into a single bulk volume for getting better rates with different types of airlines and shipping companies.
8. Digital Logistics
Traditional methods of data gathering are manual and prone to human error. With the help of technology, the logistics processes can be digitised, improving and speeding up the overall supply chain processes. It comprises web-based enterprise logistics applications that allow the integration of various systems to provide a central logistics information backbone that provides visibility across the supply chain.
Conclusion
Evolving logistics technology and the need to implement sustainable logistics require investment in digital technology to build a long-term advantage for a business. Logistics in the supply chain help to improve the quality of processes and ensure quick adaptability to changing market demands.
FAQs(Frequently Asked Questions)
What are the 7 R's in logistics?
The Chartered Institute of Logistics & Transport, UK (2019) defines them as getting the Right product, in the Right quantity, in the Right condition, at the Right place, at the Right time, to the Right customer, and at the Right Price.
What are the elements of logistics?
The elements of logistics are material sourcing, transportation, order fulfilment, warehousing, demand forecasting, inventory management, and supply chain management.
How businesses can handle logistics effectively?
By utilizing technology, streamlining processes, optimizing inventory, working with reliable partners, and monitoring performance, businesses can effectively manage their logistics operations and stay competitive in today's market.
Calculate Your Shipping Costs Now