Wholesale B2B Opportunity: Mechanics, Advantages & Strategies
There has been a great shift in how the world is functioning today. Everything is going digital. Since the COVID-19 pandemic took a toll on the world, we're embracing technology like never before. With the business world adapting to digital ways of making money, the wholesale and B2B markets have been growing rapidly.
Today, the millennials constitute a majority of B2B wholesalers, and they prefer to sell their products online. That's why companies like Amazon and Flipkart invest huge amounts of money in developing the B2B eCommerce arm.
B2B eCommerce refers to completing orders for both businesses and retailers rather than sending the orders directly to the consumers. The purchasing frequency will be lower and are always in mass quantities shipped in freight for B2B wholesalers. Let's dive into the concept of wholesale B2B, its operations and working, its advantages, and engagement strategies.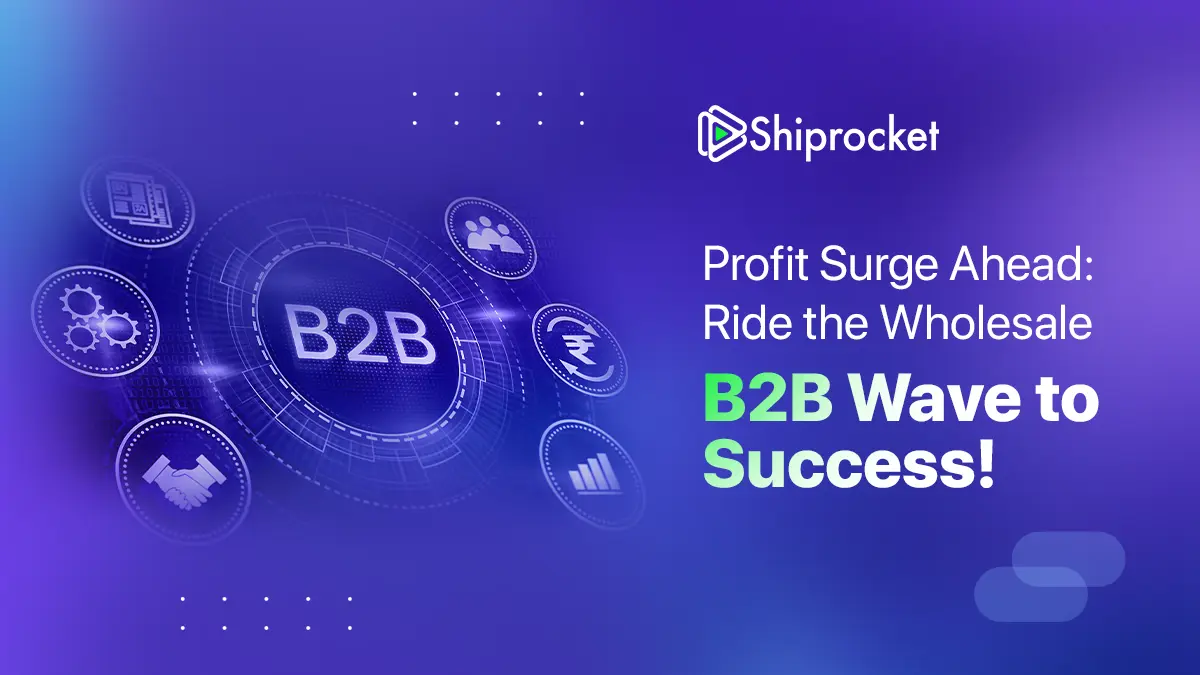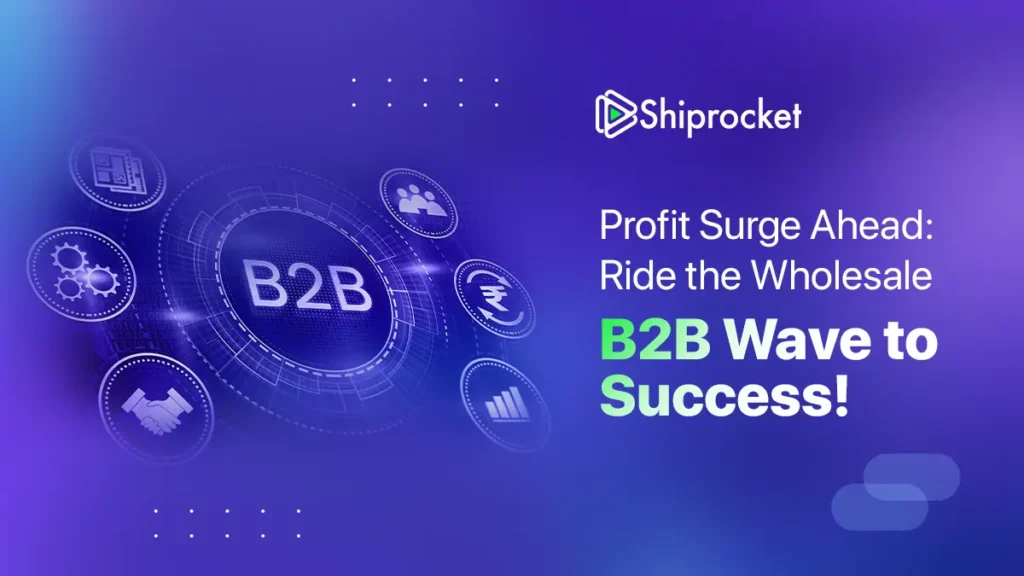 Understanding Wholesale B2B eCommerce
Wholesale B2B involves selling products in mass quantities to other businesses instead of selling them directly to the end consumers. Wholesalers generally buy huge quantities of products or materials from suppliers and producers. These huge quantities of material are stored in warehouses and then resold in smaller quantities based on the consumer's needs at lower rates.
By concentrating on B2B sales instead of direct-to-consumer (DTC) sales, wholesalers maximise sales values. As the wholesalers generally get goods and materials sourced from different producers and manufacturers, they have a convenient source for buyers of retail businesses to get most of their inventory.
Mechanics of Wholesale B2B eCommerce
Today, wholesale B2B eCommerce occupies a lot of market space. Different segments work harmoniously to meet customer demands and drive profits. The different segments of wholesale B2B eCommerce enterprises include:
1. Suppliers or manufacturers
Suppliers are the primary source of materials and goods in the supply chain. The B2B wholesalers directly contact these suppliers and manufacturers as they source the products and raw materials from them. The intermediate consumers are distributors who resell the products to retailers or wholesalers. Generally, suppliers are misinterpreted as distributors. The key differentiating factor is that suppliers are goods producers. They do not have the network and bandwidth to reach out and sell their produce.
2. Wholesalers
Wholesalers are the bulk buyers in the supply chain. They directly contact the distributors and buy raw materials or goods from them to resell to other businesses. Conventionally, a wholesale order is made through phone calls or emails. But with the technological development and shift toward digitisation, today, these orders are made online through specific eCommerce platforms.
3. Distributors
The distributors procure goods and raw materials from the suppliers to sell to retailers and wholesalers. They work very closely with the suppliers and producers. The biggest advantage of working with distributors is that they allow you to expand your network and reach easily due to their vast network of connections.
These players work harmoniously together to form the entire process of wholesale B2B eCommerce. The key to a successful whole B2B is its marketing. It is a strongly competitive market out there, and any enterprise needs to make itself known in the market. B2B orders are generally repeat orders made in mass quantities despite the lack of frequency of orders. Marketing, however, drives revenues and improves sales.
Marketing to B2B buyers mainly includes personalising the experience and building strong relationships with them. The idea is to ensure they come back to you with their next bulk purchase. Implementing new technology and optimised workflows helps in making the whole experience better.
Advantages of B2B Wholesale Selling
The wholesale B2B model offers several benefits to the entire supply chain players. Here are some of the advantages of wholesale selling:
eCommerce B2B wholesale selling saves both resources and time
Selling wholesale online saves time and resources because this trading method is essentially eCommerce automation. The time spent on managing orders over calls and emails will be eliminated. You can spend more time trying to optimise your business strategies. Making use of an eCommerce platform also minimises the time-consuming manual work. Billing and inventory management software also helps in improving your wholesale processes.
Speeding up your growth through wholesale eCommerce
Through B2B wholesale business transactions, your business will grow in no time. Wholesale's primary aspect is enabling you to build strong relationships with your consumers. The relationships built will only help you gain more business. As wholesale business includes mass quantity orders, the profits will be higher. Furthermore, through established relationships, you are prone to get greater business through networking, growing your overall enterprise.
Inventory management and warehousing
Wholesales also take on the tedious task of warehousing and managing them. This activity minimises the work of retailers and manufacturers. The tedious process of carefully managing inventory keeps the costs down for retailers making it more attractive for them to do business with you.
Specialisation
Manufacturers can focus solely on designing and making products as distributors can be relied on for selling the products. By giving their sales role to intermediates like wholesalers and distributors, the costs incurred for managing a sales team will be minimised. The B2B wholesalers build up deep expertise on specific categories of products they deal with and ensure they can procure a steady amount of those products through different sources for the retailers. Hence they can also become industry-specific dealers.
Greater average order value and sales volume
When a product is sold in bulk, the seller is also rewarded with higher sales volume through repeated purchases from the same customer. It helps your business grow.
Strategies for Engaging B2B Customers in Wholesale
Running a successful and engaging B2B wholesale business comprises juggling and managing many priorities in one shot. Here are some useful strategies to keep your customers engaged:
Building strong customer relationships
Wholesale businesses thrive as purchases are made in bulk. Every customer can generate large amounts of business, so it is key to keep them happy. Generally, customers purchase the same order multiple times, and happy customers always return to their distributors. Understanding your customers can also help you understand what they need and how you can help serve them better. Furthermore, you can also plan out your marketing strategies to attract your target audiences.
Enhanced offers and discounts
Like any other business, retailers also like to maximise their revenues and profits. Hence, they look for distributors and wholesalers that give them the best prices. Offering special discounted prices and additional incentives can be a fine way of attracting more and more retailers to purchase from you. Such promotions will give you a competitive edge over other enterprises allowing you to sell more easily.
Personalised and attractive marketing campaigns
Marketing strategies play a vital role in how your business will perform. Having attractive and relevant marketing strategies will boost your sales and improve your clientele. Investing time in creating effective strategies will allow you to reach a larger audience and attract more customers. Furthermore, creating aesthetics campaigns keeps your customers engaged while improving your brand.
Good customer service
It is always about the execution. How you deal with your customers and their issues will help you make or break further purchases. Keeping your customers posted about all your processes and workflows and understanding their needs will help retain them. Keeping your customer informed is a good practice even when you encounter roadblocks. It allows them to understand the issue and make adjustments. Keeping all your processes user-friendly also helps you keep them engaged.
Making personalised recommendations
Any shopping experience, even wholesale, is better when the service is catered specifically to your liking. Making alternative recommendations to your customer based on understanding their needs will help you engage with them better and serve them efficiently. Ensuring that your eCommerce platform uses a target approach strategy makes recommendations more personalised automatically. It shall help you attract more customers easily.
Conclusion
Wholesale B2B opportunities are very profitable. Over the last few years, B2B operations have vastly grown and have made great profit margins. The B2B operations in the wholesale market consist of buying large quantities of a specific product or material and selling them to other retailers and consumers. Although the frequency of such orders is low, they are purchased in large quantities. They increase the average selling value and the average order value. Furthermore, they also help grow your business at a rapid pace. The entire idea behind wholesale B2B is allowing yourself to build strong relationships with your clients and have a strong marketing strategy.
What are the key challenges of engaging in wholesale B2B?
While engaging in wholesale B2B business, you will have to manage complex supply chains, cope with fluctuations in customer demand, negotiate prices, maintain top-notch product quality, set up payment and credit terms, and more.
What is the difference between wholesale B2B and retail B2C?
Wholesale B2B involves selling a bunch of goods in bulk to other businesses. It often involves price negotiations and long-term agreements. On the other hand, retail B2C is more about selling individual items to regular consumers at higher prices. It caters to everyday transactions.
What factors influence pricing in wholesale B2B?
In wholesale B2B, the more you buy, the less you pay per item. Thus, how often you order, how much you order, and how long you are partners with the supplier, all play a role in determining the pricing. Price negotiations are crucial to wholesale B2B since they allow your business to set competitive prices and achieve profitability.
Is wholesale B2B only for selling physical products?
No, wholesale B2B business does not only involve the selling of physical goods. In a wholesale B2B setup, you can go beyond the sale of physical goods. For example, it includes the sale of services, software, licenses, and digital products.
Calculate Your Shipping Costs Now