How to Start a D2C Cosmetics eCommerce Brand In Easy Steps
The cosmetics and personal care industry is booming in India. Over the past few years, there has been a steady rise in people consuming beauty products. Even the male personal care and beauty products segment has also contributed to the whole industry. With internet penetration increasing across the country, Awareness around cosmetics and self-care has improved drastically. Even people from tier 2 and tier 3 cities are now investing in buying good quality cosmetics, which also gives rise to many D2C Indian brands.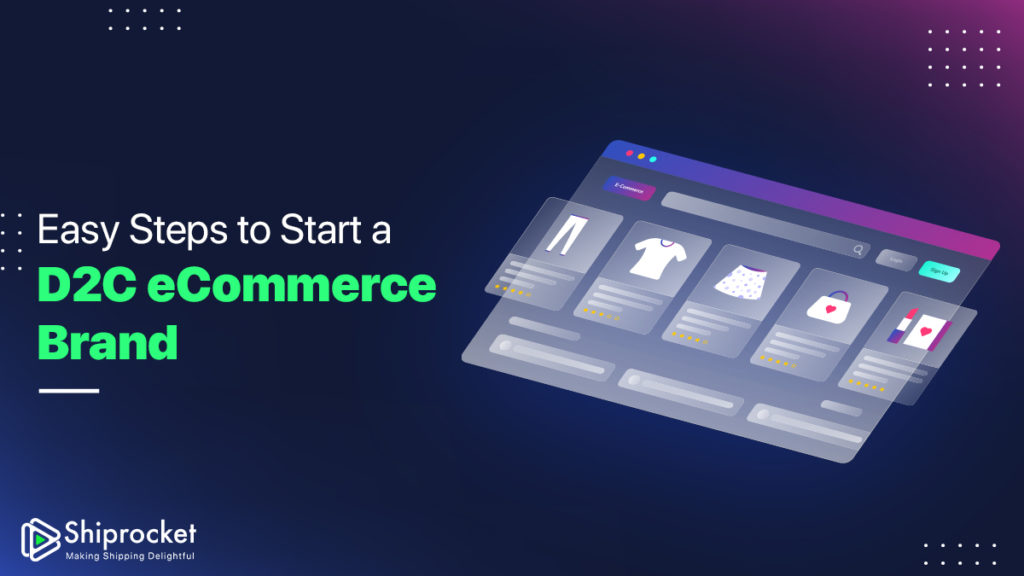 If you are looking to start a cosmetics eCommerce brand but don't know how you have landed at the right place. Keep reading to learn more about India's cosmetics and beauty industry and how you can start your own business and grow it.
Growth of the Cosmetic and Beauty Industry in India
According to the ministry of economy and industry report, the cosmetics and personal care industry is one of India's fastest-growing consumer product sectors.
The Indian beauty and personal care industry is estimated to be worth USD 8 billion. There has been significant growth by international brands like Revlon, Avon, Burberrys, Maybelline, etc.
Several domestic players are catching up and are showing emerging trends towards the natural, herbal, and Ayurvedic products that are gaining huge popularity among the millennial and Jensy audience.
Many upcoming Indian brands have a sizable presence in the mass market spread across the rural and town class categories.
The trend of growing consciousness around grooming and improvement in lifestyle habits has started giving way to exclusive product requirements. This has seen a shift from local to branded products.
With a steady increase in the demand for branded cosmetics and beauty products, there is no better time than now to start your own eCommerce business around the same. Let's have a look at a few of the tips to get started with your D2C eCommerce brand.
Tips Get Started With Your D2C Cosmetics eCommerce Brand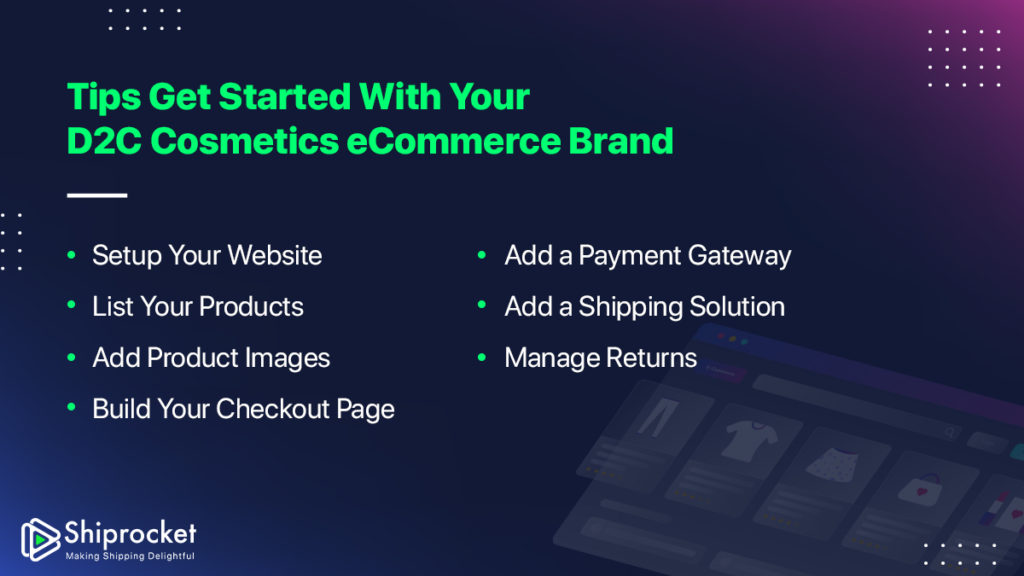 Setup Your Website
The first step to starting your day to see cosmetics brands is to set up an eCommerce website. People usually want to feel the product to understand the texture and feel before purchasing it with cosmetics. It is more similar to buying clothes online. Therefore, you need to have a proper website where users can navigate and see the product's pictures with utmost clarity. This will help them understand the product better, and writing adequate descriptions will help them know more about the product to trust you sooner. A website is like your store's address, so it will play a significant role in building the brand.
List Your Products
The next step is to start listing your products. Segregate them according to category and ensure that the products are easily findable with the help of search bars. Distinguish your categories so that products do not overlap and customers can easily find them on your website. Try following a chronological order for listing the products.
Add Product Images
The products you sell need to be seen. Most times, when you're selling skincare and beauty products, the texture of the products also needs to be seen. Therefore you need to invest in proper product photography to come out crystal here and do justice to the actual product. This will help you from many fake orders and help you reduce auto as the product images are accurate to the product. Do not try to upsell your product by putting in counterfeit images and under-delivering later. Your product images must be striking and appealing.
Build Your Checkout Page
The next step is to build an efficient and effective checkout page. There will be many times when you will face abandonment issues because people cannot go through with the payment or find some hidden cost on the checkout page. Also, in some instances, the load time is very high, or the phone feels excessive. Therefore, you must have a separate checkout page with all the relevant information that assists your customer with their shopping. You need to be proactive rather than being reactive.
Add a Payment Gateway
The next step is to add a reliable payment gateway that is secure and convenient for completing their purchases within a few steps. Too many details anywhere can be a turn-off, and the customer can abandon the purchase at any time. Notice for the customer, the payment gateway must also be feasible and should not take away a considerable transaction fee for every order. Choose your payment gateway wisely.
Add a Shipping Solution
The next step is to figure out order fulfillment after the process of online is moved offline. You still need to deliver the orders that come in. Since orders flew in from all parts of the country, you need to have multiple shipping partners to ensure no pin code is left out. In such scenarios, shipping solutions like Shiprocket that provide you with an all-in-one dashboard to process orders along with multiple courier partners come in handy. Since your website is going to be highly advanced, your shipping solution must not be left behind. Shiprocket offers you technology at every step to assist your entire fulfillment process and helps you deliver quicker, cheaper, and with minimum returns.
Also, if you are an SME that is just beginning to figure out the reins of fulfillment, you must outsource your eCommerce fulfillment to save on time, money and utilize the best resources for your business. All you need to do is send your products to Shiprocket Fulfilment, and we will process them from our fully equipped fulfillment centers.
The market offers you several options to fulfill your orders in the most effective way possible. It is up to you to choose the best one for your business.
Manage Returns
An individual shopping journey does not end at the product delivery. You need to ensure that any return queries are also handled appropriately. Therefore you need to establish a return policy to help your customers with an unsatisfactory experience.
How to Grow Your eCommerce Cosmetics Brand?
Social Media Marketing
If you want to grow your eCommerce business, the first step is to Leveridge the audience available on social media. Social media has become an effective communication channel for today's generations, and people of all ages are active on it. You need to ensure that you market your products in the most quirky way possible so that the people seeing your ads or posts get enticed right away.
Email Marketing
The next step is to make the marketing process personalized with email marketing. Emails are the fastest and personal way to reach your customers. With cosmetics, offers are always around the corner. Therefore you need to utilize situational events, festivals, and other happenings in the country to ensure that you can market your product along with them. It needs to look customer-friendly and organic to click the CTA and go to the page to purchase it.
Influencer Marketing
Influencers are the new celebrities. If you are launching a nude cosmetics brand, people want testimonials and experiences before buying it. Since people cannot physically feel the product, they rely on influencers and their opinions to purchase the product. Tying up with influencers who are doing well in the industry would be a significant step to reach a large audience in a short period.
Affiliate Programs
Affiliate programs are also a means to improve word of mouth so that people in a network can be aware of your product and purchase it based on recommendations.
Final Thoughts
The cosmetics industry is booming, and it is a great time to launch a brand that can connect with customers and solve their concerns regarding skincare, beauty, grooming, etc. you must research well before entering the market and set up a niche as this will help you establish a bond and trust with your customers sooner than your competitors. Along with that, you can follow the above-given steps to ensure that your brand is set up most efficiently and also grows with the tips provided.
Calculate Your Shipping Costs Now