17 Useful Tips For Designing a Homepage Layout For Your eCommerce Website
The e-commerce web design has its own unique features and is designed to lead online shoppers to make purchases from a site. When a business designs an eCommerce website, it needs to consider the main principles of designing the layout.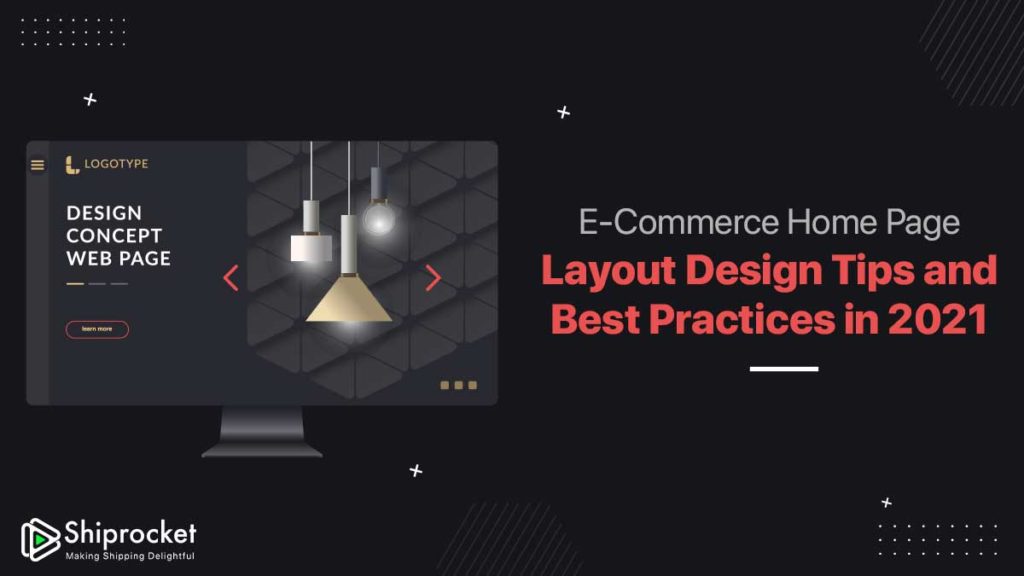 An online store has to be attractive and must use the right color combination to display products. Only a well-designed website can help you convert more sales.
Many other factors require attention when designing a homepage layout. The homepage layout also needs to gain the prospective customer's attention and trust. This article discusses some essential tips for business owners to keep in mind while designing a homepage for their eCommerce website.
Useful Tips For Designing a Homepage Layout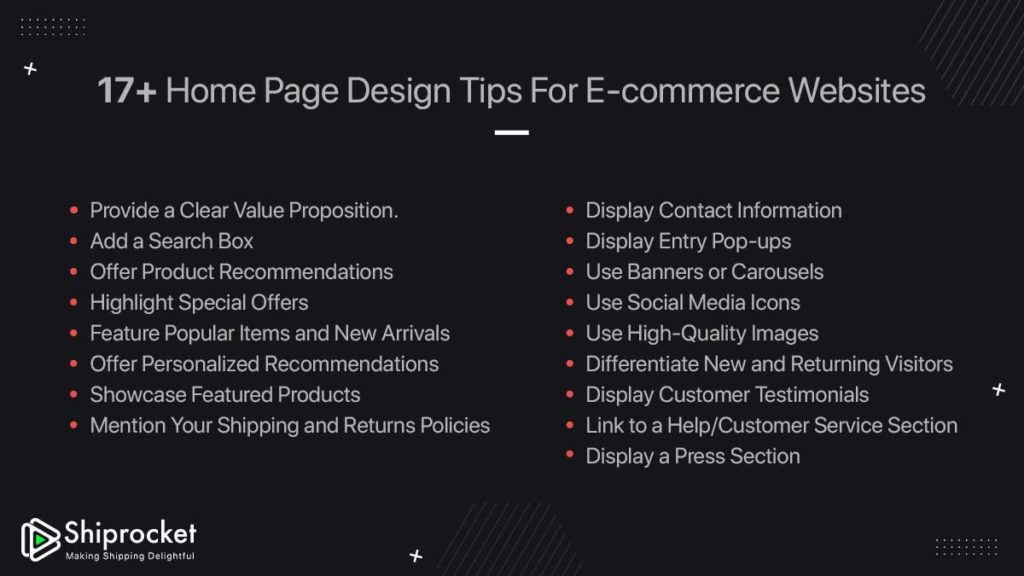 Provide a Clear Value Proposition
The homepage layout should immediately give visitors a clear idea of the site's value proposition. It clearly states that it is the best way to create a distinct brand identity in the consumer's mind. The brand value is an important entity to consider in the process of designing your home page layout. While you're trying to get a design off the ground, the brand value proposition is critical from the early stage.
If you're planning to build multiple pages, you might have to ensure that your website can cover all of them. Building a strong value proposition will give your users reassurance when they invest in your products. The brand value is important to build momentum as your project ramp-up.
Add a Search Box
An eCommerce website is incomplete without a search box. After finding the website homepage, potential customers are most likely to use the search box to seek what they need. According to surveys, adding a site search to an eCommerce website increases conversion by up to 50 percent. So it's important to make sure your search box adheres to industry best practices.
Designers should check multiple positions and sizes for the search box to see which generates the most queries. Amazon's search box is the best example to add to your web page.
Offer Product Recommendations
The homepage layout design should also give a clear idea of the site's product listing and diversification. This is particularly important to websites that sell a wide range of products. The major eCommerce sites provide a narrow representation of their products and don't simply feature their most popular products.
The best examples of eCommerce websites that display product diversity are Netmeds.com, DrugStore.com, FirstCry, Myntra, and Flipkart.
Highlight Special Offers
A survey indicates that 47 percent of online shoppers are only interested in buying products with some special offers. Therefore, it is a best practice for the homepage layout design to feature a section displaying offers and discounts. For example, eBay, Walmart, BestBuy.com provides items at a discounted rate and display these items in the top navigation.
Feature New Product Arrivals
Featuring new products, popular products, and new arrivals helps improve customer decision-making. It also helps you to display the top most popular products from different categories that can lead to better conversion rates. Your site can display these products as "trending" items under "Trending Now" products. For example, Amazon displays a section "What other customers are looking at right now."
This section displays new arrivals and popular products in dynamic categories such as cosmetics, fashion, electronics, etc. Highlighting new products and popular products is particularly useful for recurring customers.
Personalized Recommendations
Use personalized recommendation engines on your eCommerce website to send item suggestions to customers based on their shopping history. Recommendation tools such as Nosto and Gravity can make personalization easy based on the shopping history, search keywords, location, pages viewed, etc. If a customer searches for "women's jackets" your eCommerce site should also suggest other items from similar categories.
Showcase Featured Products
Always showcase featured and discounted products on your eCommerce website based on back to the product category. Most customers are looking for the specific products on sale but also the type of the product. A survey shows that around 43 percent of major eCommerce sites got this wrong.
Shipping and Returns Policies
Shipping and returns policies should be mentioned clearly on the homepage of an eCommerce website. Let's take an example if you offer free shipping and if the offer is attractive, it can significantly improve the conversion rate. Try to place this offer on top of your website, either on the right or left-hand side of the homepage.
Display Contact Information
Always display the contact information prominently on the website homepage. It assures that your site is genuine and is safe to share personal information and payment details. This feature also helps increase conversion rate, because customers can post their queries and questions that might be hindering them. Keep your contact information on both the top and bottom of the page. It is best to display this information at the bottom.
Display Entry Pop-ups
Leading e-commerce websites use entry popups that include announcements of a discount or special offers for visitors or special information for a particular occasion. The entry pop-ups can also include an option to sign up to receive special offers and notification of new product releases. It is compulsory to provide an exit option as it may otherwise have a negative effect on conversions. However, some companies keep it compulsory to enter pop-ups for its buyers.
For example, exit-intent popups are the only way to keep customers engaged that offer a discount, free shipping in exchange for an email address or signup. So, if you are selling products online, consider offering a discount, offer, free delivery, shipping, or product demo on the entry and exit popups.
Use Banners or Carousels
Banners or carousels on your eCommerce website help you display a variety of products, categories, and offers. This type of marketing is particularly useful for sellers with vast products to sell. For example, Myntra keep its top four categories and displays top products in each category. These banners utilize limited space on the homepage and your customers need not to juggle more than four or five categories.
The banner's text and images should be clear. Also, you should know how many banners can be displayed on the home page of the website. In addition, the carousels should have a pause button and should not move too quickly.
Add Social Media Icons
Social media icon is one of the important things you should add to your home page. People want to want more about your brand and need social proof to find out that your site is valuable. A website with very few fans or followers may get a negative impression on the customers' minds.
High-Quality Images
All customers just look at the images on a website instead of reading text line-by-line. Therefore, the quality and style of website images play a big role in getting visitors' attention. This is particularly true for fashion, cosmetics, home decor, furnishings, and retail sites. A study indicated that customers associated poor-quality images with poor-quality products.
Know Your New & Returning Visitors
You need to differentiate between new and returning customers, as they may not like to receive the same list of products and same display every time. So, it is important that you provide them a new display every time they visit your website. The information you can update includes special discount coupons, previously viewed products, new items, and items related to their purchase history.
It can also include information related to unpurchased items in the shopping cart.
Display Customer Testimonials
Displaying customer testimonials on your eCommerce website homepage can improve your credibility among your customers. Simply having a customer testimonial on your website can be enough to win the trust of your customers. Secondly, testimonials are like true and positive reviews from previous customers, which display your work and the services you've provided.
Link to a Customer Service Section
The eCommerce site homepage should have a link to a "Help" section or "Feedback" section, preferably where you can sub-links to other areas such as FAQs, warranty, privacy statement, return statement, payment methods, shipping information, and your cancelation and return policies.
Display a Press Section
Having a news and press coverage section on an eCommerce site helps improve your brand credibility in the eyes of new and returning visitors. This is one of the most effective ways to display product updates and related information on your website. You can also use this section to display your awards or recognition that you have received that will further improve credibility and brand reputation.
Bottom Line
If your e-commerce website follows all these tips and the latest trends of home page designing, your site is sure to succeed and gain an edge over the competitors. Good luck in your quest to optimize your website conversion rate. Hope these guidelines will help you to understand the importance of homepage optimization for your business.
Calculate Your Shipping Costs Now