The Concept of Hybrid B2B2C eCommerce Business Model
You've heard of B2B, B2C, and maybe even D2C. To add to the alphabet of business models, there's also B2B2C, which is business-to-business-to-consumer. This model has also been referred to as B2X (business-to-x), B2E (business-to-everyone), or even B2M (business-to-many).
More B2B models have decided to expand their approach to create a B2B2C model that reaches the final consumer in recent years. With nearly everything making its way online in one way or another, consumers are demanding much more from those who get their dollars.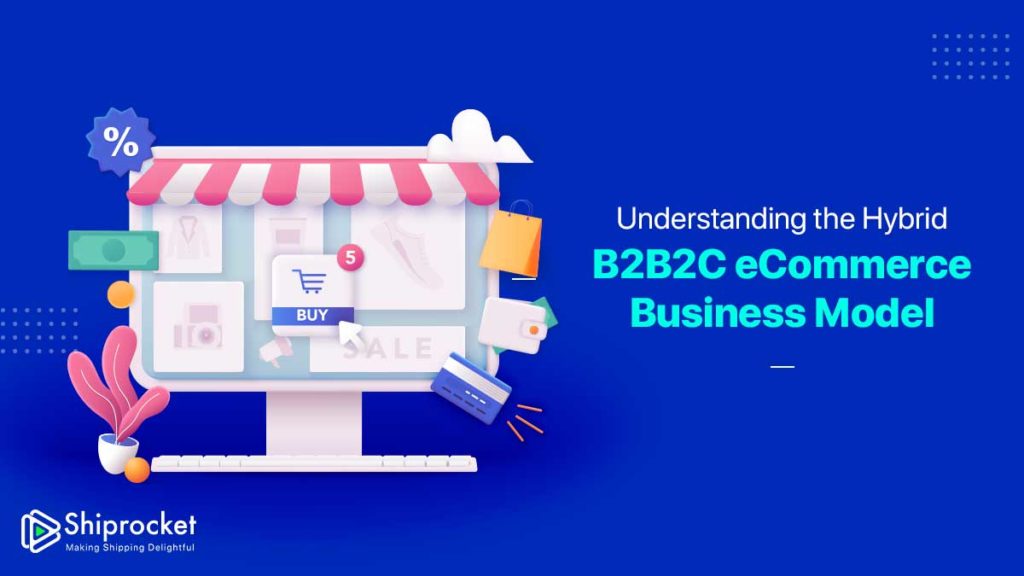 This means businesses must control the customer's shopping experience and create a lasting relationship with the end-user. This is another way technology has changed how people shop for everything, from groceries and mattresses to clothing and electronics.
Consumers will buy just about anything online, as long as it's a positive experience. As many as 60% of millennials are loyal to brands that offer a unique shopping experience. Since millennials are positioned to be the biggest spenders in the country, businesses are following their lead. This need to control more than just the product has B2Bs are looking toward the B2B2C model.
The B2B2C model can work in several different industries, and it doesn't look the same for each business. So, let's dive into the corners of B2B2C and take a look at what it is, the benefits and the challenges of it, and how it can succeed.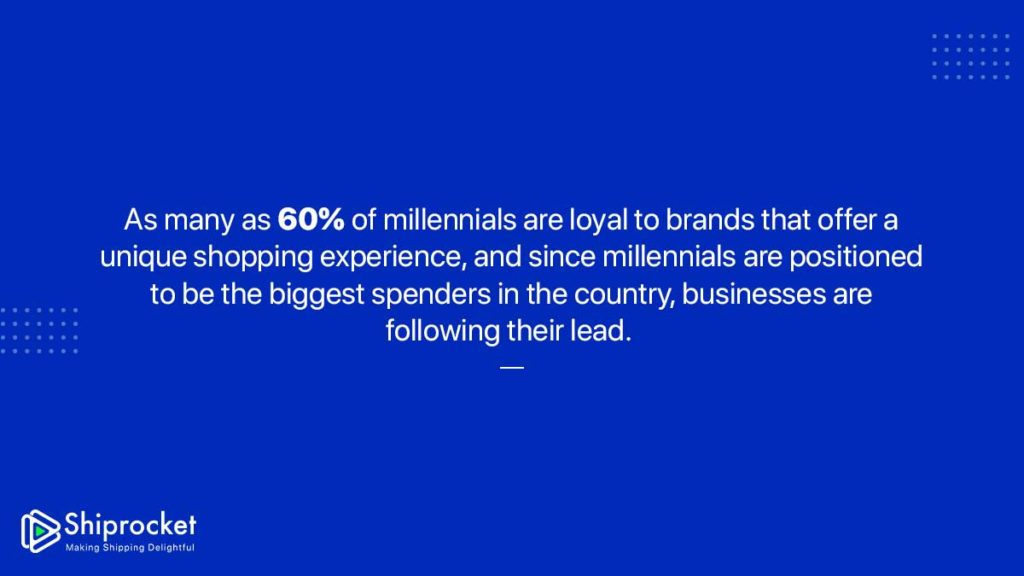 What is B2B2C Ecommerce?
B2B2C ecommerce takes out the middleman, usually between the B2B organization and the B2C, putting the businesses directly in contact with the consumer. The B2B2C model can best be described by looking at how a wholesaler or manufacturer interacts with traditional B2B and B2C models.
In those cases, the wholesaler or manufacturer sends goods to B2B, and those goods are then sold to the final consumer. In a B2B2C model, the wholesaler or manufacturer reaches the final consumer by either partnering with the B2B or directly selling to the consumer. With B2B2C ecommerce, these transitions happen online, often through virtual storefronts, an ecommerce website, or even apps.
In many B2B2C ecommerce models, the consumer knows they are getting products from a separate business from where they purchased them. For example, the consumer may purchase a product from an affiliate blogger, but the product is branded and sent by the manufacturer.
Many long-standing B2B companies, taking things one step further and moving from a B2B model to B2B2C, are becoming a popular choice. Let's take a look at why.
Why are B2B Businesses Expanding to B2B2C?
For some businesses, the B2B2C ecommerce model simply makes sense given today's retail climate. As consumers grow more comfortable with shopping online, they've come to expect a seamless buying experience, which includes having a relationship with the brand.
Because of this, many B2Bs are finding it challenging to stay relevant. In some cases, the relationship between B2Bs and B2Cs is siloed, and savvy consumers—especially millennials and Gen Z—are starting to notice.
Millennials have forced many brands to change the way they work and interact with consumers. With the power to spend $1.4 trillion (accounting for 30% of all retail sales in 2020), this unique consumer group is not one to ignore.
Having grown up in the digital landscape of Google and Amazon, along with a myriad of social media platforms, millennials expect a lot from the places where they choose to shop. They want a store to offer self-service, with 24/7 access to purchase at their convenience.
Even business buyers have become more critical of the wholesalers they work with. According to research, 70% of business buyers are looking for a user experience similar to Amazon when they purchase goods, and 74% of business buyers want their shopping experience to be personalized.
B2B2C Ecommerce: Maximizing Business Opportunities
B2B2C ecommerce models have plenty of benefits for the B2B and the B2C to make the bridge. In a B2B2C model, it takes work on both sides of the hybrid agreement.
A B2B2C benefits the B2B — or the wholesaler or manufacturer — by reaching a large and loyal customer base, making bulk sales, retaining credibility by working with trusted brands, and having low customer acquisition costs.
A B2B2C benefits the B2C — the retailer or service provider — by making sales without backend logistics, attracting loyal customers to the store or website, having a wide range of high-quality products to offer, and selling similar products and services.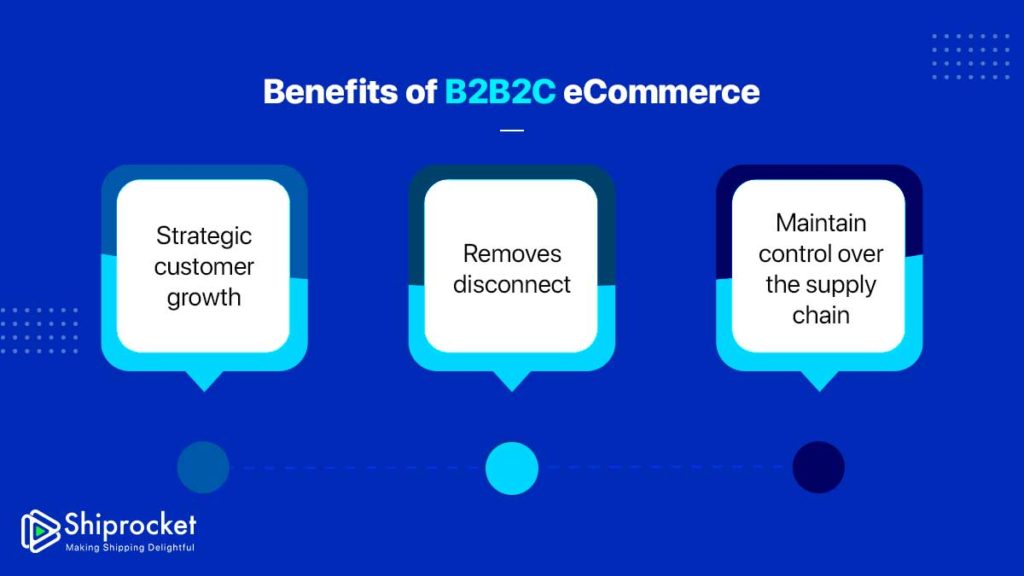 Let's take a more in-depth look into the benefits of B2B2C ecommerce:
Strategic Customer Growth
When a business is a B2B2C, one of the significant benefits is getting access to customers who are ready to buy. Consider this: if a B2B decided to switch to a B2C model, they'd have to create a consumer-facing brand from the ground up, including building a robust marketing strategy.
When a B2B decides to partner and moves to the B2B2C model, the consumer-facing elements are already in place and thriving. A B2B2C hybrid also looks to make business sense in terms of the consumer. For example, a discount store isn't going to partner with a high-end candle wholesaler. The partnership is targeted, so the B2C already knows the consumer will be excited and ready to purchase items from the manufacturer.
Eliminate Disconnect
In the traditional B2B model, a manufacturer sells its inventory to a retailer, and the transaction for the B2B is over. The retailer, or the B2C, can then take those items and sell them at a price-point they choose and can market them in any way they like.
In a B2B2C model, the manufacturer gets to create and maintain a relationship with their customers. The sales process is also simplified. The business has control over all of the branding, and they get to keep consumer data. This improves the customer experience and can help make for a frictionless buying process.
Maintain Control Over the Supply Chain
Remember, in a B2B2C ecommerce model, and there's no intermediary. This means a supplier can bypass the supply chain, purchase items for less and sell products for a lower price point. Lower prices make everyone happy.
Skipping the supply chain also means manufacturers can offer products faster. Today's buyer wants to be able to purchase and return items as quickly as possible. Many times, traditional B2B and B2C models couldn't keep up with buyer demand. A B2B2C is more efficient, especially for the fashion industry, which must keep up with seasonal fabrics and styles.
Final Say
Before all of the changes of 2020 came along, more consumers were making the shift to shopping online. The pandemic effects were the push many businesses and consumers needed to get online, and it looks like they're going to stay for a while.
Consumers are now looking for personalized shopping experiences that are convenient and financially savvy. This demand has not gone unnoticed from B2Bs around the globe. Making the transition to a B2B2C model allows businesses to have more control over the customer experience and, if done right, it can also result in more revenue and more opportunities.
Calculate Your Shipping Costs Now