7 Actionable Tips to Reduce eCommerce Fulfillment Costs
A recent Eye for Transport supply chain study states that 24.7% of merchants say delivery costs are the most significant challenge their supply chain faces. This means, for several eCommerce merchants, fulfillment costs are still a significant barrier to growth and success. Managing costs and optimizing fulfillment operations is a tedious task, and not everybody can do it correctly. With constantly changing trends and customer purchase behavior, it is essential to adapt your fulfillment strategy to ensure that you don't miss out. With these changes, costs usually take the maximum hit, as it can get challenging to reduce spending at all times. An excessive amount of expenditure can lead to significant losses.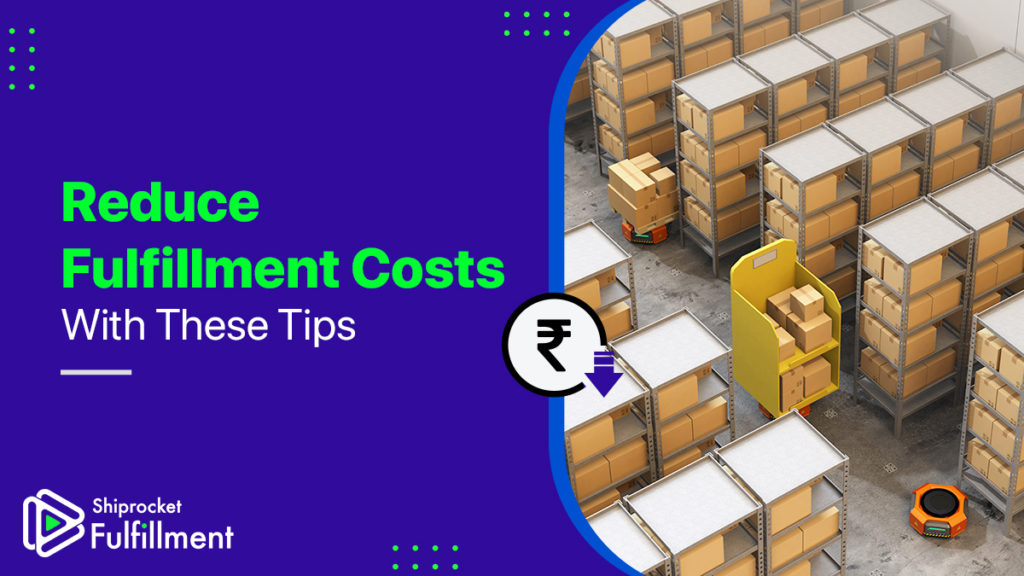 With this article, let's have a look at various ways with which you can save on eCommerce fulfillment costs and optimize your business for expedited growth.
What Is eCommerce Fulfillment?
Before we go deeper, let's quickly understand eCommerce fulfillment and what all it includes. eCommerce fulfillment refers to managing, processing, and delivering eCommerce orders from the seller's hub to the consumer's doorstep.
The order fulfillment process encompasses several processes like inventory management order management, picking, packaging, shipping, and returns management. It is said to be one of the most critical functions of an eCommerce business as its efficiency decides the final fate of the customer experience. If orders are adequately fulfilled, keeping in mind the protocol and requirements, then your customer will be delighted when they receive their order.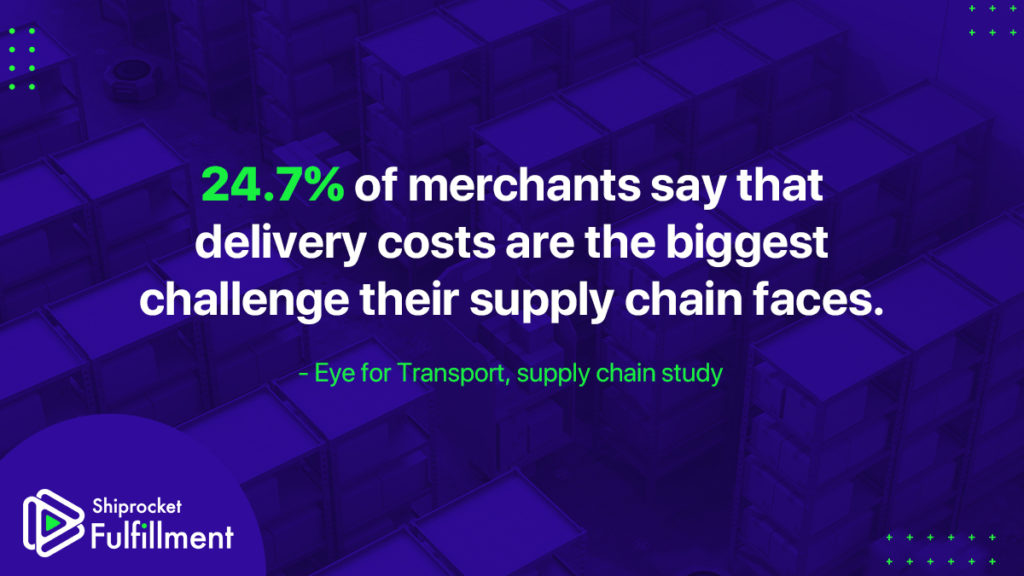 If you want to read more about order fulfillment and its processes, please click here.
Challenges Faced in eCommerce Fulfillment?
eCommerce fulfillment is not an easy task. It requires seamless coordination between different entities so that the entire process runs harmoniously. Here are a few challenges faced in eCommerce fulfillment.
Fulfillment Costs
Fulfillment cost plays a significant role in eCommerce fulfillment. If not taken care of from the beginning, these can amount to a sum and lead to unexpected losses. Therefore, along with optimizing your eCommerce fulfillment operations, it is challenging to renovate fulfillment costs not to decrease your profit margins continually.
Seamless Integration
Another tricky aspect of eCommerce fulfillment is the integration between the processes and technologies. With automation making its way into every part of the chain, seamless integration between inventory management, order management, and order processing can be challenging.

Delayed Shipping
One of the most challenging parts of eCommerce fulfillment is eCommerce shipping. Seldom, dependency, or a courier partner can lead to delayed shipping as various constraints are associated. Therefore, to ensure a consistent shipping experience can be challenging.
Weight Discrepancies
Weight disputes arising with courier companies are a significant roadblock in eCommerce fulfillment. If the products are not packed or weighted appropriately, they can lead to a difference in values, leading to weight disputes.
Limited Storage Space
Another common fulfillment challenge is the limited storage space. An eCommerce business is dynamic and sees growth during some periods of the year. During these times, a little storage space can be a limiting factor for development as you cannot process many orders at once.
Here's How You Can Reduce Fulfillment Costs
Out of the seven fulfillment challenges, eCommerce fulfillment costs can be the most daunting one. Here are some tips to help you reduce fulfillment costs while you optimize your eCommerce fulfillment.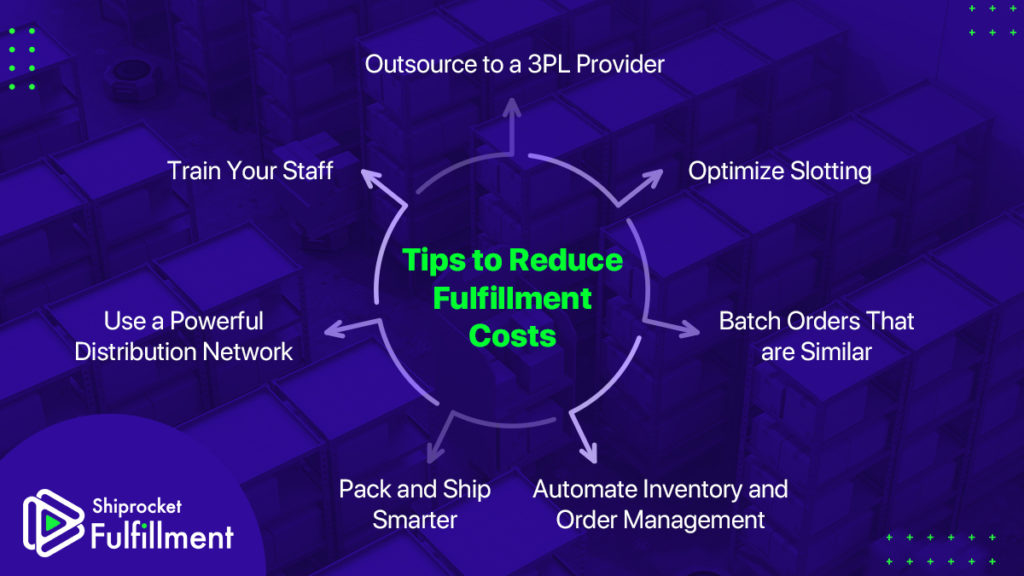 Outsource to a 3PL Provider
When your eCommerce business begins to see steady growth, it makes sense to source your fulfillment operations to 3PL providers. There are many advantages to this—first, you hand over to an experienced company specializing in these tasks. Secondly, the costs include all operations, so you do not need to account for every individual aspect of fulfillment. Third, the staff at 3PL fulfillment centers is trained to be perfect at the operation they handle. Therefore, mistakes are lesser, and customer experience is delightful.
Shiprocket Fulfillment is one such 3PL provider that can help you process orders faster, reduce shipping costs, and deliver 3X more quickly along with reducing weight discrepancies. We offer you 30-day free storage that is suitable for fast-moving inventory.

Optimize Slotting
If you are still not sure about outsourcing your fulfillment operations, optimize your warehouse slotting process. Organize inventory in a more accessible manner so that the travel time during picking is reduced, and the staff can pick and pack orders much faster. Slotting helps you optimize fulfillment operations and also improve the overall speed of packaging and dispatch.
Batch Orders That are Similar
If you batch similar orders, you can save time picking orders and reduce travel time by a considerable margin. For example, you have a hundred orders for sunglasses. It does not make sense if you go and pick sunglasses a hundred times. Instead, it is intelligent to batch orders that are similar and pick them all at once. Small techniques like slotting and batch processing can help you optimize fulfillment operations without investing a tremendous amount of automation.
Automate Inventory and Order Management
Investing in inventory and order management software is a one-time investment that can get you huge returns. Only channel selling is the new trend. Sellers do not only sell on one platform. They have incoming orders from several channels like websites, marketplaces, offline stores, social stores, etc. In such cases, having a centralized inventory management and order management system can save you loads of time processing. The system can also help you with intelligent inventory forecasting that you never face stock out situation.
Pack and Ship Smarter
The next ample space to save fulfillment costs is packaging and shipping. It is advisable to purchase packaging in bulk and save it for incoming orders. Next, if you map your inventory with specific packaging materials, you can reduce any weight discrepancies as you use the best-sized packaging for every product. This can help you reduce your dimensional weight so that you do not pay anything extra to courier companies.
Shipping can be a challenge if not done with the right solution. Always try to opt for providers that offer you, multiple shipping partners. This can help you choose the best courier for every shipment and also help reduce shipping costs.
Use a Powerful Distribution Network
Companies like Shiprocket offer you a robust distribution network with the coverage of 27,000+ pin codes and 17+ courier partners. Look for solutions like this so that you can process all orders with one solution. This way, you can strengthen your distribution network while also saving on costs and optimizing operations.
Train Your Staff
Last but not least, you must conduct regular training sessions for your staff so you can update them about any new incorporations in your process. The more you train your staff with innovations, the better they will work and stay included in the entire process of fulfillment.
Conclusion
Managing fulfillment costs can be a difficult task if not taken care of regularly. Another piece of advice we would like to share is conducting regular warehouse audits. The more you audit, the more you can be prepared for any problem and find innovative ways to improve your fulfillment supply chain. We hope these techniques are useful for your business.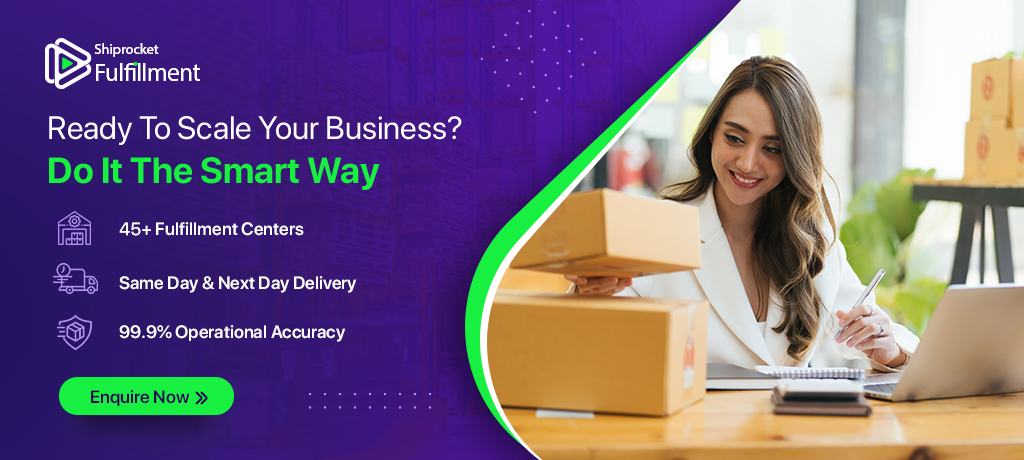 Calculate Your Shipping Costs Now