Shiprocket Fulfillment Vs QuickShift – Which is a More Suitable Fulfillment Provider for Your Business?
When we talk about eCommerce, fulfillment is always mentioned. This is because the order delivery is the first physical proof of your brand. You need to have every process of fulfillment sorted so that when the buyer receives the product, their experience is exemplary! Now, how will the fulfillment process enhance the delivery experience? Even though each procedure in the eCommerce chain is an independent function, the entire chain working in succession is responsible for good customer experience and building returning customers.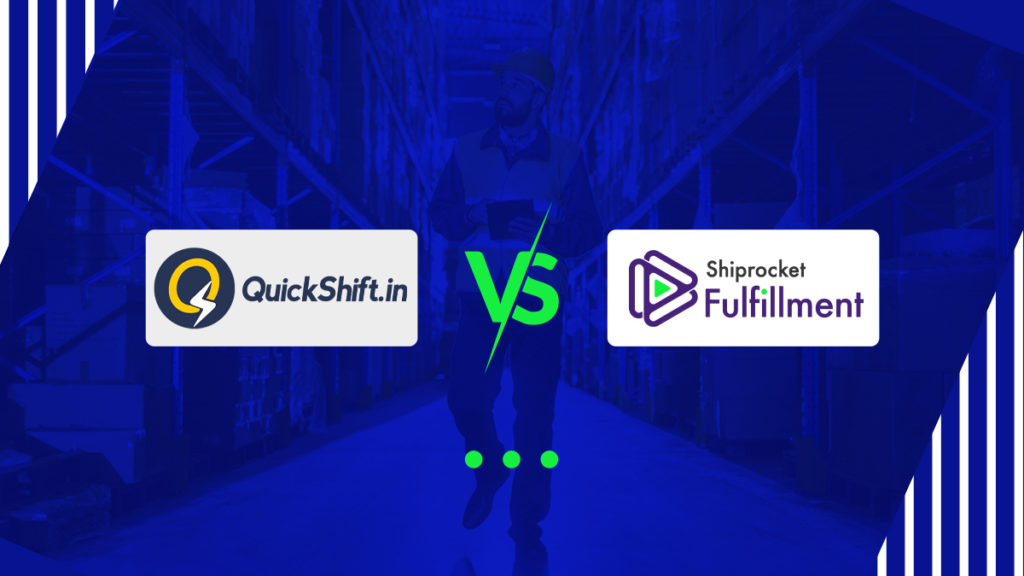 But, it can get difficult to manage all eCommerce operations alone. Since eCommerce fulfillment requires a full-time commitment, you can outsource it to third-party fulfillment centers so that they can take care of it for you. Also, this will help your business grow and deliver much faster.
We are aware your research has led you so far, so to contribute positively, we have collated a comparison between Shiprocket Fulfillment and QuickShift, two fulfillment providers who provide great eCommerce fulfillment services in India.
Shiprocket Fulfillment
Shiprocket fulfillment is an eCommerce fulfillment provider with fulfillment centers across the country. With an integrated dashboard, sellers can send their orders to the center and monitor all further processes from there. Our team will take care of incoming orders and process them with best-in-class services. We provide fulfillment centers in almost all zones in the country that include Bengaluru, Kolkata, Mumbai, Delhi, and Gurugram. Sellers can store their inventory in the fulfillment centers and deliver faster to their customers. You can increase delivery speed by up to 40%, provide next delivery, decrease RTO by 2 to 5% without any additional warehouse investment.
QuickShift
OuickShift is also an eCommerce warehousing and order fulfillment solution provider that offers an integrated platform to manage warehousing, inventory management, shipping, order management, and packaging. They provide warehousing options, delivery and distribution, and flexible payment options.
Feature Comparison
Pricing Comparison
Why Choose Shiprocket Fulfillment?
Shiprocket Fulfillment is a pioneer when it comes to eCommerce order fulfillment and distribution. With strong backing and years of industry experience as a leading distributor, we have ample knowledge of how the industry functions. Here are a few reasons why we will be suitable for your eCommerce brand.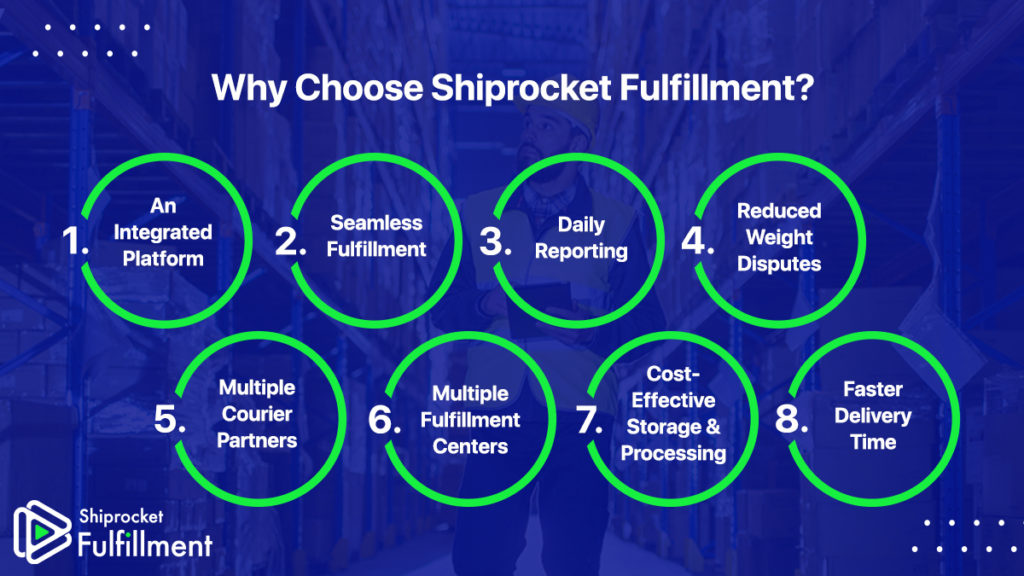 An Integrated Platform
Shiprocket fulfillment offers you an integrated platform with Shiprocket. Earlier incoming orders from several different channels that include website integrations and marketplaces are processed by the fulfillment center and delivered in due time to your customer. We take full responsibility for timely delivery and offer a fast technique to deliver products.
Seamless Fulfillment
Shiprocket Fulfillment takes care of each and every fulfillment process once your products are received in the fulfillment center. Once the order is received, we take care of the storage and inventory management, label the products appropriately to avoid confusion, and once an order is received it is appropriately and packaged. Post this, the most suitable courier partner is chosen for delivery and the product is shipped. After shipping, a tracking email and SMS is sent to the customer for due order tracking. And if there are concerns, returns are also taken care of.

Daily Reporting
We understand the importance of analytics and daily reporting. With our warehouse management system in place, all reports are correctly updated on your Shiprocket dashboard for your reference. You can check all data here and make your fulfillment decisions accordingly.
Reduced Weight Disputes
We personally manage the weight of your shipments. To ensure that unnecessarily disputes do not arise, we keep a record of all the shipments that go out. This ensures us to have a complete record and avoid the discrepancies that might arise with courier companies. Therefore, we offer a guarantee of reduced weight discrepancies for all your shipments.
Multiple Courier Partners
Shiprocket Fulfillment ships with the powerful distribution network offered by Shiprocket. With an expansive reach across 27000+ pin codes in the country and 17+ courier partners, we ensure that all products are shipped with the best and within time.
Multiple Fulfillment Centers
We have fulfillment centers across the country that take care of all your fulfillment needs. You can distributor inventory conveniently in any of these fulfillment centers and expect a top-notch service for all your incoming orders. This facilitates your business to deliver orders sooner and provide an impeccable experience to your customers. You can reduce RTO and shipping costs.
Cost-Effective Storage & Processing
With Shiprocket fulfillment, you get 30 days of free storage on all items. It is ideal for your fast-moving inventory as it will help you reduce your storage costs by a large margin. Processing rates start at Rs. 11/unit!
Faster Delivery Time
Shiprocket Fulfillment helps you increase delivery speed by up to 40% and also provides same-day and next-day delivery options as products are stored closer to end customers. With industry-standard fulfillment operations and experience teams, you can increase your efficiency by a great amount
Final Thoughts
Choose wisely and pick a fulfillment provider that best suits your needs. The question today is not about who is the best fulfillment provider. Rather, it is about who can fulfill your eCommerce needs in the most appropriate fashion and provide you with the best in class services for your business. Consider all factors before you zero in on one partner.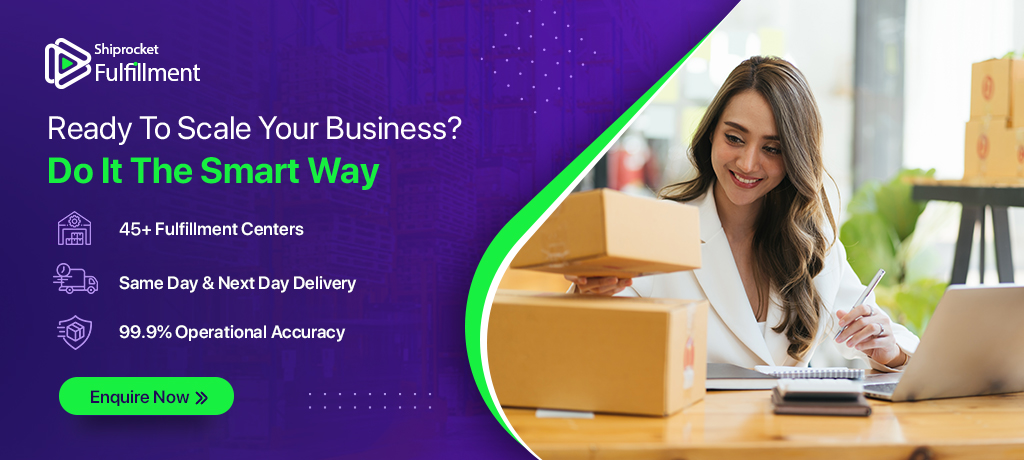 Calculate Your Shipping Costs Now