Ten Amazon Statistics You Need To Know In 2023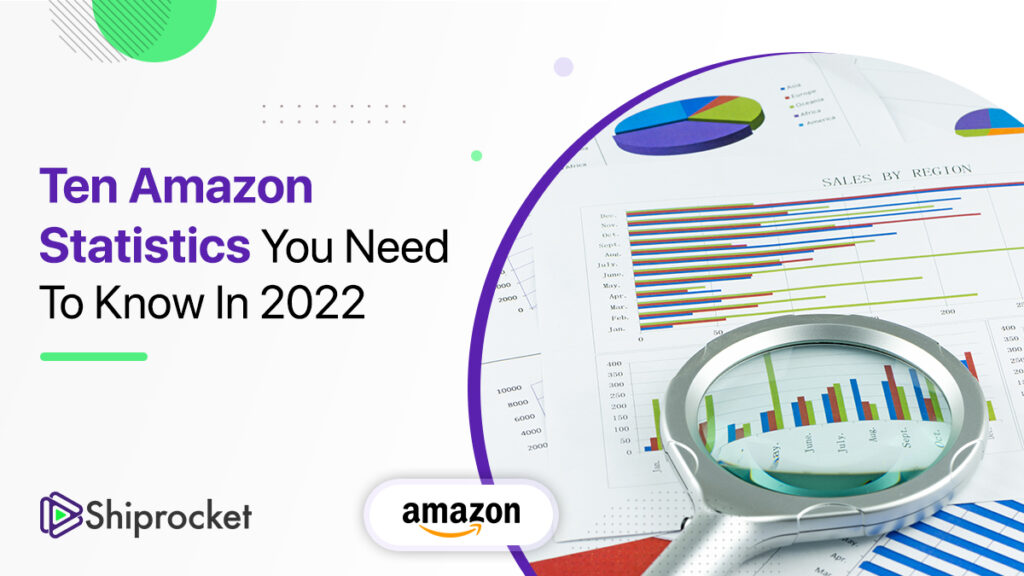 When selling on Amazon, it's essential to understand some of its data because knowledge is power. This article will show you the most critical Amazon data to take advantage of and increase your sales.
Amazon has become a household name in the world of online buying. It continues to expand its customer base by producing new products, making acquisitions, and providing various service options. It's succeeding because it appears to have something for everyone. People turn to Amazon for everything, whether ordinary groceries or seasonal gifts, as online shopping gets more popular.
Ten Amazon Statistics are as follows:
Number of Sellers on Amazon:
Amazon India said that over 10 Lakh sellers are now selling on its e-Commerce platform across India. The Company started in India in 2013 with 100 sellers and has grown to be the preferred online destination for sellers across India.
Several Amazon Prime Members:
Amazon Prime is a paid subscription service offered by Amazon. It was launched in 2005 and is available internationally. It includes free two-day shipping, music streaming, and many other benefits. Amazon Prime in India has 200 million prime members across the globe.
A number of Items Sold on Amazon Per Minute:
Over 4,000 Amazon products are sold per minute. Amazon offers 168 million products to its Indian Customers. 218.000 sellers actively sell on Amazon India.
The Popularity of Amazon:
The popularity of Amazon is unthinkable. Amazon has become synonymous with online shopping, and it continues to develop new products and services to satisfy and earn the trust of its customers. In India, Amazon has more than 100 million registered users. Amazon's investments in infrastructure and partnerships with local vendors for better deliveries are likely to increase the number of users in India. Amazon is the most prominent competitor to India's own Flipkart, with over 200 million registered consumers.
Customers Trust Amazon:
The good news is that the corporation appears to be making strides toward increasing its revenue from India. According to RBC Capital Markets, Amazon held 30% of the Indian e-commerce market in 2018. According to RBC, Amazon's market share might rise to 35 per cent by 2023, with India accounting for 4% of total revenue and 13% of international payments.
Amazon is stealing market share from key competitors in critical areas, and its new efforts to strengthen its presence among neighbourhood retailers could help it keep up the momentum. Indeed, Amazon's Local Shops programme could continue to multiply since additional locations are being added.
Amazon Revenue:
According to statistics sourced by business intelligence platform Tofler and seen by ET Tech, Amazon Seller Services' income grew from Rs 10,847.6 crore in the 2020 financial year to Rs 16,200 crore in the 2021 financial year. In addition, the company managed to reduce losses from Rs 5,849 crore in the 2020 fiscal year to Rs 4,748 crore in the 2021 fiscal year. Amazon's expansion in India has aided its ability to provide marketplace services. In the fiscal year 2021, Amazon India reported an income of Rs 7,555 crore from marketplace services, up from Rs 4,949 crore in the previous fiscal year.
The Most Popular Amazon Product Category:
Amazon India is the largest online smartphone channel with a 47%market share. Amazon is offering 168 million products to its customers in India. Other categories are Apparel, Consumer Electronics, Footwear, Jewellery, Home & Kitchen, Food & Health supplements and baby products.
Amazon Prime Day is the Most Profitable Shopping Day:
Amazon Prime Day is the most significant event ever for small and medium businesses in Amazon's stores worldwide. The third-party sellers' sales outreached $3.5 billion on Prime Day, which is a nearly 60% year-over-year increase. Prime members had a chance to save more than $1.4 billion, taking advantage of huge discounts and great deals during Prime Day.
Amazon India Is the Largest Online Smartphone Channel with a 47% Market Share:
Amazon India emerged as the most extensive online smartphone channel, moving ahead of its biggest rival, Flipkart. Among the top ten smartphone models on Amazon, nine were from Samsung and Xiaomi. The Rs 15,000-20,000 price band contributed the most and reached India's highest Amazon market share. Samsung, Xiaomi, and OnePus increased the shipment for Amazon.
Amazon is Popular Destination For Research – in India and Globally:
Indian online shoppers prefer to research the product before making a purchase. Amazon is a popular destination for product discovery amongst those studying online.
66% of Indian urban active users have researched online before buying products.
52% of the online researchers have visited Amazon for their research.
New-to-Amazon shoppers reported being highly satisfied with their purchase experience, and most will continue to shop on Amazon in the future.
82% of new Amazon shoppers said they would likely continue shopping on Amazon long-term.
Preferred categories these shoppers are likely to purchase over the next 6-8 months included: apparel & fashion (43%), mobile & accessories (42%), personal care & beauty (41%), household & grocery (39%), home appliances & decor (33%), and consumer electronics (24%).
Essential Factors Driving Purchasing Decisions on Amazon
Customers enjoy shopping on Amazon. But, when browsing on an ecommerce platform, what factors influence their purchasing decisions? According to survey data,
Price is the most crucial element in Amazon purchases, with 82 per cent of Amazon purchasers citing it as a key buying consideration.
Low delivery costs and
Excellent product reviews are important factors for 70 per cent and 57 per cent of Amazon consumers.
Although Amazon's Prime programme is expanding, it is far from being a deal-breaker for buyers picking between products, with just over a third (35%) citing Prime eligibility as a crucial factor in their decision.
Conclusion
We continue to be impressed with Amazon's staggering statistics. What makes it more impressive is that even with the abundance of sellers on the platform, a majority continue to operate and remain profitable, even expanding their businesses to other platforms. On top of that, there is still room for budding retailers to start selling. So, do you need a book? – You can order it from amazon.com. Do you need an electronic device? – You can get it from Amazon.
Maybe you are looking for a gift? – You can search for it on amazon. I point out that you can find everything you need (or do not need) on Amazon. Amazon is going bigger and bigger, and there are no signs of slowing down.
Calculate Your Shipping Costs Now