All You Need To Know About Multi-Vendor Marketplaces
With the rapid growth of eCommerce in the past decade, trends are slowly shifting towards providing a fast-paced shopping experience to buyers. Now, buyers don't want to spend time surfing through ten websites to find one product. They want consolidated information that helps them with faster decision making and aids in saving time.
The answer to this changing trend is multi-vendor eCommerce stores. They are the answer to eCommerce marketers looking on ways to improve their store and push it to the next level. Let's find out about multi-vendor eCommerce websites and how you can incorporate them into your business strategy.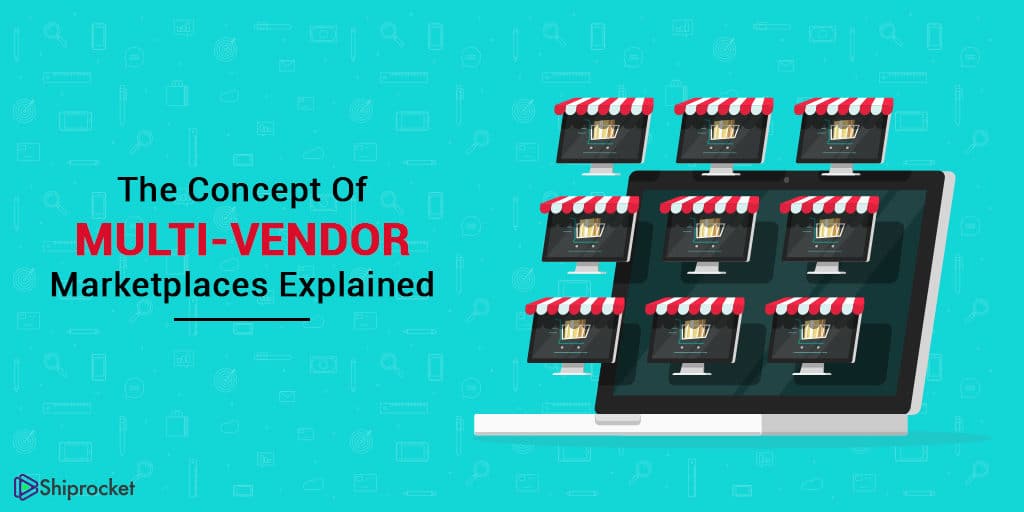 What Are The Multi-Vendor eCommerce Websites?
As the name suggests, a multi-vendor website or store is a platform for third-party vendors to sell in one place. In simple terms, it is a big shop that contains various small shops that are run by individual sellers.
To make it more relatable, think of it as a mall (owned by you) that delivers to people's homes. As the concept is clear, your mall contains many small shops. The responsibility of running each shop lies with the individual shop owner whereas the more significant burden of storing the products, delivering them to people's homes, and collecting payments lies with you.
Now, imagine this mall in an online eCommerce setup. Your mall becomes a marketplace, the small shops are the seller's stores, and you are responsible for the order processing, shipping, and payments (if there are any due). This is what a multi-vendor eCommerce website/online marketplace looks like.
Why Invest In Multi-Vendor Marketplaces?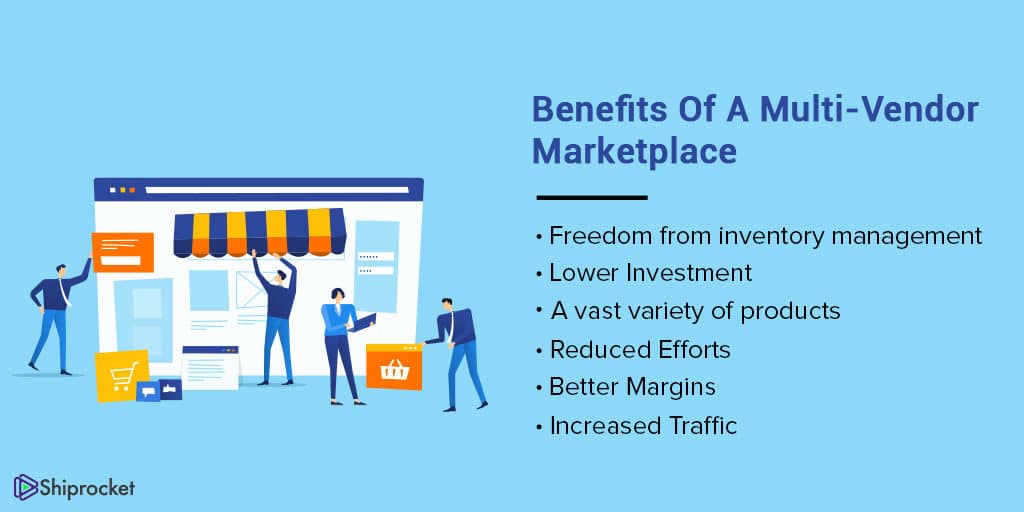 Freedom From Inventory Management
With a multi-vendor store, the responsibility of inventory management, storing, warehousing, picking, and packing is no longer your responsibility. It needs to be taken care of by the sellers who sell in your store. This exclusion comes as a relief because it helps you save time, space, and additional cost.
Lower Investment
It's a no brainer, that setting up an online marketplace requires lesser investment because your resources are only directed towards maintaining an online platform and providing shipping. The remaining expenses of marketing, packaging, and inventory management are no longer your headache.
A Vast Variety Of Products
When you open your store to sellers, they list a range of products on your store. It can lead up to a large number of categories that contain products catering to a vast audience. Therefore, you end up selling various products instead of one or two. This gives you the advantage of holding a large variety for your customers.
Reduced Efforts
Since you will no longer need to write product descriptions, forecast sales, pick products, or package them, your efforts would be significantly reduced. You could invest time in providing your sellers with a state-of-the-art marketplace that lets them reach out to a broad audience.
Better Margins
As you save up on various areas, you even earn a considerable amount from the seller fees. You will not let any seller sell on your shop for free. Therefore, you can have the benefit of deciding the margins you would like to set for your store.
Increased Traffic
There is a good chance that sellers who are utilizing your store also sell on other platforms. This guarantees you increased traffic on your website as people would be visiting your website from different sources.
Types Of Multi-vendor Sites
Multi-Vendor websites/marketplaces can be specified into different categories based on the products they offer, the problem they solve, etc. The broad classifications are as follows:
General Marketplace
This includes a marketplace that contains all products and various categories. The market is not targeted, and vendors from different groups can sell their products on the store. Prominent examples include Amazon, Alibaba, Snapdeal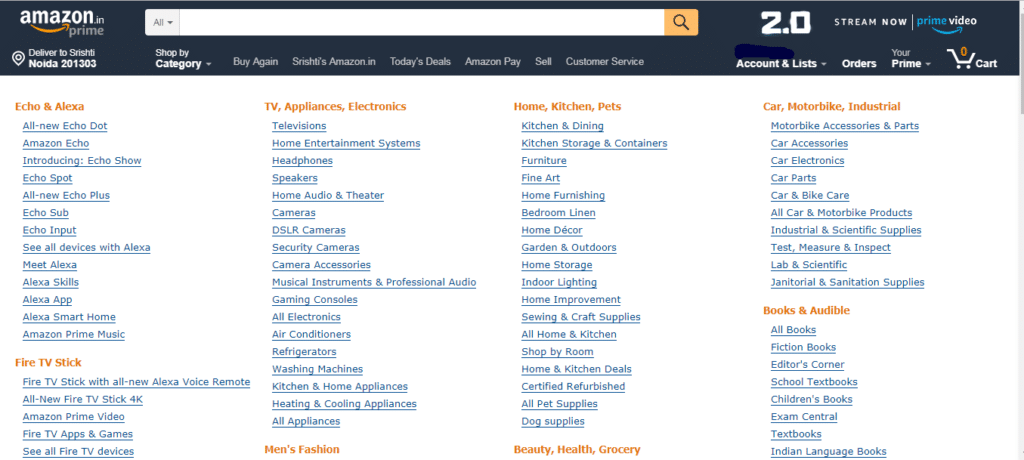 Specialty Marketplace
These are marketplaces that focus on a niche. They aggregate sellers who sell one kind of product and put that across to buyers. The audience for these kinds of markets are usually low and are focused at people who look for specific products or services. Examples include Myntra, Jabong, Healthkart, etc. that target their marketplace products to a limited customer base.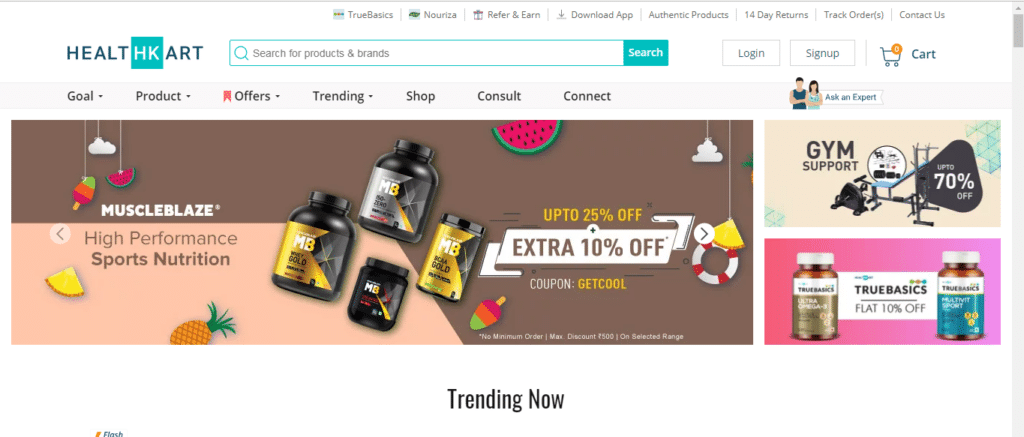 Components Of A Multi-Vendor Store
Inventory Management
As we have already mentioned, inventory management is not necessarily a concern for the store admin. But that does not mean you do not need to coordinate with vendors. To make sure orders are fulfilled on time, you can instill checks to ensure that your vendors are stocked with products at all times.
Seller's Fee Program
How you pay your sellers is of primary importance in your eCommerce store. You will have to devise clear plans and define the fees every seller has to pay for hosting their shop on your website. Like Amazon, you can charge them for every order, or take an upfront fee. Once you analyze your parameters and chalk out a plan, make sure you draft and explain every aspect of it distinctly.
Shipping
Undoubtedly, shipping is the most vital process in your order fulfillment phenomenon. It links your store with your customer. Therefore, take up the responsibility of shipping and don't rely on vendors to carry it out themselves. You can ask your third-party sellers to sell through a popular shipping software like Shiprocket. Through Shiprocket, you can ship across the nation at the cheapest shipping rates.
Payment to Vendors
Decide upon a time interval at which you will be paying every seller. You can remit them for their orders after seven days, three days, or whatever best suits your process. You can also pitch in incentives from time to time to attract new sellers.
Analytics
Giving sellers a detailed report of their sales prompts them to make informed decisions, forecast their purchases, and produce inventory accordingly. Your multi-vendor website is bound to thrive if your sellers are on top of their game.

How To Get Started?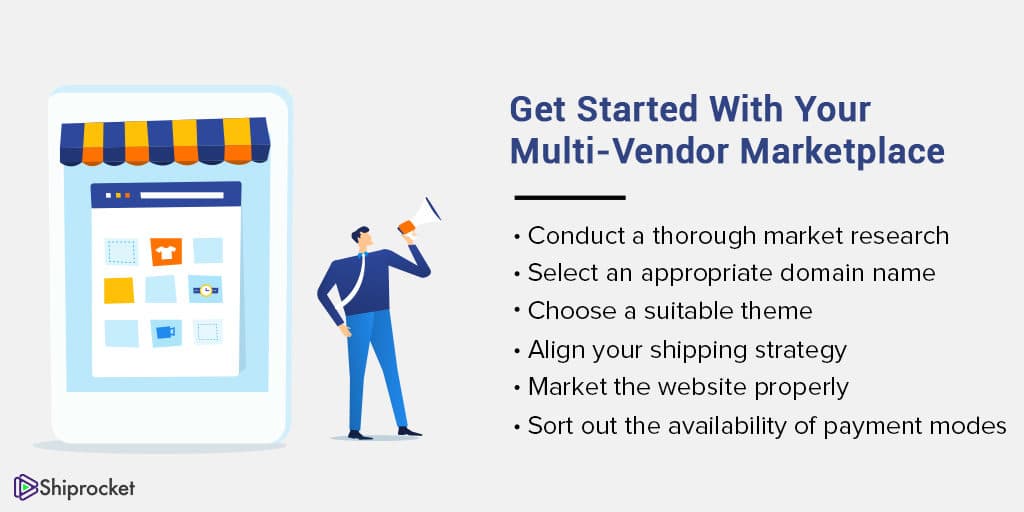 Once you have decided to start with your multi-vendor eCommerce store, keep a few things in mind before you take the plunge.
Conduct A Thorough Market Research
Study the market and understand what resonates well with the buyer. Conduct surveys and analyze previous reports to get a deeper understanding of buying patterns so you can present customers with what they want.
Select An Appropriate Domain Name
The domain name you choose must be descriptive about your brand. Therefore, make sure you think about it in detail before choosing one. Remember to make it short, crisp, and clear. Always check if the domain is available so that you can avoid any trademark issues later.
Choose A Suitable Theme
The website should not look complicated to the buyer. You may have many things going on in the background, but your website should be simple, neat, and easy to navigate. Choose a theme that promotes this idea and makes the buyer journey more pleasant.
Align Your Shipping Strategy
Before you launch your store, make sure you have thought of how you will ship your products. If you fail to stand on those goals, you will have to face the wrath of angry customers. A good option would be Shiprocket. They have an automated platform that you can use for shipping products across the country.
Market The Website Properly
Once you set up your multi-vendor eCommerce website, you need to project it to an audience. The market research will give you a fair idea about the type of users, their buying preferences, choices, preferred payment modes, and most importantly, the platforms on which they are most active.
Sort Out The Availability Of Payment Modes
It is crucial to figure out the kind of payment options you provide to your buyer. Learn about the different types of payment methods and adopt as many as you can. A more significant number of payment modes persuade the buyer to purchase quicker.
To sum it up, multi-vendor marketplaces are an excellent option for you to begin your large scale venture! You must explore this option if you do not want to sell something specific necessarily. Get in touch with companies that offer multi-vendor website options and begin setting up your store today.

FAQs (Frequently Asked Questions)
Does Shiprocket offer shipment tracking?
Yes, you can track your shipments here with AWB no or order ID.
How can I sign up for Shiprocket?
Sign up from our website or mobile application for free by providing your details – name, company name, email id, and password.
How do I find the order ID or AWB no for tracking?
You can find the order ID or AWB number on the order confirmation email or SMS.
Does Shiprocket offer early COD remittance?
Yes, you can opt to get early COD remittance with Shiprocket.

Calculate Your Shipping Costs Now