Everything You Need To Know About Amazon's Global Selling Program
Amazon is an eCommerce giant that houses millions of sellers. As a seller, you can gain various benefits from their seller-centric programs while you leverage the massive user base they hold from around the world. Research by Slice Intelligence stated that in 2021, 43.5% of all US online retail sales were done through Amazon. Imagine the growth if you could sell to this vast audience abroad? With their global selling program, Amazon gives you a platform and a thorough process to target an international audience and sell your products to them. Learn more about Amazon Global selling, and it's featured in the topics to follow.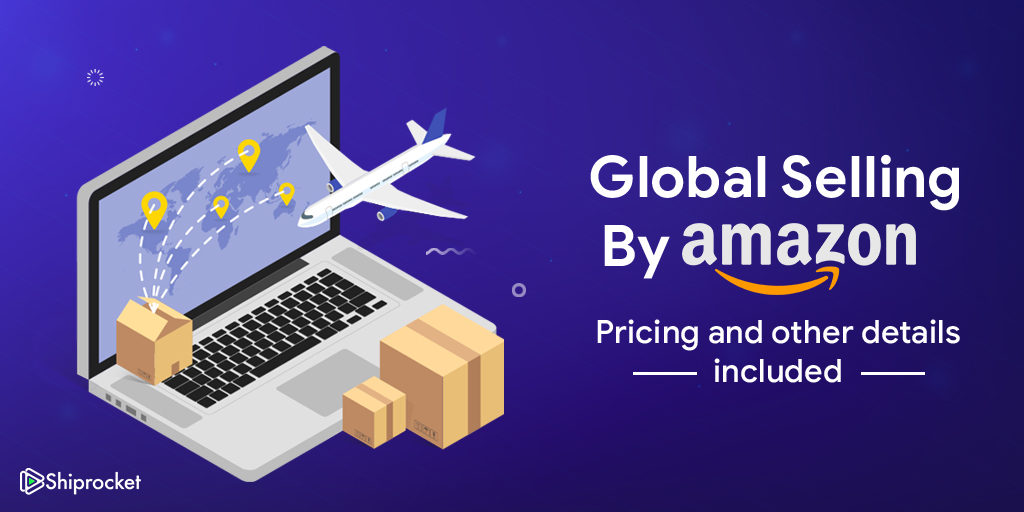 What Is Amazon's Global Selling Program?
Amazon Global Selling Program gives you a platform for easy, simple, and convenient use to sell your products to international markets. Amazon began this program in 2015, and over 100,000 sellers are already utilizing it to reach out and sell actively. According to Amazon, 30+ products categories have already been listed on international marketplaces and have been doing good business abroad.
Regions Covered Under The Global Selling Program
Currently, Amazon offers you a platform to sell across 18 global market places spanning over 220 countries. These marketplaces can be clubbed under four international marketplaces. The list is as follows:
1) Europe – Sell across 28 countries in Europe including Germany, UK, Spain, Italy, France and others.
2) Asia-Pacific – Sell across India, Japan, Australia & Singapore and other countries in the Asia Pacific.
3) Middle East – Sell in UAE, KSA, Turkey, Egypt & other middle eastern countries.
4) Americas – Sell in the USA, Canada, Mexico, Brazil and other countries in the Americas.
You can create your seller accounts on these marketplaces and begin selling your products in different categories.
Getting Started With the Program
You can begin selling globally by following a few easy steps.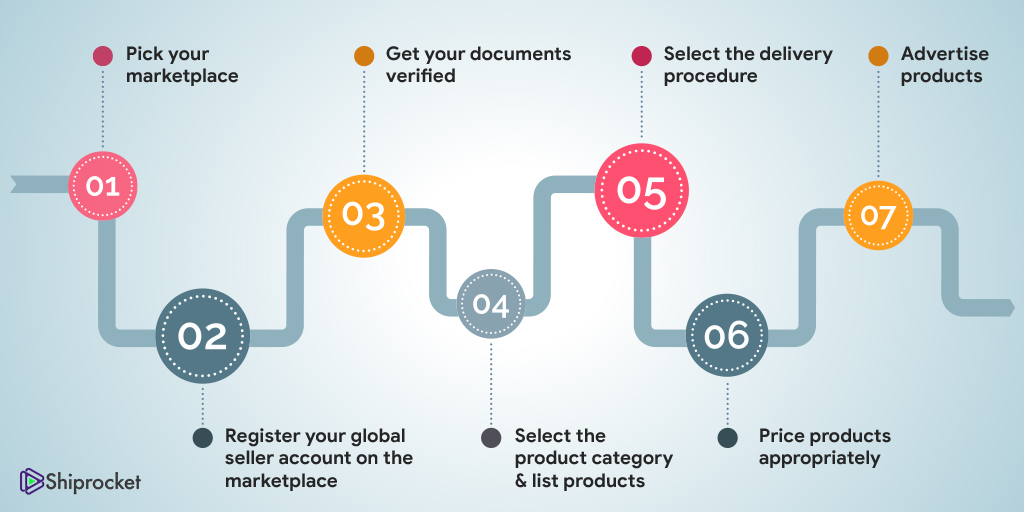 Step 1 – Pick Your Marketplace
Choose your marketplace from the marketplace mentioned above options
Step 2 – Register Your Global Seller Account On The Marketplace
Register your seller account in the marketplace chosen by you. As you need to pay a monthly subscription with the setting up of a global seller account, you need to use an international credit card for transactions.
Step 3 – Get Your Documents Verified
Submit your identity proof and business address proof to check your account.
Step 4 – Select The Product Category & List Products
Choose the category you want to sell your product in and use the listing tools to place products on the marketplace.
Step 5 – Select The Delivery Procedure
Choose if you want to ship your products yourself or through Amazon FBA.
Step 6 – Price Products Appropriately
Price your products according to the sales and festive seasons. Price your featured products accordingly to get more customers to your marketplace listing
Steps 7 – Advertise Products
To stand out on these global marketplaces, make use of the Amazon advertising feature to reach out to a broader audience.
Read more about Amazon Advertising, and its benefits.
How Do You Deliver Your Products Internationally?
Amazon offers you a choice of fulfilling your products yourself or by opting for Fulfillment by Amazon.
Fulfillment by Self
Here, you can ship your products with your choice of courier partner, and you rely on Amazon for these services. You manage your warehouse, inventory, and package your products yourself. You can opt to ship with a courier aggregator that offers you the choice of courier partners or a courier company. Either way, you can send products at your convenience and decide which is more suitable for your business.
Fulfillment by Amazon

(FBA)
As we explained before, fulfilled by Amazon gives you an opportunity to utilize Amazon's international fulfillment centers to fulfill your orders. Under FBA, you send your stock to the nearest international fulfillment centers, and when you receive a request, Amazon picks, packs, and ships your products to your buyer within two days (as mentioned by Amazon).
Amazon Global Selling Pricing
When you choose to sell using Amazon's global selling program, you need to pay a monthly subscription fee for every marketplace. The pricing structure varies for each market and below is a brief description for each.
United States
You can choose from two plans – a professional and individual plan. The individual plan membership is free of cost, but you have to pay an additional USD 0.99 selling fee per item along with the referral fees and variable closing fee. On the other hand, the professional plan costs $39.99 and saves you from paying the additional charges. As evident, the professional plan comes with more features and is a better choice for people selling more than 40 products per month.
Europe
Similar to America, you get a choice between two plans when you ship to Europe – a pro plan and a basic plan. The pro plan subscription costs 25 pounds per month and is suitable for sellers with over 35 shipments per month. The basic plan is free of cost and ideal for sellers with more than 35 shipments a month. Also, if you opt for the free plan, you cannot utilize Amazon FBA.
Japan
Japan's selling plans are also of two types – Professional and Individual. All details are the same as that of the United States. The price of the professional plan is JPY 4900 per month, and the basic plan membership is free of cost.
Australia
Australia has only one selling plan where you have to pay a fee of AUD 49.95 per month. Along with this, you have to pay a referral fee, closing fees, and refund fees for each item sold.
Benefits of selling with Amazon Global Selling Program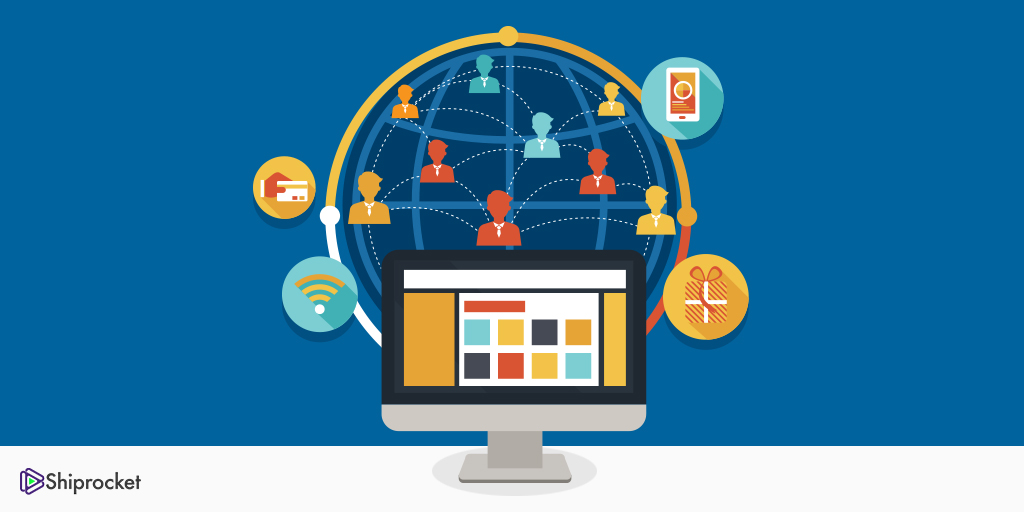 Sell To A Vast Audience
With the Amazon global selling program, you can sell in various countries and get access to millions of customers from there. With the increasing demand for authentic Indian products, you can sell quickly and make profits almost instantly.
Leverage All Important Sale Seasons
When you sell domestically, you can only leverage a few sales. But with international selling, you have a chance to attract customers with sales all year round as different countries have different festivals and windows for sales.
Easy Export Of Products
Exporting products is a hassle for many owing to the costs, formalities, and extensive paperwork. These long drawn causes a loss of time and energy for most users. Amazon's global selling program makes it easier for you to ship products easily across borders without having to deal with these problems directly.
Get Paid In Your Currency
The best part about this program is the fact that you will get paid in INR. You do not need to go through the pain of exchange, etc. You can sell to people in USD, AUD, pound, etc. but you will receive your final due in INR.
With the global selling program, you can reach out to millions without fail. If you can manage between Amazon's marketplace and your own carrier partners, you can also save more on shipping. Choose wisely and grow your business beyond boundaries!
Calculate Your Shipping Costs Now