eCommerce Shipping
How Automation In Undelivered Order Management Can Lead To Profitable Shipping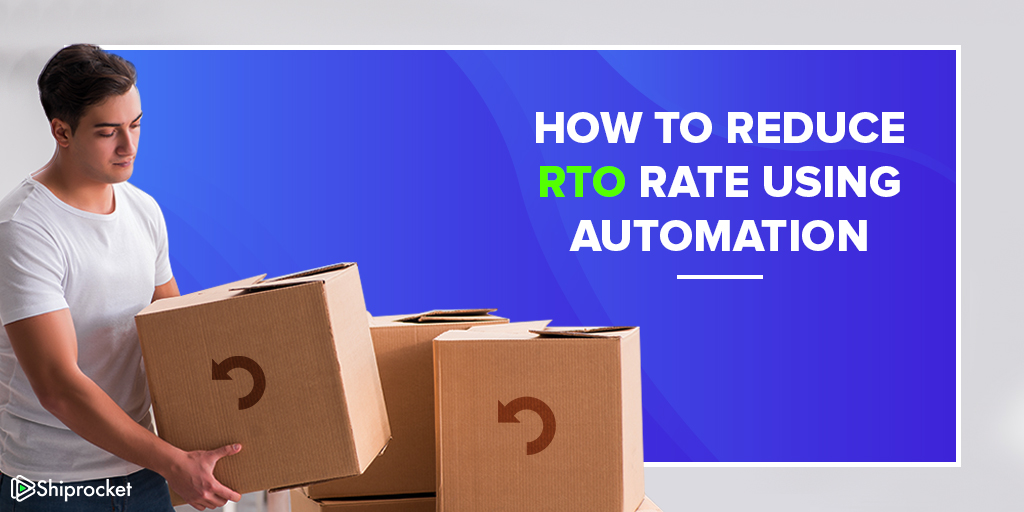 Return order management takes up a considerable chunk of time in any eCommerce venture's operations. You can definitely work to your return orders, but can't avoid them. But, what if we told you that automating the process of return order management can help you save a considerable amount of time and money while also reducing the number of RTO orders? If you look closer, there are means and ways for everything. Let's find out how!

To understand the impact and benefits of automation for undelivered orders, we first need to begin with the basics
What is RTO?
RTO or return to origin refers to the process of returning shipments from where they were initially picked up. This could be due to the unavailability of the concerned individual, incorrect address, COD not ready, etc.
What is NDR?
A non-delivery report (NDR) is a document that is automatically generated and sent to the sellers to inform them about the un-delivery of their package.
How do courier companies traditionally handle return orders?
Traditionally, handling undelivered orders has always been a long drawn process. Most courier companies like to deal with these undelivered orders at the end of the day to sort out their delivery operations. Here is a brief of the process that is followed by many courier companies and aggregators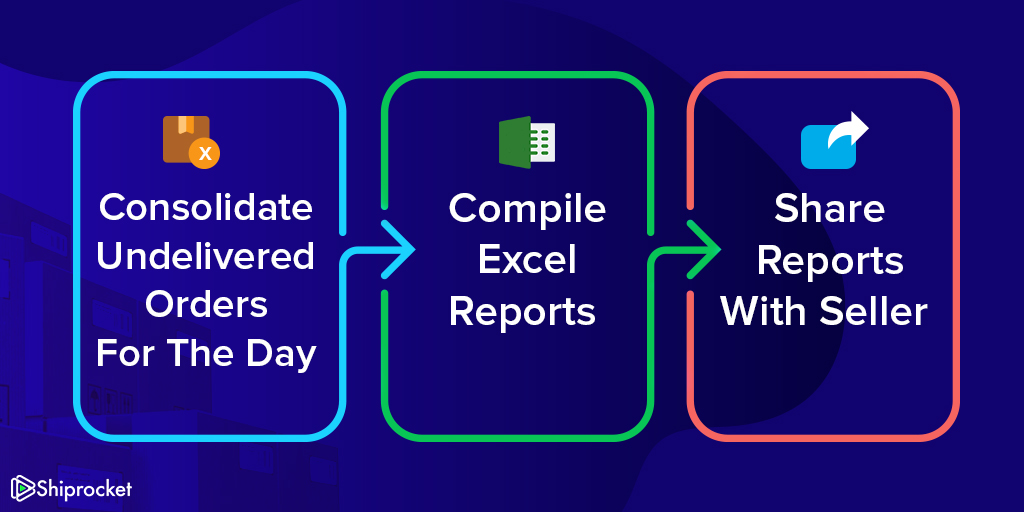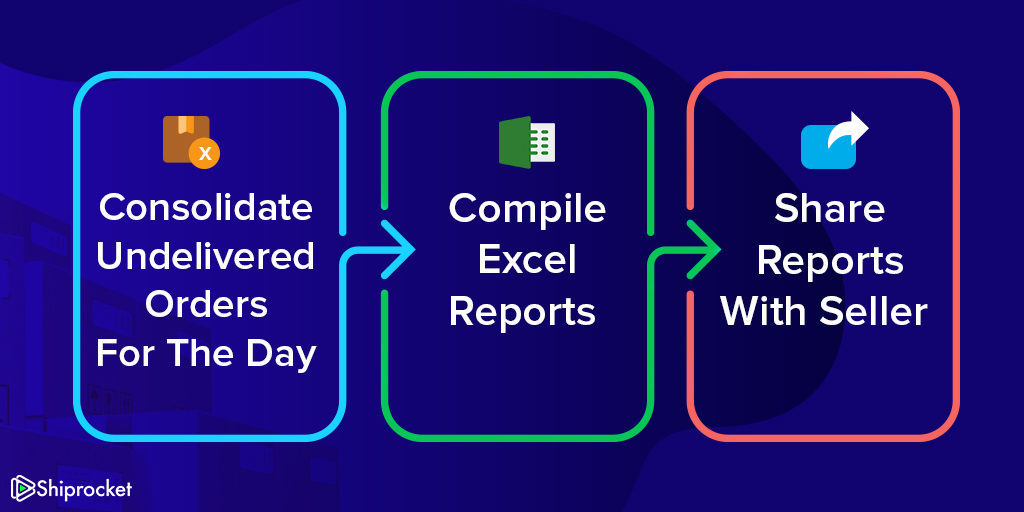 Consolidate undelivered orders for a day
As we are aware, courier companies don't deliver just one package in a day; they deliver much more. Sometimes this number can reach up to a few thousand as well. So one courier executive delivers all the orders in his kitty and by the end of the day, compiles a report which contains all the orders he could not deliver.
Compilation of excel reports
Every courier executive gives out a report containing the orders they could not deliver. Someone from the office compiles a separate excel sheet for each client. This sheet includes all their undelivered orders in a day and the reason behind their non-delivery.
Sharing of reports with seller
Once the courier consolidates these reports for each client, they send it to the seller. The approximate window for sharing these reports with the sellers is 18-24 hours after the first delivery has been attempted.

As evident, the process is long, tedious, and is also prone to many mistakes as the reports go through many hands in this entire process.
What is automation in NDR management?
Automation in NDR management refers to the process of organizing the process of return order management to make sure the events occur uniformly without much manual assistance.
To do so, you need to implement a tech-enabled process that allows your system to handle return orders automatically.
You can do this by employing costly infrastructure for the same, or use a shipping platform like Shiprocket and use these features for free!
How does Shiprocket handle undelivered shipments?
Shiprocket has aligned with courier partners using APIs and receives regular updates about the whereabouts of your orders. Therefore, a process that took almost 24 hours, Shiprocket's panel helps you do it in nearly 5 minutes.



Here is the process followed :

The courier executive tries to deliver a product at your buyer's place but could not deliver it.
He updates this status there and then, along with the reason for non-delivery.
As soon as the courier executive updates the status, it reflects on your Shiprocket NDR dashboard.
You can decide whether you want to re-attempt the delivery of this parcel or opt for RTO.
This way, the courier executive can re-attempt delivery on the same day or the next day instead of 48 hours.
The NDR buyer flow – A secret weapon
Another aspect of Shiprocket's NDR management is its automated buyer flow. This flow gets activated if the buyer is not available for accept delivery, the premises is closed, or the customer is not contactable.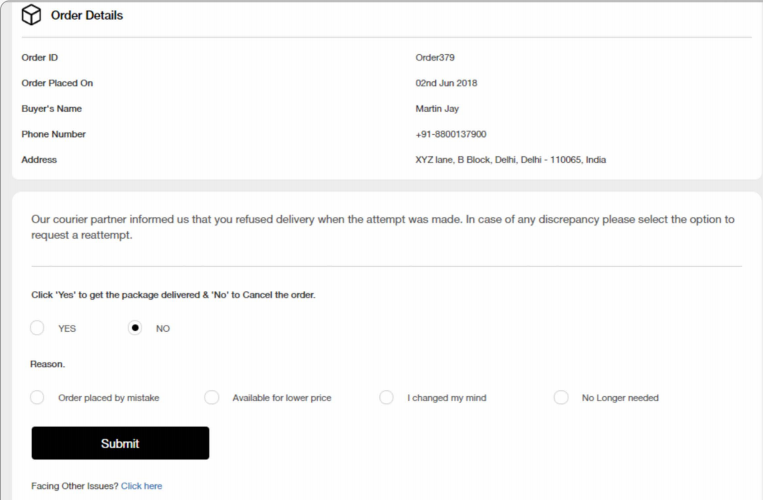 When the delivery executive enters any of these reasons for non-delivery, an automated IVR call and SMS are sent to the buyer, requesting their feedback and response in real-time.
You can activate this feature in the NDR tab in your Shiprocket panel. It is located in the top right corner in the action requested tab.

Also, you can reach out to buyers via a separate form, asking for their preference for order delivery along with their feedback in case of fake attempts remarks by courier companies.
This automation can help you reduce your RTO that happens due to miscommunication and delayed interaction with the buyer. You can reduce the turnaround time for your return orders and also decrease RTO by 2-5%.
Advantages of automating NDR for your business
Reduced RTO
An automated NDR panel gives you a chance to act quickly on non-delivered orders. Once you do so, you can reduce the return to the origin that happens because the customer's delivery experience is broken. Most times, the COD amount is not ready, or there is some confusion with the address. In these scenarios, the customer expects the shipment to be re-delivered soon. A faster operation will aid in delivering the orders faster.
Higher Delivery Rate
If your orders are delivered sooner, you can ship more orders at once. Once you send a higher number of orders, the customer experience automatically improves. So, it's a win-win situation for you.
Improved communication
The NDR buyer flow makes NDR management a bi-directional communication channel where responses are recorded in real time. Therefore, you can easily record buyer opinions to escalate orders and also record feedback to be more careful about subsequent shipments and carrier partners.
Conclusion
Automation is taking every industry by storm. The sooner you accept it and evolve, the better you will be able to serve your customers. With Shiprocket offering you a tailor-made solution to a pain point in almost every eCommerce business, honestly, you have nothing more to worry about!
Calculate Your Shipping Costs Now