25 Best Marketing Apps for Your Shopify Store
Shopify is one of the most popular platforms for eCommerce sellers to set up their online stores and reach out to a wide audience. It provides simple and easy to use solutions that do not require a set of hardcore technical skills. But, driving business growth in a business can be a challenging task, especially when you do not explore a few out of the box elements.
When you're planning to scale your Shopify store, you must invest your time and resources in marketing it. But don't worry, you do not need to spend time researching the necessary tools and apps that will help you market your store and stand out of the crowd. We've got them covered for you!
You can create your free store with Shopify to get started!
Read on to learn about the top 25 marketing apps that you can use for your Shopify store. We've classified them into different marketing segments so you can pick the right one for the exact purpose.

Customer Retention
Privy is one of the most popular marketing apps on Shopify. It is trusted equally by small and large eCommerce businesses. Privy has a simple motto that aligns with the customer retention strategies of your business. It, therefore, helps in capturing and converting visitors on your website to customers and subscribers. It has a free plan that you can try out now. Privy lets you:
Grow and sync your email list
Reduce cart abandonment
Send exit intent pop-ups and emails
Offer discounts and coupons
Send robust retargeting messages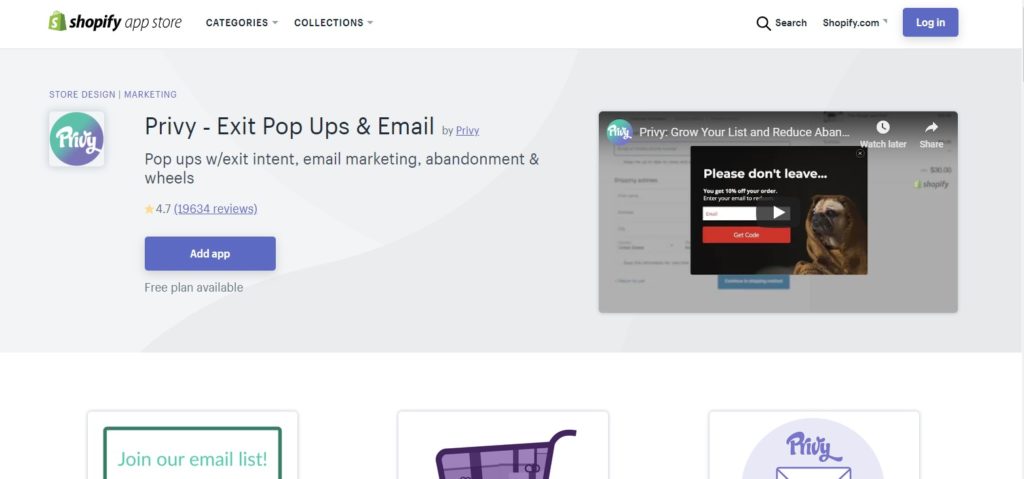 Klaviyo is a specific marketing app that helps in growing your customer relationships. It has one-click integration with Shopify and lets you understand important cues from your visitors, subscribers, and customers. This way you can turn a behavior into useful information and drive the growth of your Shopify store. It is free to install. With Klaviyo you can:
Understand your customers in a better manner
Recapture lost sales
Send super targeted campaigns
Analyze and make better decisions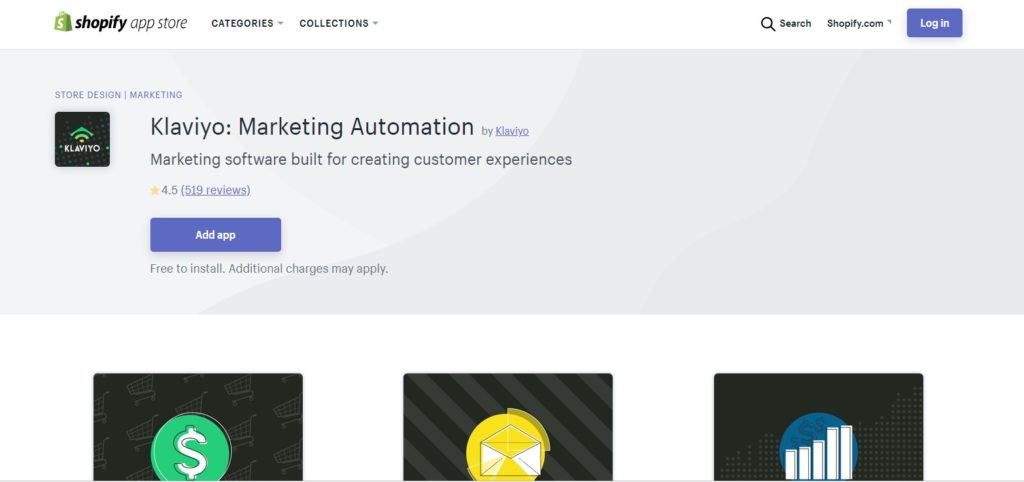 You must have heard of MailChimp if you've briefly explored marketing tools. MailChimp is both an email marketing and customer retention app that you can use for your Shopify store. It provides you all the necessary tools you need to build your email lists and convert your lists to customers. It has a free plan available that you can explore for your business. MailChimp lets you:
Trigger popups, bars and banners
Offer coupons and tempting deals
Send manual or automated emails
Track the peformance of your campaigns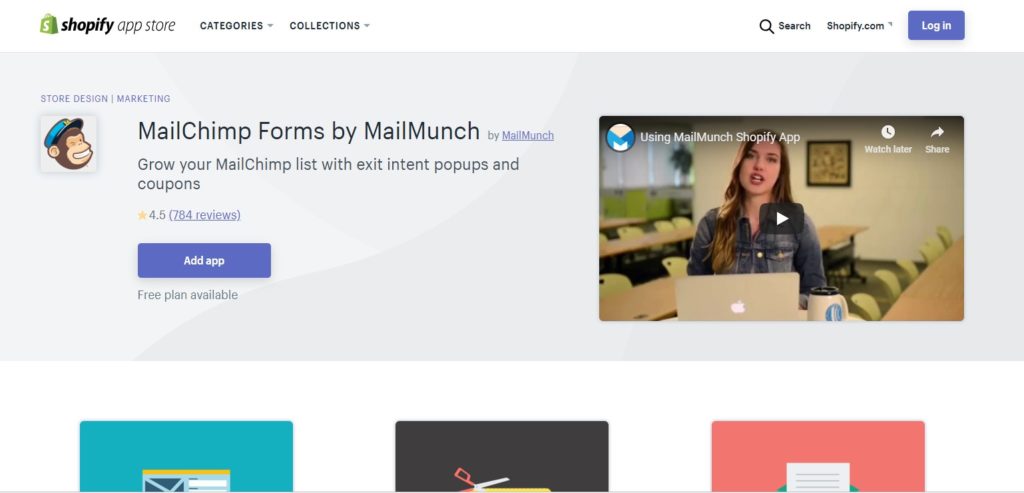 Email Marketing
Marsello is one of the best tools for automating email campaigns for your Shopify store. It offers a free plan where you can try its services without having to spend a single penny. Marsello lets you run precisely targeted campaigns for customers that are based on human expertise and data-powered automation. With Marsello you can:
Automate loyalty marketing
Increase customer retention and sales
Customize designs to suit your brand
Smart market by integrating with MailChimp and other tools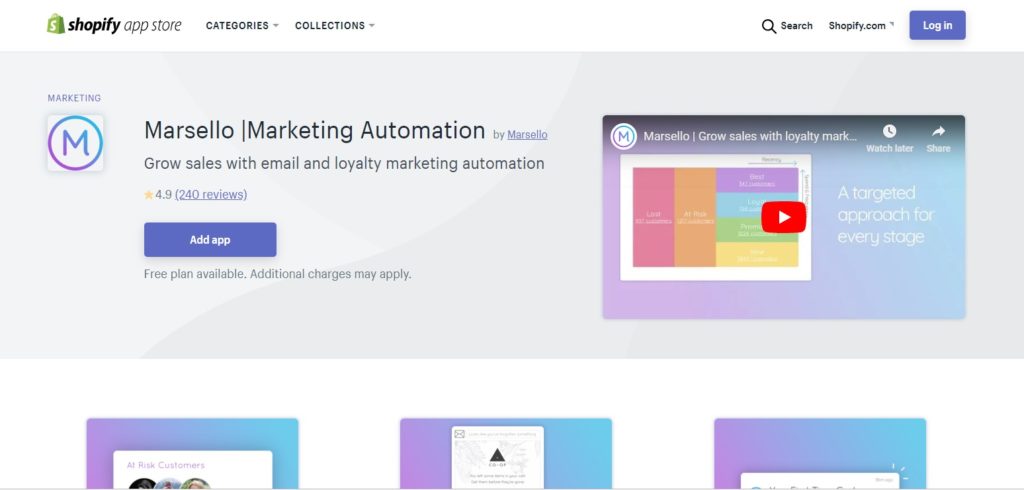 Omni Send Email Marketing app takes your marketing efforts to the next level by adding SMS to your automated workflow. You need to set up your campaigns only once and grow your subscriber list without many efforts. The app lets you:
Drives sales using automation
Get started in minutes
Handle all your marketing activities running across various channels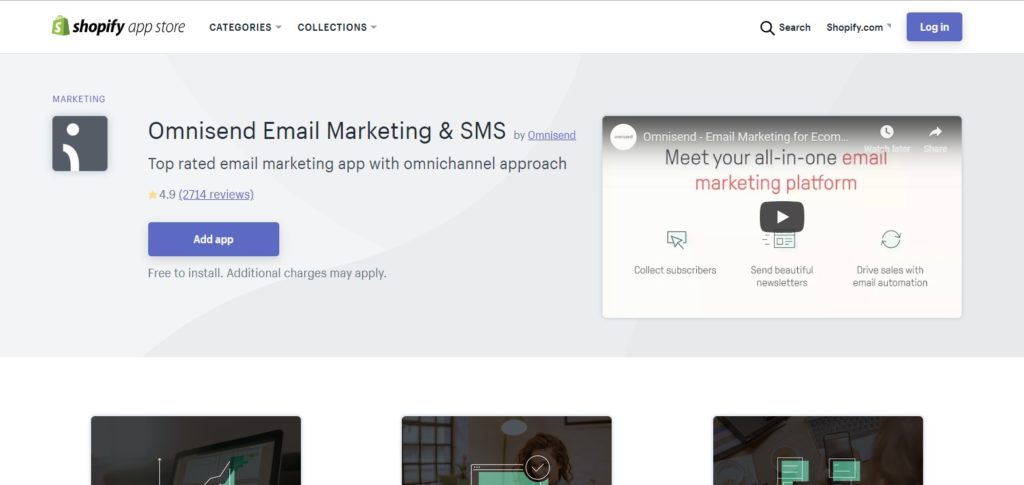 Ads and Retargeting
Have you ever used a marketing tool that was too complex? You know it could work for your Shopify store, but you don't have the time, expertise, or knowledge to put it to good use.
Sixads is the exact opposite. When it comes to running Google, Instagram, or Facebook advertising campaigns, this app is among the simplest and most efficient.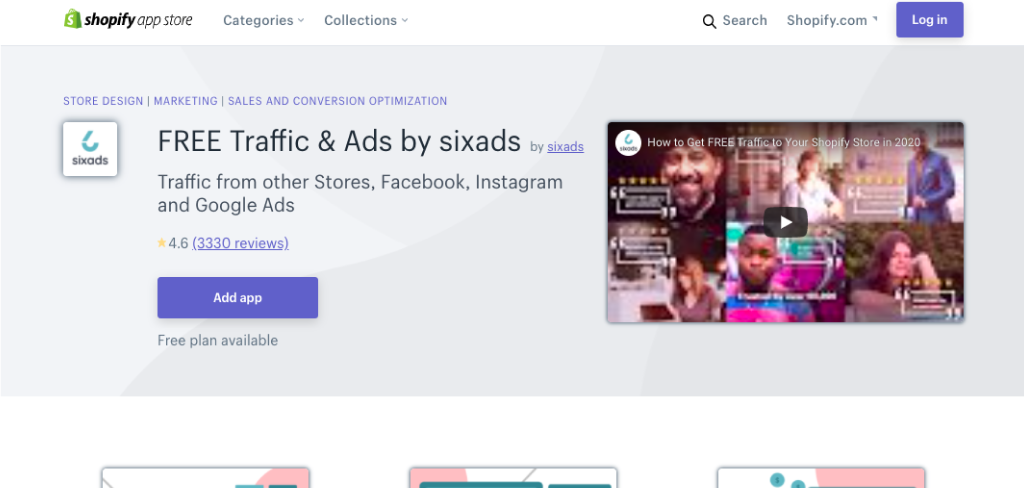 Getting started with Sixads is as simple as: selecting the product(s) you want to promote, deciding on a daily budget, and watching traffic growth on the analytics dashboard.
Along with a free ad exchange program, some of the key features of Sixads automated ads include:
Location-based Supertargeting
Category-based Supertargeting
A Clean and Intuitive Analytics Dashboard
Kit
Kit is free to install and offers an extra pair of hands when it comes to marketing your Shopify store. It is an excellent choice for small businesses because it helps them execute marketing without much budget or marketing skills. With Kit, one can:
Get started with marketing for your Shopify store
Run and regulate facebook ads
Generate quick reports
Create promotions and offers for your customers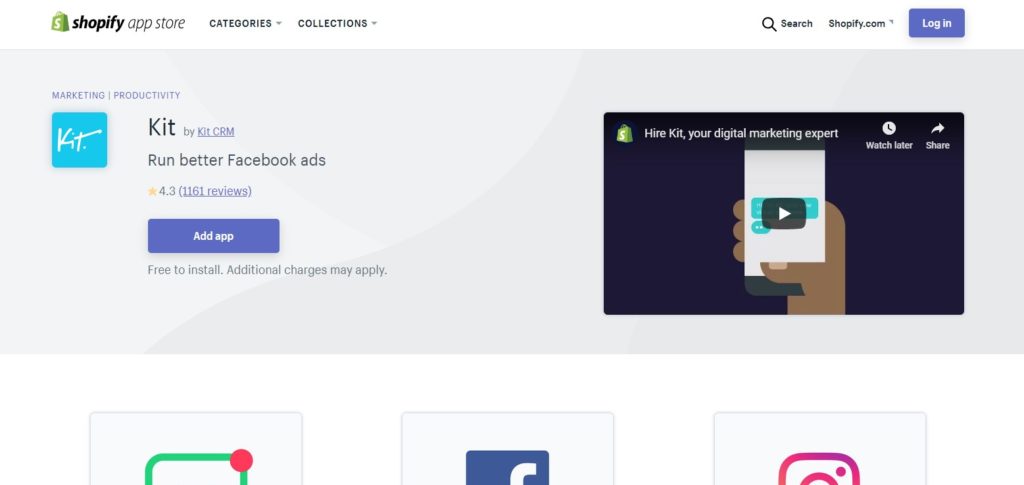 Google Ads amplify your marketing efforts, no matter if you're running your store on Shopify or other platforms. Clever Google Ads is one of the leading marketing apps that lets you improve your marketing strategy by running campaigns on Google. With this app you can:
Drive customers to your store using AdWords Ads
Run Google retargeting ads for visitors who've not been on your store for a while
Run Google shopping and display ads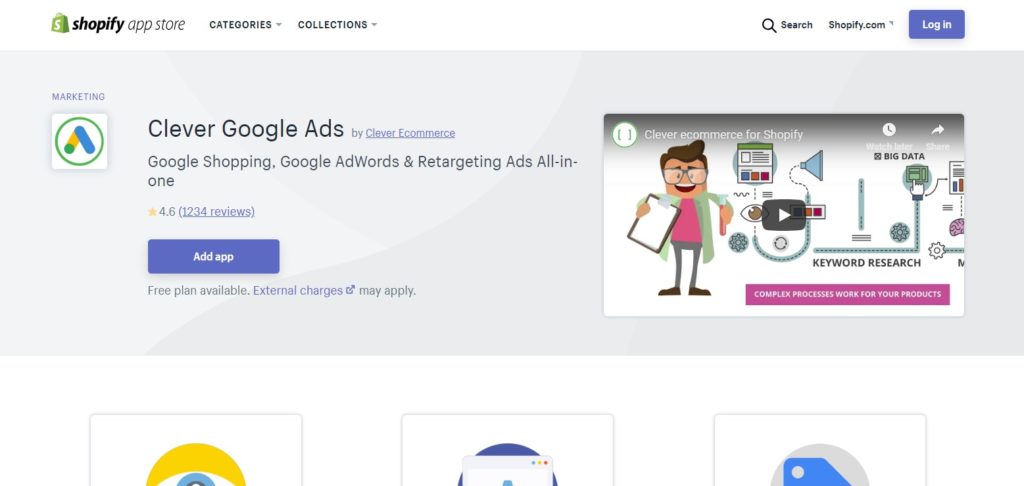 Marketing analytics
One of the highest rated apps on the Shopify store, Justuno is much more than a marketing analytics app for your Shopify store. It helps you capture leads, send push notifications and grow your email lists. Apart from these features, you can also:
Send email pop-ups
Exit intent offers
Trigger offers on abandoned carts
Get a real-time picture of your marketing and sales analytics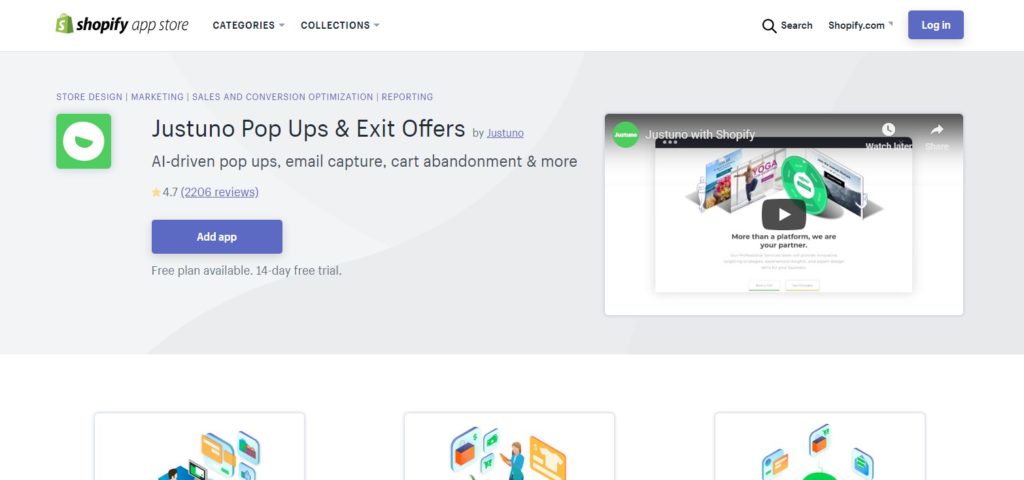 Consider Conversific as a one-stop destination for monitoring and generating reports of your analytics data. It offers smart analytics for your Shopify store and tells you about the ground reality of how your website is performing against your competitors. With Conversific you can:
Make sense of eCommerce metrics
Benchmark against your competitors
Boost your conversion rates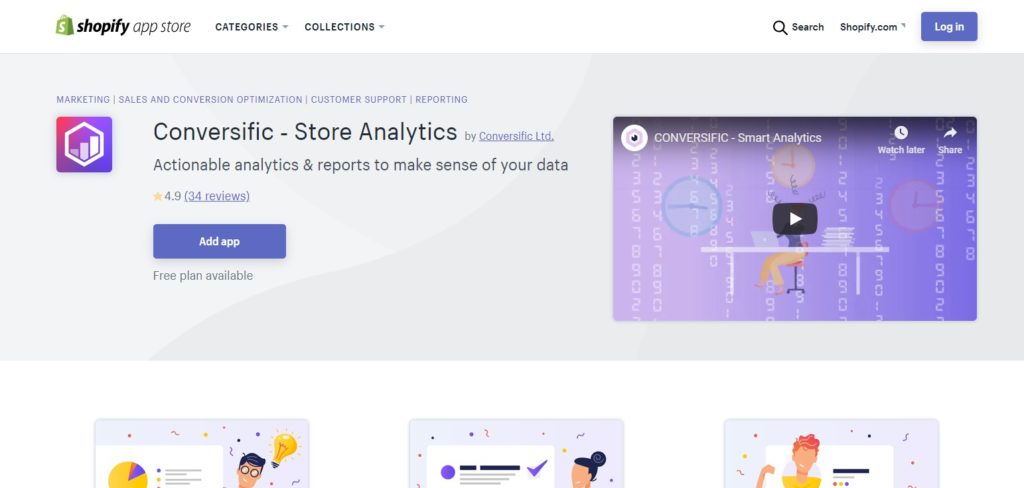 This app by Little Data does the task of fixing your Shopify store tracking in Google Analytics. It automates your data flow so that you can focus on crucial factors such as conversions, traffic, revenue and more for your Shopify store. Google Analytics by Little Data lets you:
Set up improved tracking in minutes
Get accurate data from Ads and social channels
Track subscription analytics for your business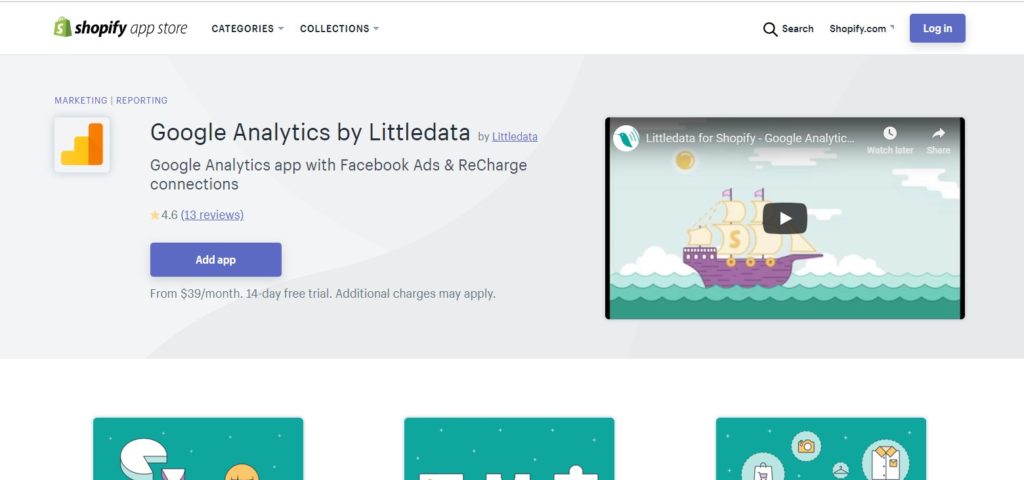 Sales and Discounts
SMS Bump is one of the most admired apps on the Shopify store. It is a text marketing and automation application that can be used to fully automate marketing processes for your business. It is free to install and lets you:
Sell more with pre-built SMS/MMS campaigns
Send highly targeted text marketing campaigns
Track every text and make better decisions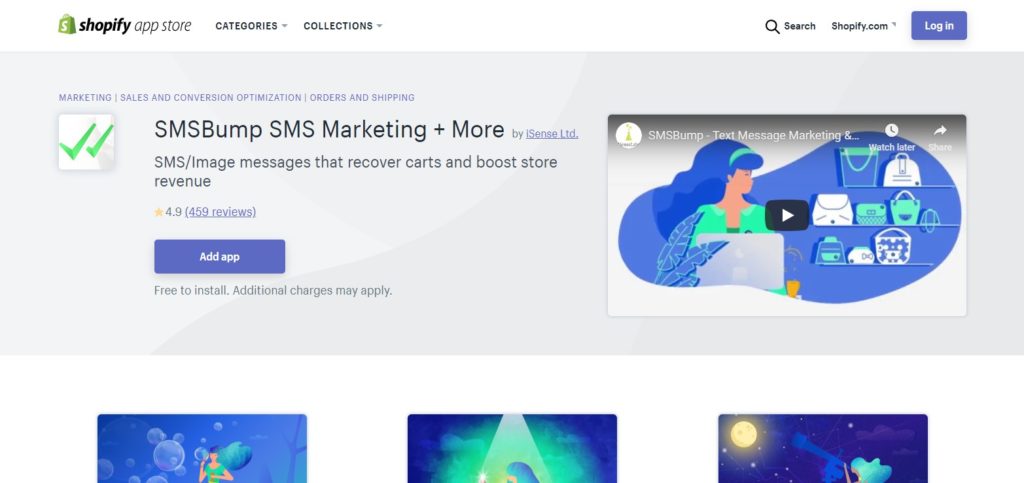 Ultimate Special offer provides a complete solution for all your sales, promotions and discounts at one place. It is a powerful app that lets you choose different templates, designs and more to promote your sales on your Shopify store. With this app, you can:
Manage all sales in one place
Create special offers that are based on volume
Know how your offers are performing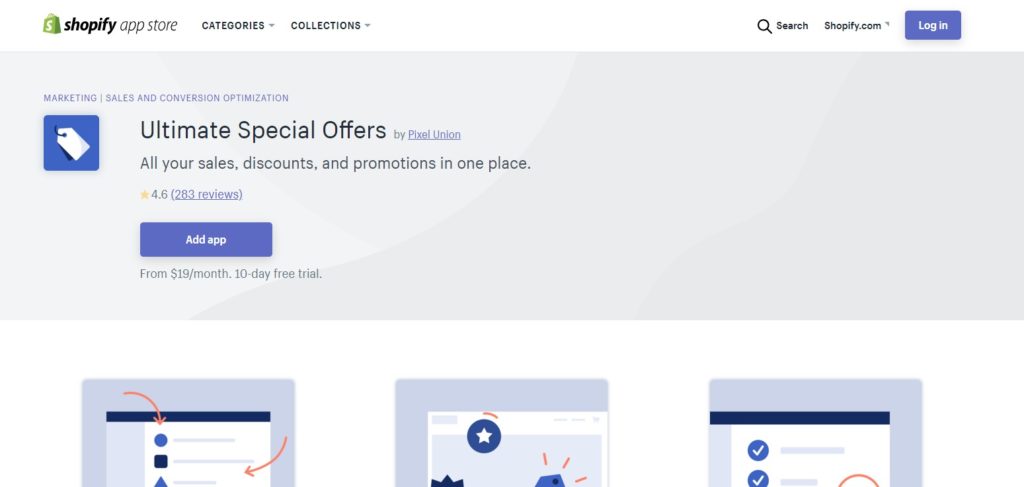 Social Media Marketing
Facebook Messenger Marketing
Social media is one of the most important areas you should focus on, for marketing your Shopify store. Facebook Messenger marketing is one such app for your Shopify store, that can help you communicate with your customers via Facebook messenger. With this app you can:
Send facebook messages that have high open rates
Send marketing messages to different segments of your customers
Send order receipt and shipping notifications.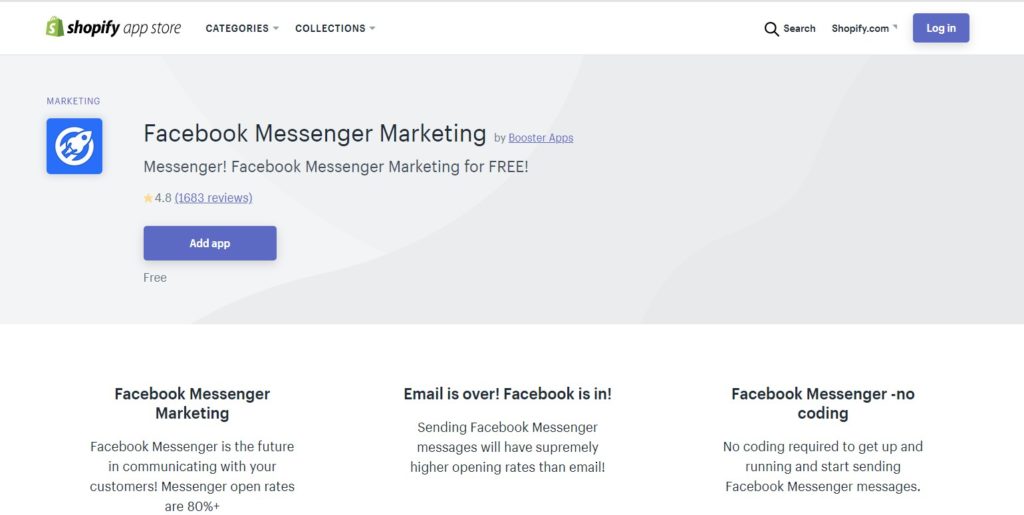 One of the most productive apps on the Shopify store is Outfy. It can significantly help in enhancing the reach of your brand on social media platforms. Outfy pulls in more traffic to your store and helps in increasing your sales. Apart from this, Outfy can help you:
Increase your social reach
Push your posts automatically on social media
Customize and share impactful promotional templates
Connect multiple stores
Build hashtags for more reach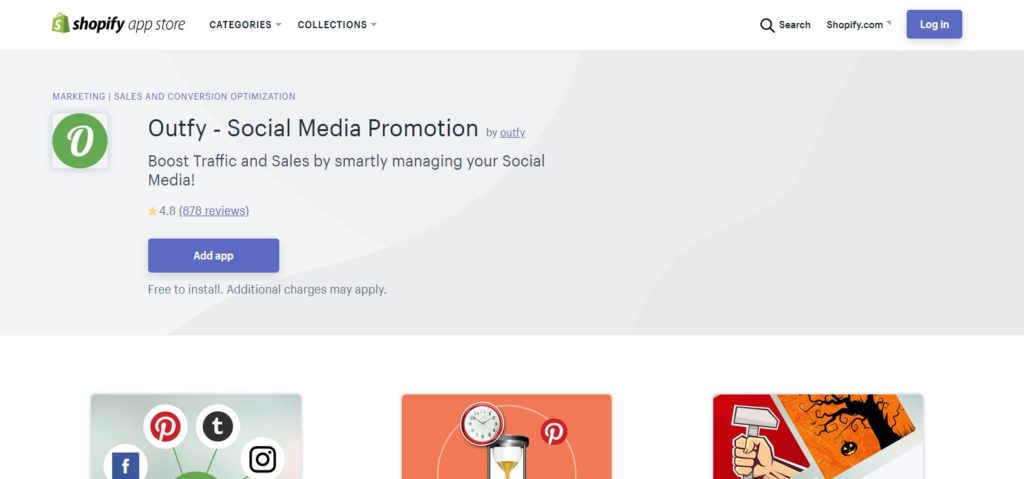 Instagram Shop by Snapppt lets your customers shop from your Instagram feeds. The app also lets you embed shoppable galleries and user-generated content. You can also know details about your best-performing images and more. Instagram Shop by Snapppt lets you:
Link your Instagram images with your products
Repost 3rd party content and make it shoppable
Get visual marketing insights for better decision making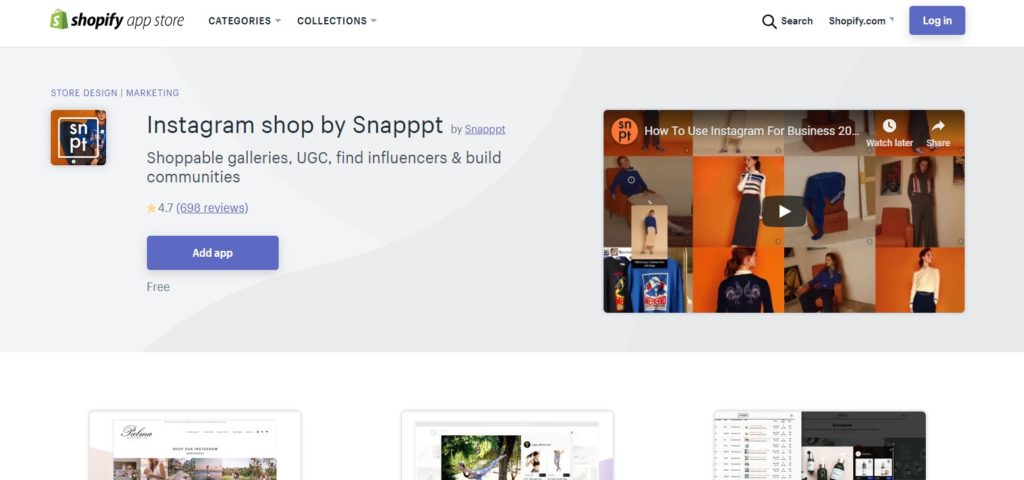 Content Marketing
The Shotgun Page Builder is one of the top content marketing apps for your Shopify store. It is ideal for building blogs, landing pages, product pages etc. The app is a one-stop solution for your Shopify store and you can use it instead of installing 10 different apps for your busines. With Shotgun Page Builder you can:
Customize your landing page using drag and drop builder
Increase sales with blogs, landing pages, slider, and other attractive elements
Build product pages optimized for conversions
Create mobile responsive pages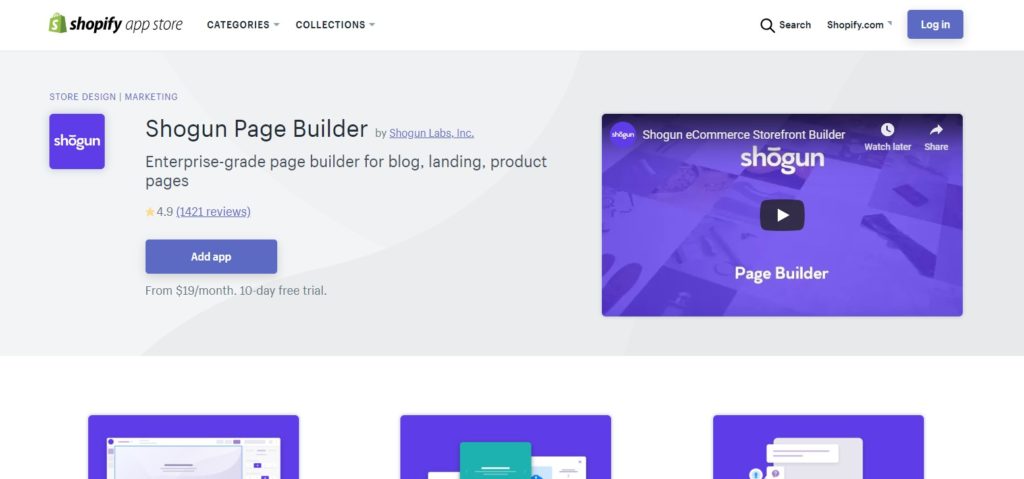 Website pages are one of the most important factors responsible for boosting the conversion rates for your Shopify store. With PageFly Advanced Page Builder you can create high-quality content and reduce business costs at the same time. Using the app, you can:
Build positive branding
Use a plethora of page elements and flexible forms for high conversions
Save business costs using pre-defined styles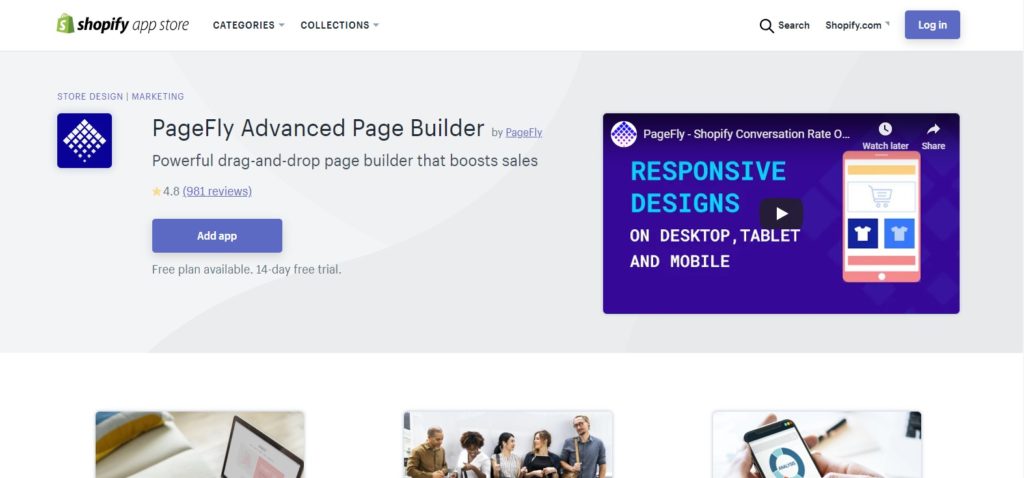 Affiliate programs
Referrals are an excellent way of promoting your business. With Referral Candy you can make it much easier for your customers to refer your business to their friends. The app is used by many Shopify store owners and has a proven track record of driving sales. It lets you:
Customize the look and feel of your referral campaigns
Track the performance of your referrals
Reward your customers using coupons, gifts etc. without worrying about coding everything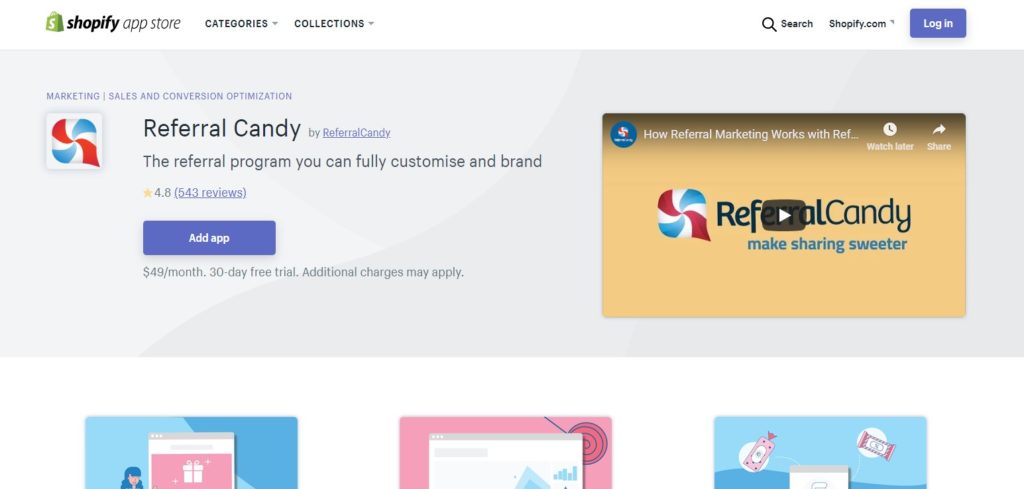 With LeadDyno's Affiliate Marketing app, you can launch your affiliate program in a single click. The app enables affiliate sharing for mobile, tablets and laptops. Apart from it, the app lets you:
Feature your program to a vast network of affiliates
Track commissions in real time
Launch influencer marketing campaigns within minutes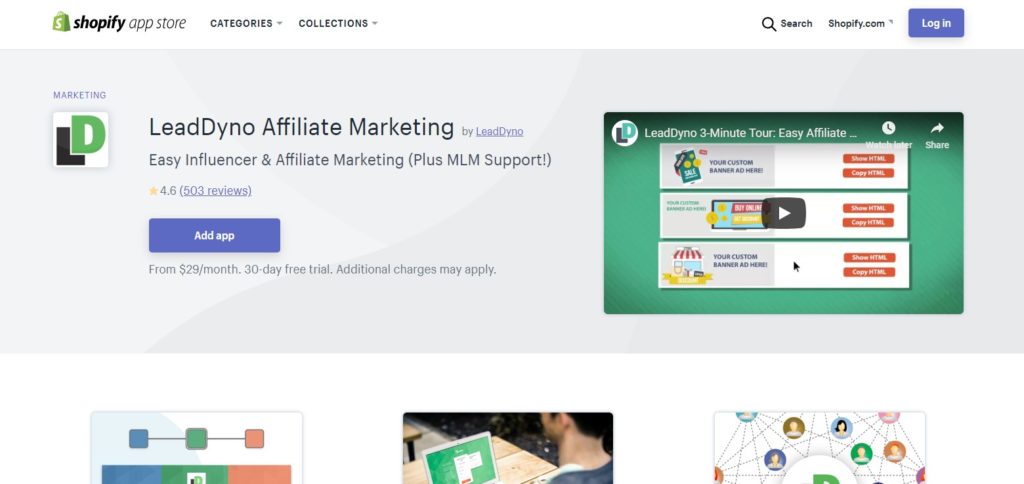 SEO
SEO is one of the most primary elements that you should be focusing on, for ranking your Shopify store higher in search results. SEO get Clicked- SEO Tools app will scan your website for any SEO related issues and help you discover potential SEO issues for your products. Using the app, you can:
Scan and Fix any SEO issues
Rank higher on search results
Drive more SEO traffic and clicks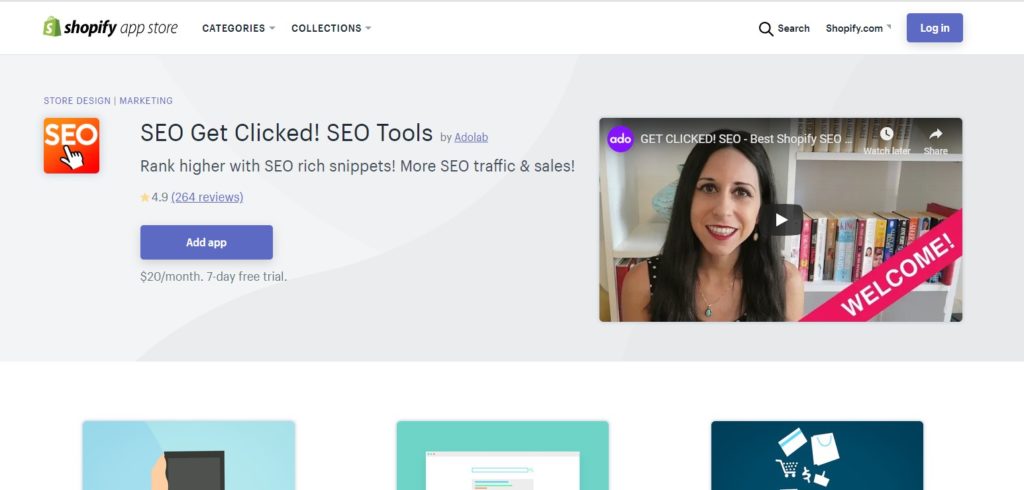 Another SEO app that makes it to our list is Ultra SEO. The app helps in optimizing your store for better visibility in the search engines. The app has a free seven day trial after which you need to pay a subscription fee for it. Ultra SEO lets you:
Exercise control on meta tags for your Shopify store
Attract more customers from search engines
Install in one click and start using without any hassles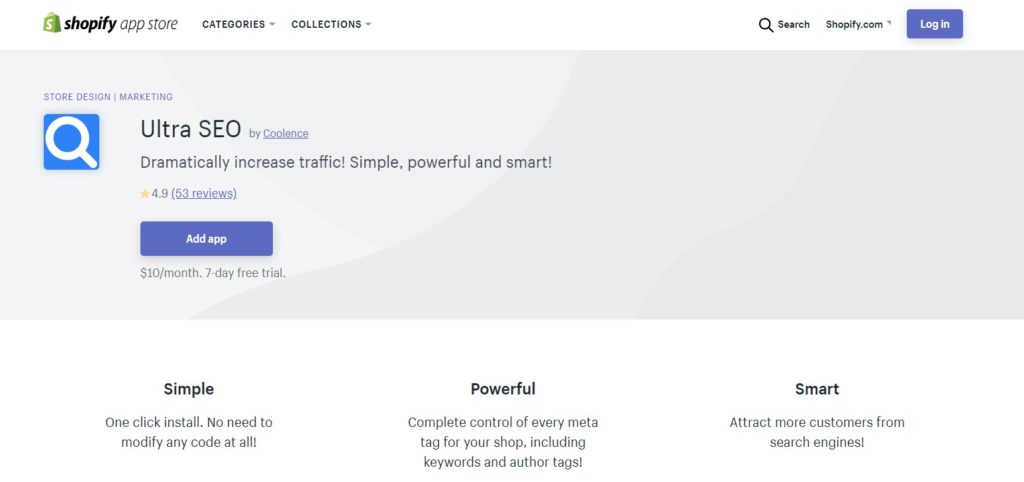 Product Feeds
One of the best ways to grow a Shopify store is through Google Shopping Ads. With the latest change, Google Shopping has become free to list. But, creating an approved Google Shopping Feed & running profitable Google Ads is a multi-step process. With Easy Google Shopping Feed App you can easily create Google Shopping Feed & make your products available for advertising and free listing.
Listing products, however, is not enough to be successful in Google Shopping. To be successful in Google Shopping & Google Ads, Your feed should follow best practices. AdNabu's Easy Google Shopping Feed App has product scores out of 100 for each product, which helps you improve the product performance in Google Shopping. This product score is based on multiple attributes available in Google Merchant Center & also help you do better in SEO.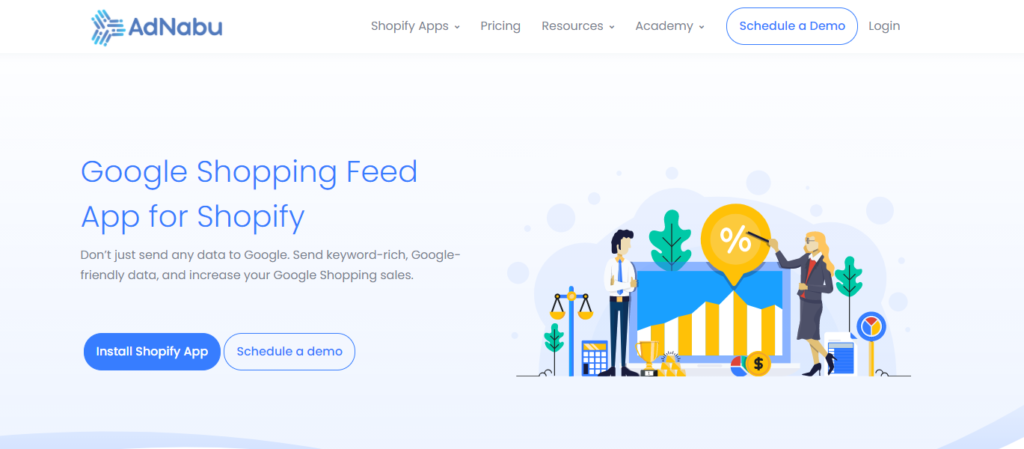 Flexify lets you easily sync your product catalog from your Shopify store to your Facebook Business Manager. This way you can reach out to your customers on different channels that they use and keep your listings up to date. Flexify lets you:
Use Facebook Dynamic product ads with Shopify
Scale and promote your products across multiple devices
Reach out to the relevant audience with their desirable products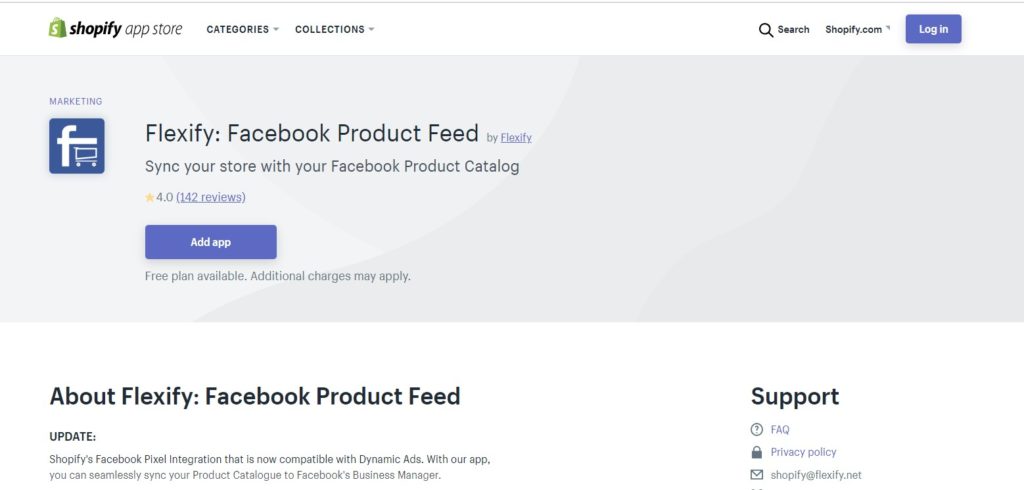 Koongo is undoubtedly one of the best product feed manager app for your Shopify store. It lets you connect your online store to various marketplaces, price comparison websites and more from all across the globe. The app has a free 30-day trial along with a dynamic subscription afterward. With Koongo you can:
Sell on multiple channels
Transfer data instantly using API Integration
Manage and import orders automatically from marketplaces to your Shopify store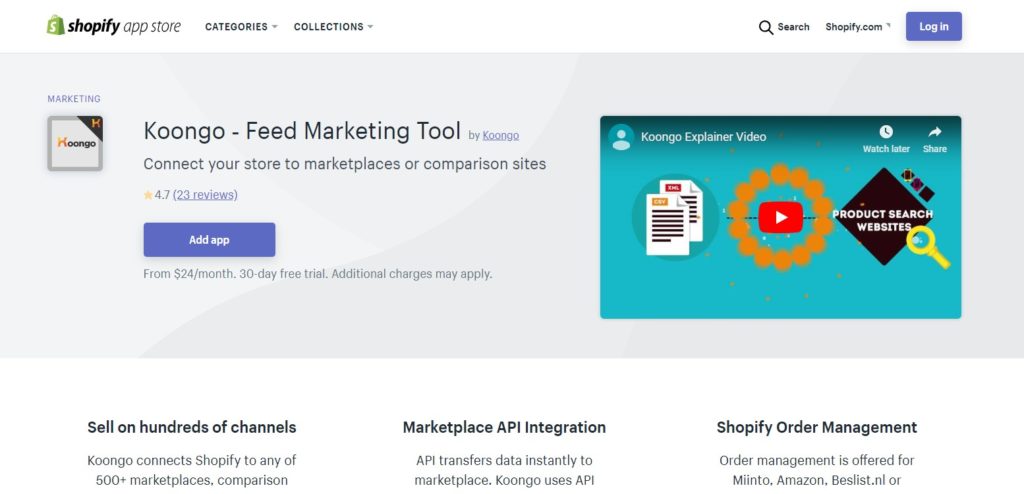 Contest and Giveaways
It is one of the best apps for your Shopify store if you plan on running sales promotional campaigns. Spin-a-Sale is easy to use and helps in creating refreshing designs for different types of offers. Using it you can:
Increase sales and boost conversion rates by creating a sense of winning a prize
Add the power of gamification to your website
Provide subscribers with completely unique coupon codes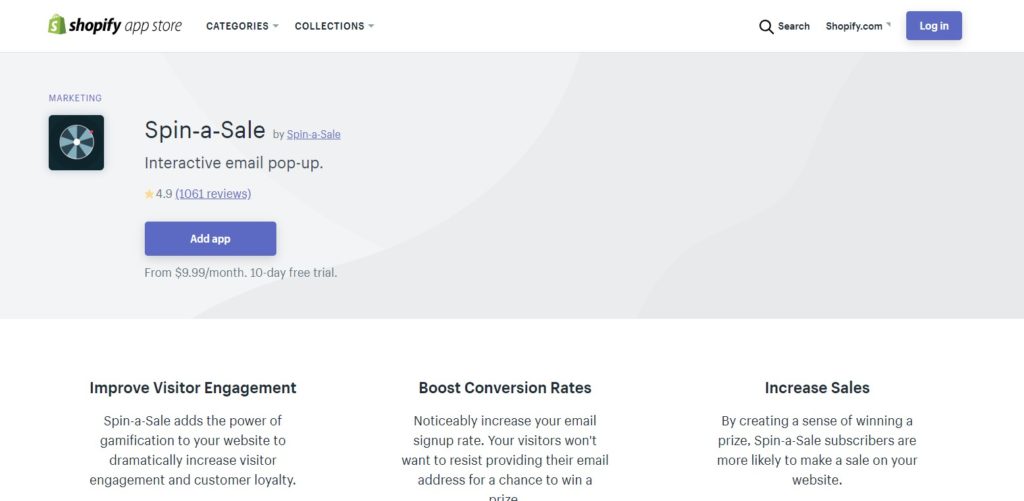 In case you're planning to increase customer engagement for your Shopify store, you can try the app WooHoo. WooHoo: Gamified Pop-ups lets you grow your store by saving lost sales with Popup games, coupon pop-ups, and exit intent pop-ups. Apart from this, you can:
Attract more email leads using upsell coupons
Use fun wheel games and discounts to keep your customers engaged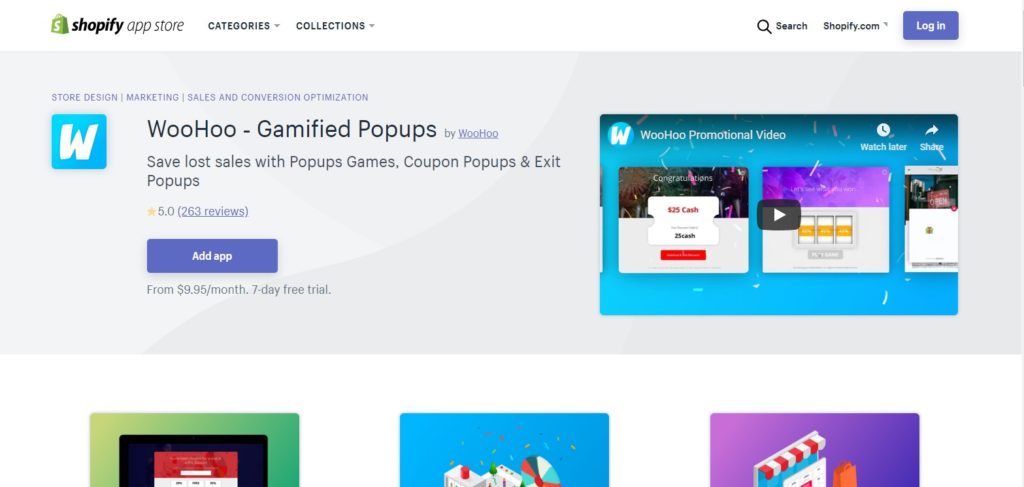 So, these were the top 25 apps that made it to our list. You can use these to enhance your marketing efforts and keep your customers engaged. In case you want to explore how to form a marketing strategy, you can check out 12 Effective eCommerce Marketing Strategies You Need To Implement Today!
Calculate Your Shipping Costs Now