How to Manage eCommerce Order Fulfillment During Seasonal & Festive Demand
The festive and seasonal sale period is one of the most hectic windows for Indian eCommerce sellers. Since most people are actively searching for exclusive gifting options, it becomes difficult to provide them with interesting options. Along with ensuring the availability of all sought after items, the next step is to fulfill orders seamlessly.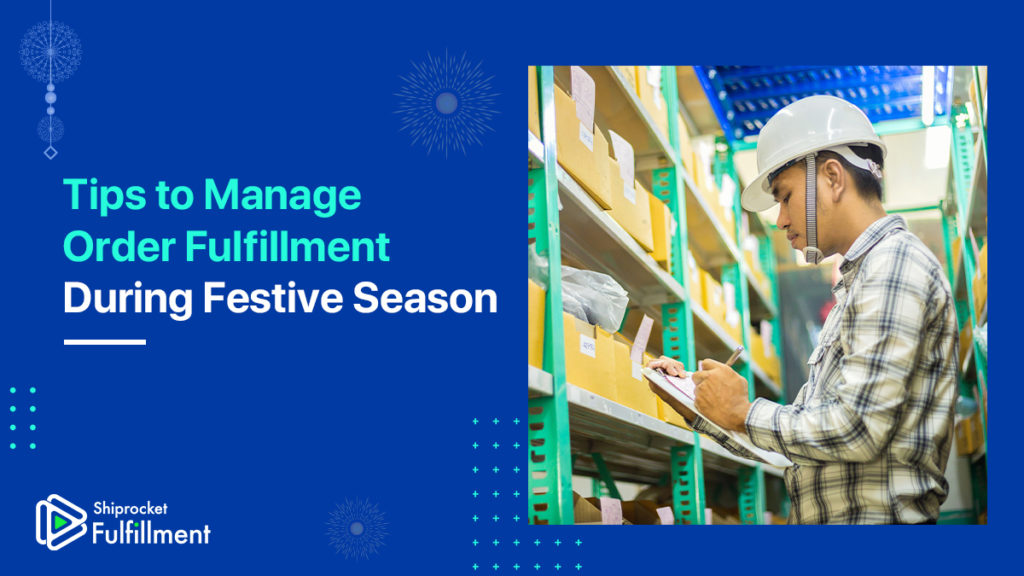 Since the window is small and the customer experience is carried forward to next year, it is important to focus on eCommerce fulfillment to ensure that the customer returns to your store again next year. With this article, let's see how you can prepare for the seasonal and festive demand to ace eCommerce sales.
Seasonal Demand & The Need to Keep Up
The Indian e-retail market is ready to reach 300 to 350 million shoppers over the next five years, driving the online Gross Merchandise Value (GMV) to $100 to $120 billion by 2025. The festive season demands an impeccable fulfillment experience. If orders are not delivered on time with proper packaging, there is a good chance that the customer will not return your website next year.
During the seasonal and festive season, the demand for certain product categories rises. This leads to an increase in the number of orders and you need to manage the delivery on time.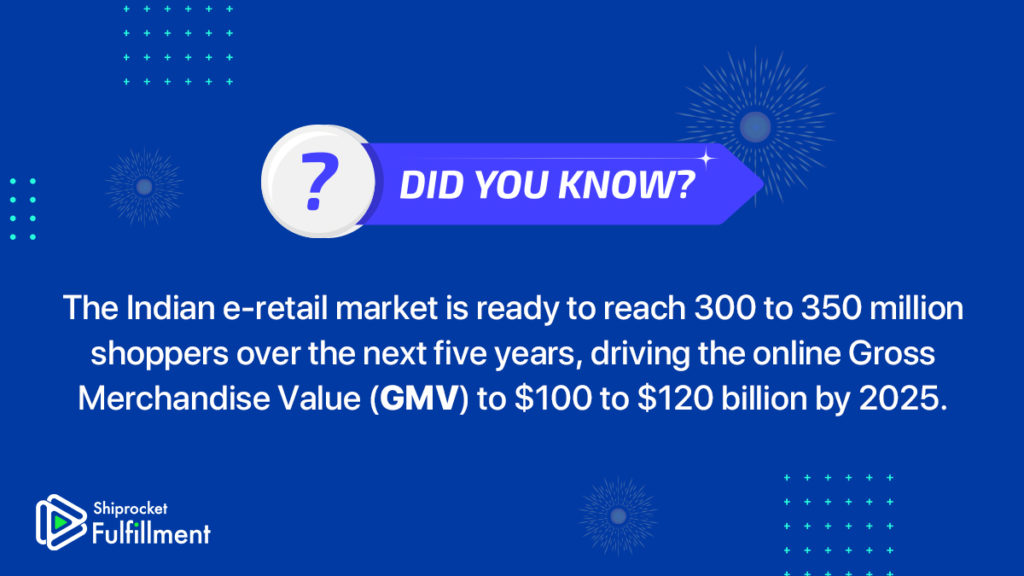 Post the Covid-19 lockdown, eCommerce has grown by a significant number in India. Since most retailers have shifted their base to online selling, and shoppers have turned to marketplaces and websites for doing their regular shopping, it is expected that festive season shopping will also be carried out through the online medium.
Since the number of customers coming in from the online platforms are increasing, it is essential that you improve your eCommerce fulfilment well before the surge so that your brand does not get left behind with negative reviews on social media.
Here are a few techniques that can help you fulfill orders seamlessly during the festive season demand-
How Can you Fulfill Orders Seamlessly?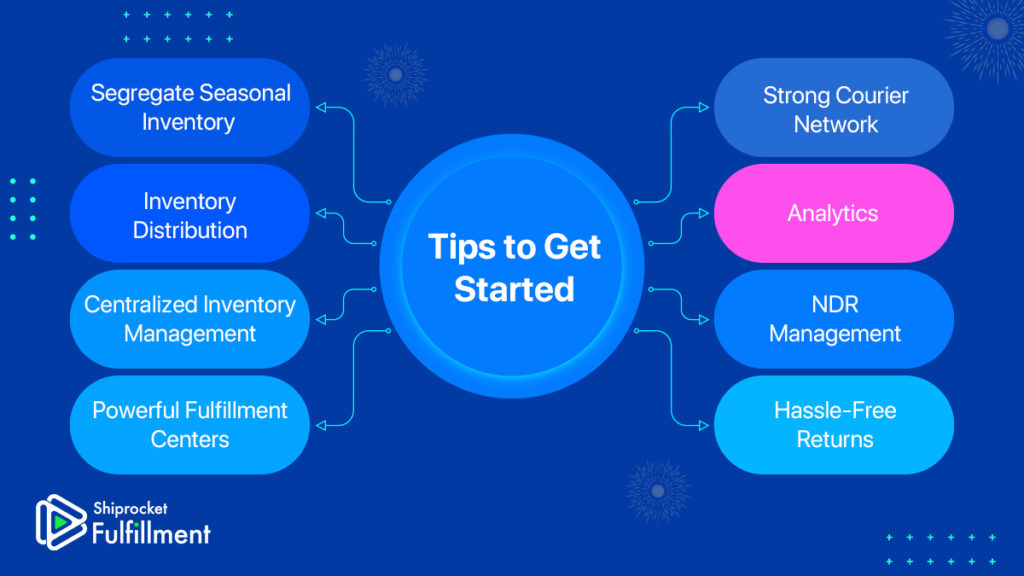 Segregate Seasonal Inventory
Seasonal inventory refers to the items that are only sold in higher amounts during a specific time of the year. These include festive period and sale durations.
It is essential that you categorise your seasonal inventory based on the product life-cycle so that you can differentiate between seasonal and perennial products.
A great example of such inventory is that of Diwali decorations. These might not be in huge demand throughout the year but during the October-November period, the demand for these goes up strikingly.
If you segregate your seasonal inventory well in advance and stock up keeping in mind your sales forecast & analysis, you can easily manage to deliver in time & avoid residual stock.
Inventory Distribution
Another critical aspect about seasonal demand is delivering the products on time. Since the festive season window lasts only for a few months, it is vital that you make arrangements to deliver products quicker. If you stock inventory only in one location and ship from there, chances are that your delivery times will increase as order volumes increase.
Since courier partners are limited, you must exercise control and distribute inventory in different parts of the country to ensure that the delivery time is the least for every order.
This will help you increase your delivery speed by 2X and also reduce shipping cost by a large margin. You can tie-up with 3PL aggregators and logistic providers like Shiprocket Fulfillment to distribute inventory in different fulfillment centres across India.
Centralized Inventory Management
A centralised inventory management system will help you stay connected between all channels that you sell on. For example, if you sell on marketplaces, your own website, on Instagram, or on Facebook, along with a brick and mortar store, you will be able to manage the master inventory from one platform itself.
This will help you avoid inventory stock outs and you will be able to manage your listings much better across all channels.
It will be even more beneficial, if your inventory management system is directly linked with your shipping solution as you will be able to process orders much faster from a single platform. Shiprocket gives you the chance to do so on their shipping platform.

Powerful Fulfillment Centers
Powerful fulfilment centres will help you conduct all operations that include order management, inventory management, packaging, logistics, and return management conveniently from a single platform. They will provide you with the best resources to carry out daily operations and it will be a space dedicated to fulfilling your orders.
Hence, tying up with a third-party logistics provider can be a good idea for your business if you witness a surge in inventory and orders during the peak festive seasons.
Strong Courier Network
The next most important requirement for successful holiday fulfilment is a strong courier network. Your orders are not successful until they are delivered. Therefore, make sure you tie-up with a company that has a strong courier network and a wide pincode coverage. India is a diverse country with eCommerce orders pouring in from remote areas lying in tier two and tier three cities. This year, there is a surge in orders from these cities as well.
Hence it will be smart to tie-up with a courier aggregator that can help you provide multiple courier options and also assist you with choosing the right courier partner for a particular pin code.
Analytics
Real-time analytics will help you make informed decisions about the type of orders and shipments you want to do. They will also give you insightful data about your customers and their requirements. You will be able to manage orders in a much more organised fashion if you have information regarding your buyers, and your orders, auto shipments, delays, etc. Without such rich data, you might be repeating the same mistakes over and over and losing out on customers.

NDR Management
Since delivery windows are short and people are in a festive mood, chances of non-delivery are higher. Therefore you need to be extremely quick in your actions and make sure the delivery reaches on time without any delays. Sometimes, there may be unprecedented delays or undelivered orders. In such cases, you must have a strong NDR management system in place so you can process orders quickly.
Hassle-Free Returns
Expectations of returns increase during the festive season. Therefore, you must have in place a system that you can handle returns without ease and not burn a hole in your pocket while doing so. Conduct your research and tie-up with the best solution that offers you the cheapest rates for return orders. Or, look for a 3PL provider that also handles returns for you so you do not have to accommodate any additional charges for shipping to your headquarters.
Shiprocket Fulfillment – The Best Fulfillment Provider to Manage Seasonal Demand
If you want to organise in advance for your festive season fulfilment, we have just the perfect solution for you.
Shiprocket Fulfillment is a reliable 3PL fulfilment provider for eCommerce retailers, manufacturers, and wholesalers. We have fulfillment centers across the country in cities like Delhi, Bangalore, Mumbai, Kolkata and Gurugram. You can distribute inventory and store them closer to your customers in our fulfillment centers where we will take care of all operations like order management, processing, picking, packaging, logistics, and returns.
Not just this, you get 30 day free storage with us and no minimum deposit commitment. With a flexible pay-as-you-go model designed to suit every eCommerce business, you only pay for the inventory you store at our storage centers..
With Shiprocket Fulfillment,you can increase your shipping speed, ship with a strong courier network, decrease your shipping costs, and provide your customers with a delightful shopping experience at extremely nominal rates.
We are committed to reducing your fulfilment hassles, especially during the festive season where there is a surge in order volumes.
Conclusion
To ace festive season fulfillment, it is vital to do your homework beforehand. You cannot expect to achieve miraculous results in terms of successful deliveries if you do not analyze the situation beforehand. Make sure you have stocked up your inventory well in advance and tied up with your courier companies and fulfillment partners to ensure that everything is in place before orders start pouring in.
Calculate Your Shipping Costs Now