Top eCommerce Tools to Improve the Conversion Rate of Your Store
The eCommerce market is expected to cross $6.54 trillion in sales by 2022 and showing signs of expansion. If you are thinking of starting a new online store or looking to expand your business, you can use eCommerce tools to achieve your goal.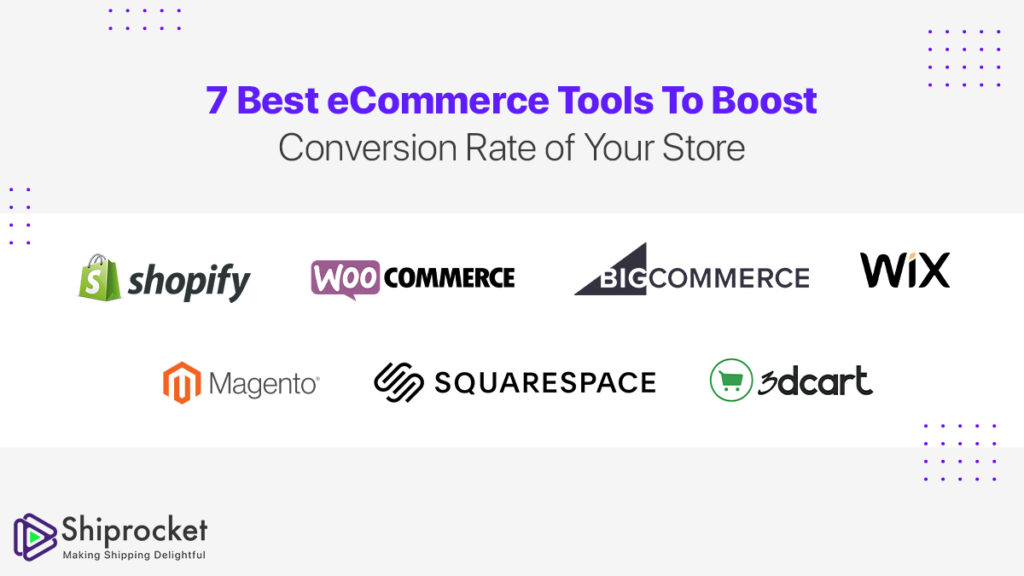 Not all eCommerce tools are created equally. For example, some tools offer the facility of website building, while others offer plug-ins, add-ons, and shopping cart software. So what are the best eCommerce tools to use to improve the conversion rate of your store? The answer depends on your offerings and unique situation. We are giving you a guide to help you find the best eCommerce tools for your business.
There are 7 top eCommerce tools that we'd recommend. We'll give you an in-depth overview of the features and benefits of each one of these tools as we continue through this guide.
7 Top eCommerce Tools to Use in 2022
Shopify
Shopify offers unique features that you need to build an eCommerce website from scratch. It has features like website builder, plugins, and shopping cart software. It is also easy for anyone to set up a website using Shopify without any technical skills.
Shopify makes it easy for you to sell from anywhere as it supports third-party marketplaces, social media platforms for selling, point of sale software, and in-house sales. Additionally, Shopify themes are built to use on mobile devices and with tools like BuildFire, you could always create a mobile app for your eCommerce store. The most significant feature of Shopify is its versatility that can fit the needs of any organization.
WooCommerce
WooCommerce is a unique eCommerce tool as compared to the other tools on this list. It offers all-in-one functionality to your website by installing the WooCommerce plugin.
With WooCommerce plugins you can enable features like selling products, adding subscriptions and memberships to online stores. It offers everything you need for your eCommerce website. The tool is easily customizable and integrates with popular payment platforms like PayPal, Amazon Pay, and more. WooCommerce extensions also support things like integration with email marketing platforms, printing shipping labels, etc. WooCommerce is the best eCommerce tool to start your online store without doing a complete technical procedure and rebuild. You simply need to install the WooCommerce plugin and start your settings from there.
BigCommerce
BigCommerce is used by most eCommerce businesses all over the world. It is another best eCommerce tool to build your online store that offers everything you need to start selling online. BigCommerce has a set of pre-loaded features for online conversion, sales, inventory management, website building, and web optimization. You'll also get their customer support for assistance on any technical and non-technical questions.
Additionally, BigCommerce offers enterprise-grade ecommerce solutions for B2B websites and B2C sites as well. BigCommerce is the choice of industry leaders in eCommerce and is known for its capabilities like high page loading speed, security features, and customizable themes.
Wix
Wix is one of the simplest website builders to use for eCommerce brands. The platform offers the easiest way to build a new website without any technical knowledge or experience. You can design a high-quality website with rich text, images, and videos by using its drag-and-drop builder that too in a few minutes. For example, adding a blog and web pages with Wix is easy and simple.
Wix has 500+ templates that will automatically be optimized for SEO and mobile web browsers. A site built with Wix gives you access to the Wix App Market that is filled with web apps to customize your site. You can also create an online store with your Wix website.
Wix also offers a storefront and shopping cart that allows you to add features like shopping wishlist, product galleries, add-to-cart button, mini-carts, and more. Wix also allows you to add custom shipping rules to manage your international orders, adding your carrier preferences, and give customers real-time delivery estimates.
Magento
Magento eCommerce tool is an all-in-one eCommerce solution that can help you create an eCommerce store in no time. The platform provides the best features for small business websites and B2B online stores as well.
Magento is known for its performance, automation, and accessibility to business intelligence tools and shipping solutions. With this eCommerce tool, you will also get unique features such as tools for customer segmentation and personalization that will automatically display products, add promotions, content, and prices based on different factors.
Squarespace
Squarespace is a well-known eCommerce tool that has integrated capabilities for building creative online stores. The Squarespace theme designs are beautiful and are perfect for fashion sites, beauty products, travel bloggers, and photographers. If you want to showcase your work, Squarespace offers the best website themes to do it.
You can also use the Squarespace eCommerce tool to add subscriptions and digital content to your website. The tool also offers automatic inventory management, shipping rate calculator, product display, and integrates with payment platforms like PayPal, and Apple Pay. If you want to create a blog website with eCommerce capabilities, Squarespace is the best choice for you.
3DCart
3DCart is one of the best platforms to build your eCommerce store. It was founded in 1997 and used by more than 25,000 eCommerce brands worldwide. You can use this tool to design your eCommerce website with advanced features and capabilities. The platform offers fully customized templates and themes but you'll likely need to hire a developer to do this.
Once done with the installation part, you'll have access to its 50+ themes and 100+ payment processors. 3DCart allows you to integrate with the platforms like MailChimp, Stripe, Facebook, Amazon, PayPal, QuickBooks, and more.
Final Words
E-commerce shopping has already moved online. In the coming years, shoppers will only spend more on online purchases. And to make this easy, eCommerce brands will have to focus on their branding efforts and the types of eCommerce tools that can be used to achieve success.
Calculate Your Shipping Costs Now