Who Should You Include in Your eCommerce Team to Achieve Growth?
Is your organization starting an e-commerce website? There are great plans, endless possibilities, and an unforeseen workload, with no dedicated e-commerce team.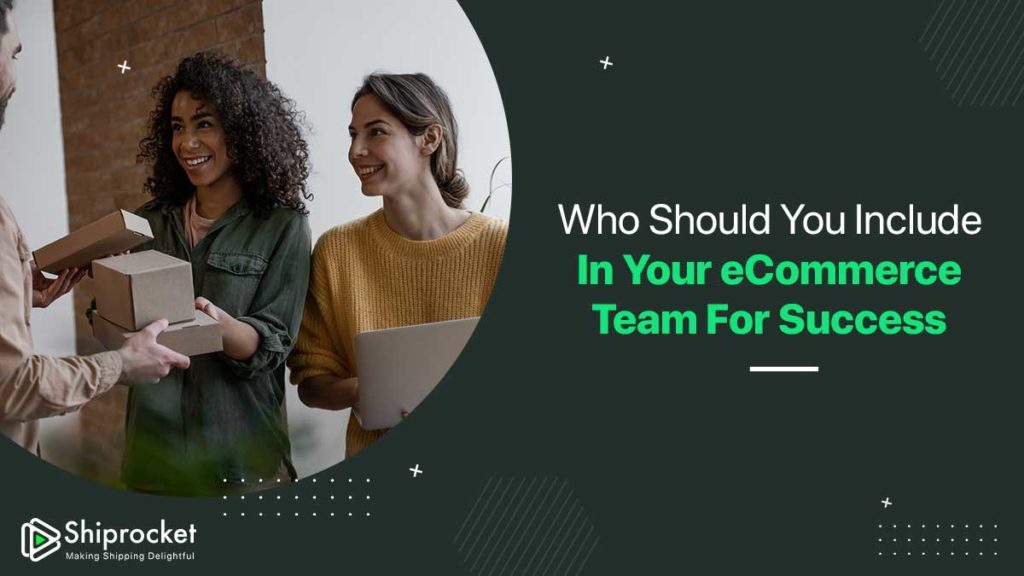 So, who will manage the website or the responsibilities of e-commerce marketing? Who is ultimately responsible to gather and analyze online data and sales results?
You need to hire an e-commerce team to build the foundation of your online eCommerce business. It can be challenging to know where to start. And before you dive deeper into the hiring process, you must first explore the roles that make up a successful ecommerce team.
Essential Hires for Your Ecommerce Team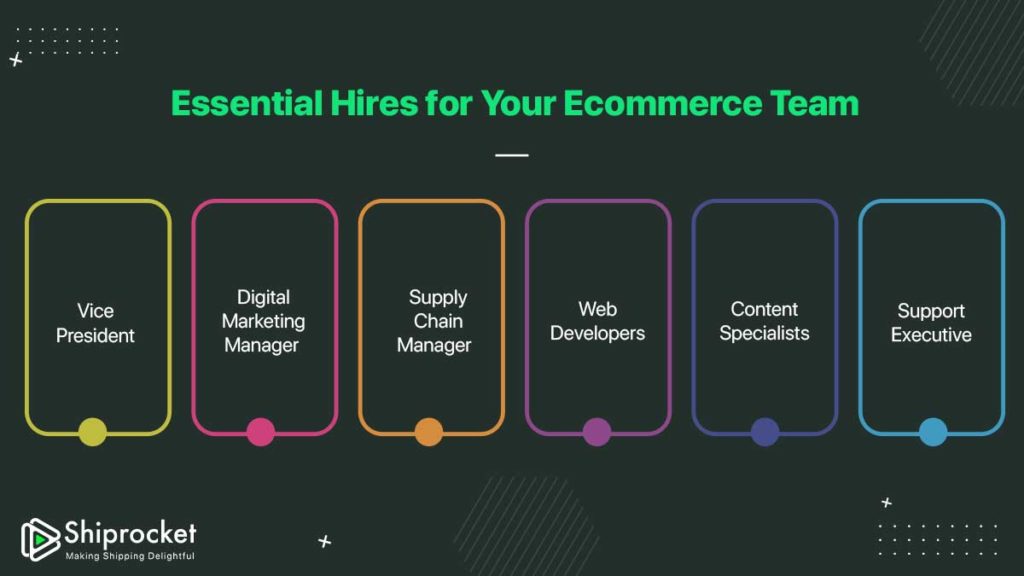 Vice-President or Head of Ecommerce
The most important hire for your eCommerce team will be the vice president who's going to lead the team through the next stages of growth. The head of eCommerce has the chief responsibility for overseeing the entire business operation, getting the right people, and making decisions that allow your business to achieve goals faster.
Ideally, this person should have excellent experience in many different areas of eCommerce, online marketing, website design, advertising so that they're able to effectively help other team members.
This person should be patient because making a mistake with this person can set you back a bad leadership or tackling goals the wrong way. But making the right hire can boost your business's growth. We recommend you to make this hire later because, in the beginning, you just need more people in the team. But later, you'll need a vice president or head of eCommerce to guide the team.
The main goal of this person is to increase the online store's performance over time. They are the foundation of your business upon which everything else is built.
Digital Marketing Manager
When your online eCommerce store starts to grow, you might need the resources to hire a team, but you'll need someone for executing the key tasks on the digital front. And that's where a digital marketing manager can really help out in taking some of the load off.
Ideally, this person in your eCommerce team has great experience in analyzing online data and marketing trends using it to grow your digital sales channels. They should know about Google Analytics, know Facebook's dashboard, and be able to create effective email campaigns for your online business.
They may take over the responsibility of the entire eCommerce store and become the head of eCommerce, but in the beginning, they'll have responsibility for everything that happens in the online store. They'll decide the visions and goals and bring them to reality through leads, paid traffic, email flows, and more.
Even if you're outsourcing work to agencies, they'll be the contact person. This is why, you should choose a digital marketing manager with broad experience in digital sales and marketing and who's a quick learner, and great at analyzing datasets.
Supply Chain Manager
One of the most critical roles in an eCommerce team is the supply chain manager. This is the person who makes sure that the products stay in stock, reach the warehouses on time, and actually shipped to customers. This person in your eCommerce team handles all the tasks involved between the time a customer places an order and the product arrives at their doorstep.
This person can have a huge impact on the business's success. Not only this, but this person also helps with keeping shipping costs low and interacts with the manufacturers, and suppliers to ensure the product is never sold out.
A supply chain manager handles the sourcing of raw materials, inventory management, orders, and making sure the goods reached your warehouses in time to ship to your customers.
Let's take an example, if you run an ecommerce store selling cosmetics for women, a supply chain manager will be the one finding quality products from suppliers, manage orders, getting everything tested on quality standards, securing payment, and clearance for international shipments, and shipping it to the customer safely.
It's a big role and one that you hire requires a lot of skills, patience, and understanding of the supply chain network.
Web Developer
For eCommerce businesses, a smooth-running website is essential for success. Even though platforms like Shopify, WooCommerce, Magento, Shiprocket website builder tool have made online selling accessible to even non-techy people. At a certain point, you're going to hire someone to manage the technical side of your eCommerce store.
From the optimization of your mobile app to speeding up website page load and making sure the store's plugins work together without hampering the website performance, a web developer will be a key member to hire for your ecommerce team. A web developer's main role is getting the right design, website templates, and functionality for your store.
For example, if your website is down or slow, it's their responsibility to fix it. If app data is not flowing properly, it's the developer's job to figure out why. If the home page or product pages look unstable, it's their job to update the pages and find out why the code is broken, and repair it.
Additionally, this person should know both front-end and back-end development. That's why you should look for someone who has an understanding of core web development and knows how to quickly fix tech issues.
Content Specialist
Hiring a professional content writer saves your time and allows you to focus on your business competencies. Content writers can help improve the readership of your website by writing great advertising material, blogs, and posts that people not only want to read but also share. So, the readership of your blog will increase, your blog readers will be more engaged and you will score some added signups, Facebook likes, and retweets.
Content writers are typically skilled researchers whole will be able to help you create quality content that your followers want to hear about. They also understand what Google wants. And Google absolutely loves fresh content and provides increased numbers of website visitors.
For small to medium-size businesses, content specialists are a worthy addition to your team. They help you get an increased brand reputation, traffic, and user engagement. So, if you are struggling to get traffic to your eCommerce website, it is highly likely that you haven't hired a content writer in your eCommerce team.
Customer Service Representatives
A customer service representative is responsible for answering live chat, taking phone calls, or addressing support tickets via email. Customer service is a critical part of any successful online business. And it's something that you will simply not ignore to hire for your ecommerce team to scale.
If you're doing business online means there will be some issues, you need to handle customers' questions and get answers to them. With a well-trained team and customer service tools, you can help customers get their questions answered and make sure the customer is treated well.
For example, if someone hasn't received the right product or there is a delay in shipment, it's the support executive's job to address the customer's concerns, and make sure the customer is happy with the solution. As your business scale and grow, customer support is a critical function.
Bad customer service can do irreparable damage to your brand image. But positive customer support can make a huge difference to your business.
In the End
Building an online eCommerce store can take lots of failures, and patience. Hire an eCommerce team to unleash your brand's full growth potential. That's why many top eCommerce companies look to hire people with the right set of skills, experience, and an extreme passion for their work.
Calculate Your Shipping Costs Now